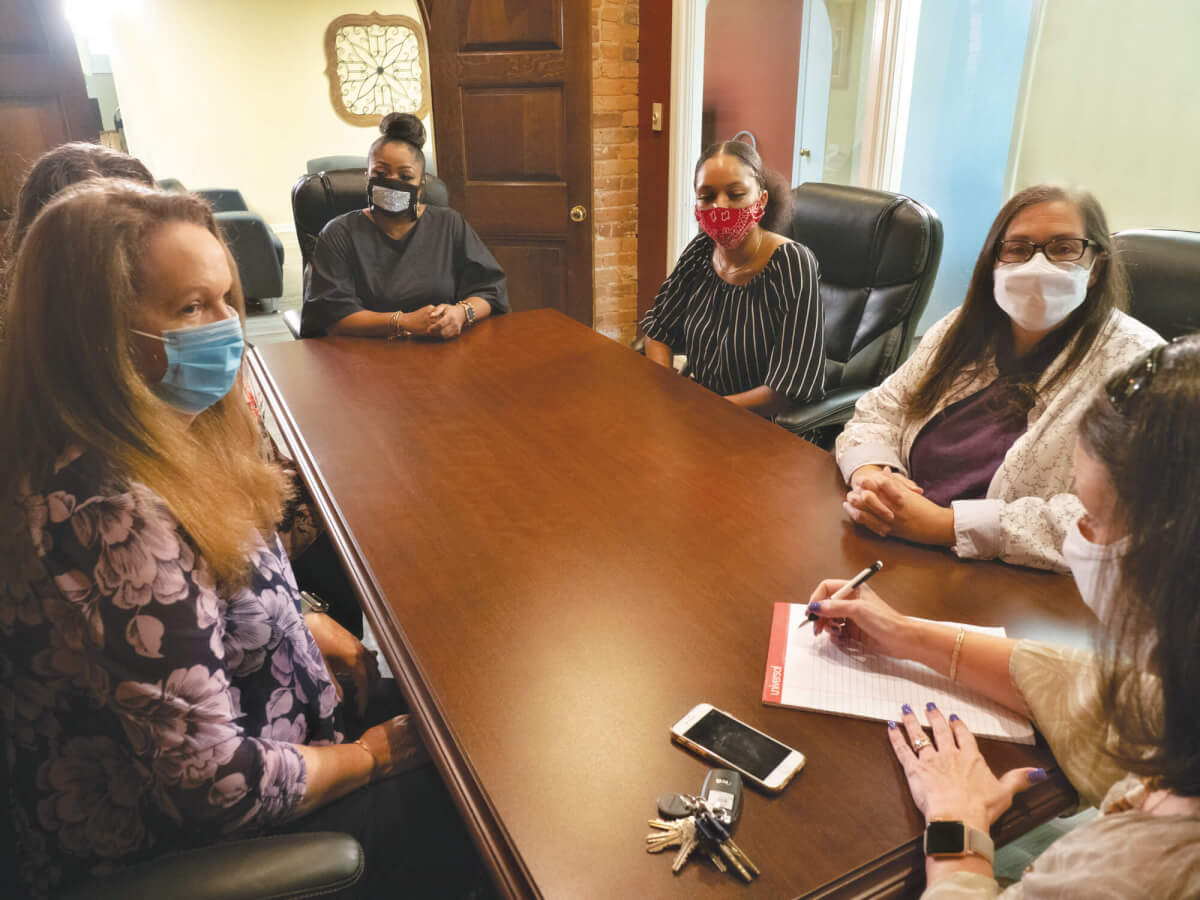 More than a safe space
More than a safe space
Crisis Line & Safe House offers support to victims of domestic violence and sexual assault
By Jami Gaudet
Photography by Jessica Whitley
Is there such a thing as "loving too much?" Yes. Definitely yes.
Crisis Line & Safe House of Central Georgia (CL-SH) sees proof every day and has since 1978 when it opened its doors, merging with the Salvation Army Safe House in 2005.
Solicitor-General Rebecca Grist is a Crisis Line founder and board member whose office prosecutes all misdemeanor cases in Macon-Bibb County in State and Municipal Court — of which, nearly 1,000 annually are domestic violence.
"When I started prosecuting domestic violence cases in 1997, there was no secretly located licensed shelter in Bibb or Houston counties. That was a travesty. Now, with the level of service CL-SH provides to victims, it's much easier to engage them in the court process and in their long-term recovery," Grist said.
According to Executive Director DeAlvah "Dee" Simms, Crisis Line & Safe House provides a comprehensive array of essential services for victims of domestic violence and sexual assault. She calls CL-SH a one-stop shop — her vision since taking the reins in 2009.
The need is proven. In 2019 alone, the Crisis Line hotline fielded 2,207 calls — an average of 183 calls a month, more than 42 a week and 6 a day — a 3.2 percent increase over 2018, with projections higher for 2020 given the continuing fallout from the COVID-19 pandemic. Pandemic aside, the shelter typically operates at 85 percent to 90 percent of capacity.
More than 56 percent of hotline calls are for domestic violence, increasingly called "intimate partner violence," a broader definition more precisely capturing contemporary realities. Today, many intimate couples aren't married, don't live together or have a formal or ongoing relationship.
By law, an intimate partner is a spouse or former spouse; a person who shares a child with the victim; or a person who cohabits, or has cohabited, with the victim.
Crisis Line's staff prides itself on helping victims reclaim their lives.
"We help women heal from trauma and gain the confidence and skills to function independently, which takes time," Simms said. "Until then, our advocates can speak for victims during the recovery process, and if needed, our in-house attorneys ensure they have a voice in court."
CL-SH has been on a fast track since attorney Simms was named executive director. Her ambitious agenda, buoyed by an industrious, dedicated staff, has meant greater advocacy and more expansive victim services across the board.
Nancy Malcor, Chief Assistant District Attorney of the Macon Judicial Circuit, called the agency an invaluable resource.
"When prosecuting violent and traumatic crimes, I rely on their victims' services and on staff expertise, utilizing them as expert witnesses who can describe the cycle of abuse and victimology to juries. Even if it's just having someone sit with a victim during a trial, the compassionate care they provide to victims is an incalculable asset to any prosecution," she said.
THE SAFE HOUSE
In 2009, CL-SH purchased a larger, more functional Safe House.
"We house domestic violence victims, temporarily, who have nowhere to go, no financial resources and wouldn't be safe in the community," Simms said.
Providing a short-term residence for victims of violence is the tip of the iceberg. Simms credited the staff with helping clients rebuild their lives, which she emphasized is a highly individualized process.
"They listen to the women they safeguard, teaching them basic life skills in order to make wise decisions," she said.
In 2019, the shelter received a call from a woman living with her son and an abusive partner. After the death of her mother, a history of mental problems and a string of dangerous relationships, she was seeking refuge. The staff quarterbacked her care — sought the mental health diagnosis, counseling and medication the woman needed, helped her find housing when she was ready for independence and continues to offer counsel and support today.
In Simms' experience, financial issues keep women in dangerous relationships.
"Many victims, whether disadvantaged or well-off, have never experienced independence, so we offer lessons on financial planning and budgeting. People wonder why a wealthy woman comes to us when our services are free — because she has no access to money and gets only what he gives her. She may live in luxury, but her husband controls all of the household money, deepening his power over her," Simms said. "We send clients to Central Georgia Technical College to learn a skill and we pay the tuition. The staff helps them craft a resume and develop workplace skills to become employment ready, land a job and eventually find housing."
Many women escape an abusive home with children in tow, so the shelter staff conducts parenting classes to help them re-establish a bond with their children.
"Battered women might not have a normal parent-child relationship because they've been preoccupied with trying to keep the children safe from the violence," Simms said. "We create a home-like environment with positive activities these families have never experienced, like reading, cookouts, pizza parties, baking cookies and movie nights."
The women learn to prepare nutritious, budget-conscious meals and create a recipe file for future use when they're ready to move out and live on their own. Navigating the painstaking process of rebuilding their lives while simultaneously ensuring their safety is a 24/7 job for the shelter team, which consists of a director, assistant director, child advocate, house manager and family advocate.
Last spring, a single female, rebounding from a perilous relationship, sought sanctuary, as described by the CL-SH staff "to start her life over completely." Hired by a local hospital, she began digging out of debt and saving for an apartment. CL-SH furnished the apartment, provided deposit assistance for utilities along with bus passes to transport her to and from work — a nearly two-hour commute each way. To her surprise, when an anonymous person donated a vehicle for a shelter resident, she was the staff's unanimous choice.
ADVOCATES AND LEGAL SERVICES
Full-time and part-time advocates anchor the agency's program areas (legal, sexual assault, rural outreach, child and victim), guiding clients through the aftermath of an attack — providing emotional support, schooling them on local resources and options, including legal recourse (if needed or desired), and accompanying them to panic-inducing court appearances and/or interviews with law enforcement.
Simms explained a common misconception about domestic violence.
"When people picture violent relationships, they think of women who are knocked around, sustaining bruises and broken bones. However, in some cases, a woman was hit only once, or long ago, but the dynamic was established," Simms said. "A glaring abuser sparks fear and she becomes the equivalent of a child minding an authoritarian parent. There's no equality or freedom in the relationship. She does exactly what he wants her to do, or she pays dearly."
CL-SH employs two attorneys funded through VOCA (Victims of Crime Act) and FVPSA (Family Violence Prevention Services Act) grants.
Although most domestic violence cases never go to trial, Simms said when victims decide to end an abusive marriage or relationship the outcomes are better when the victim is represented by an attorney. Research also shows that victims are in the greatest danger when poised to leave.
"If a court appearance is necessary, a staff attorney makes the case to the judge why the client needs the divorce and the children need protection, and can secure child support, set up visitation, which might require supervision, and plan for a safe exchange with the spouse or partner," Simms said.
Tomieka Daniel, managing attorney for Georgia Legal Services' Macon regional office, is a longtime CL-SH partner.
"CL-SH refers clients to us for many problems, including public benefits and cases involving unemployment, education, housing and, of course, domestic violence. I'm proud of the holistic approach that both of our organizations subscribe to, and jointly, we conduct training for law enforcement and service agencies," Daniel said.
SEXUAL ASSAULT CENTERS
With only a handful of sexual assault centers statewide, CL-SH saw a dire need in Middle Georgia. In addition to the one planned for Macon, CL-SH was asked to open a second center in Warner Robins after the closure of the Houston Drug Action Council, which served Houston, Peach and Crawford counties. Both centers conduct examinations and collect evidence for rape kits to ensure that victims receive treated for their injuries and evidence is collected for criminal prosecution, if the woman pursues criminal charges.
David Cooke, District Attorney for the Macon Judicial Circuit, weighed in, "Victims of domestic violence and sexual assault experience unimaginable pain and it is imperative that they have a place to go when vulnerable and alone. That's why Crisis Line & Safe House is so invaluable, and a priority for me as District Attorney. I couldn't be prouder of the work we've done together during my time as DA."
Cooke has been exceedingly generous to CL-SH, using forfeiture funds to ensure the agency's continued growth and expansion, including the buildout for the sexual assault centers, which opened in quick succession in 2018 — at 230 Margie Drive, Suite 400, in Warner Robins and at 915 Hill Park in Macon.
Preferable to a hectic hospital emergency room, the sexual assault centers are places of refuge and compassion for domestic violence, rape and sexual assault victims.
"Emergency rooms are chaotic, and it's possible that competent medical professionals have never administered a rape test," Simms said, adding that the wait in a hospital ER can be interminable and "most of the time, rape or sexual assault, while horrific, isn't life-threatening like a car crash, gunshot wound or stroke — all of which take precedence."
Assault is so traumatic that only 34 percent of victims injured by an intimate partner receive medical care for their injuries, and both sexual assault centers have a designated room where law enforcement can meet privately with victims and work cases.
In addition, in-house counseling is available through CL-SH.
"When a victim needs counseling, she needs it right away, not in 45 days," said Simms. "We have two trained counselors who provide individual therapy and run support groups, which is a phenomenal expansion of our services."
Past president and longtime Crisis Line & Safe House board member Holly Reeves remains amazed at the passion and commitment of Simms and her staff.
"They listen to clients and assess needs," she said. "The support services and resources are vital to helping victims take life-changing steps."
SIDEBARS
VIOLENCE DURING A PANDEMIC
Since the onset of the COVID-19 pandemic, Crisis Line & Safe House Executive Director Dee Simms affirms that its domestic violence numbers have "gone through the roof."
"At one point, the shelter program was operating at 181 percent of its normal capacity. The dire need for refuge since March has far exceeded the capacity of the Safe House, a modest three-bedroom, two-bath home," she said.
The solution? Local hotels are housing the overflow, made possible through emergency grants: three from the Central Georgia COVID-19 Response & Recovery Fund, a joint venture of Central Georgia's United Way and Community Foundation, and one each from the Victims of Crime Act and Family Violence Prevention Services Act.
"Our number one priority is to keep the staff and clients safe. We're not seeing different types of cases, just many more of them," said Simms. "Stress levels are elevated by job loss, severely constrained movement and socialization, and children who can't attend school. Couples have little or no space or time to themselves, and individuals who respond violently to stress are responding violently. Relationships that are on the edge have ended. Domestic violence always spikes when a disaster occurs, but our numbers have been elevated longer because of the duration of the pandemic."
Unlike a natural disaster, which strikes and ends relatively quickly, the COVID-19 pandemic has already spanned months with no end in sight. Simms lamented, "There's no getting away from a turbulent partner, and women who are desperate to escape, simply can't."
Initially, due to the unprecedented isolation caused by the pandemic, there was a lull in sexual assault numbers, but as society has reopened, those numbers have returned to normal.
If you are trapped in an unhealthy relationship, we hope you will be inspired to seek the support and services that Crisis Line's skilled, caring professional staff offers. The same is true if you know someone – a family member, friend, co-worker or acquaintance – who may need intervention. Every call and case is strictly confidential and services are individualized to meet each person's situation and needs. Help is readily available, through the Crisis Line & Safe House Hotline at 478-745-9292 (24 hours a day/7 days a week/365 days a year) and the National Domestic Abuse Hotline at 800-799-7233.
DONATIONS WELCOME
Monetary donations are always accepted and appreciated. During the COVID-19 pandemic, CL-SH is not accepting household items and clothing for the Safe House and residents, but is accepting cleaning supplies.
10 FACTS ABOUT DOMESTIC VIOLENCE
1: 1 in 3 American women will experience some form of abuse during her lifetime. This single statistic is reason enough to ensure that young girls and women recognize the signs of abuse before becoming entangled in a web of violence.
2: Isolation is a precursor and a hallmark of abuse. The abuser disparages family, friends, co-workers or anyone who threatens his control. To "narrow her field," he may frown upon her working outside the home and/or socializing with anyone but him.
3: Abuser profiles vary, but patterns of abuse do not. Abusive behavior is consistent and progressive. It starts small, even imperceptibly, but escalates and intensifies. The National Coalition Against Domestic Violence (NCADV) reports that domestic violence hotlines typically field 20,000 calls daily, and on average, 20 people per minute are physically abused by an intimate partner.
4: Abuse occurs among women of every age, race, religion and socioeconomic level. Abuse happens throughout Middle Georgia — in North Macon as well as in South, East and West Macon. Wealthy, prominent women are not immune, and Crisis Line & Safe House provides care and respite for seemingly unlikely victims.
5: Whether abuse is physical, sexual, emotional or a combination, there are two certainties: Abuse is ALWAYS about power and control and is NEVER the victim's fault.
6: There's a strong correlation between homicides and intimate partner relationships that begin at a young age. The 2013 Georgia Domestic Violence Fatality Review Project reports that 51 percent of homicide victims were between the ages of 13 and 24 when the relationship began.
7: There are many forms of abuse, and they can change over time. Abuse can be physical, sexual, emotional or a combination. While some abusers batter their partner or weaponize sex, others never strike an intimate partner. Some display violence early in the relationship, eventually replacing physicality with psychological and emotional abuse. A scowl is sufficient to keep the victim in check.
8: Emotional abuse is another distinct kind of terror that leaves victims off balance and in constant fear. Experts agree this can be more difficult to heal from than physical wounds. Some of Crisis Line's most broken clients are emotionally, verbally or economically abused, kept in line with threats, manipulation and intimidation.
9: In 1993, marital rape became a crime in all 50 states. Today, according to federal law, if you are a victim of domestic violence, you are a crime victim.
10: Sexual battery (unwanted contact with an intimate body part associated with sex), sexual assault and rape can occur within a relationship or with a stranger. With sexual assault, there's a use of force, threats and/or intimidation, but above all, no consent. Any unwanted or inappropriate sexual contact – or attempt – is illegal. Lack of consent, whether stated or expressed, or in the case of incapacitation or unconsciousness, means no consent.