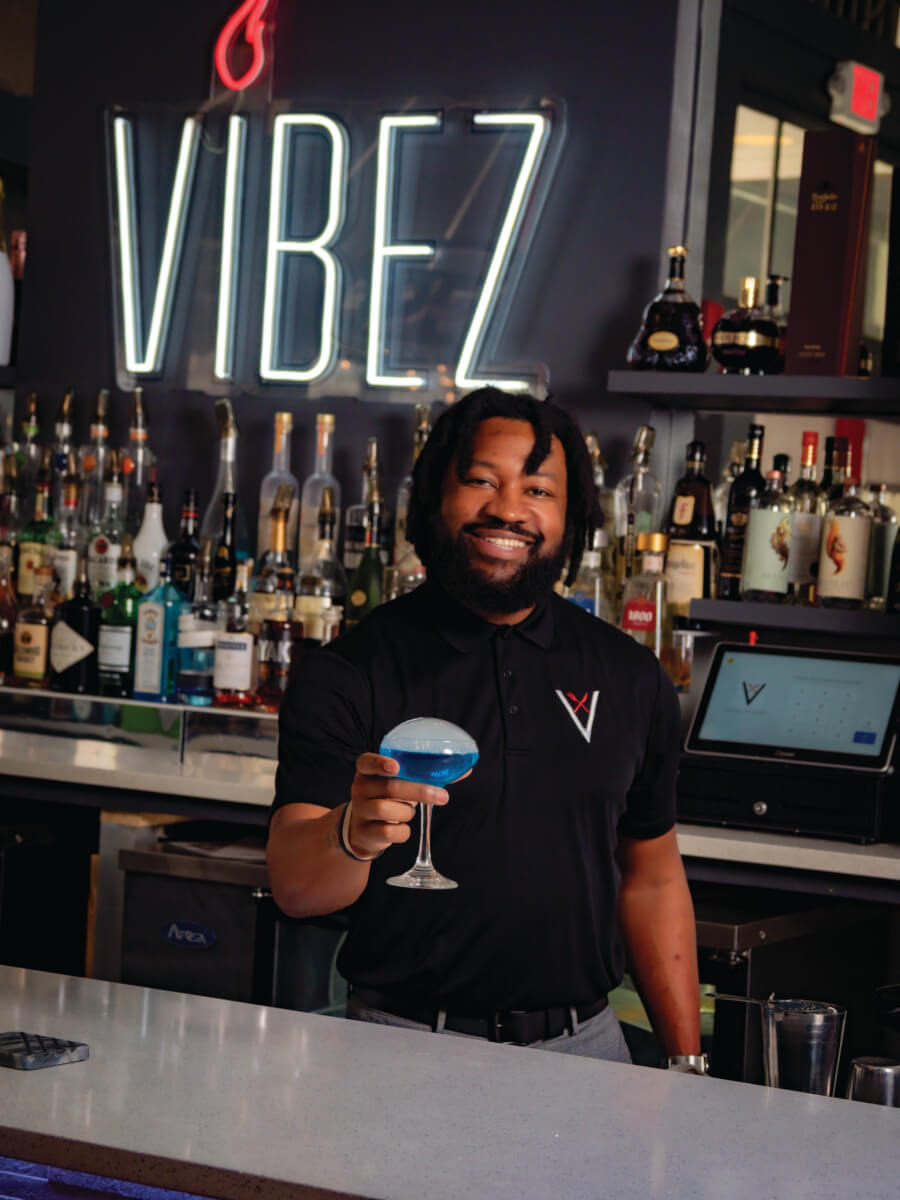 Success through struggle
How vision conquered a global crisis
By Kristen Soles
Photography by Jessica Whitley
Oftentimes, success is born of struggle and creativity comes from chaos. The restaurants and bars we're highlighting in the first of this three-part series know these statements to be true. They didn't necessarily plan to launch their companies during the worst pandemic since 1918. Circumstances more or less dealt them that hand, and they played it, finding it too late to back out of their investments. What they found was success.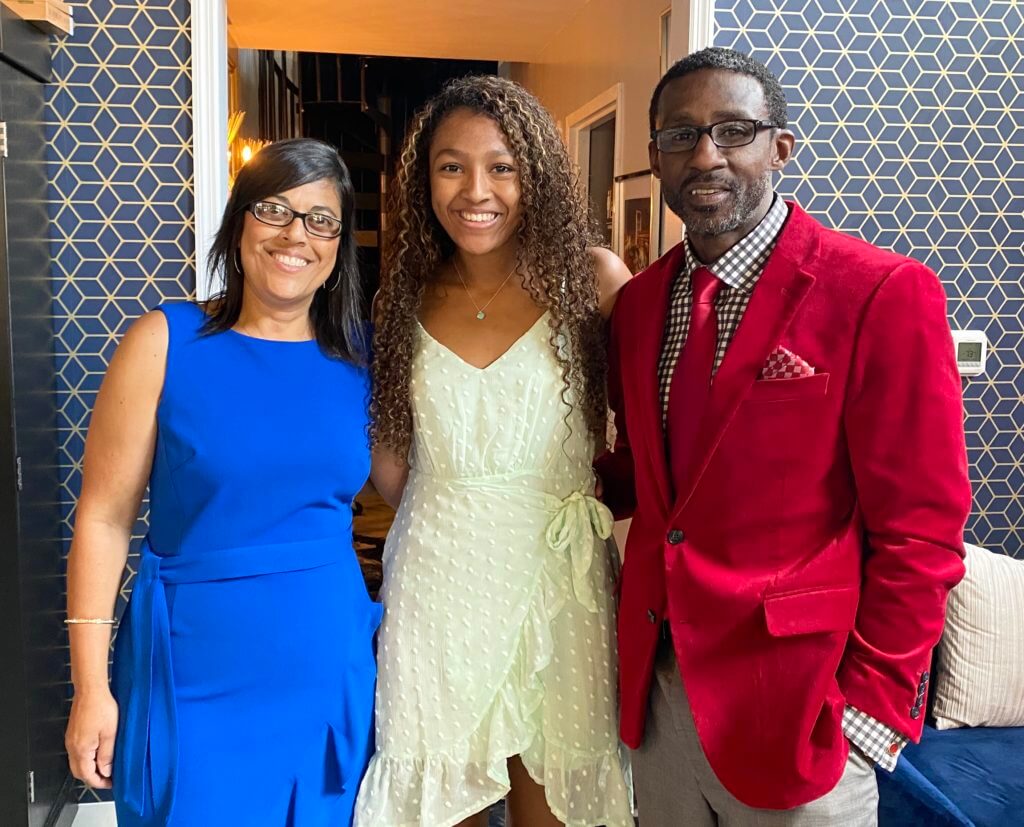 A Brooke Haven Lounge
A BROOKE HAVEN LOUNGE, on Cherry Street, is owned by the husband, wife and daughter trio of Darrin, Lessette and Alicia Ford. Darrin described the business' concept as "a social lounge that's geared toward business professionals to give them an outlet to come and hang out after work, have a cocktail and enjoy some tapas."
The idea was conceived after living in places like New York and Miami during his corporate career.
"In those cities, we had places to frequent that catered to an older, more sophisticated crowd," Lessette said. "There were a lot of stories of people traveling to Atlanta to enjoy things like that, so we said, 'Why don't we bring something like that locally and enjoy it here and not have to travel?'"
A Brooke Haven Lounge opened in February 2020. The lockdown forced them to close after only three weeks. Fortunately, they were able to reopen a short time later.
"I'm not going to lie; it's definitely been tough trying to maintain everything because whenever you have a business that's contingent upon people physically walking in your door, it makes it tough during these times of uncertainty dealing with everything with the pandemic," Darrin said. "We didn't plan to open during the pandemic, it was just inopportune timing."
Their biggest challenge throughout the pandemic has been staffing.
"It's been really tough, and it's not just in our industry. It's across the board with being able to find good quality staff and to keep that retention there," he said.
Currently, the Fords believe business at A Brooke Haven Lounge is moving in the right direction.
"A lot of our success is attributed to regulars who come and support us every week," Darrin said. "The community has definitely poured out support and love to help us sustain ourselves."
In addition to the success offered by regulars, Darrin pointed out other opportunities for creativity that he doesn't believe they would've exercised had it not been for the pandemic. He said they've collaborated with neighbors Vibez, Kinjo and Lazy Susan on different projects to generate foot traffic and keep growing their businesses.
"We're partnering now with Frankie's Boutique to do a brim painting; it's a spin-off of a sip and paint," Lessette said. "Here, they paint a custom brim that they can actually wear. We're just trying to be innovative and think of different ways to bring people to us, maybe have people visit us for the first time and say, 'Hey, I really like them!' and come back again."
Darrin stressed the vibrancy of downtown Macon — despite the pandemic.
"I want people to know that there are a lot of positive things happening in downtown Macon. NewTown Macon, Historic Macon and the business improvement district are all amazing, and they're doing great things for downtown Macon," he said. "I would encourage people to come down and eat at some of these great restaurants that we have downtown and patronize some of these bars and businesses because there's enough diversity here for everyone. Regardless of whatever cuisine you like to eat or how you like to socialize in your nightlife, there's enough for everybody here in downtown Macon."
Fall Line Brewing Co.
FALL LINE BREWING CO., on Plum Street, was the third business venture for the entrepreneur husband and wife team of Nate and Kaitlynn Kressin. They started with the craft beer taproom, Just Tap'd, which Kaitlynn laughingly referred to as a Starbucks but with beer instead of coffee.
After the success of Just Tap'd, the Kressins opened Ocmulgee Brewpub, which focused on good food and beer. Kaitlynn said other restaurants continually asked how they could carry beers from Ocmulgee Brewpub, but the Kressins weren't yet distributing.
Seeing that need, the idea for Fall Line Brewing Co. was born.
"Something that was really important to us was the local community and advertising Macon and having visitors come here and showing off all the great things Macon has to offer. In doing so and opening Fall Line, we are able to advertise for our city. We put 'Proudly Brewed in Macon, GA' on everything that we do, but we're also able to make really good beer that people can have in bars, restaurants, taprooms and package stores all across the state," Kaitlynn said.
Fall Line broke ground in 2018 and was scheduled to open in fall 2019, but with construction delays, their doors didn't open until March 6, 2020. After a busy nine days, on day 10, they promptly shut their doors — along with most other restaurants in town.
They quickly pivoted their business plan, reopening to curbside service.
"Because we are not on a road that is super busy, we were able to set up a drive-thru in front of our business, so when customers wanted to order packaged beer to go, they could order it directly from us and pull up in the little drive-thru out front. They could load up and pay us while keeping their distance and still supporting us," Kaitlynn said.
Fall Line also seized the opportunity to maximize their 12,000-square-foot event space to welcome customers while still operating within COVID-19 guidelines.
"We couldn't have large gatherings, but we could have small gatherings and there was more than enough room for them to spread out," she said.
One of their biggest challenges was getting materials they needed, but they were able to adapt in a crisis.
"We were able to sign on pretty early with a can manufacturer, who works on a contract basis, who was able to get us shrink-sleeve cans, which meant we had to buy in larger quantities, but we were guaranteed to get those cans whenever we needed them. That was great because it meant we never ran out of cans, which was also great because during COVID you're not going to bars and restaurants, you're going to package stores where you're picking up your beer or you're paying click-list to deliver the beer to you," Kaitlynn said. "So, because we were a production facility, we were able to make as much of our product as we possibly could and send it out to all of the package stores so that customers could buy it to drink at home."
Today, Fall Line is operating at full capacity with a large taproom where they sell the same beer that they distribute. They also have limited release and experimental beers available in the taproom. If you get hungry, they make gourmet sandwiches.
"We have a 6,000-square-foot beer garden where we have a big fire pit and lots of comfortable seating where it's fun to bring the kids and hang out and get some fresh air," she said.
Vibez
VIBEZ, on Cherry Street, is a local bar and grill owned by Chris Martin and Tennessee Titans outside linebacker Bud Dupree. The Wilkinson County natives, who have been friends since they were kids, traveled together extensively while Dupree played for the Pittsburgh Steelers. On their travels, they compiled creative ideas from places they visited including New York, Los Angeles, Miami and Atlanta.
Chris defines their establishment as a "restaurant with a lounge vibe. We cater to give you a wow factor. We strive for a more upscale event for the Macon area, from our platings to certain drinks we have."
He says their goal is to give customers a great experience from beginning to end.
"We have dry ice that smokes when you get certain drinks. We have a drink called the Dupree that's pineapple and cognac that has a pineapple glass," Chris said with enthusiasm.
Unlike A Brooke Haven and Fall Line, Vibez didn't open until summer 2021. Instead of opening, then shutting down, the pandemic completely delayed their launch.
"It wasn't the plan. It took us about a year to open with the pandemic. It pushed us back. With everything going on, the best decision was to wait. So, when things started letting up, we decided to go ahead and give it a try," he said.
Despite opening later, they still faced trials.
"We were open about 30 days, then our head chef caught COVID, so we had to shut down for two weeks for the safety of everyone, and that was very challenging. The COVID protocol was challenging, the fact that we lost product, ensuring the safety of everyone involved from staff to customers, finances, it was all challenging," Chris said. "Now, we have a system in place for COVID, so if this ever happens again, we know what procedures to take to get ahead of it."
Even open for just a short time, Chris said he's had the opportunity to meet many great people and do some cool events. Just before Christmas, they had a kids' brunch complete with Santa.
"About 200 kids came. We had Fruity Pebbles waffles, chicken fingers and plastic champagne flutes with Sprite and orange juice," he said. "It was so great!"
Vibez is open for brunch, dinner and late-night on the weekends.
"Come give us a try," he said. "We have the best lamb chops in downtown Macon!"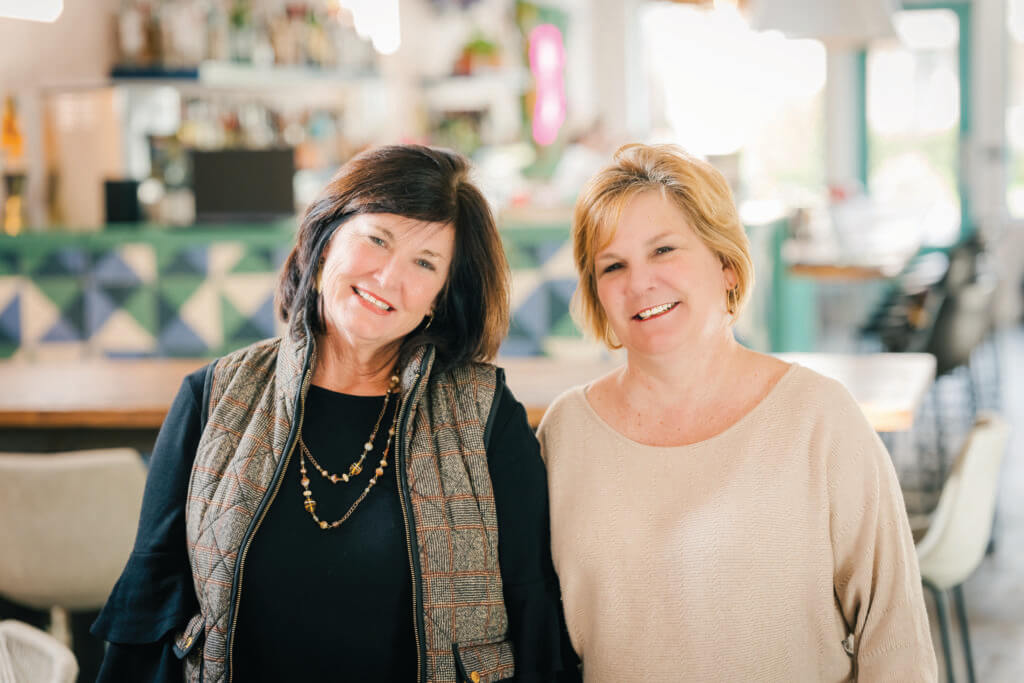 Yollah Social Kitchen & Garden
YOLLAH SOCIAL KITCHEN & GARDEN, on College Street, opened in March 2021 after construction on the bridge in front of their building made it impossible for them to meet their original fall 2020 opening date. By that time, the pandemic was in full swing, so co-owners Dawn McCullar and Brooke Woods had to think innovatively.
Brooke, who met Dawn in Athens during college, said it was natural for them to own a restaurant.
"Dawn grew up cooking with her dad at barbecue shows across the state. She loves to cook and entertain, so it just made sense to her to open a restaurant because you can cook and you can entertain," Brooke said.
They threw around different concepts for a while, but kept coming back to the same idea of Latin cuisine. They chose their favorites and built a menu around them. Many diners have a difficult time describing Yollah's fare. Brooke lovingly describes it as, "Latin food. Not Mexican food. We wanted to be more than just tacos. We have some Spanish things and some Brazilian things. I guess it's more of a 'culinary feast' across Latin America with a Southern twist."
One of their most popular menu items is the Cuban cigars.
"They have nothing to do with Cuba and no, they are not cigars. They are almost like an eggroll. They're fried wontons with collards in them, which is very much Southern, and pork, which is very much Southern, so that's where the Southern twist comes in," Brooke said.
With the pandemic going strong, Yollah first opened with curbside service, which turned out to be a real benefit for them.
"I don't think we even thought about curbside and online much in the planning of the restaurant, but that first month when we opened curbside, it not only gave patrons an opportunity to try some of our food, but it gave our kitchen staff an opportunity to work in the kitchen and know what it was going to be like once we had people inside the doors," Brooke said.
The downside to operating in a pandemic has been getting items they need, like ingredients for recipes or the soft drinks from Mexico that they carry.
"Every week it seems like there's something different that we can't get, and it seems like we have to go out and find it somewhere else rather than our usual suppliers," she said.
Brooke also said people are still reluctant even now to go out, so outside space has become more important.
"We've spent a lot of time and effort on our back patio space, what we call our garden, because we knew people were going to want to be outside, so we spent a lot of time on that," she said.
Despite the ongoing pandemic, Yollah continues to expand. Coming this spring, a stationary food truck will take up residence in the garden.
"We're going to have food that you can get really quick — grab a taco, grab some nachos, a very simple menu. If you're in a hurry and need to grab something really quick, if you've got the kids and don't want to go inside, or even if you just don't want to be indoors because of the virus, you'll be able to just walk into our garden and grab an order," Brooke said. "Some of our favorites we'll have, but also just some things that you can pick up with your hand like Mexican street corn. We'll have lots of the dips, and we'll have some beer out there, too. As much as we can capitalize on our outdoor space, that's what we're trying to do. This gives us a chance to really use that back garden and bring in more people to just relax and have fun back there."
Business lessons from an ongoing pandemic
All of these local entrepreneurs learned valuable lessons from launching business ventures during a global crisis.
For Darrin Ford of A Brooke Haven Lounge, it was patience.
"You've got to have the patience of Job to be able to manage through all this. In this type of industry, it's constant learning," he said. "This wasn't our wheelhouse by any stretch, so there's constant learning every day; it's just finding out ways to tweak the business, to do things differently, and that's really the biggest thing. We're learning every day."
He advises aspiring entrepreneurs: "Don't be afraid to pivot. Do something different. You go in with one concept for your business, but managing through this pandemic, you have to be open and willing to pivot and do something different, and I think that's one of the biggest things, lessons-wise."
Brooke Woods of Yollah Social Kitchen & Garden echoed that sentiment.
"During that time when we were waiting and wanting to get things started, it was very hard to be patient and wait on things to get moving. When you're ready to go and you've already got everything in place, it was a good lesson for me because I think we all can sometimes use a little dose of patience."
She also stressed never giving up on your dreams.
"If you have something you want to do, never give up on it," she said. "What a great country that we live in that two women, who had no prior restaurant experience, could open a restaurant and be successful even during a very difficult time!"
Kaitlynn Kressin of Fall Line Brewing Co. had a different lesson.
"Adaptability is super important. Not letting those doors that slam in your face get you down and just finding another door to go through. There's always another opportunity, and if you don't follow those leads and really think them through and make sure that you've weighed out all your options, you miss a lot of those opportunities that are presented to you."
As a first-time business owner, Vibez's Chris Martin said the lessons he's learned have overwhelmed him.
"A lot of lessons. A lot of lessons in the restaurant industry. Things come along with the business and you just have to be ready for it. Business is going to be up and down, so always be alert and ready for it," he said.
He tells prospective business owners that the "number one thing is to believe in yourself. Come up with a great business plan. Bring something different to the area. Put in the hard work and you'll be successful."
Being a successful business entrepreneur during this time also calls for another approach. Emily Hopkins, NewTown Macon's director of place, said everything is about relationships.
"Think about who your team is and the folks who are doing things similar to what you want to do that you can collaborate with. Talk to other business owners. Get an idea of what you are getting yourself into before you open a business. Talk to someone who will be real with you. It is not for the faint of heart to open a business. It takes a lot of grit, compassion and time."
When asked how downtown Macon is faring against the pandemic now, Hopkins said that the economy is improving.
"Some of our businesses still require masks, but for the most part everything is back to what it was in 2019," she said, cautioning that things may never be normal. "I think we will still experience disruptions. Like right now, we can't get cups for First Friday. But, I think that the people in the state of Georgia are moving forward so this would be the new normal."
Next, we'll feature businesses that experienced a unique growth pattern during the pandemic. Who are these innovators, and what made that upward trajectory possible during a global crisis?