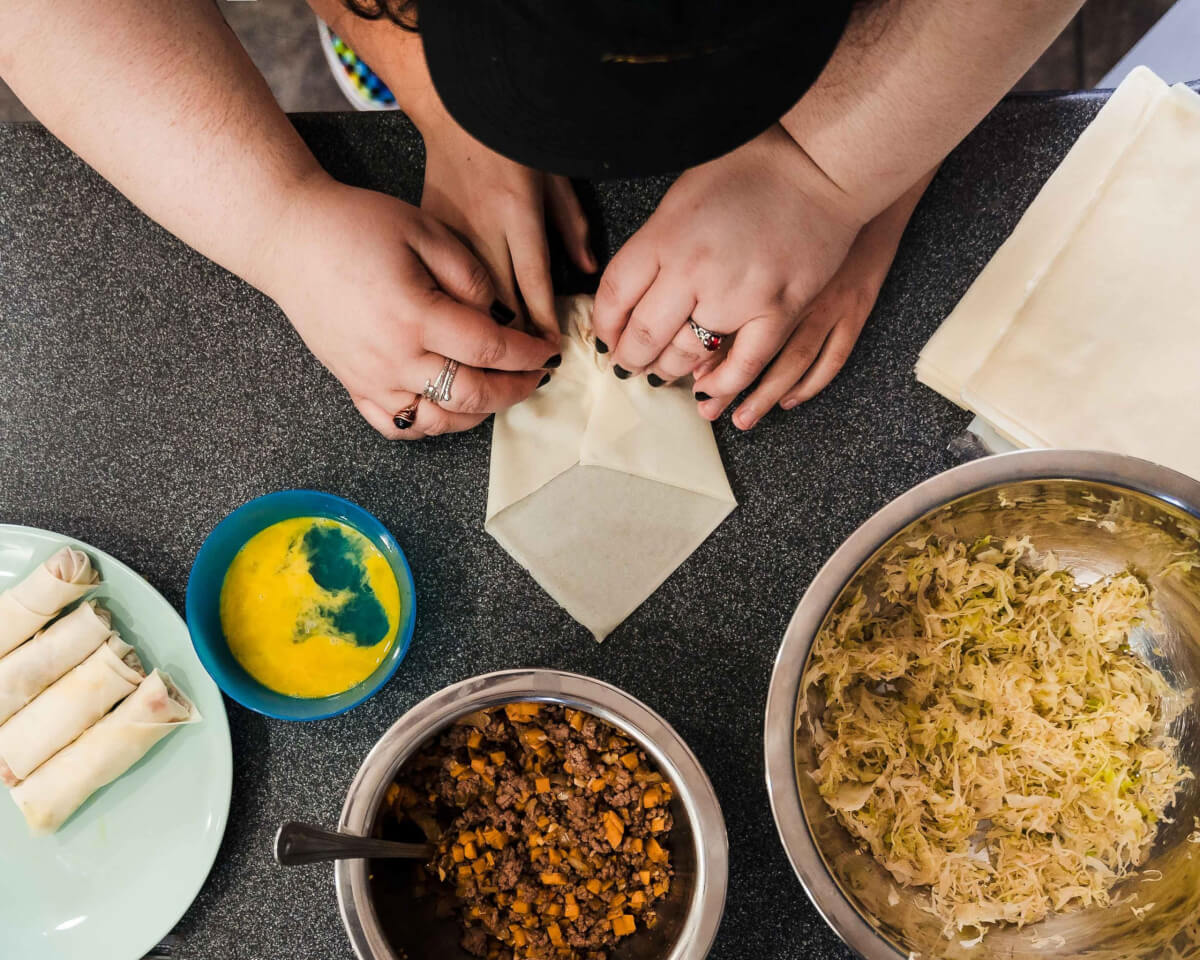 Tradishes
Tradishes
Aubrey Magallano discovers her heritage
By Kelley Dixson
Photography by Mike Young
Join us in this series as we search for the dishes that move you. For us, food always has been about more than just caloric intake, and we want to know why it is you cook what you cook. If there's a story behind your famous meatloaf or your mom's sweet potato soufflé, please share it with us via email at hello@maconmagazine.com.
Food is an efficient way to learn more about our heritage. Exotic spices and various ways of preparation can give us much insight into the availability of ingredients and tools our ancestors used. Unfortunately for Aubrey Magallano, her grandmother, who held the recipes of her culture, passed away before she could share her knowledge.
Growing up in Macon, Aubrey also found little representation of her Filipino-American background outside of her own family, leaving her often feeling left out of both her cultures. Luckily, through a friend and through food, she learned more about her heritage, the flavors of her culture and how important it is to instill her newfound pride in her son.
"My 10th birthday party ended in tears over complaints from my guests about the smells and sights at my favorite Chinese restaurant," said Aubrey, who just wanted to fit in. "It was honestly a hard thing for me to get over."
Happily, meeting her Turkish best friend – and witnessing her ability to just be herself without caring what others thought – was of great influence.
"Having other people celebrate their differences really made it OK to celebrate mine," Aubrey said.
She remembers connecting with Princess Jasmine from "Aladdin" because they had the same complexion, a rare occurrence in Disney films at the time. Having representation boosted her confidence, but she still was hesitant to completely embrace her "different" culture.
Her 16th birthday was another story.
"My family celebrated with a debut, a rite of passage in Filipino culture, by building a barbecue pit in the backyard – that still stands today – and roasting a whole pig with family and friends. I will never forget how special it was," she said.
Years later, after becoming a mother, Aubrey grew more curious about her background. Her son, Eli, turned out to be the key to unlocking her history. A festival at school prompted him to bring a dish from his culture. Aubrey, having very little experience making Filipino food, sought help from a new Filipino-American friend she met through Eli's school, Ty. He introduced her to a few recipes including one for cassava cake, her dad's favorite, and one for lumpia.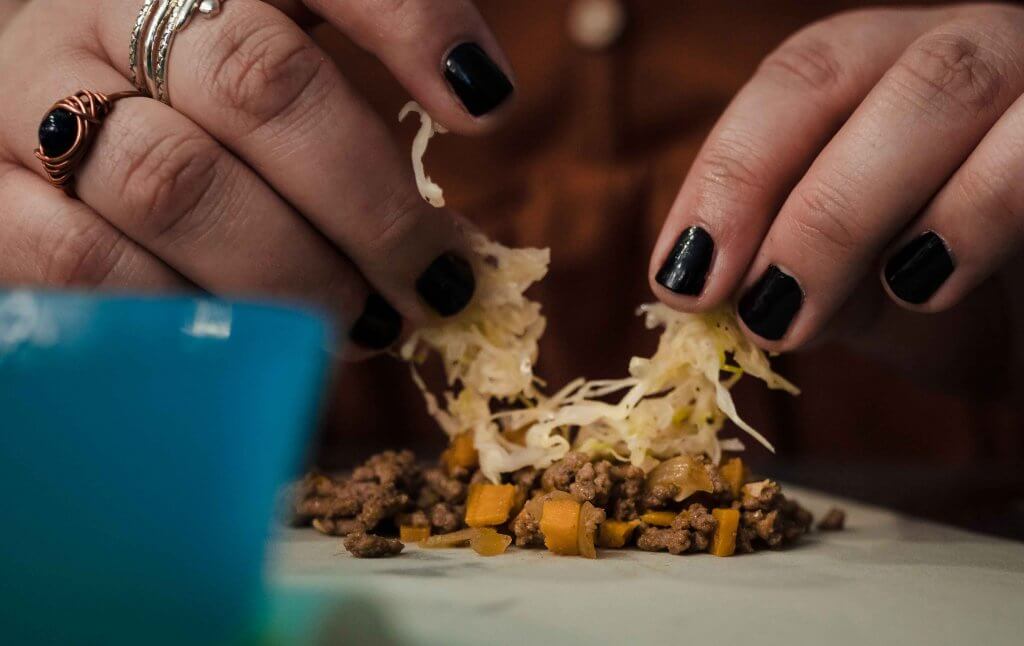 The first recipe she attempted – lumpia – quickly became Eli's favorite dish and their choice for the culture festival
Lumpia are crispy fried spring rolls filled with meats and veggies; in this case: ground beef, onions, sweet potatoes, cabbage and lots of garlic. Though it takes a few steps to make, the outcome is absolutely worth it. After browning the beef, diced sweet potatoes are cooked in the leftover beef fat until tender. Onions, garlic and other spices are added and the mixture is left to cool before rolling in rice paper.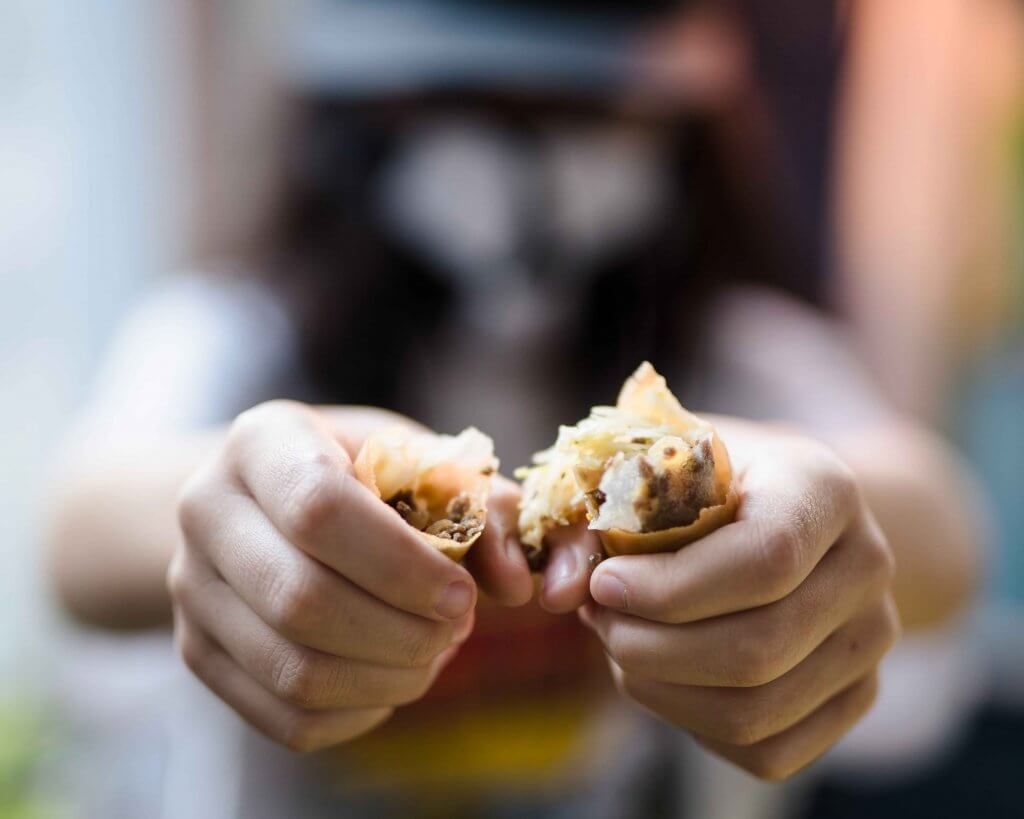 Because rice paper is thin and very delicate, Aubrey carefully separated each piece before placing the filling close to the center by the spoonful. Eli helped his mother roll the small packages of deliciousness like a burrito, and he "rolled it tight with a dab of egg wash to seal it, so no oil seeps in when it fries."
The lumpia are then deep fried in vegetable oil until golden brown and crispy then drained on paper towels. As Eli broke one in half, the sound of the crunch alone made my mouth water, though to him "the best part about making these is that our whole family gets to enjoy them together."
"Things are much different now than when I was younger, and Eli is so proud of his heritage and everything that makes him unique," Aubrey said. "I am proud that he is proud."
Different cultures are now proudly celebrated everywhere. There is even a Disney short, "From Our Family to Yours," that celebrates a Filipino grandmother and granddaughter making beautiful Christmas stars, or parols, together.
Because of that short, Aubrey was able to create another family gathering over Zoom, making parols together. It is evident that Aubrey fully embraces the custom of caring for others like her grandmother, who was a nurse, and her father, now a nurse at Navicent on the frontlines – only she does it with food.
Lumpia
1 pound ground beef
2 sweet potatoes, diced
1 onion, diced
3 cloves garlic, minced
1/4 cup soy sauce
2 tablespoons sugar
2 teaspoons black pepper
Egg roll wraps
1 raw egg, for egg wash
2 quarts vegetable oil, for frying
Sweet chili sauce, to serve
Brown beef in a pan over medium-high heat, drain and set aside. Add sweet potatoes to the pan and cook until tender. Add onions and garlic, sauté until translucent.
Mix the beef back in, and add soy sauce, sugar and black pepper. Sauté over medium heat for another 2 minutes.
Carefully separate a wrapper and place like a diamond in front of you. Add 2 tablespoons of filling and fold the corner closest to you over the filling tightly. Roll a little, then fold in the side corners and roll completely, sealing with egg wash. Bring oil to 350 degrees and place lumpia in the oil three at a time. Cook until golden brown and crispy.
Remove and drain on paper towels. Enjoy with sweet chili sauce!