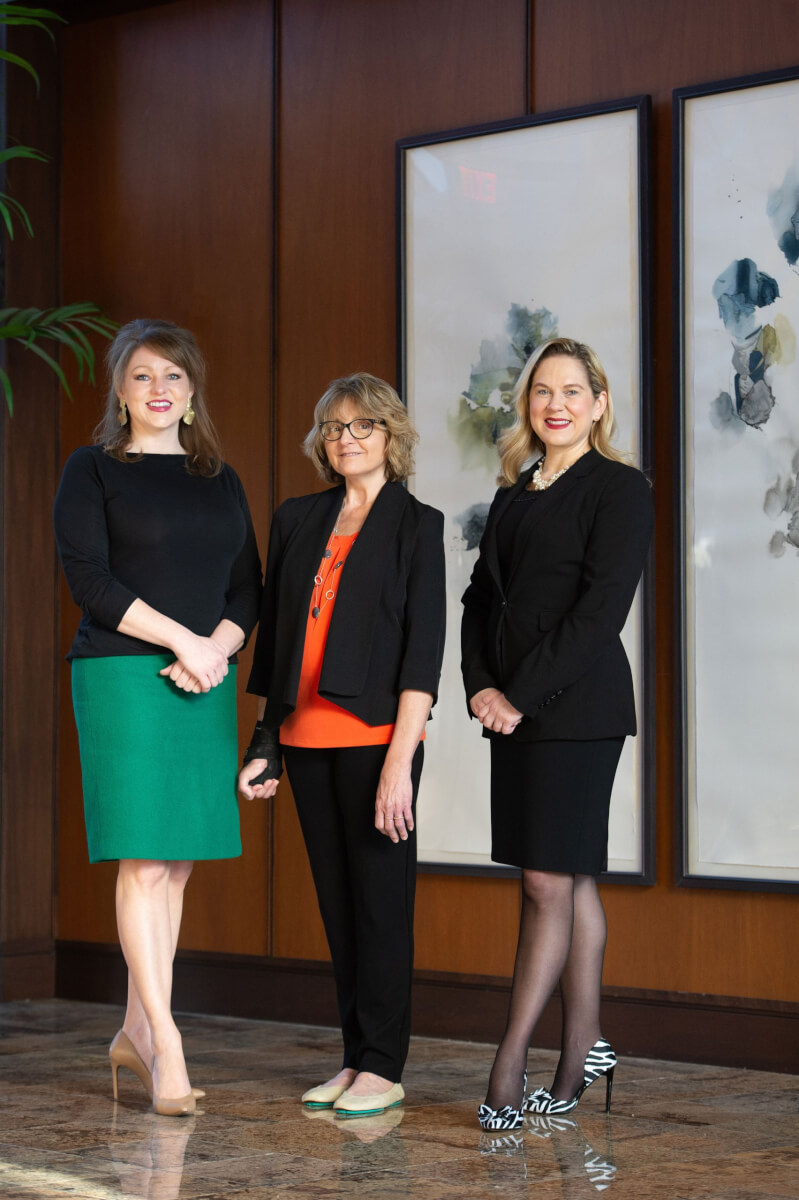 Women in Business 2021: James-Bates-Brannan-Groover-LLP
A SPECIAL ADVERTISING SECTION CHAMPIONING OUR LOCAL WOMEN IN BUSINESS. PHOTOGRAPY BY WE DO PHOTOGRAPHY.
231 Riverside Drive, Macon
478-742-4280
jamesbatesllp.com
Julie Wiley, Kim Stroup and Elizabeth Hall
How has your business shifted because of the COVID-19 pandemic?
Like everyone else, we have all had to adapt to the new world of virtual meetings. What has been unique with law has been the Zoom hearings. Unlike a normal hearing, you can't decide at the hearing whether you want to present something depending on how things are going because all the documents have to be previously loaded for Zoom. You also can't gauge the body language of the judge, the other side or witnesses as well as you can in real life. There are some efficiencies that I hope remain even after the pandemic is over – like being able to appear by phone for a short status conference rather than traveling. It will be interesting to see what things are changed forever. – Elizabeth Hall
YOUR ADVICE FOR WOMEN WANTING TO START A LAW CAREER?
There are so many different law career paths that I wasn't even aware existed when I decided to go to law school. It is not what you see on TV. Talk to lawyers in different fields and find out what they do on a day-to-day basis. If you can, shadow a lawyer, work in a law office or volunteer for legal aid. It isn't "Matlock" or "Law & Order," but it is a challenging and rewarding career. – Elizabeth Hall
What is the most gratifying part of your job?
The most gratifying part of my job is when I am able to assist the client in solving a problem he or she had not been able to resolve on his or her own. I often say the practice of law can be like a puzzle. I am always excited when all the pieces are found and put back together. – Kim Stroup
LOOKING BACK, I WISH I HAD:
Realized the benefit I would have received from a female mentor in my profession to help answer questions and discuss ideas and problems. – Kim Stroup
WHAT IS UNIQUE ABOUT JBBG?
"My Law Firm." Ask any JBBG employee what this means, and you will hear just that – JBBG is my law firm and my family, which is the primary goal of our ongoing cultural makeover. Recognizing a few years ago that our accidental culture – evolving over the years by default – needed a reboot, we embarked on our culture journey. Results of our focus appear in different forms; varying from small but meaningful change, Jeans Friday for example, to more robust initiatives like creating a corporate fund for JBBG employees to help one another in times of need – much like a family! We are all connected in our commitment for a better JBBG. – Julie Wiley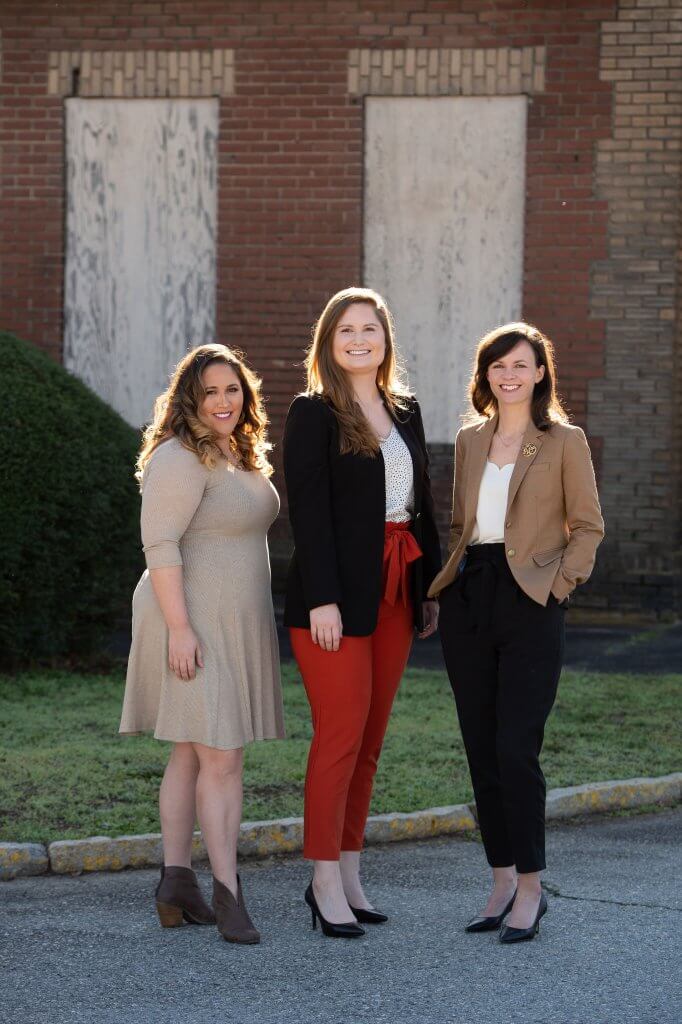 Lauren Schultz, Sarah Young and Corrie Hall
ANY ADVICE FOR WOMEN WANTING TO START THEIR OWN BUSINESS?
Make sure you know what resources are available by doing your research and seeking the advice of others in your industry. Also, hire a good accountant and attorney. – Lauren Schultz
HOW DO YOU DEFINE SUCCESS?
Success is being content in all aspects of my life. Success is not a title, a salary or a promotion. – Lauren Schultz
WHAT IS THE MOST GRATIFYING PART OF YOUR JOB?
No day is the same. My clients' needs vary widely. Managing this is challenging. But the gratifying part is that God's mercies are new each day for each new challenge. – Corrie Hall
What woman inspires you and why?
Lisa Lane, Chief Administrative Officer, Planters First Bank. Lisa's career is storied. She exudes grace, purpose, courage, and faith. She is a beautiful example that all of these things can coexist. – Corrie Hall
HOW CAN WOMEN BETTER SUPPORT EACH OTHER?
Invest in other women. It's easy to put others down in an effort to stand out. We ensure our success by mentoring, networking or encouraging other women. Be good to each other. – Sarah Young
HOW CAN MEN BETTER SUPPORT WOMEN BUSINESS LEADERS?
Give women credit where it's due and be a mentor. These simple actions go a long way in promoting the careers and success of women in the work force. – Sarah Young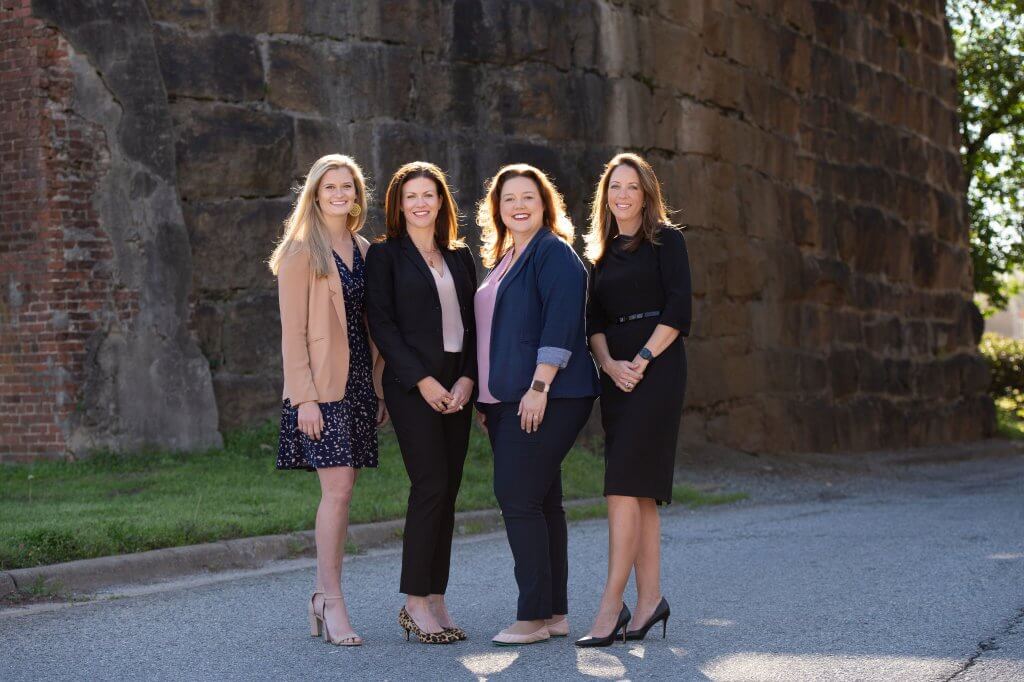 Katie Coeyman, Kathryn Willis, Dallas Roper and Edgeley Myers
What is the most gratifying part of your job?
Solving a problem. Many times, clients will come to you because they have a situation that needs to be addressed. In litigation, it usually involves a disagreement of some sort. Evaluating the situation and trying to find a resolution is part of what I do. Sometimes it will involve going to court, but most of the time it will involve resolving the case prior to a trial. When I get a case resolved, no matter which side I am on or who I represent, I usually feel a great sense of accomplishment. – Dallas Roper
WHAT IS A CHALLENGING PART OF BEING A WOMAN IN BUSINESS?
Being a woman in business is sometimes difficult because you are not always what someone expects. I make a point to politely address any misconception usually with humor. Increasing our visibility and vocalizing some of these challenges can go a long way in changing how our business and profession is viewed. Supporting other women in business is a great way to further equality in professional environments. Networking and building relationships with women in other fields is an invaluable resource. – Dallas Roper
How do you define success?
One of my favorite actors said it perfectly – "Success? I don't know what that word means. I'm happy. But success, that goes back to what in somebody's eyes success means. For me, success is inner peace. That's a good day for me." – Denzel Washington – Kathryn Willis
WHAT ARE YOU MOST EXCITED ABOUT RIGHT NOW IN MACON?
The strides forward on revitalizing Macon's downtown. Raised in a smaller community with a great little downtown, I'm a big believer that the downtown of a community is its heart – it must be healthy for the entire community to flourish. Watching so many great restaurants and businesses open in downtown Macon is exciting! – Kathryn Willis
HOW DO YOU FIND BALANCE IN YOUR WORK AND HOME LIFE?
After trial and error, I've found it works best when I prioritize, organize, ask for assistance and most importantly, make time for myself. – Edgeley Myers
What are your hobbies outside of work?
After work I enjoy running or playing tennis with friends and spending time with my children. I also love a good book on occasion. – Edgeley Myers
WHAT IS THE BEST BUSINESS ADVICE YOU EVER RECEIVED?
Find a great mentor and mimic them. I'm thankful to have multiple examples of outstanding attorneys to look to for guidance in my practice. – Katie Coeyman
What is unique about JBBG?
It sounds cliché, but we truly are a family! I get to work with some of my best friends. Though the job is challenging, it's a lot of fun as well. – Katie Coeyman