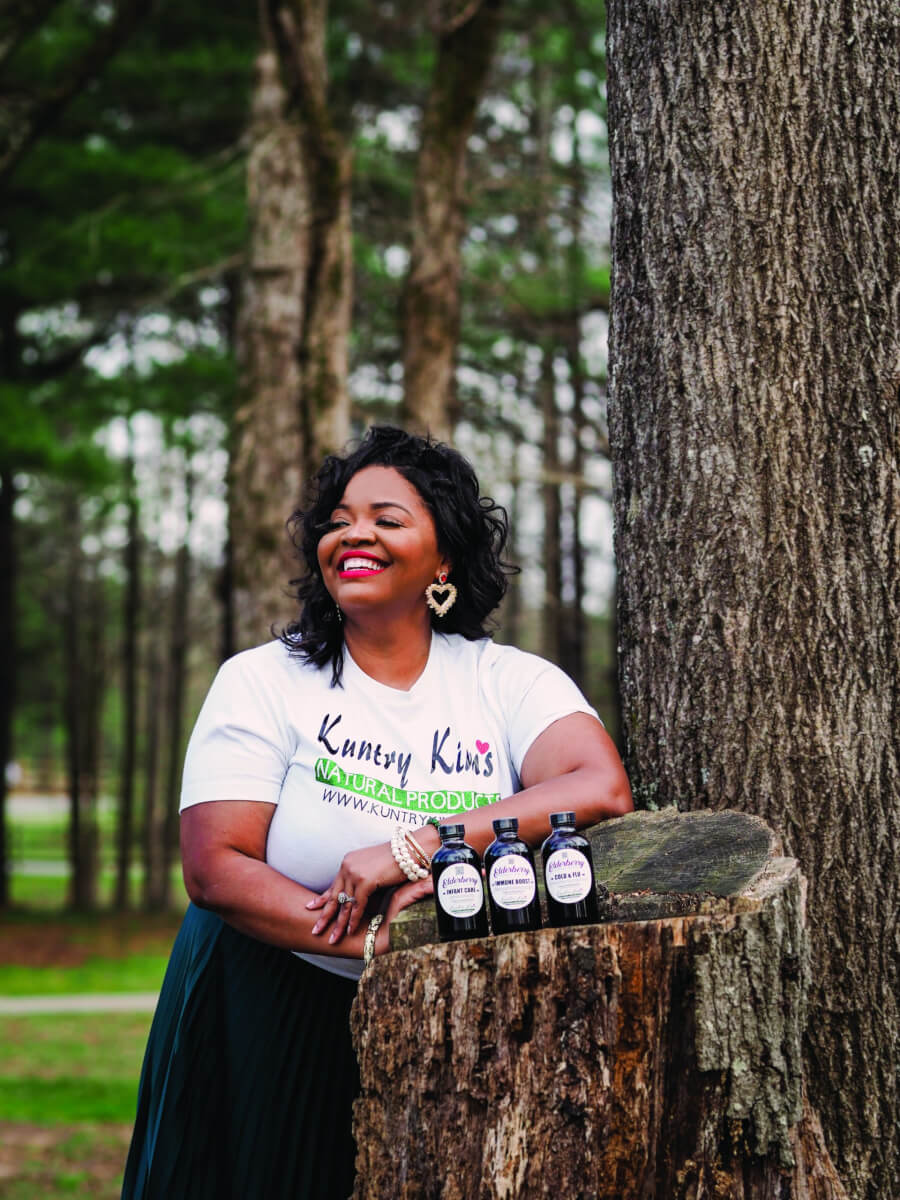 Women in Business 2021: Kimberly Talley
A SPECIAL ADVERTISING SECTION CHAMPIONING OUR LOCAL WOMEN IN BUSINESS. PHOTOGRAPY BY JESSICA WHITLEY.
CEO and Founder
KuntryKim's Natural Products LLC
470-377-0731
KuntryKimproducts@gmail.com
kuntrykim.com
WHAT IS KUNTRYKIM'S MISSION?
Our mission is to provide natural immune strengthening products that are safe and gentle enough for babies yet effective enough for whole families.
HOW HAS YOUR BUSINESS SHIFTED BECAUSE OF THE PANDEMIC?
Prior to COVID-19, I enjoyed a demanding but satisfying career in the healthcare industry. KuntryKim's products were simply home remedies from my childhood that I used to keep my family healthy. During quarantine, I began researching the home remedies I was raised on and holistic wellness care and decided to share with my friends what my family and I have benefited from for generations. Suddenly, KuntryKim's Immune Boosting Elderberry syrup was in high demand. In the midst of a pandemic, KuntryKim's hit record sales.
I hope more women will:
Show up for themselves and show their magic to the world! We are all Queens. We radiate confidence, courage, power and resilience. God created a masterpiece when he created the woman. We can do anything we put our minds to. "There is no force equal to a woman determined to rise." – W.E.B. DuBois
Looking back, I wish I had understood:
that I define success for me. The path to success doesn't necessarily start with a college education. I spent a lot of time chasing a degree but not my actual dreams. This led to so much time lost not living in my purpose. My mind was shaped around the idea that the only way I could be successful is to go to college and work for someone else, build their company instead of mine and expect retirement someday. My eyes have been opened wide and I am living in my purpose while creating generational wealth!
Your advice for women wanting to start their own business in Macon?
Believe in yourself and leverage the passion, gifts and skills that you have to fulfill your unique purpose. Identify the multitude of resources available within our community and integrate spaces where you may learn and share. Chart your path. Trust your journey and be patient with it.
How do you define success?
Creating generational wealth for our families while spending quality time and creating priceless memories with them.
What are you most excited about right now in our community?
The value, support and recognition of women; greater efforts toward unity, inclusion and embracing diversity; momentum of the entrepreneur movement and strengthening of our local economy through support of small businesses.
You might be surprised to know:
My business started with a social media post! I have always given our family remedy to family and friends to aid in their relief of common ailments so I offered to give my remedy to a mom who posted on social media that her son was suffering with the flu. She replied with insistence, "I'd like to purchase it from you." Soon after, other parents who saw the post asked to purchase for their families as well. Once those parents posted testimonials, Kuntry Kim's Elderberry Syrup was instantly in high demand and no marketing budget was necessary thanks to the power of word of mouth advertising.
What is the most gratifying part of your job?
The testimonials I receive from customers expressing gratitude for how my products help to protect their families and how it helped them to overcome illness.
What has been the most challenging part of being a female business owner?
Finding and maintaining a work-life balance and overcoming the challenges of creating a space in the work environment for women with small babies. My business took off while I was 7 months pregnant and raising children ages 3, 10 and 13. I'm a doting wife, devoted daughter and super aunt ! I want to continue to make time for self-care, nurturing my relationships and growing new baby "KuntryKim Products."
I admire women who:
I admire the Proverbs 31 woman. Faith: loves Jesus with all her heart. Marriage: a faithful bride. Mothering: a loving mother and her children call her blessed. Health: takes care of her spiritual, mental and emotional health. Service: serves others with love and kindness. Stewardship: a wise steward of the gifts God has given her. Industry: she is industrious and works with willing hands. Homemaking: a good manager of her home. Time: spends her time on that which is good. Beauty: creative and embraces beauty and godliness. Most importantly, she recognizes that it doesn't happen all at once.
What was the best business advice you ever received?
The best advice was given to me by my mentor, Tracey Pickett Esq., CEO of Hairbrella: "Listen to and focus on adding value to your customers. If you focus on that, rather than on making money, the business will grow". This has been major for me. I always listen to my customers, their needs and feedback. This is the most rewarding thing you can do for your business. By following this advice, it led to heavy amounts of referrals, releasing new products and 100 percent positive reviews.
How can women better support each other?
Engage in healthy competition that challenges one another to become better. Develop relationships and partnerships of support. Speak to one another with appreciation and encouragement to avoid negative exchanges. We are better together.
How can men better support women business owners?
By protecting the woman, listening to us, taking the standard off "role of the woman" and being comfortable with a woman leading, helping and providing while being successful. Truly undoubtedly understand that women are, as Beyonce says, "smart enough to make these millions, strong enough to bear the children, then get back to business."