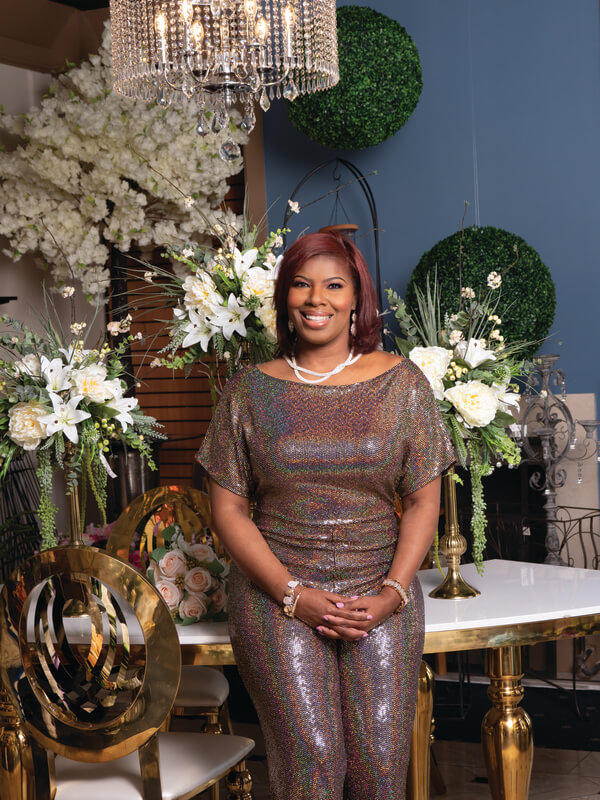 Women in Business 2021: Vanessa Glover
A SPECIAL ADVERTISING SECTION CHAMPIONING OUR LOCAL WOMEN IN BUSINESS. PHOTOGRAPY BY JESSICA WHITLEY.
A Touch of GloverFlowers and Gifts
Owner
4408 Columbus Road, Macon
478-477-5330
atouchofglover@yahoo.com
atouchofglover.com
WHAT IS THE MISSION OF YOUR BUSINESS?
Our mission is to provide our customers with a consistent and professional experience when it comes to flowers and gifts for every occasion. We will strive to match and surpass the expectations that our customers expect from us and our products. We will not compromise on quality and will never use inferior products for the sake of price.
How has your business shifted because of the COVID-19 pandemic?
We have opened up our workspace to host a small chapel-like wedding/elopement for those who want to have just a small intimate ceremony with less than 20 people. We provide the chairs, decor, draping and personal flowers for the bride and groom. All guests will have their temperatures checked upon entering and when the ceremony is over, we will have the room and items completely sanitized. We have also shifted to more online and call-in orders. Our delivery drivers are fulfilling no-contact deliveries with a call ahead or simply ringing the doorbell for home visits and taking deliveries to the front desk of business orders. Inside our shop, we require our guests to wear masks and we sanitize after they leave. Not only do we want our customers to feel safe, but we want our work environment to be safe as well.
WHAT ARE YOU MOST EXCITED ABOUT IN OUR COMMUNITY?
I am most excited about the plans Mayor Lester Miller has for our city. He said, "Together, we can all make sure everyone has the opportunity to thrive right here in our hometown." I want ALL of Macon to thrive, which is one reason we decided to stay in the west Macon area. Most businesses were leaving, but the community wasn't going anywhere. We chose to stay and rally around our community.
LOOKING BACK, I WISH I HAD KNOWN:More information about how to purchase my own commercial location rather than leasing, which is next on our agenda before I retire!
HOW CAN MEN BETTER SUPPORT FEMALE BUSINESS OWNERS?
By believing in our dreams and decisions. It doesn't hurt for "our man" to have us a monthly subscription to the local spa!
How can women better support each other?
By telling each other about opportunities that are available to advance our businesses.
What was the best business advice you ever received?
The best business advice I've ever received was from my mother. She said to always treat that customer standing across from me as if it were me standing there. Also, to trust God's plan for me — powerful advice!
Your advice for women wanting to start their own business in Macon?
My advice for women wanting to start their own business in Macon is to find someone who can be their coach or mentor. When I started in the business, there was no one to go to who would help or give advice, but now there are so many resources available on finances and continuing education in your field. Having knowledge and others around you with knowledge about your product is the key to being successful.
How do you define success?
Success is living your true purpose and contributing your unique God-given gifts in such a way it has a positive impact on the lives of others.
What is the most gratifying part of your job?
The most gratifying part of my job is seeing our arrangements or gifts literally brighten someone's day. They may have been ill, may have just lost a loved one or simply may not having a good day. We really do deliver smiles!
What has been the most challenging part of being a female business owner?
The most challenging part over the years had been trying to hire more skilled designers and drivers who are familiar with what's needed in a floral shop.
I admire women who: share their strengths and weaknesses and don't mind helping other women grow through their struggles.
I hope more women will: go after their dreams and not waste time listening to someone telling them what they can't do.