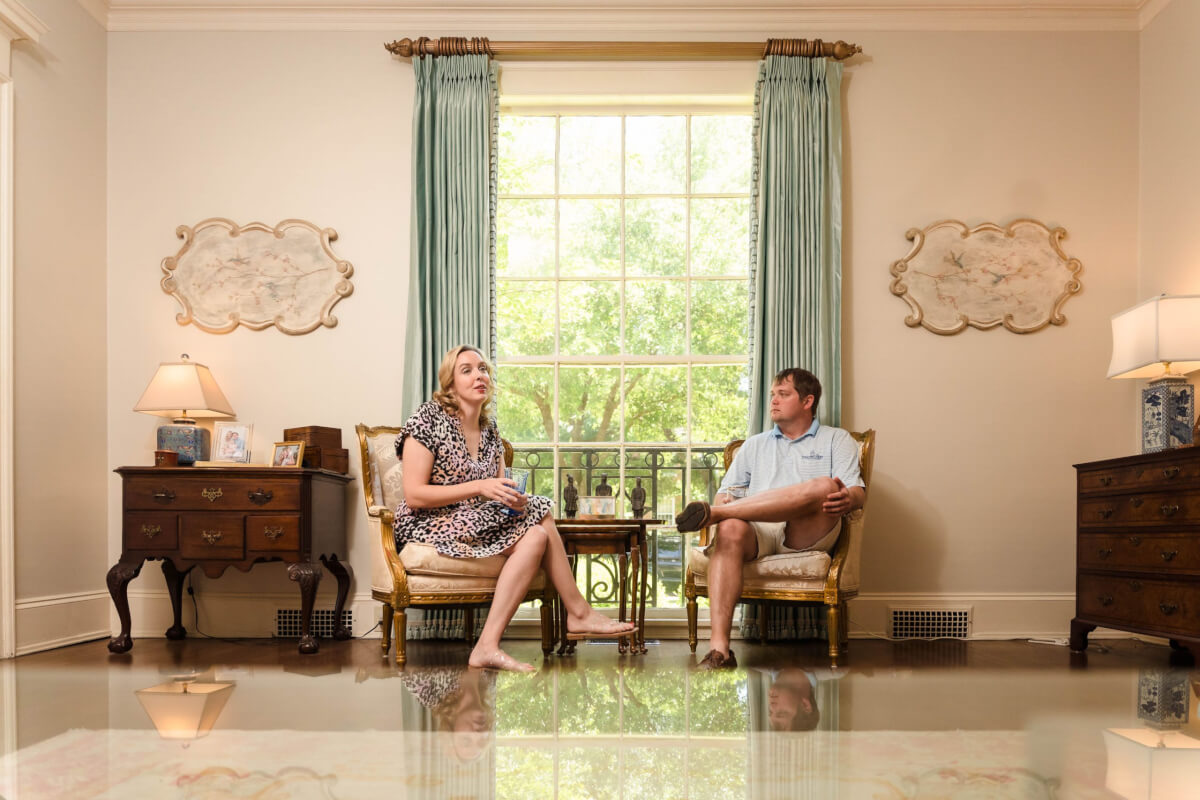 Choosing Macon: Natalie Cozart and Bradshaw Ford
By Kelley Dixson
Photography by Mike Young
A series that features individuals from our community who, after some time away, have returned to share their skills and talents here.
Cordele —the "WatermelonCapital of the World."
It's a beautiful, agriculturally rich town with less than 15,000 residents, and home to that giant rocket off Exit 101 on Interstate 75.
It's also the hometown of siblings Natalie Cozart and Bradshaw Ford.
Sitting across from me, I can tell by their demeanor how different they are. Bradshaw, cool and easygoing, is a calming presence, while Natalie, chic and bubbly, smiles brightly and instantly makes me feel welcome.
They respond as siblings often do when I ask who is the meanest. But even with these contrasts, and surely a multitude more, they both wound up choosing the same career of dentistry, choosing practices across the street from each other and choosing Macon.Natalie and Bradshaw spent most afternoons after school at work with their father, a dentist who still practices dentistry today.
"Our mom was a lawyer and an accountant, and neither of us were very interested in that, so we spent a lot of time at our dad's office. We grew to love dentistry and understand it," Natalie says.The time spent with their father sparked a love of dentistry, science, technology and community that would follow them both into their professional careers. However, it was their mother who introduced them to a different kind of community —Macon.
"It was only an hour drive to Macon, and we used to come up to go to doctor's appointments and visit family, but the old mall was the place to be. Along with the Mercer camps, Discovery Zone and downtown, we had some great times," Bradshaw says.
Natalie adds that "Macon was much more diverse and fast paced, all while being conveniently located to wonderful small-town havens like Cordele if one wishes to get away for some peace and quiet."Not only did the attractions catch their eye, Macon's educational scene was a draw as well."Our mom taught at Georgia Southwestern and was also going to law school at Mercer Law when I was 5," Natalie says. "I remember her taking me with her to class. She was so impressed with the academics Macon had to offer, we started going to high school here once she transferred to what is now Middle Georgia State University."The siblings both pursued their undergraduate degrees at the University of Georgia, but afterward, Bradshaw married and attended the Medical College of Georgia, then returned to Cordele to work with their dad. Natalie attended the University of Louisville in Kentucky for four years for dental school and spent two years in Augusta for her pediatric dental residency. Neither was planning what came next.
"I had always intended to move back to Cordele, but life took me back to Macon –partly due to the central location and diverse community. My husband and I got married in 2013, and we didn't live together at first. He was in Macon, and I lived in Louisville and then Augusta while I completed my residency. We decided to settle down in Macon, where he had been living. It was close to family, we already had friends here and a practice became available for me. We always laugh because the day I moved here, I bought a practice and found out I was pregnant all within 24 hours," says Natalie, now mother of two.
For Bradshaw, his nostalgic memories of Macon and a desire to expand to his own practice led him to make Macon his home. A Vineville area dentist was retiring, so Bradshaw took over the practice and began his career in Macon. He says he can follow in his father's footsteps here and show "the same love my dad has for what he does." Unintentionally, they eventually took over practices across the street from each other where "patients come to me when they're children and I set them up for a healthy mouth for life while helping them not dread the dentist.
Then I send them over to one of the many wonderful general dental practices, including my brother, to continue those healthy habits as adults," Natalie says. Bradshaw and Natalie enjoy seeing their patients out and about in Macon, just like their father did in their tight-knit Cordele community. Natalie believes "getting to know your healthcare professionals personally can build trust and improve your healthcare experience overall."
Sharing the love of connecting with patients, they knew that being dentists could change people's lives, but they admit they never knew how much. Their small-town values of a close community, the importance of family and taking care of people were easily discovered in Macon, where they could also "always find something to do," says C Bradshaw, now a father of three. "In the early 2000s, downtown wasn't much if you were a child. There were not a lot of parks or things to do for kids, but that has definitely changed. There is so much to do now that includes the whole family. You can definitely see the effort made by the city to make it more family friendly overall."With Macon's growth on the rise, Natalie believes "there are so many great new ideas and businesses that people are supportive of. You figure out you have a good idea, go with it, and your friends and their friends embrace it. It's really unusual for a big city."Bradshaw and Natalie are the perfect example of yin and yang, but even with their differences, they came to the same conclusion —Macon is the place to be.