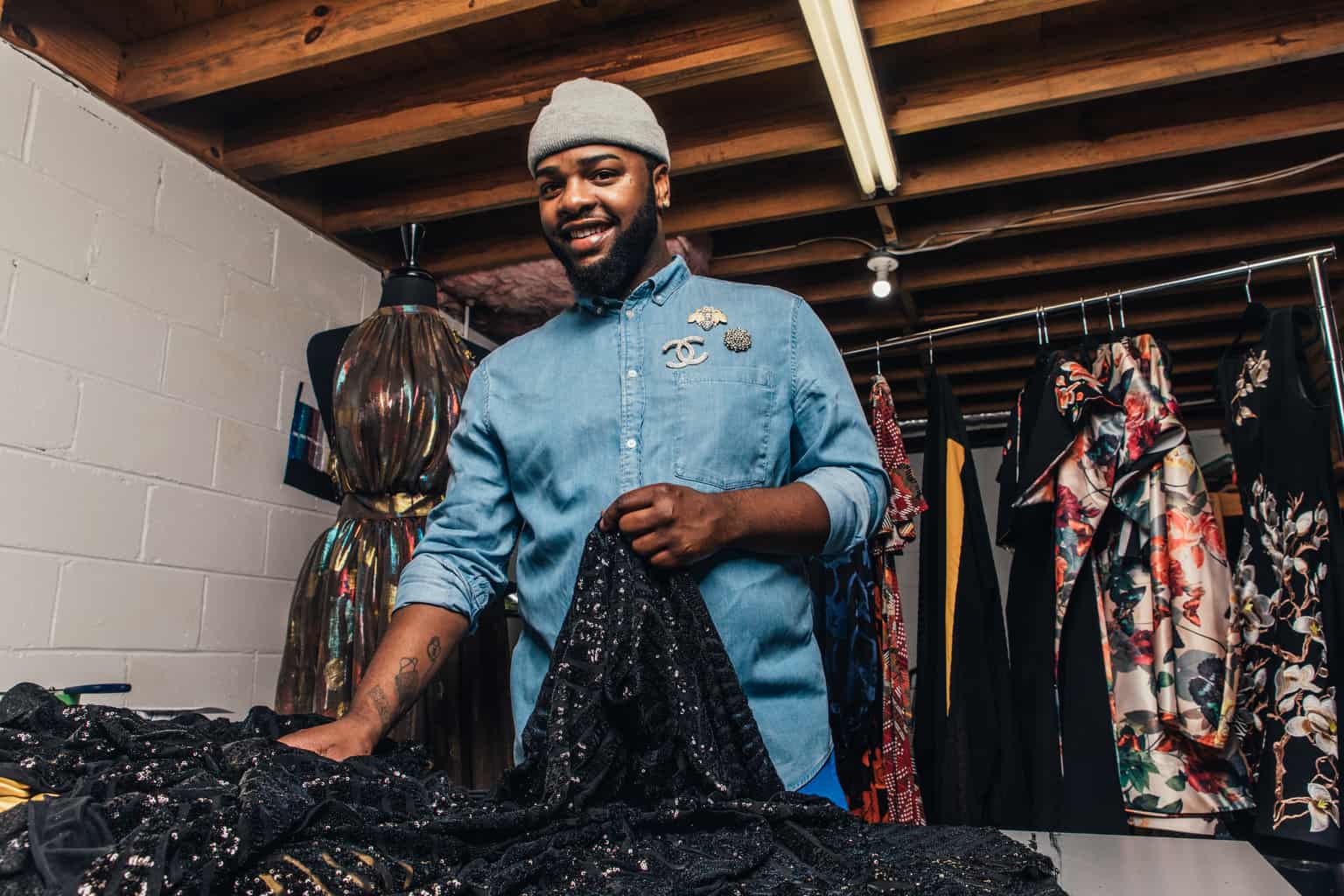 Couture Like Quitman
Local fashion designer making his mark challenge at a time
By Hannah Jett Moore 
Photography by Matt Odom 
Macon native Quitman Alexander is cut from a different cloth, a designer one, in fact.  
The self-taught stylist and custom creator is striving to sew his stitch in the fashion world, intent on working his way from a local name to an international brand. Alexander, at only 24 years old, has already hosted fabulous fashion shows of his own. He was also the featured designer at the Cherry Blossom Festival's fashion show, the "Chic Soirée," in March. 
If that was not impressive enough, he also has applied to be on Bravo's hit show, "Project Runway." While he has not been selected yet, his audacious aura suggests his big break in the industry is coming. 
Canaan Marshall, event director of the "Chic Soirée," met Alexander a few years ago and has remained impressed by his work. 
"I love his designs, color palettes and how the clothes flow on the person," Marshall said. "He is fabulous." 
When Alexander is edging his material, he is in his element, and does so eloquently, effortlessly, even sometimes free hand. He learned the delicacy of design at an early age when he would visit with his neighbor, Mary Davis, who lived across the street. She taught him hand stitching, and he still considers the technique one of his most prominent life lessons. 
He's also learned the art of selflessness, serving as the primary caregiver for his father, a blind, disabled veteran. Alexander is also proud of his mother's work ethic. She is employed at Armstrong World Industries, where she controls the forklift, among other things. A strong work ethic runs in his family. 
"Every single day I am taking care of my dad, sewing, doing makeup or doing hair," Alexander said. 
He also finds great happiness in humor. He told the story of how his parents got divorced, but their lawyer never filed the paperwork so they have been married all this time. Laughing effortlessly, he said they get a kick out of it, too, and still remain friends.  
Regarding his sense of style, Alexander draws immense inspiration from Audrey Hepburn and her distinct style. "Her eyebrows were amazing," he joked. His greatest fashion icons include Coco Chanel, Yves Saint Laurent and Roy Halston Frawick. 
"I watched a documentary on (Halston) and found out he did a lot of the things that I do," he said. "He would lay fabric on the floor and cut out a shape and make a dress. That's kind of how I work. I honestly do not ever measure. I can just see a shape. I visualize the cut straight from the fabric."  
His early aspirations were supported by extraordinary educators. 
"I remember in middle school, (Cathy) Piles was my home-economics teacher. She taught me how to use a sewing machine," he said. 
Before that, he was sewing by hand – using vinyl, trying to make bags – but that sewing machine opened all new doors and paths, for which he is forever grateful. 
Rachel Howell was another one of those remarkable teachers. She had him in her advisement class at Westside High School and remembered him mentioning he wanted a sewing machine. Howell's mother, a former seamstress, was interested in a new sewing machine when she was told about Alexander. Her mother said, "then take it to him!" Howell remembers Alexander for being comfortable in his own skin, his captivating personality and consideration for others as well as his drive. 
"He could always make me smile, laugh or roll my eyes – or both," she said.  
And there is more driving him than his desire to design. 
"I think one of the biggest things that has affected my work is not always being able to afford certain pieces and not having access to things. 
"For me, growing up, it would have been great to have someone mentor me directly in the field of fashion," he added. 
Howell also expressed the significance of investing in all of our young people – from all walks of life and with dreams and hopes of all sizes. 
"So many people don't get to turn their passion into a reality. I am so proud of him," she said.  
While continuing to work toward his goal, he does take pride in the quality and longevity of his eveningwear, formal wear, bridal gowns and prom dresses. "Why get it cheap, when you can get it custom?" is his mantra. 
"I feel like in the things that I design, there is room for everyone," he said. 
His favorite work of art thus far is a stunningly ornate orange and blue evening gown with a peephole design and flowing, floor-length fullness in the fabric. 
What does his future hold? One goal is to be selected as a contestant on "Project Runway." Proving to himself that he's up to the rigorous fashion-design challenges given to the designers on the television show, he tests himself by participating at home in the weekly design competitions. Last year, he played along with so many "Project Runway" challenges that after a few weeks he had enough designs to host his own fashion show. 
He announced recently on Facebook that he had not been selected for the upcoming season. "I just spoke with someone at casting," he wrote, "I didn't make it this time, y'all. Get ready for another fashion show."  
"Not being accepted with 'Project Runway' has lit a fire," he said. 
It's a fire that continues to burn brightly.