Double down

Alvin and Calvin Waters make cool hits and sell hot hats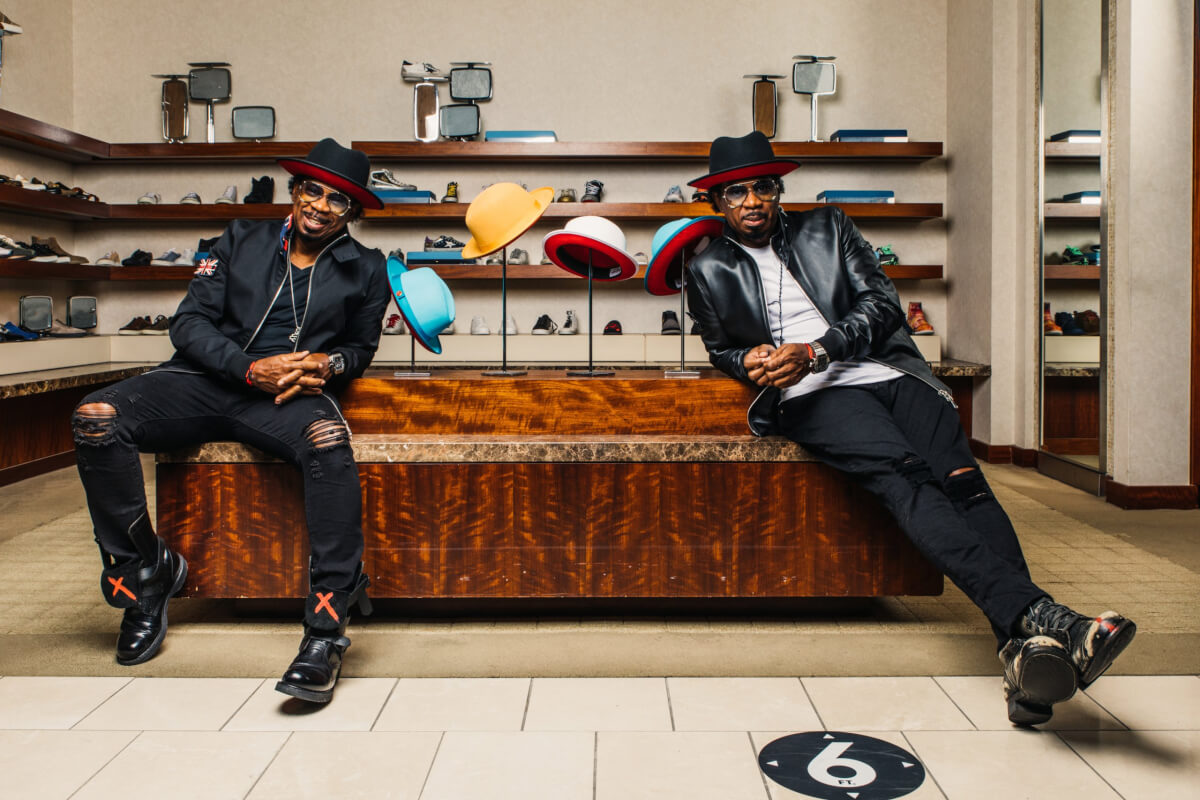 Double down
Alvin and Calvin Waters make cool hits and sell hot hats
By Traci Burns
Photography by Matt Odom
There's a pride and camaraderie that radiates from some sets of twins, perhaps because that unique bond is stronger than anything non-twins are able to experience. Many twins report leaning into their dual identity in their younger years, but diverging once they get older and need to claim their own path.
Alvin and Calvin Waters, Macon-born, Atlanta-based entrepreneurs who have made a name for themselves worldwide as recording artists, producers, musicians, marketing moguls and tastemakers, don't seem to have this need.
Their twin identity fits them like a source of power, of courage. Often you can spot the two dressed in similar outfits – sharp black jackets, distressed jeans, designer boots, dope sunglasses and their signature Keith and James fedoras (more on those later).
"Some people wanna ask why we always dress alike," says Alvin. "A team wears a uniform so that when people see them, they can quickly identify the team. It represents unity – a winning team always displays its uniform."
This team has been consistently winning since the 1980s.
Alvin and Calvin grew up "country boys" in northeast Macon. They have three siblings, and their parents, Louise and Willis Waters, have been married for 66 years. Alvin and Calvin occasionally visit their folks in Macon, though more often you'll find family visiting them in their Atlanta home.
"Our family is great," says Alvin. "My parents are great. They taught us the foundation of having a foundation – most people don't get taught that. My daddy taught me if you give your word, you gotta stand by it. And if you want something, you go after it and you don't take no for an answer."
PLAYING FOR PARLIAMENT
Fans of art, music and culture from an early age, Alvin and Calvin formed a breakdance group, the Junior Lockers, while still in high school. Their group was asked to take the stage during intermission at many Macon Coliseum concerts.
"We'd do it for free. We just wanted to perform," says Alvin.
One night, after performing at a Parliament Funkadelic show, the band asked the brothers – then only 16 years old – to go on tour with them. They knew what their parents would say, but how many chances do you get to hit the road with one of the most outrageous, fascinating funk spectacles in music history?
"So, we ran away and joined the circus," laughs Alvin, "and it definitely was a circus."
Life on the road was cut short for the brothers when their parents ambushed them post-show at the downtown Atlanta Hilton with orders to pack their things and get in the car – or else.
"I still don't know how they knew where we were," Alvin says.
The brothers were devastated, but they credit their parents' intrusion as the best thing that could have happened to them at the time.
"It was nothing but drugs on that tour," says Alvin. "Every time we'd go to the manager's room to get paid, he'd have a big tray of every drug you could imagine, and he'd say, 'You wanna get paid this way, or you want money?' We were kids – we were like, 'We don't know nothin' about that! Give us our money!' But it could have gotten out of hand."
AC BLACK IS BORN
Autodidacts from the start, Alvin and Calvin played trumpet and trombone in high school. There was a band in Macon they wanted to play with, so after school they'd haul their instruments from Morningside Drive over to Napier Avenue to play and plead their case, but usually by the time they arrived, on foot and exhausted, the band would be gone.
"We got to thinking, what makes them better than us?" Alvin says. "So, we got ourselves a bass and a guitar, and we sat in our room and taught ourselves how to play."
This tenacity and talent runs in the family. Their grandmother, who passed away in 2016 at age 103, taught herself how to play the piano as well.
The brothers took matters into their own hands, forming their own seven-piece rock 'n' soul collective, AC Black. Influenced by artists like Prince, Toto, and Earth, Wind & Fire, and featuring a musical style that was a hybrid of synth-pop, funk and booty-shaking danceable grooves, the group defied easy characterization and thrilled audiences with their high-energy choreographed performances, which had their roots in the twins' high school dance group.
Videos of the band during that time period – check out the one for AC Black's biggest hit, "Funky Situation" – encapsulate a perfect '80s aesthetic: glorious big hair on absolutely everybody, blazers with outsized shoulder pads and rock 'n' roll chicks with ripped fishnets lurking in alleyways.
The band radiated rock-star swagger and soulful heart, and the whole spectacle was often set against a backdrop of downtown Macon. These iconic videos were shot by none other than Alvin and Calvin themselves.
"I volunteered at Cox Cable at the time," Alvin says. "I didn't know anything about television. I just went over there and offered to help however I could, clean up the studio, whatever. A guy there taught me how to use the cameras, so I ended up working on the local broadcast shows. I locked up the studios every night alone, so as soon as everybody left, I'd call the guys, they'd come in and we'd record."
This invention was born of necessity: "I asked the guys I worked with how much it would cost to come in and shoot a video," Alvin says, "and when they told me how much, I looked at them like really? I'm working here for free and y'all wanna charge me like that! So, I took a few liberties here and there."
FROM GEORGIA TO JAPAN
The brothers sent one of AC Black's videos to BET's Video Soul and the station picked their clip as Video of the Week. Amazed at their good fortune, they kept plugging along, releasing music and performing at the few available venues in Macon. Not too long after that, a call came through from Motown: AC Black had landed a record deal.
Looking back, the brothers are a bit incredulous at what they managed to pull off.
"We did all this before the age of social media," Alvin says. "Do you know what it took to actually go to a bookstore, write down everybody's name – there wasn't a way to search it back then – then go to the library, write down addresses and phone numbers, call, get rejected, call, get rejected, over and over until somebody gives you the time of day?
"Back then, most labels weren't accepting unsolicited material. You had to keep calling until you found somebody who would give you permission, and most places wouldn't do that without a lawyer. We were broke, we didn't have a lawyer. But you better bet if we found someone willing to listen, we were calling back in 10 minutes saying, 'Yes, I'm Such-and-Such with Such-and-Such Law Firm and we represent AC Black.' And even if we got rejected, as long as we had that portal open, we'd get back to it. We were still in school at the time, so we'd go to school, work weekends at Brown & Williamson stacking cigarettes on pallets, get paid, take that money, buy studio time, make new tapes and get back out there."
When Motown called back wanting the band to record a demo, they were thrilled. But they never could have guessed the fascinating trajectory their career would take. The band performed in the United States – including some gigs at the Cherry Blossom Festival and others opening for Prince – but when their record proved to be a hotter seller in Japan than the USA, their label flew them overseas to perform.
Soon, Japanese artists, enamored with AC Black's funky-smooth fusion sound, began to approach the band about possible production gigs.
"At the time, we didn't really know what producing and writing even was," Alvin says. "We just did everything ourselves. We were too busy being musicians and getting girls, and we blew people off at first."
Namie Amuro, a wildly popular artist known at the time as "the Japanese Madonna," approached Alvin and Calvin after a show one night asking for their production help. The artists clicked, and the brothers ended up producing quite a few records for her. Eventually, they branched out to work with many other J-Pop and K-Pop artists as well. AC Black's music didn't perform as well as the label had hoped, and the group disbanded not too long after their 1989 self-titled record was released, but Alvin and Calvin had found new life and a new career in music production.
The brothers bounced back and forth between Japan and Atlanta for years.
"We had a flat in Japan," Alvin says. "Japan is one of the busiest, cleanest, safest places you can imagine. The culture taught us a lot – to respect time, respect people and always be about your business. If you had a meeting at 9, the meeting started at 9, not 9:01. We still practice that to this day. We are on time for everything."
PRODUCTION POWER
In 1999, Alvin and Calvin formed The Machine Group, an entertainment consulting company that has connected some of the world's leading songwriters and producers to create records that have sold over 200 million copies worldwide. They also bring their deep expertise to strategy, marketing, technology and analytics, and work to create opportunities for a diverse array of artists.
The brothers, gifted at finding talent, have signed some seriously iconic hitmakers in modern music. Two of their most impressive finds: Teddy Riley, inventor of the New Jack Swing sound, who worked with Michael Jackson, Mary J. Blige and Jay-Z, and James "Keyz" Foye, who worked with Beyonce, Nick Cannon and Jeezy, and who is currently enjoying success as co-producer of the sexy, saucy Cardi B/Megan Thee Stallion summer 2020 hit "WAP."
"We signed those guys to major publishing deals in Japan and made them rich," says Alvin.
Over time, the brothers became less hands-on in their producing duties, choosing instead to curate teams full of musical talent and leave them alone in the studio to do what they do best. Decades in the music industry have put them on a first-name basis with many of the artists on rotation on any respectable Southern hip-hop playlist, like Cee-Lo Green, Big Gipp and Big Boi of OutKast fame.
"We've got a joint venture coming out with Big Boi soon," Alvin says. "Purple Machine. We're gonna introduce a new line of baseball caps." "We've got a joint venture coming out with Big Boi soon," Alvin says. "Purple Machine. We're gonna introduce a new line of baseball caps."
A CROWNING PROMOTION DEAL
Those won't be the first hats the brothers are professionally affiliated with, though. A few years back, Alvin and Calvin were engaged in one of their favorite pastimes: shopping at the Shops Buckhead in Atlanta, around the corner from their house. In Attom, a chic menswear boutique, something new caught their eye – a display of striking fedoras, classic designs rendered in modern, bold colors, each with a signature red brim. In a stroke of good fortune, the hats' designer, James Keith, was in the store at the time, and Calvin approached him to compliment his designs.
A young, black designer who was inspired to create his hat line as a testament to the values and traditions of his family and his North Carolina hometown, James was startled when Calvin asked him if he'd ever thought about having his hats in Neiman-Marcus.
"I can't do that, man," James said, flattered but practical. Calvin laughed: "Well, we can."
How did the brothers develop a relationship with Neiman-Marcus?
"Well, we spend enough money there to have a good relationship," laughs Alvin. But it all came down to their reputation in Atlanta.
"We were always taught to have a good rapport with people," Alvin says. "Let people know you're a good person, you're good to deal with, and at some point, the word will get around to the right people that you're good people."
And that's how Alvin and Calvin partnered with Keith and James (the name James Keith gave his business – he wanted his family name to come first) in 2018 to get those fedoras into Neiman-Marcus and Bergdorf Goodman.
"We wanted to help him take it to a whole other level of exposure," says Alvin. "To have your product featured in those stores lets people see that you are worthy of being on that plateau."
Marketing came naturally. They sent Keith and James hats out to a variety of celeb friends and acquaintances, and people loved the hats so much they organically became wardrobe staples. Photo ops, social media posts, hashtags and broad enthusiasm for such a cool, luxe fashion accessory did much of the marketing work once the ball got rolling.
Fans of the Keith and James brand include shoe designer Christian Louboutin, boxer Floyd Mayweather, rapper Jeezy and style icon Martha Stewart, who the twins describe as down to earth. "Martha's our girl," Alvin says. "We love her."
The duo also managed to present one of these hats to perhaps one of the most famous people in the world, someone who transcends mere celebrity – the Pope. There's even photographic proof on their Instagram page. "We know he's never gonna wear it," says Alvin, "but it's in the Vatican. That's a pretty big deal."
What makes these hats so sought after?
"We created an image of luxury surrounding the hats. If you have this on, you become somebody," says Alvin. "You wear a crown."
The hats also have impeccable craftsmanship and sincere, positive messaging. Each one is marked with a unique Circle of Love red logo meant to symbolize unity. With a price point beginning at $400, these are indeed luxury purchases, but if you can afford the splurge and you look good in a hat, you couldn't find a finer one.
Keith and James recently opened a boutique in Beverly Hills, and the brand was chosen as a feature in the Neiman-Marcus 2020 Christmas Book, in the coveted Fantasy Gifts section, where they offered an array of custom-made Keith and James hats, complete with hat boxes, display shelves and a virtual conversation with the designer.
All of the Fantasy Gifts included a $10,000 donation to the Heart of Neiman-Marcus foundation, which benefits the Boys & Girls Clubs of America. In addition to that, Keith and James pledged additional funds to the Jam Master Jay Foundation, which supports music education in underserved schools. Talk about arriving in style.
GIVE, GIVE, GIVE
They've made their mark in both the music and fashion worlds, so what's next for Alvin and Calvin Waters? "Some things we gotta be hush-hush about," says Alvin, "but follow us and you'll see."
In the meantime, the duo is developing a diversity program with Neiman-Marcus to showcase up-and-coming minority designers.
"We want to champion unity over separation," Alvin says. "When we work together, magic happens."
The duo also is committed to giving back to their community. They recently partnered with Atlanta's Dr. Glenn Toby and his BookBank Foundation, a nonprofit that started as a way to get reading materials into the hands of underprivileged families in the area but has since branched out to provide resources to combat hunger, abuse and homelessness. The Waters brothers threw their support behind Groceries 2 Gro, a BookBank Foundation program that delivers free organic groceries to the doorsteps of those who need them, whether it be individual families or senior living centers.
"That was a foundation our parents taught us," says Alvin. "Give, give, give, and do it from the heart."
Macon's Otis Redding Foundation and its mission of empowering young people via music education is near and dear to the brothers, too, and not just because director Karla Redding-Andrews, Otis' daughter, is their cousin.
"I have always admired the 'take charge' attitude of the twins, who are family on my mother's side," says Karla. "Their tenacity has always opened every right door for them."
"Providing opportunities for music and arts education is something we wish had been available to us when we were growing up," says Alvin. "The Redding Foundation is definitely making a difference in the lives of so many in the community we come from."
One thing the brothers don't give out easily is a free hand up for musicians.
"We hear it all the time," says Alvin. "'Hey, put me on!' But they don't wanna work. People still call every day and want to send us songs – and 9 times out of 10, we don't wanna hear them. We can tell when somebody hasn't put in the effort."
The brothers can't help comparing today's effortless access to information and technology to their own coming-of-age story, one marked with dogged tenacity and a need to always be better and do better.
"Macon gave us odds we knew we had to overcome," says Alvin. "We weren't thinking about overcoming Macon, we were thinking about overcoming the world. We looked at it with a world view."
When they think about Macon, the brothers are heartened by the downtown revitalization and expansion, and by the explosion of arts and business in the city they once called home.
"It's a good thing, and it's been a long time coming," says Alvin. "And it needs to keep going. Don't stop now."
One thing they miss from their hometown is Nu-Way hot dogs. Alvin, reminded of those century-old iconic chili-slathered gut-bombs, echoes the sentiment. "Hell yeah, Nu-Way," he says softly, as if he's accessing some deep, good comfort-food memory.
Turns out, no matter how far you travel, how many celebrities you meet, how palatial your home is or what kind of lavish hat you have on, if you've got Macon in your blood, you're forever bewitched by the siren song of those historic hot dogs. And that's exactly the kind of thing that keeps these brothers humble and real enough to truly fly high.
Any advice for young people starting out in creative fields today?
"Create your own lane, but don't take the easiest path, don't be the weakest link. Compare what you're doing to the strongest thing out there. I don't care if it's fashion, music, whatever. Don't emulate a rapper that's been hot right now for five minutes. Look at somebody like Jay-Z, who's been on for 20-plus years, and try to top him. Try to be better than the most iconic thing you've ever seen." – Alvin Waters
Follow Alvin and Calvin on Instagram at @twinsalvincalvin to see what they're doing next and spend some time poring through their archives to see them chilling with Martha Stewart, opening for Prince in the '80s and hanging out with all manner of cool people. Visit @themachinegroup100 on Youtube to check out vintage AC Black videos. Visit the Machine Group at themachinegroup.org.