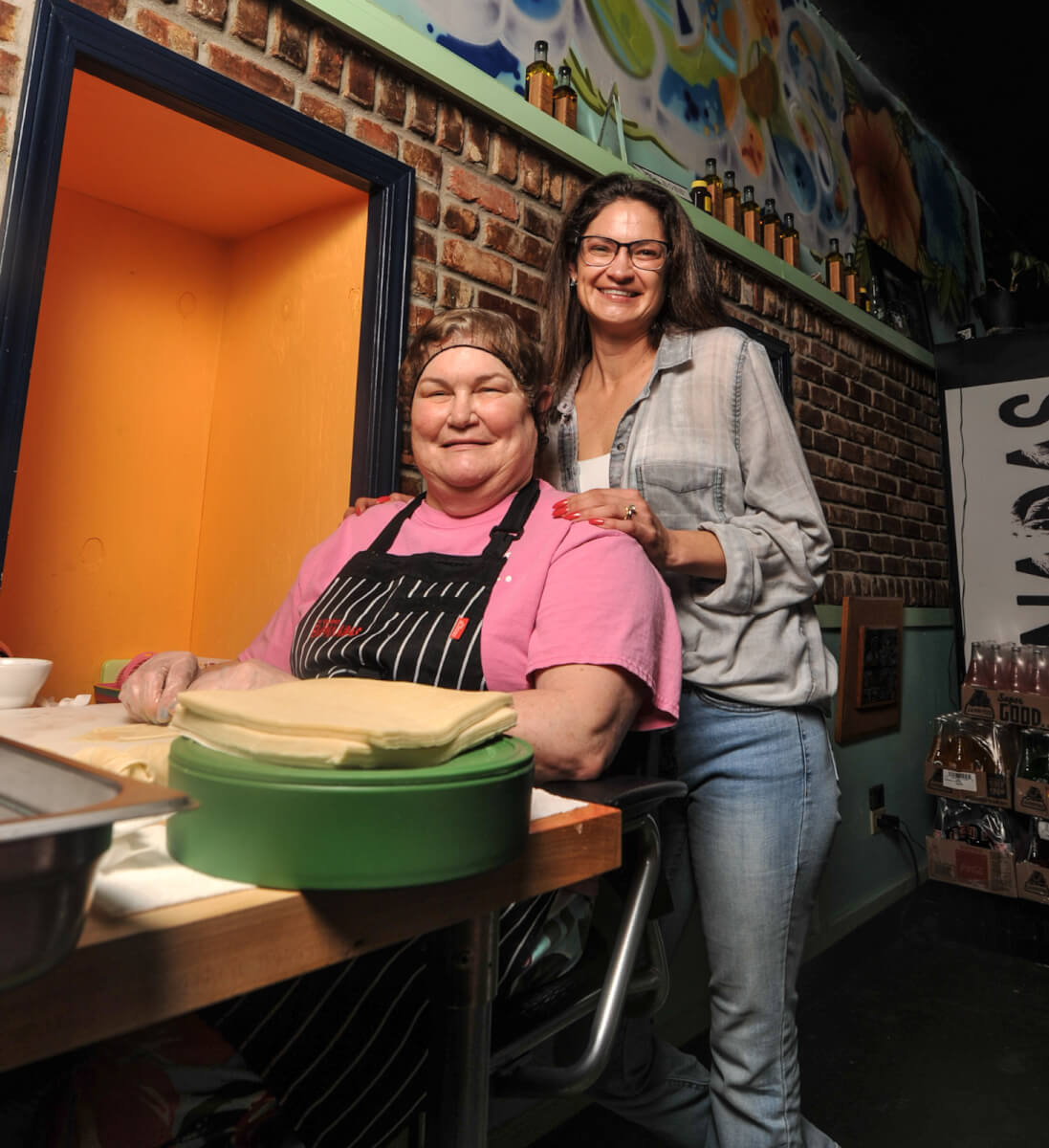 Empanada aficionada
Rikki Waite turns farmers market stand into standout restaurant 
By Michael W. Pannell 
Photography by Dsto Moore
Blue skies or gray, Rikki Waite found people lining up for the empanadas she made and sold at her simple, canopy-covered table at Warner Robins' International City Farmers Market.
It was the summer of 2015 and her menu was short, but people clamored for the beef or cheese empanadas she made using her Panamanian grandmother's recipe.
And for her stuffed avocados and free fruit water.
Waite's mother, Sharon Crookshanks, helped man the camp-stove they cooked over at what they appropriately named My Grandma's Empanadas.
From that successful farmers market launch pad, Waite risked opening a storefront restaurant in late 2016 at 120 S. Armed Forces Blvd., just across Ga. 247 from Robins Air Force Base.
"I came to Warner Robins as a 'military brat,'" Waite said. "My mom was an Air Force master sergeant, retired now, and is still our best quality assurance person, not shy, telling me, 'too salty,' 'too spicy,' 'too mild' or 'not enough culantro.'"
To Southerners, an empanada might look like a good ole' fried fruit pie, but at Waite's Panamanian-Latin American themed restaurant they're filled with beef, spicy chicken, lamb and occasionally other meats like buffalo or llama.
My Grandma's also has fresh market vegetarian choices, unique carimañolas, rice dishes and other entrees, sides and desserts.
Waite graduated from Warner Robins High School in 2000 but maintains she's been a businesswoman since she was 10 years old and cut up Christmas cards to sell door-to-door.
"My mom was my role model," she said. "She was a single mom, and I got my work ethic seeing her not miss a day's work and taking extra jobs when needed. But as a restaurant owner now, I was never actually the great cook of the family – that was my mom and sister, Shurré Hampton."
Waite said it was her sister who spent time with their grandmother, Evelia Mills, learning to cook.
"And thankfully, she wrote down her recipes," Waite said. "Shurré taught me to cook."
Hampton is now general manager of an insurance software company called Silvervine and prior to My Grandma's, Waite worked in software herself and was support manager for GameOfficials.net, a provider of referee scheduling software used nationwide.
"I loved it but wanted out of an office," she said. "I wanted to see the sky, hear birds, be around people. And I wanted to create something of my own, see it succeed and benefit others. I wasn't the greatest cook, but I had one of the greatest recipes around."
Waite said she gained insights from farmers market vendors who helped shape her restaurant's commitment to using locally grown goods and products to feed local people "the best food in the healthiest way."
What some might consider drawbacks, she's happy about.
"We don't have a freezer, a microwave or a deep fryer," she said. "We don't need them."
Empanadas are fried in a cast-iron skillet using cold-pressed, unrefined, non-GMO sunflower oil from Oliver Farm in Pitts, Georgia.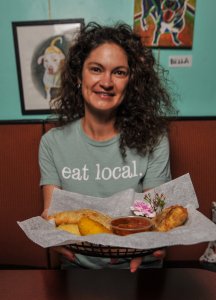 PBS featured My Grandma's on its "tasteMAKERS" program for Waite's use of the light, more healthful, fresh-tasting local sunflower oil.
Waite said she started her business as economically as possible, spending only $500 to outfit her farmers market venture.
But the full picture is that Waite believes in not only serving her grandmother's inspired food, she and her team are just as committed to serving the local community. Their tip jar is rarely for tips but for causes ranging from local sports teams and fighting human trafficking to civic charities and helping individuals with cancer.
With help from J Auto Ranch, they served 300 meals to first responders during some of the worst coronavirus days. They help senior citizens, and at Christmas give not only thoughtful gifts reflecting favorite colors but organize giving big-screen TVs, computer tablets and the like.
When another restaurant closed for days due to vandalism, Waite collected money to help with repairs. She now serves as a member of the Robins Regional Chamber's executive board.
"Our restaurant isn't huge, but it gives us a platform to do good things," Waite said. "I want to help and be a blessing."
Of course, My Grandma's neighbors include RAFB, where Waite has invested herself and been named honorary commander of the 5th Combat Communications Group.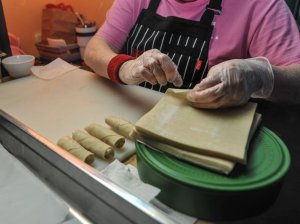 "Rikki has done an amazing job with My Grandma's Empanadas – it's become a go-to place for the base," said retired Brigadier General John C. Kubinec, former commander of the Warner Robins Air Logistics Complex, who is now the 21st Century Partnership's president and CEO and a board member of the State Veterans Service Board.
"The way she supports the community and gives her heart to everything she does is remarkable," Kubinec went on. "You can tell it in her community service and in the taste of her food. Talk about a leader; she's become a great one."
Waite uses the term "loyal locals" to describe friends and customers who kept the restaurant meeting sales levels during major COVID-19 restrictions. Even then, Waite found a way to help friends and farmers by creating a drive-through market in her parking lot when the local farmers market had to shut down for a season.
Though she doesn't flaunt her good deeds, word gets out and at times results in appreciative customers lining up far outside her front door.
"You have to give back," she said. "Whether you think you can or not, you have to give. You give because you're a part of the community."
Waite clearly loves her loyal locals but surprisingly said they are not priority-one for her. She said her employees are.
"I want to do well by our team," she said. "It's the right thing to do but also turns into better customer service."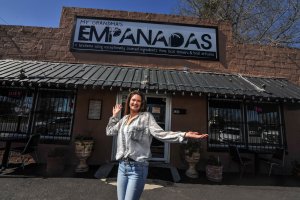 Despite accolades, Waite's empanada path hasn't been all roses, like the fresh, locally grown ones often on her tables. The transition from farmers market to restaurant almost put her out of business. Originally, she purchased land further off Ga. 247 and got a portable building – a shack, she calls it – to put there as an empanada stand.
She said she hit every roadblock, was denied permit after permit and all her plans failed.
"I was ready to give up," she said. "A lot of work and hopes and tears ended up going down the drain. But I think there was a reason."
At her worst moment, someone offered to buy the shack and she quickly sold it. Then, on a particularly bad day, she determined she would get up and find a suitable spot. What she found was the current location, known as the city's oldest commercial building, shuttered for decades and once having the reputation of an infamous dive bar.
"We decide to change the atmosphere," Waite said. "Thanks to so much work and help from my husband, Mark, and family and friends we finally opened without taking on debt. But we did have to scrape up spots of blood-dried carpet and paint over naked women drawn on the walls."
Customer Kristina Kendall said you'd never know that now. She and her husband, Joshua, come from Byron to eat at My Grandma's twice a week.
"We discovered her at the farmers market and now love this place," she said. "The atmosphere is so open and friendly with bright and cheery Latin decorations – especially for it being what it was. They've made it a wonderful place to be."
Kendall's favorite item? A new dessert called the Funky Monkey empanada.
"It's so good," she said. "It's filled with chocolate pudding. Surprising but so, so good."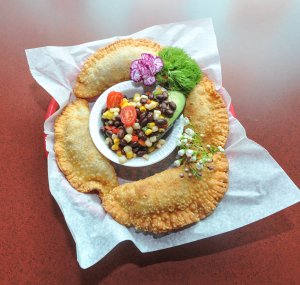 (SIDEBAR)
Rikki's tips
Rikki Waite's advice for women thinking about opening their own business is simple: Do it!
"I'd say do it – but do it for passion and not for money," she said. "Profit will come after love is poured into it with a lot of hard work. People want to go into business to strike it rich, but 'strike it rich' isn't a good plan."
If that's her advice, her example includes starting with a low overhead and finding a way to prove your product without taking on heavy debt. Waite also looked to herself and those around her to add her own style at a low cost. It may not work exactly the same for everyone, but she considers it solid advice.
"I was lucky enough to profit the first day by starting simple with only a $500 investment at a table at a farmers market and grow from there," she said. "I don't know if my advice for someone wanting to own a restaurant in particular is really advice, but I'd say just know that it's ridiculously hard with all the hours you put in. It's hard, then you have a lot of fun, then it's hard. You have to wear every hat."
As to the matter of her gender, heritage and age?
"I wouldn't say any of that has caused adversity, but it's funny I still run into people who find it hard to believe I'm the owner," Waite said. "Many think any male employee around is the owner before me. But we have such a diverse group of loyal locals, everyone you could imagine, that I don't think there's any bias against me. I've felt accepted and supported. We're a community – and we have great empanadas."
When Waite talks about support, her desire is that women-owned business have the support she's seen but also includes support for all local businesses. After all, the most often seen T-shirt at her restaurant says, "Eat Local."
"When people support us, they support our business and the local vendors and artisans we work with as well as the community involvement we have," she said. "I don't dare speak for every woman or person of Latin heritage, but I can say we're all in this together. I'm happy we're a platform for women, farmers, artists, community organizations and others whose names we help get out there, as well as for my grandmother, our family and what has happened here at the restaurant. We still think the sky is the limit, step-by-step."