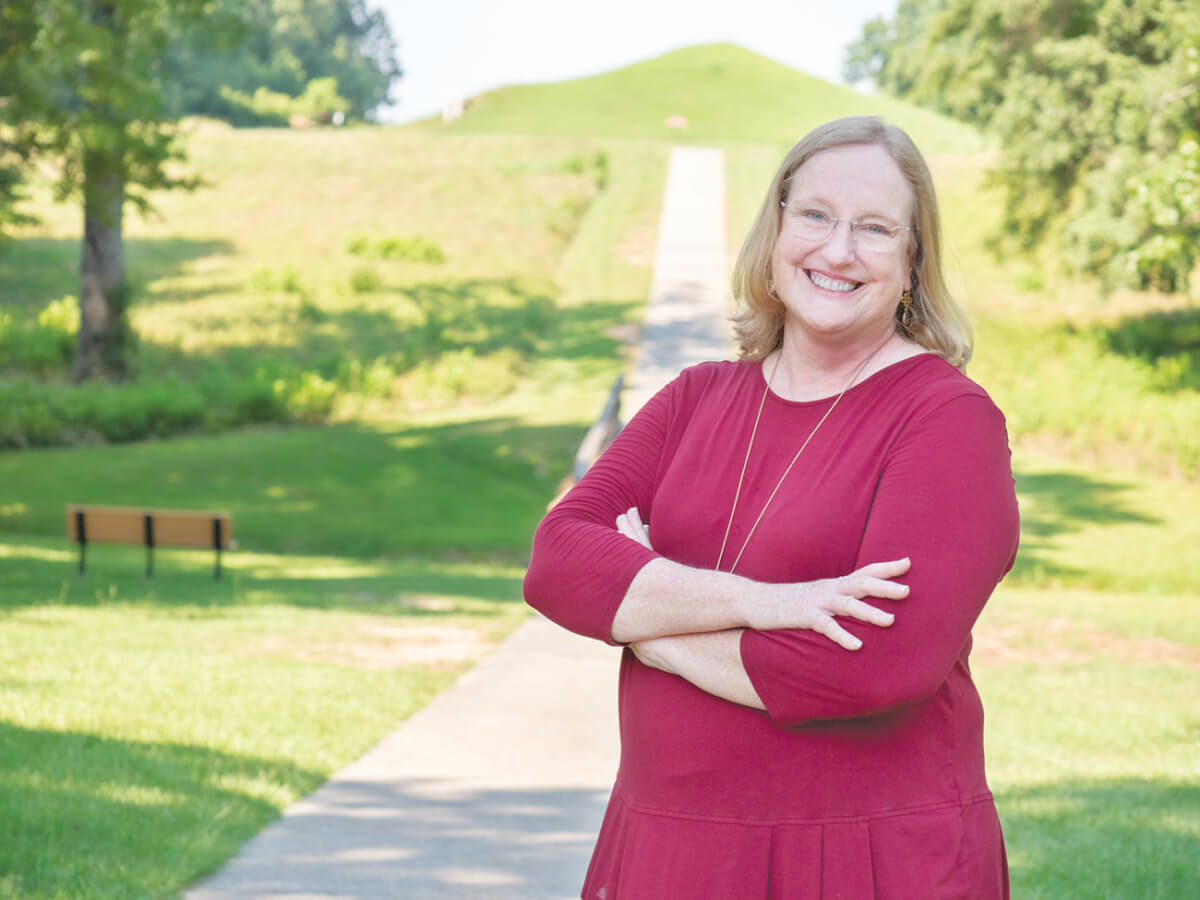 Get to Know Lynn Farmer, Director of Leadership Macon
Leadership Macon 2019's class project will take place at the Ocmulgee Mounds National Historical Park. The class will rebuild the Woodland Hut, build a 50-person outdoor education center/amphitheater and provide STEM trunks for outdoor lesson plans for teachers to use with their students when they visit the mounds. Photo by Jessica Whitley.
For the past 16 years, Lynn Farmer has been at the helm of Leadership Macon, a program that identifies and develops servant leaders in our community. Working under the oversight of an advisory board of Leadership Macon alumni and Greater Macon Chamber of Commerce President/CEO Yvonne Williams, Farmer oversees the program's curriculum, secures speakers for classes and arranges events for Leadership Macon alumni. 
Read on for more information about Farmer and Leadership Macon.
What has been your career path, and what else are you involved in?
I started my career after college as a teacher and then moved into advertising sales and marketing. I took time to stay home with my two sons when they were young and began volunteering at their elementary schools. I served on various parent-teacher organization committees and as president of the parent teacher organization. My public-school advocacy led to my being elected to the Bibb County School Board in 2002, where I served for 12 years. I have been involved in Service League and League of Women Voters, and have served on the boards of AAUW, Habitat for Humanity and the American Red Cross. I have also been involved in animal rescue for more than 40 years, most recently with The Pixel Fund in Macon. 
How did you come to be involved in Leadership Macon?
In 2003, Chip Cherry, the president of the Chamber at the time, approached me about joining the Greater Macon Chamber of Commerce as the director of Leadership Macon, and I was honored to do so. He was looking for someone with an understanding of teaching and curriculum who could balance the budget, and I was excited to work with a community leadership program that meant so much to me and the community. Sixteen years later, I still believe I have the best job in town!
How has the program grown and changed since its inception?
In the 40 years since Bob Hatcher and Charles Jay founded this program, Leadership Macon has become an integral part of our community, providing a steady stream of leadership for businesses and nonprofits. Having a director dedicated to oversight of the program has brought about a more formalized selection process and a more consistent curriculum.
In 2002, when I participated in Leadership Macon, class projects were simpler: my class brought donations to a charity each month and did some volunteer work together. Now, we challenge classes to come up with a project that will make a lasting impact on our community and address a real need. These include building playgrounds, installing fitness equipment at Amerson River Park, removing blighted properties and building a Habitat house.
What is your vision for the future of Leadership Macon?
I hope Leadership Macon continues to introduce emerging leaders to the strengths and challenges of our community and to the influential leaders in all areas we study: poverty, education, housing, health care, arts/tourism, diversity, government and economic development. I would like a more active, organized Leadership Macon alumni group to work on community issues together or to host executive forums on community issues. 
What does it mean to be a good leader?
To me, a good leader influences other people to be the best version of themselves, while continuing to learn how to be the best version of herself.  
What is one thing you love about living in Macon right now?
I love the creative energy and the belief in ourselves. We have had a lot of success during the past few years, and we are a community that believes we can accomplish even more.
When you talk about Macon to others across the country, what do you tell them?
Macon is a vibrant city. We have an incredible music history and an incredible current music scene. We have the best festivals, from Bragg Jam and Cherry Blossom to Magnolia Soap Box Derby and several beer festivals. We have parks, arts and culture, film, fabulous restaurants, excellent healthcare, great educational opportunities, and a low cost of living. The architecture is unbelievable, and the people are friendly and welcoming. I cannot imagine anyone not wanting to live here. 
What do you think about the notion of comparing Macon to other cities? Does that help or hinder?
I have no patience with the naysayers who harp on what Macon supposedly does not do as well as some other city. The important thing to learn from comparisons is that every city has strengths and challenges; Macon is no different. However, to be successful, we must lead with and celebrate our strengths while we work on our challenges. We have a lot to brag about!
What would be a missed opportunity in Macon?
Macon needs to learn to truly collaborate if we are going to move to the next level of success as a community.
What is your challenge for the community?
To embrace and include leadership from all areas of the community as we move forward.