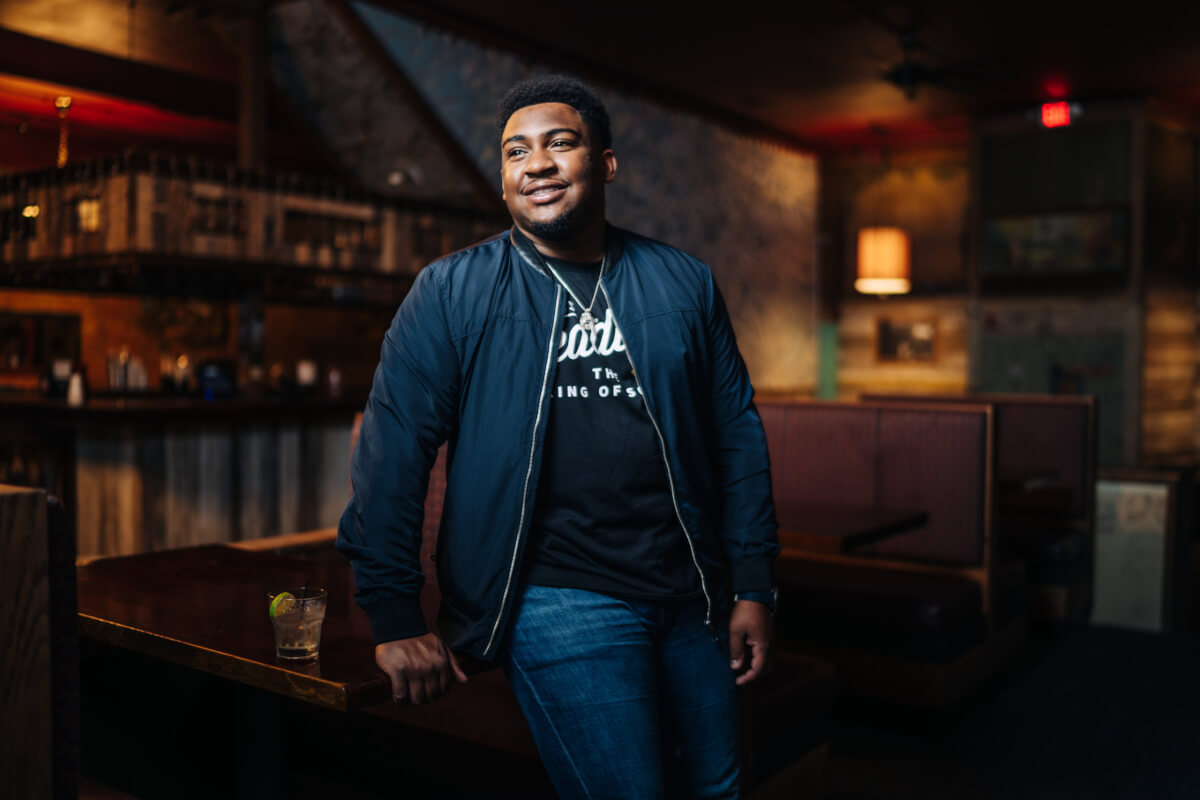 Macon music in a southern rock sanctuary
by Hannah Jett TheusPhotography by Jave Bjorkman
For better or for worse. These traditional vows carry a different tune when it comes to Macon and our music. We strive to hear and harmonize with our soulful, southern, storied sounds. We often find that common ground is engraved in the chords, but the genres and the venues and the conversations sometimes vary. Macon's sanctuary of southern rock, Historic Grant's Lounge, is now back in the limelight after respectful renovations that pay homage to those who have played the hallowed halls.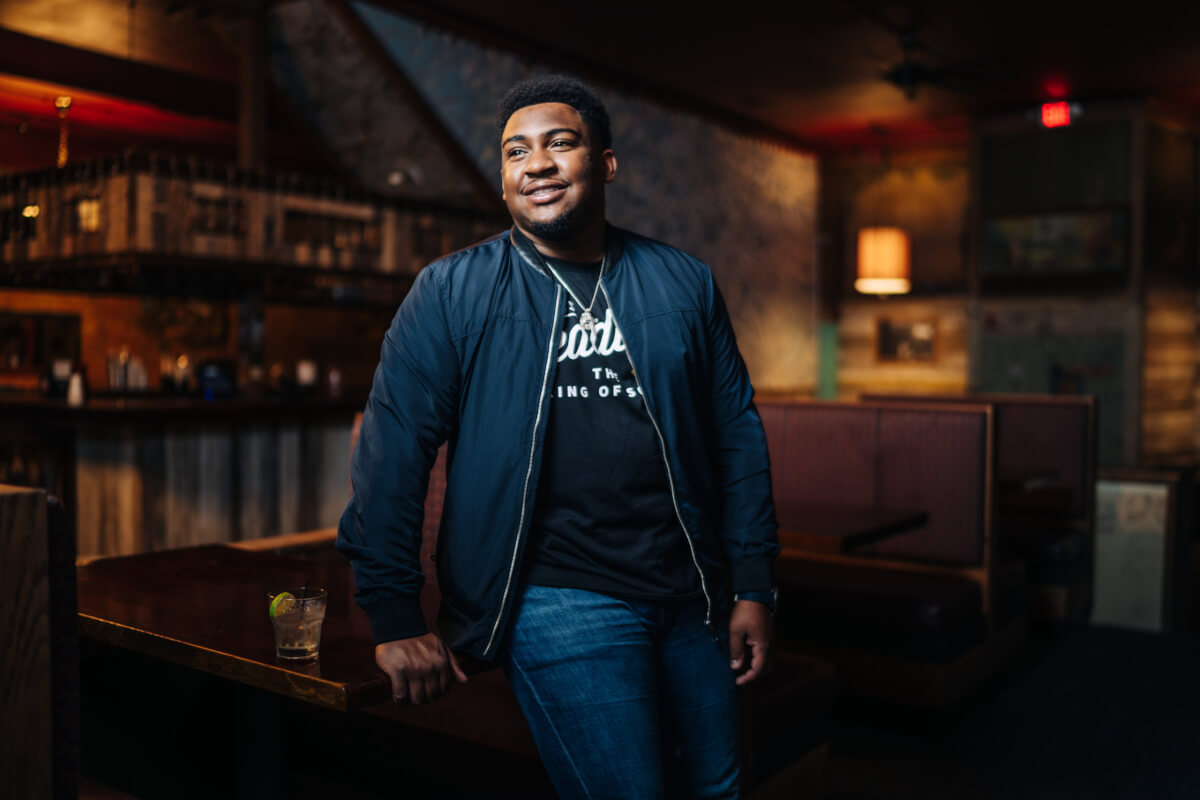 Jarred Andrews has called Macon home his whole life. He was raised knowing the importance of family and music and just how much they can intertwine. Serenaded through childhood and adulthood by his soulful family legacy as one of the grandsons of Otis Redding himself, Andrews's style and passion for strumming a guitar is electrifying. His start in music is like a wall of fame, as it is a reflection of those around him.
"Everyone and everything around me was music-related growing up, so I knew I wanted to give it a try," Andrews said. "Macon has a lot of musical history and royalty from Otis Redding, the Allman Brothers, and Little Richard; I'm so happy my city birthed these amazing acts."
He finds peace when he's playing his guitar. "I have been playing for 10-plus years now, and it is something I do daily. It's like therapy, so I'm usually always with a guitar," he said. "I've also been producing a lot more so I'm excited to learn and pick up new things." His connection to Macon music notoriety is noteworthy, but look to Andrews to respectfully carry on the legacy in his own dapper fashion.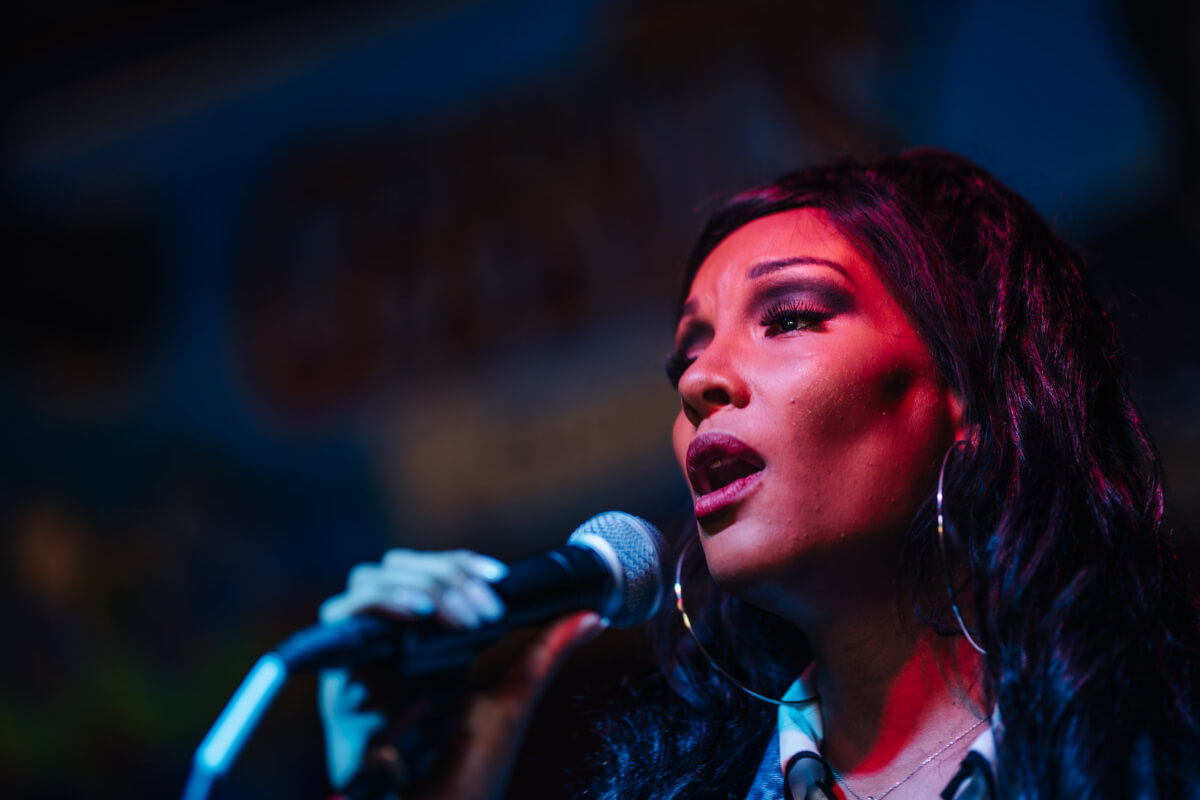 Kimberly Kelsey Epps has been a Maconite since 1994. She's been gracing the stage for a while now, three decades in fact, as her musical journey began in church with her mom at the age of three. "Things really cranked up though once I got to Macon and I started singing professionally," she said. "I did lots of gigs for various community organizations and local events, and eventually got some recognition by industry leaders in the Atlanta area."
Epps has starred in numerous musical theater productions and is an award-winning performer. She's even written and recorded with the likes of Randy Jackson, Tim and Bob, Daryll Simmons and High Rock Entertainment group, among others. Epps helps bring arts education to the children of this community through her work as the Center Director for the Otis Redding Center for the Arts. She paid homage to the music forebearers who have come before her while also tipping her hat at the current music and arts scene. "We have such an amazing pool of talent in this community, and it is so important that we continue to cultivate that talent to bring a whole new crop of artists and creatives to the forefront of the music industry," she said. As a powerful performer, Epps leaves it all on the stage and does so with style, boldness and relatability. Just wait until you hear her sing.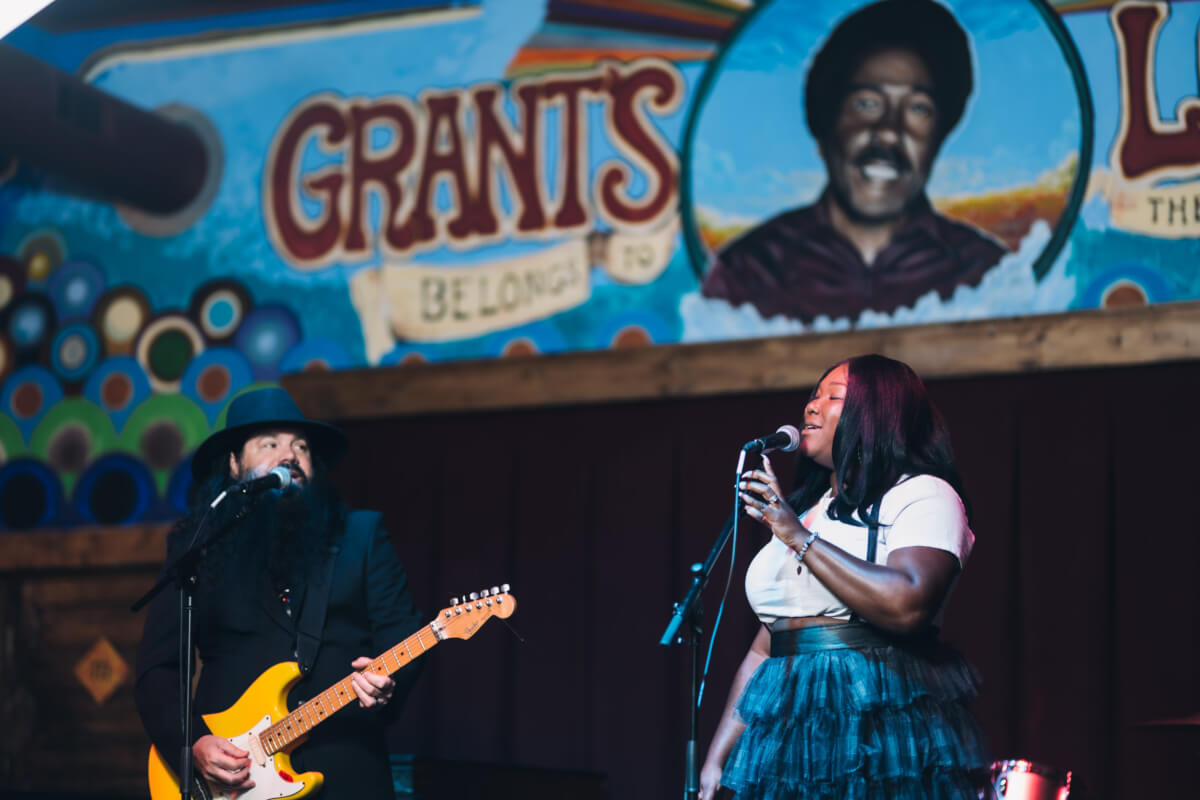 Meet the Boswells, who go by The Bozwellz. The married duo can win over any audience and they frequently do, with vivacious performances at various corporate events across the country. They met when Shana was hosting an open mic night at The Hummingbird on a Tuesday before New Year's. They've been ringing in the new year together ever since. While Dwayne has been a 478 resident all his life, Shana is an Air Force daughter and was born in Louisiana before moving to both London and Greece until her father retired in Virginia Beach. Both started their musical journeys as children in church as well, and they're equally fond of the chords that have been strung on our hallowed streets.
"We work at Capricorn Studios a lot and can proudly say original music is still alive and well in Macon, Georgia." The Bozwellz are recording and touring constantly. A European tour is even in the works. The Bozwellz have collectively worked with The Rolling Stones' Chuck Leavell, Marshall Tucker guitarist and vocalist Chris Hicks, Wyclef Jean of The Fugees, Bono of U2, Sheila E of Prince, legendary blues icon B.B. King and many others. Their single "Gonna Be Alright" is a hope for us all; you'll want to have it on repeat.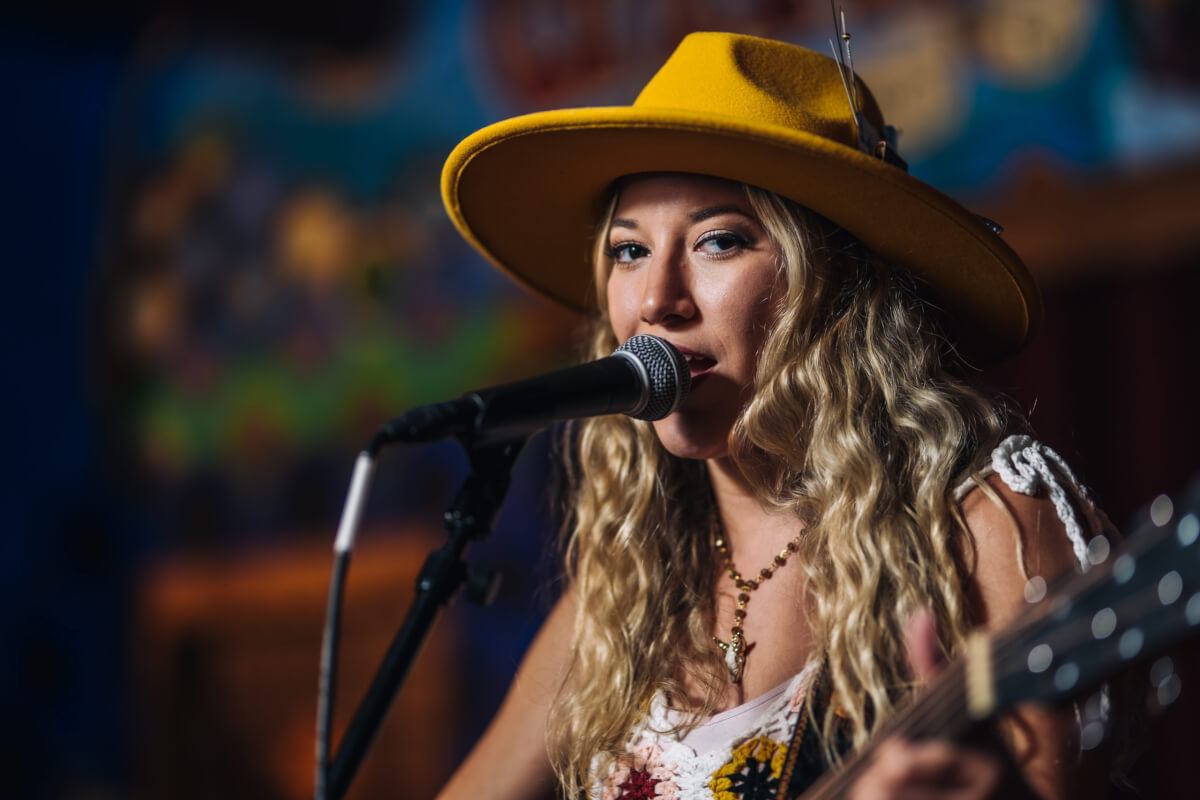 Another longtime Maconite, Rachel Forehand was born and raised in Macon and has lived here all her life, other than when she attended college at ABAC and then Georgia Southern. Her dad, Dwayne Forehand, and his brother, Keith, were musicians in Macon in the 1970s and 1980s. "I'm grateful to have family music heritage here with my father Dwayne and Uncle Keith with his band The Lifters," she said. "It's an honor to be able to play music here in Macon and follow in their footsteps."
Forehand learned how to play the guitar when she was 18, the summer before she moved away to college and got her start playing music in Statesboro in 2019 at a pool hall called Cowboys Pub. Now she's shared her talents with Cashman's Pub in downtown Macon. "It is amazing to see how music has impacted Macon, not only from the past perspective of all the legends that came before us that started their musical journey here but also to see the present perspective of how it impacts us that are musicians still here today," she said.
The release of "Secrets" in May, one of the singles on her new EP, Six Strings & Day Dreams, was accompanied by a music video filmed at Grant's Lounge by Elliott Dunwoody and Stephanie Shadden with Bright Blue Sky Productions. "The music video features several current local musicians in Macon, which is very cool to me because we really are in this together. There is a whole community of musicians in Macon, and you never know what will happen when we all come together and work with one another," she said.
Forehand is grateful for a place like Macon to call home, "where there are opportunities to play music all week long as well as share the love of music with others," she said. Her single "Forever" will be released on June 17. Following it is the EP release party on July 22 at Historic Grant's Lounge. The band, Black Jacket Bandolier, which formed in January, will be accompanying her.
There's not just something in the water here; there's something resonating in the alleyways, bouncing off the bricks. We can count on all of these musical geniuses to carry out the vows to Macon's musical heritage by helping harmonize its future. No matter where we travel or where we stay awhile, what we face and what we carry, the streetlights of Macon music will always guide us home.