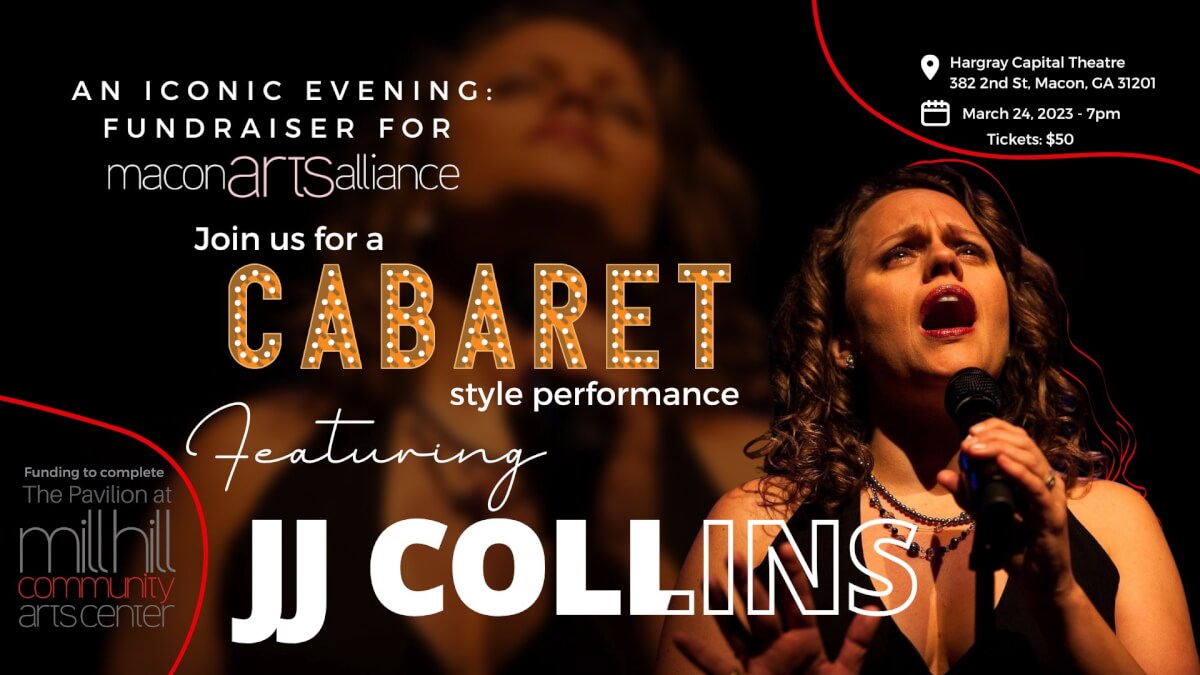 Macon Arts Alliance announces "An Iconic Evening"
Reprinted with permission from Middle Georgia CEO
Macon Arts Alliance is pleased to announce "An Iconic Evening" featuring singer JJ Collins produced by Collin Holder of Holder Events. The event will be held on March 24, 2023, at Hargray Capitol Theatre in Downtown Macon. Proceeds from the evening will be used to complete an outdoor pavilion on the grounds of the Mill Hill Community Arts Center.
The completed pavilion will honor the memory of Macon's Steven Fulbright, a longtime supporter and past president of Macon Arts Alliance. Steven was especially proud of the work the staff and board accomplished in renovating the Community Arts Center, which opened in April of 2018. He received a Macon Arts Alliance Cultural Award in 2019 in recognition of his service to Macon Arts Alliance and many other arts and cultural organizations in Macon.
J.J. Collins teaches and performs in multiple styles and genres, from opera and art song to musical theatre and jazz. She sang professionally with the Atlanta Opera under William Fred Scott, Atlanta Symphony Orchestra Chorus under Dr. Robert Shaw, and performed lead roles with Baltimore Opera Company, Cortland Repertory Theatre, Atlanta Lyric Theatre, Capital City Opera Company, Highlands Theatre, Athena Grand Opera Company, Gypsy Productions, and the Young Victorian Theatre Company. She was the soprano soloist for the annual national production of Handel's Messiah in Guatemala from 2003 – 2014 and is frequently featured in concerts and shows throughout the southeast, including cabaret performances with the 2015 Savannah Music Festival and Key Change Cabaret.
"Steven had a gift of bringing people together, so it is fitting that we honor his memory with a place that will foster connection," said Macon Arts Alliance Executive Director Julie Wilkerson. "We are grateful to The EJ Grassmann Trust, AARP, and Downtown Challenge, a project of the Community Foundation of Central Georgia, for their donations to the pavilion, and to Collin Holder for organizing this event that will complete the funding needed to build and furnish the space."
Tickets may be purchased online at www.hargraycapitoltheatre.com or by contacting Hargray Capitol Theatre at (478) 256-6391.
Donations to the event may be made at https://www.maconartsalliance.org or by contacting Julie Wilkerson at director@maconarts.org. Sponsorships are also available.