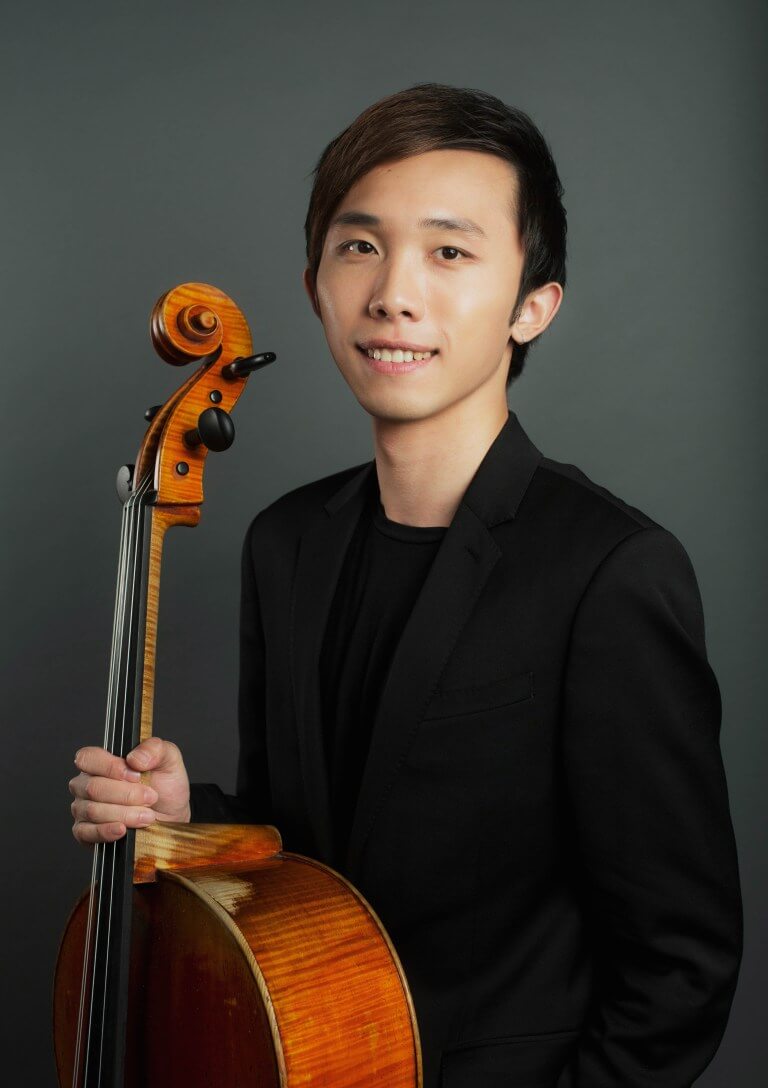 McDuffie Center for Strings at Mercer University welcomes new Distinguished Artists
By Joe Cohen and Carla Sacks
Photography by Daniel Delang and Todd Rosenberg
The Robert McDuffie Center for Strings in Mercer University's Townsend School of Music in Macon, Georgia is excited to welcome internationally acclaimed cellist and McDuffie graduate Sihao He to the staff as a distinguished artist and lead cello teacher for the upcoming fall semester.
He first came into international prominence in 2008 as a 14-year old cellist winning first prize at the International Antonio Janigro Cello Competition in Croatia. Later that same year, he sealed his great promise by winning the National Cello Competition in his native China. He is also the Grand Prize winner of the prestigious Third Gaspar Cassadó International Cello Competition in Japan, a laureate of the Queen Elizabeth International Cello Competition International and Tchaikovsky Competition for Young Musicians. In 2019, he won third prize in Munich's ARD International Music Competition.
Additionally, former McDuffie Center for Strings distinguished artist Hans Jørgen Jensen is returning to the Center for Strings where he will teach alongside He. Since his previous tenure at the McDuffie Center, Jensen has served as a professor of cello at Northwestern University's Bienen School of Music and a faculty member of the Glenn Gould School of Music in Toronto.
"I graduated from the Center seven years ago under the incredible guidance of Prof. Jensen," notes He, going on to say, "the Center has played a significant role in my life, and now I have the opportunity to give back to the very school that shaped the beginnings of my career."
Jensen adds, "I am coming back because I really love the Center, but also because I want to support Sihao He. Sihao and I have worked together for many years since he was a freshman student at the McDuffie Center. Sihao is an incredible cellist and teacher."
McDuffie Center for Strings founder Robert McDuffie says, "All of us at the McDuffie Center are thrilled beyond belief to welcome back both Sihao He and Hans Jensen. Hans played such a major role in the early success of our school, with Sihao as one of his most illustrious students. To have them working together to teach and inspire the next generation of gifted cellists makes me incredibly happy and proud."
After just 10 years of graduates matriculating into the professional ranks of classical music, McDuffie Center students have gone on to join top symphony orchestras around the world, including first violin with the Berlin Philharmonic, principal bass with the Helsingborgs Symfoniorkester in Sweden, and principal violin with the San Francisco Symphony, as well as positions with the St. Louis and Phoenix orchestras. A number of alumni are performing exciting new music with up-and-coming chamber groups (Collectif9, Ivala Quartet, Invoke), while others have used their entrepreneurial training to create their own music nonprofits (Hawaii Chamber Music Festival, Nashville Chamber Music Society).
ABOUT SIHAO HE
Born in Shanghai, Sihao He holds a Bachelor's degree from the Robert McDuffie Center for Strings at Mercer University where he studied with Hans Jørgen Jensen and Julie Albers, and a Master's Degree from the Bienen School of Music at Northwestern University. He is currently finishing his D.M.A. at the Bienen School of Music at Northwestern University, also under the tutelage of Jensen. He has appeared in numerous concerts both as a soloist with leading orchestras and in recitals. He has performed with many leading orchestras including the Bavarian Radio Symphony Orchestra, Munich Radio Orchestra, Tokyo Philharmonic Orchestra, Brussels Philharmonic, Münchener Kammer orchester, Royal de Chambre de Wallonie, Orquestra the Sinfônica de Piracicaba in Brazil, and the Xiamen Philharmonic in China. As a chamber musician, He appeared at the Shanghai New Music Week, the Shanghai Electronic Music Week, in the U.S. at Music@Menlo and in Europe at the Rome Chamber Music Festival. His string Quartet, "Simply Quartet," won first prize at the Haydn Invitational Chamber Music Competition in Shanghai and was awarded The Most Promising Young String Quartet at the Fourth Beijing International Chamber Music Competition.
In March 2020, Sihao was chosen to be a member of the prestigious Chamber Music Society of Lincoln Center's The Bowers Program (formerly CMS Two).
ABOUT HANS JØRGEN JENSEN
Hans Jørgen Jensen has performed as a soloist and recitalist in the U.S., Canada, Europe and Japan including appearances with the Danish Radio Orchestra, the Basel Symphony Orchestra, the Copenhagen Symphony and the Irish Radio Orchestra under the baton of conductors Simon Rattle, Mstislav Rostropovitch and Carlo Zecchi, among others. He has given numerous workshops and master classes in the U.S., Brazil, Canada, Europe, Japan, Korea and Australia. Jensen's former students have won numerous national and international competitions and hold positions in major music schools and symphony orchestras. Jensen was named the 2010 ASTA Artist Teacher and that same year was also named a Charles Deering McCormick Professor of Teaching Excellence at Northwestern University. He has received the Northwestern University Bienen School of Music Exemplar in Teaching Award and been named the Outstanding Studio Teacher of the Year by Illinois ASTA. In 2001 he was awarded the U.S. Presidential Scholar Teacher Recognition Award by the U.S. Department of Education. The music publishing company E.C. Schirmer have published his transcription of The Galamian Scale System for Violoncello Volumes I and II while the Shar Products Company publishes his popular cello method book, Fun in Thumb Position. His most recent book CelloMind was published by OvationPress November of 2017.
ABOUT TOWNSEND SCHOOL OF MUSIC & ROBERT MCDUFFIE CENTER
FOR STRINGS
Mercer University's Townsend School of Music, the Robert McDuffie Center for Strings and the Townsend-McAfee Institute for Graduate Studies offer undergraduate and graduate professional music studies in a comprehensive university environment. Townsend is nationally recognized for its outstanding faculty, award-winning students, performance ensembles and state-of-the-art facilities. The McDuffie Center, a special institute within Townsend School of Music, is a highly selective program that prepares string students for success in the real world. Students study with some of America's most renowned string musicians, receiving music instruction of conservatory quality, while earning an academically well-rounded education from a comprehensive, nationally recognized university. For more information and a complete listing of this season's concerts, visit www.mercer.edu/music or call (478) 301-2748.
ABOUT MERCER UNIVERSITY
Founded in 1833, Mercer University is a dynamic and comprehensive center of undergraduate, graduate and professional education. With more than 9,000 students enrolled in 12 schools and colleges, on major campuses in Macon and Atlanta; medical school sites in Macon, Savannah and Columbus; and at regional academic centers in Henry and Douglas counties, Mercer is ranked among the top tier of national research universities by U.S. News & World Report. The Mercer Health Sciences Center includes the University's School of Medicine and Colleges of Nursing, Health Professions and Pharmacy. Mercer is affiliated with five teaching hospitals—Memorial University Medical Center in Savannah; The Medical Center, Navicent Health, and Coliseum Medical Centers in Macon; and Midtown Medical Center and St. Francis Hospital in Columbus. The University also has an educational partnership with Warner Robins Air Logistics Complex in Warner Robins. It operates an academic press and a performing arts center in Macon and an engineering research center in Warner Robins. Mercer is one of only 286 institutions nationwide to shelter a chapter of The Phi Beta Kappa Society, the nation's most prestigious academic honor society; one of eight institutions to hold membership in the Georgia Research Alliance; and the only private university in Georgia to field an NCAA Division I athletic program.
For more information, please contact Joe Cohen or Carla Sacks at Sacks & Co., 212.741.1000, joe.cohen@sacksco.com or carla@sacksco.com.