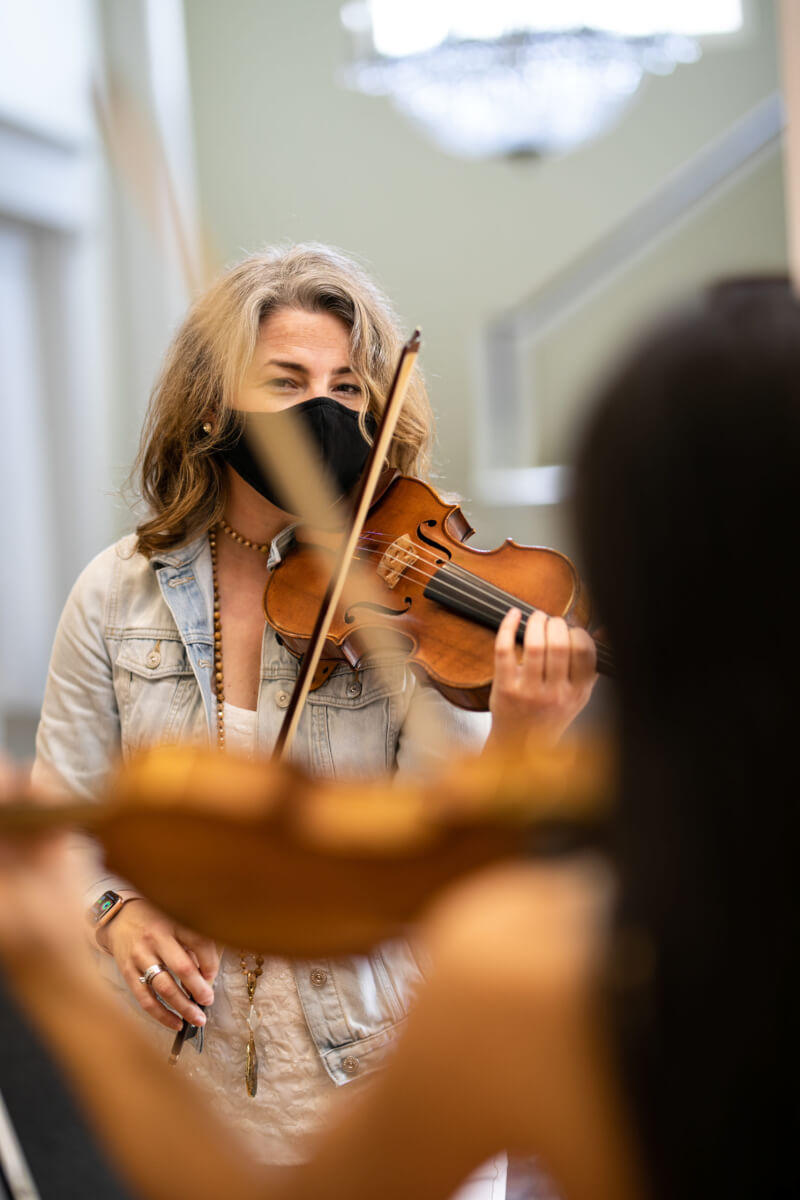 Moretti melody
Musical power couple Amy Schwartz Moretti and Steve Moretti reflect on 15 years in Macon
By Michael W. Pannell
Photography by Christopher Smith
In 2013, Macon Magazine spoke to Amy Schwartz Moretti and Steve Moretti about their lives since coming to Macon and what they looked forward to. Here's another look eight years on.
Amy Schwartz Moretti and Steve Moretti are world-class, Macon-based musicians who moved here from Portland, Oregon, in 2006.
Amy is a distinguished violinist who was appointed to direct Mercer University's Robert McDuffie Center for Strings. She holds the Caroline Paul King Chair in Strings and regularly performs internationally as a solo artist, with orchestras and in chamber groups.
Steve is a Grammy-nominated drummer-percussionist who travels and performs extensively and is an in-demand recording engineer and producer. He is also co-founder and president of the Macon Pops.
As a couple and as individuals, they've advanced not only their professional endeavors but the cultural life of Macon and Central Georgia for the past 15 years.
"We were confident when we came – but there were unknowns," Steve said. "We're both amazed now at what's happened and it's surreal thinking we've had an impact on a place with such an incredible musical history as Macon. We wanted to be part of making new musical history here and, along with a lot of others, I think we have."
COPING WITH COVID-19
Along with musicians around the world, the Morettis faced the challenges of the COVID-19 pandemic with its spikes, lulls and closures of concerts.
"Having live music in Macon or anywhere has been such a rarity during COVID," Amy said. "Opportunities for our McDuffie Center students to play in the community at concerts, weddings and other events dropped to almost nothing and recitals had to be performed online. But I'm glad to say the center was still able to bring high-caliber guest performers to Macon and safely present our Fabian Concert Series in 2020 and early 2021. Plans look good for this year and, thankfully, as the new school year began, we started getting calls for students to play at their unusual engagements. We expect recitals to be live, too. We have really amazing musical opportunities for them and for the community coming up."
Amy said due to COVID-19, last year's student numbers dropped, but this year the center is at full capacity with 26 students enrolled, each receiving full-tuition scholarships.
In addition to directing the center and teaching violin, Amy maintains a busy travel performance schedule. However, her husband's travel surpasses hers with him flying an average of 120,000 miles annually. But COVID-19 halted that. He said engagements picked up as summer approached but lightened again as COVID's Delta variant spiked.
"Fortunately, during the worst of 2020, I started getting a lot of work in my home studio," he said. "Macon Pops had to cancel most of what we normally do, but I played drums on a lot of recording sessions alone in my studio with tracks then edited-in with other musicians. My work as a producer and engineer really expanded during COVID and I helped other people put concerts online. I think everyone has had a big learning curve this past year."
Making only limited seating available in Mercer's spacious Hawkins Arena, Macon Pops opened their ninth season in August to good attendance.
CAPRICORN COLLABORATION
In February, Steve spent a weekend not in his home studio but behind the console as producer for special sessions at Mercer's Capricorn Sound Studios featuring Amy, 18 students and Macon Pops co-founder and artistic director Matt Catingub. The recordings were for an album and use on SiriusXM Satellite Radio's Siriusly Sinatra channel.
The musicians also performed the arrangements before a live audience at a Fabian Concert Series performance at the Grand Opera House.
"What made the recordings so special is that Matt's mother was famous jazz singer Mavis Rivers, a colleague of Frank Sinatra and the first female artist on his Reprise record label," Steve said. "The songs were his arrangements of her songs and a tribute to her. It also meant an opportunity for Amy to showcase McDuffie students and the center. It showed what can be done right here in Macon at a very demanding level and that you don't have to go to LA or New York to make fantastic recordings or do great projects."
Amy said the collaborative experience showed something the center has always prided itself in: teaching students not only music but real-world matters of being working musicians. She said addressing the problems of COVID-19 created another way of showing that there are solutions to problems musicians always face while building careers.
"You could feel such a sense of history at Capricorn," Amy said. "What the Allman Brothers and others did there, and the wonderful songs connected to Mavis Rivers, made up a variety of music and styles so different but all so good. Those recordings will go on and on all over the world."
MAKING MACON POPS
When the Morettis first moved to Macon, Amy had ambitions for the McDuffie Center while Steve concentrated on furthering his flourishing travel career.
"Macon Pops wasn't in my crystal ball at all when we came," he said. "If you had told me a pops orchestra was in my future, I'd have said you were nuts."
In the 2013 Macon Magazine article, Steve only alluded to a future concert that would eventually become the Macon Pops.
"I was busy traveling the US and Canada, doing work in Japan, recording in LA, and I love all that. But the Pops lets me dig in and have roots in Macon like I haven't been able to elsewhere. It's a pleasure getting involved with organizations, charities and events like the Cherry Blossom Festival and Main Street Christmas Lights Extravaganza," he said.
"Our Pops concerts bring outstanding musicians to town and give local singers a wider community audience. Older students at the McDuffie Center are often part of the Pops orchestra."
Macon Pops brings energetic, themed shows with songs arranged and directed by Catingub that invite audience participation. Past themes have included Southern rock and music from James Bond films. Future shows this year include "Big Band Remix" at the Grand Opera House on Nov. 12, which also will highlight Catingub's coming solo recording, "From Samoa to Sinatra," with its Sinatra standards and the recordings honoring his mother.
Hopes are that Reprise will release the album in tribute to Sinatra and Rivers.
The Pops will open 2021's fourth annual Main Street Christmas Light Show Extravaganza Nov. 26 and, in 2022, headline the Cherry Blossom Festival's Tunes and Balloons event.
Pops board member Rosemary Spiegel has been a Macon Pops fan since its beginning.
"I feel one of the greatest things has been seeing how audiences have grown and come to represent such a diverse cross-section of our community," she said. "It's unlike anything else I've seen in Macon. People come together and truly enjoy all types and genres of music. I have such admiration for Steve and what he and Matt have done and how we get to enjoy their immense talents and energy. When people ask me about Macon, the Pops is one of the great things I get to tell them about."
CENTER FINDS GREAT SUCCESS
Amy and Robert McDuffie, the renowned violin virtuoso and founder-namesake of the center, initially dreamed of it as a premier regional center of study. It quickly surpassed regional status, becoming world-class.
"I'm from North Carolina and Robert is from Macon," Amy said. "We often talked about how we had to go elsewhere to study. We dreamed of creating a place in the South where students could study at a very high level — and now just look — students are coming from all over the world then going out all over the world creating successful careers and great music.
"A former student now teaching in Sweden sent one of their students to us this year. That's a first and it's so exciting. All the right pieces came into place to make the McDuffie Center what we hoped it would be and we're firing on all cylinders. This is our 15th year and the learning never stops."
Amy said dramatic things have happened through the years, such as the center making the historic Bell House its home, but such advances only add to the satisfaction of seeing quality students seek out the program, Mercer and Macon.
"I can brag that they leave with full-ride scholarships to long-established graduate programs at places like Yale and Juilliard," she said. "And I think of what our students are doing, like our former student who founded the Hawaii Chamber Music Festival and another who is concertmaster of the Alabama Symphony."
Chris Yick is the student who, as a McDuffie Center sophomore, founded the summer Hawaii Chamber Music Festival in his hometown of Honolulu. He is a member of the Hawaii Symphony Orchestra and in a graduate program studying double bass at the Manhattan School of Music on full scholarship.
"I was inspired by the things Robert McDuffie and Amy have done musically and in the community — the many transformative things that they've done," he said. "I was fortunate to be involved in playing at the Daybreak Day Resource Center while in Macon and, even studying now in the 'bright lights, big city' of New York, it's stuck and I've found ways to make it work here.
"The fact the McDuffie Center is such an entrepreneurial music school was a real benefit to me — a real eye-opener. In New York, I'm a much more mature musician because of the center. Apart from input from Amy and Robert and other teachers, I wouldn't have the same direction or be as ambitious as I am now. It was definitely the right place for me to grow and be groomed not only as a fine musician but as a person as well. The investment others made in me made my time there so valuable."
Yick travels regularly between New York and Hawaii and said he recently gave a lecture on music business and music entrepreneurship at the University of Hawaii.
A NEW SYMPHONY
Amy is particularly excited by the groundbreaking new collaboration with the Atlanta Symphony Orchestra, which will bring symphonic music back to Central Georgia when principal musicians from Atlanta come to Macon to mentor and play alongside emerging McDuffie Center artists in the new Macon-Mercer Symphony Orchestra.
She's not alone.
"When I think of the McDuffie Center, I think of it drawing the best students from all over the world," said Mary Pinson, a Macon floral designer and McDuffie Center for Strings board member who operates a downtown floral studio. "That's proven by where they go from here and the fact such amazing teachers come to teach them. It's further shown now by the eagerness of Atlanta Symphony members to come work alongside them and add to their musical foundations. I'm a lover of music and thrilled the center is helping bring symphonic music back to Macon. And I'm just as thrilled concerts will feature local talents from many different genres getting to perform in a symphonic setting. I can hardly wait for it all."
Amy also stresses the educational and community aspect.
"It's definitely an educational orchestra where our students can learn and be mentored by some of the best musicians anywhere," she said. "At the same time, it's a great benefit to the community, letting audiences experience remarkable music and musicianship with expansive programming from Beethoven to hip-hop.
"Our opening concert Oct. 4 will be a treat with symphonies by Prokofiev and Beethoven plus music written by participants of the Otis Redding Foundation's student camps done symphonically."
Other performances are set for Nov. 22, Feb. 14 and April 25.
As for the Macon Pops and its days ahead, Steve said he's looking forward to a full, live season and furthering involvement in the community. When permissible, he also plans to expand the Pops' educational work in local schools.
And, he's anticipating more work in his studio.
"I love having been so blessed to stay busy as a recording engineer, producer and playing drums through COVID," he said. "That's even with all the challenges being an engineer and producer bring. It takes a lot of mental bandwidth but I'm not afraid to ask questions and learn. That's how we all get better."
MAKING A HOME HERE
In April, the Morettis and their two sons, ages 11 and 12, drove to the Amelia Island (Florida) Chamber Music Festival where Amy performed and they enjoyed a brief vacation. It was their first venture out as COVID restrictions eased, and they had time to reflect on coming to Macon and their lives here.
"Macon is home," Amy said. "I'm proud to say my kids are from here. We have a wonderful family life in a great town to raise kids — a place that appreciates art and music and culture. That's important for a community. But our family is typical with busy lives and work and getting kids to school and music lessons and sports — all those things and even doing virtual school at home when necessary. And then there's the never-ending question of mealtimes. If I could get a chef and not have to think about meals that would be a luxury like no other.
"When our kids were small they traveled with us everywhere and have been all over the world. But now they're older and we have to manage that differently. I think we'll look back on these years and wonder how in the world we got so much done."
Steve said it's been wonderful living in Macon and being part of innovations in areas like the McDuffie Center and the Macon Pops.
"People from other cities ask how we're doing what we do with the Pops and some adapt our fun style into what they do," he said. "It's fantastic bringing great musicians to town, bringing enjoyment, adding to the economy and to how other places view Macon. And I love having our Macon Pops office right above Capricorn Studios and hearing music around all the time. What more could you want?"
Get your Macon–Mercer Symphony Orchestra tickets
Season subscriptions for all four Macon-Mercer Symphony Orchestra concerts are available now ranging from the $108 supporter level with premium seating to the $72 patron level with regular seating.
Single tickets are $20-$30 per concert and are free for students with valid ID.
Tickets are available by calling 478-301-5470 or online at mcduffie.mercer.edu/symphony.
Learn more about the McDuffie Center for Strings online at mcduffie.mercer.edu.
The Macon Pops are online at maconpops.com.