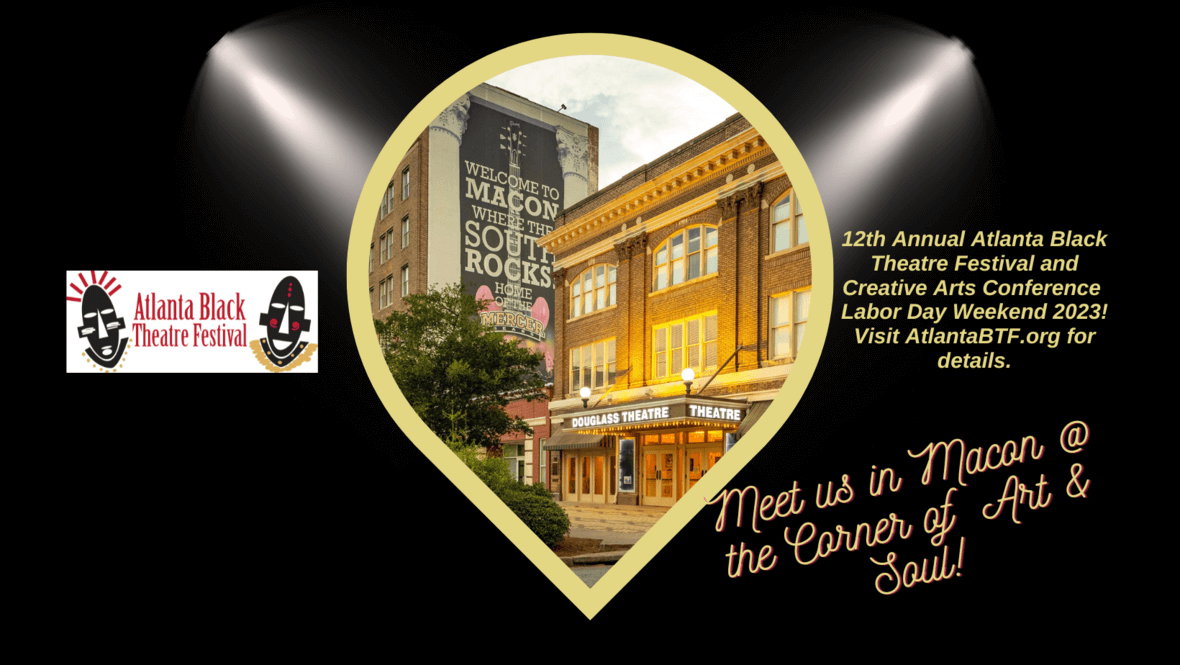 Douglass Theatre Hosting This Year's Atlanta Black Theatre Festival Labor Day Weekend
August 31 – September 2, 2023
By Clarence W. Thomas, Jr.
The historic Douglass Theatre will serve as the 2023 host location for the annual Atlanta Black Theatre Festival this Labor Day weekend.
With "Meeting in Macon at the Corner of Art & Soul" as this year's theme, ABTF returns to the house that iconic Maconite Charles H. Douglass built in 1921. The festival takes place August 31 – September 2 and features an impressive lineup of creative and cultural offerings for attendees that include world-class plays, film screenings, stage readings, speakers, and a Creative Arts Conference.
Founded in 2011 by published poet, bestselling author, and producer Toni Simmons Henson as a four-day event featuring 40 plays featuring preeminent theatre producers, writers, artists, and art lovers, the Atlanta Black Theatre Festival (ABTF) made its Macon debut five years ago. Their goal was gathering to celebrate creative works for and about the Black experience.
Dr. Shelton Land, executive director of the Douglass, has been vested in the festival, serving as its artistic director and as a current member of its board of advisors before joining the Douglass Theatre as its new executive director earlier this year.
The initial collaboration between ABTF and The Douglass began in 2018, facilitated by retired Douglass Theatre executive director Gina Ward. The pandemic paused the continuation of the partnership, but Henson and Land decided the time was right to revive the collaboration. "In support of Dr. Land's success and wanting to shine the spotlight on this significant venue of Black culture, the Atlanta Black Theatre Festival is excitedly returning to the Douglass," said Henson.
Land believes the attention from the ABTF will not only amplify and raise the profile of the venue, but also of the benefits and opportunities for the local artists and community to participate, engage, experience, and enjoy world-class Black theatre. "Exposure to what Macon has to offer first time visitors, and the discovery of what ABTF has to offer for aspiring and established artists who may not be familiar with the festival, is a win for all," he added.
True to its mission and vision, the 2023 ABTF will celebrate the creativity of artists from around the globe, insisted Henson and Land. Both expect it to be one of the festival's best years ever. They say attendees will see why it is considered a "can't-be-missed" arts and culture event by the Atlanta Journal-Constitution.
Tickets for this year's Atlanta Black Theatre Festival can be purchased by visiting douglasstheatre.org or in person at the Douglass Theatre box office during normal hours of operation. Additional information about the ABTF can be found at atlantabtf.org.