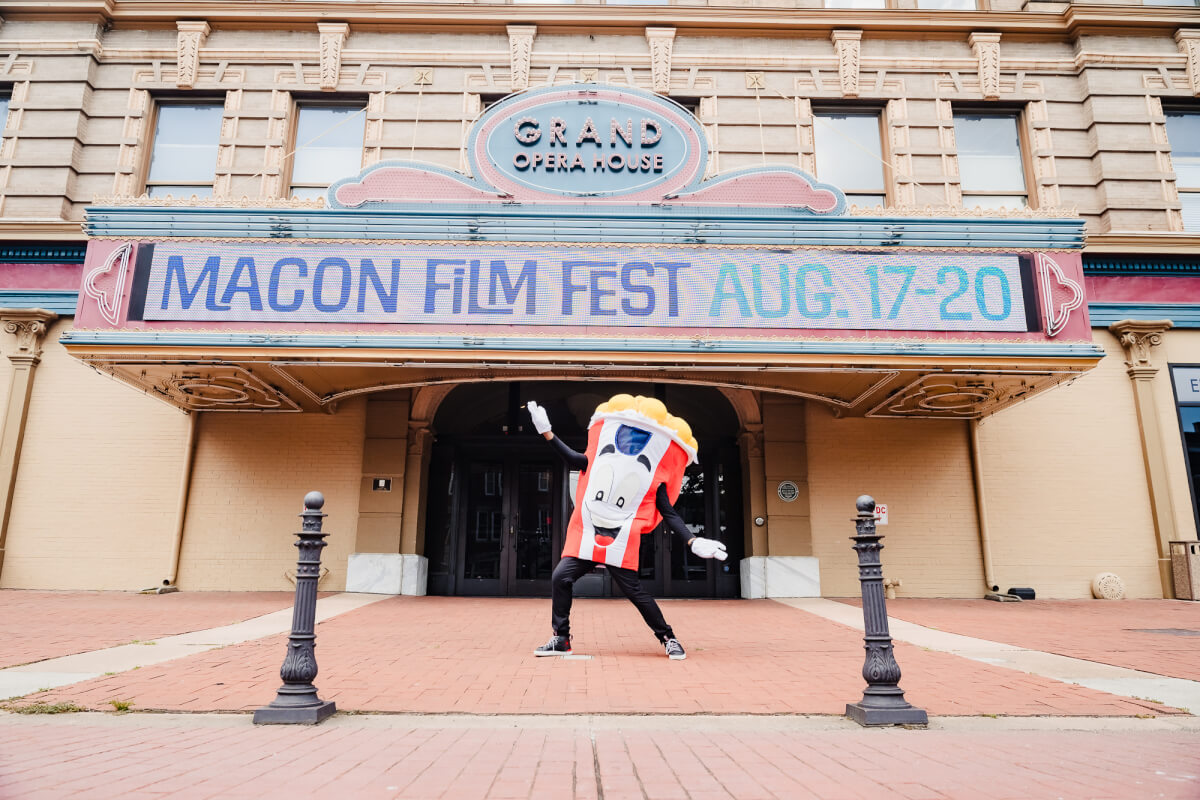 Macon Film Fest '23
Now in its 18th year, the 2023 Macon Film Festival brings close to 100 independent films to screens in iconic spaces across the city – all backed by a good beat.
Among many festival highlights is the inaugural presentation of the Macon Film Festival Georgia Film Impact Award to Columbus native Dallas Austin. A film and music producer, Austin will receive the award during a Saturday evening showing of his 2002 film, "Drumline."
A Grammy Award-winning producer, 2019 Songwriter Hall of Fame inductee, founder of Rowdy Records, and producer of more than 60 hit singles, Austin has scored Top 10 records with artists like Boyz II Men, TLC, and Madonna.
But film-wise, he was first noted for box office hits like "Drumline" and "ATL."
In addition to being a prominent producer, Austin has been instrumental to Georgia's rise as a worldwide film industry leader. Beyond making films in Georgia himself, he played a major role in others coming here by helping the Georgia Entertainment Industry Investment Act become a reality. In 2022 alone, $4.4 billion was spent in Georgia from filmmaking and television production, and, according to Visit Macon, between four and five million of those film dollars came to Macon.
"Dallas Austin is absolutely pivotal to the development of Georgia's film industry," said Justin Andrews, Macon Film Festival board president. "It's a privilege to have him involved and to honor him for all he's done with this award in its very first year. For him to bring "Drumline" for a return showing on the big screen at the festival is a high point in our history."
Future Georgia Film Impact Awards will be presented to actors, filmmakers, writers, community leaders and musicians who have directly impacted Georgia's film industry on a large scale and whose work has helped make Georgia the leading film production center it is.
In keeping with the "Drumline" theme, local schools are set to participate in a "Battle of the High School Bands," judged by Austin on Cherry Street prior to the film's presentation at The Grand Opera House.
Sunday evening, the Festival closes with a documentary that maintains a Georgia connection but again, as with Austin's films, moves beyond the state to the international stage. Featured will be "It's Only Life After All," a documentary involving The Indigo Girls, Amy Ray and Emily Saliers. Premiering at the Sundance Film Festival earlier this year, the movie looks at not only the acclaimed folk-rock duo's music and performances but also many of the causes they have championed. The Indigo Girls are touring Europe at the time of the festival but will be in Macon on September 16 (see page XX for more).
This is the Film Festival's 18th year presenting a cross-section of works by independent filmmakers divided into block categories representing narrative features, narrative short films, documentary features, short documentaries, music documentaries, LGBTQ short films, and student films. There's a specific category for Georgia-made films and one that showcases filmmakers working in the Middle Georgia area.
"A lot of Georgia-made content emerged this year and we're excited about showcasing it along with all the outstanding national and international films we have," said Tabitha Walker, co-founder of the festival who is responsible for the event's film programming and a talented filmmaker herself.  
"This year there's a variety of purely entertaining movies along with ones that will really make you think. We try to bring films that make you want to learn and experience more about the filmmakers that we have the opportunity to showcase."
Film festivals are not just about watching movies; Andrews said another key aspect is that they also provide filmmakers and industry professionals opportunities to connect, share ideas, and socialize. This extends to festivalgoers too, who engage in shared experiences with fellow film enthusiasts and creators through formal events like screenings, workshops, and Q&As, or informal interactions such as after-parties, lunch meetups, or chance encounters downtown.
"I've been going to the festival since I was 13 or 14 years old and on the board for about five years," Andrews said. "One of the most meaningful things to me is how it gives the opportunity for independent filmmakers, producers, actors, and others to mingle with like-minded people. It's something they say they look forward to and it also gives us the chance to show Macon off and let them know it's a great place to make a movie with a lot of good locations and resources."
A festival favorite, the much-anticipated Fulldome Film category, will not be shown in August. Due to unavoidable, surprise technical issues with the projector in the Museum of Arts and Sciences' Mark Smith Planetarium, the immersive films screenings on the 44-foot dome will be postponed.
However, in October, 34 fulldome art, educational, and other-topic selections from 18 countries around the world will be presented with a new, state-of-the-art 4K projector.

For tickets, schedule, and more information, including free events and how to volunteer, visit maconfilmfestival.com.