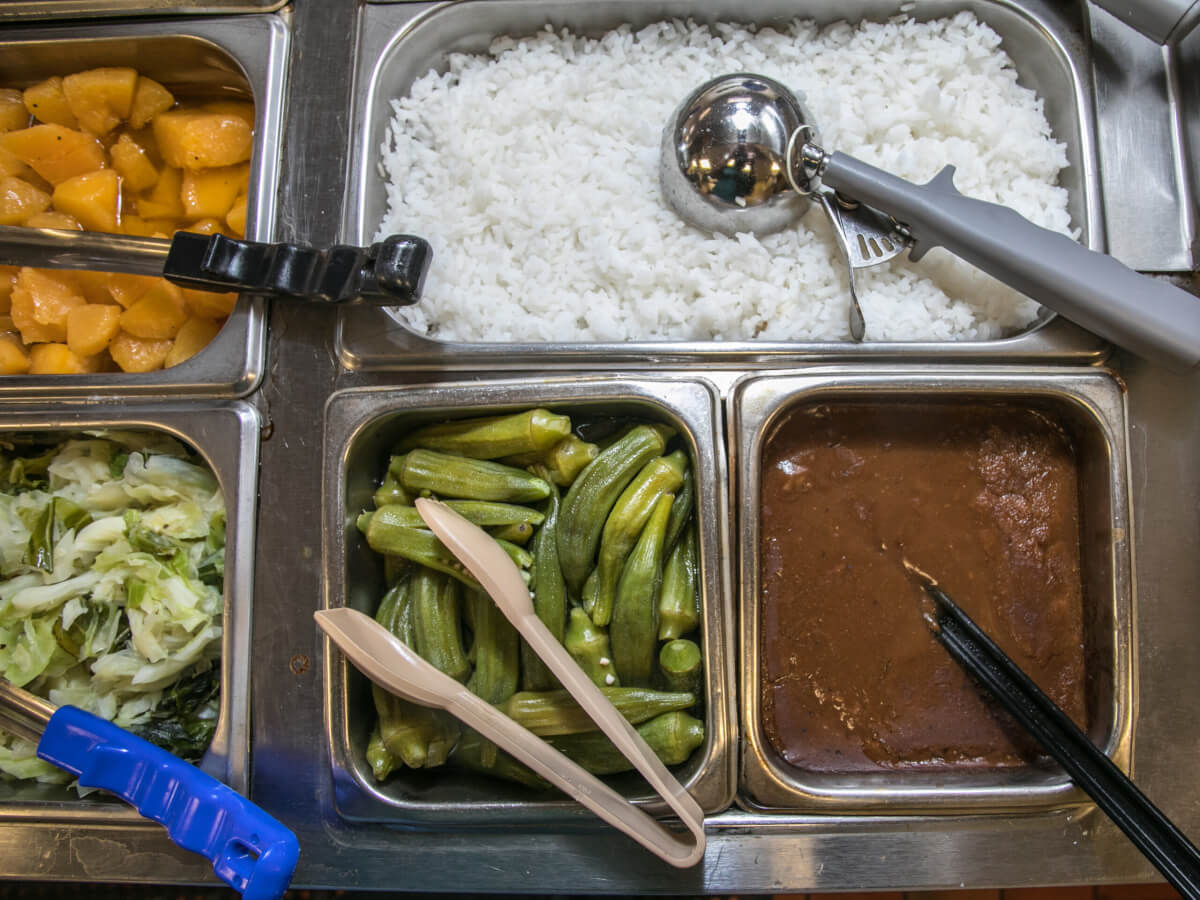 Nothing but L-O-V-E
Compiled by Macon Magazine staff
Photography by Matt Odom
If one cuisine could be emblematic of Macon, it might just be soul food. After all, Visit Macon's motto is "Where Soul Lives," and Macon Magazine's is "Celebrating local soul." But as we've learned from Central Georgia's meat-and-three kitchens, it's not just about what's on the plate, but the hands and hearts of who's cooking that counts. In honor of Black History Month and to toast Black chefs here in Macon, we dug into what puts the soul in soul food.
The origins of soul food are centuries old. During the period of enslavement, foodways of Black Americans were informed by ingredients with African origin and the needful ingenuity of creating a cuisine from limited resources.
Many of the most quintessential ingredients — like okra — came as seeds across the Middle Passage, safeguarded by enslaved Africans, braided into hair or beaded into necklaces. The Gold Rice that is the foundation of much of Charleston's wealth was explicitly generated by the expert rice cultivators of West Africa (skilled laborers from countries like Benin, Sierra Leone, Senegal, and Cote d'Ivoire). Other elements, like sweet potatoes and corn, were grown by Indigenous tribes and intermingled with African-American tradition.
When the Great Migration brought millions of emancipated Black Americans North, "soul food" didn't have a name. When people migrate, they bring their foodways with them. When a culinary tradition is home, it doesn't need a name. It's just what you eat. There wasn't a mass outflux of white southerners moving North. Instead, in northern cities, southern food became associated with Black chefs and neighborhoods.
Today, the ingredients of soul food proudly belong to Black people in their freedom, who have thrown the rice they once grew into a rich gumbo and made it all their own. Claiming the taste of soul food and Black empowerment go hand in hand. When luminary writer Amiri Baraka read a criticism that Black Americans had no distinct food or language, he wrote a spirited essay saying that this was "the deepest stroke, the unkindest cut, of oppression."
His is an ode to the origins of potlikker, turnip greens, hoppin' john, and hushpuppies in Harlem, that they came from a uniquely Black creativity to use what was once scraps and grease to create great tastes, and how "they came North when the people did."
These "down-home cooking" restaurants gained importance as cultural hubs. In his book, Soul Food, James Beard Award-winning food historian Adrian Miller explains that "soul" as an indicator of Black culture gained popularity in the '60s with the emerging Black is Beautiful ethos, but Black musicians had been using soul decades earlier to differentiate themselves from white musicians, who were disproportionately profiting from the genre.
It's also made its way into sophisticated plates and fusion cuisines. Churchills on Cherry is a new upscale cigar lounge and restaurant on Cherry Street. Chef Gerard Atkinson noted that soul food is a generational and local art: "That's what we was raised up on. You have different varieties of soul food. Macon soul food might be different than Savannah, St. Simons. We Gullah-Geechee culture. So the things and the ingredients that we put in our soul food, they might not."
He added, "Soul food has infused into fine dining now. Back in the '90s, it wasn't a shrimp and grits on a fine dining menu …. A lot of people didn't use pork in fine dining. Now you have braised pork belly apps." Atkinson connected this success with his heritage. "Our culture has taken off. It's in Chinese recipes …. French recipes. It's everywhere now. So shout out to my grandma."
Last November, Jessica B. Harris, a culinary historian famous for High on the Hog, came to Macon for the Jordan Massee Lecture Series and said: "With the improvisational genius that gave the world jazz and salsa, as well as rumba, rap, and reggae, we have cooked our way into the hearts, minds, and stomachs of a country." In a town famous for its soul music, we should be just as proud of our soul food.
Here in Macon, soul food is such a staple that it brings the world back South. As The Allman Brothers Band became internationally renowned, they famously missed the hometown cooking of Mama Louise so much that they took her on tour with them. And when Macon's small regional airport welcomed a food vendor, they picked Dab Cafe's homemade plates over a fast-food chain. As visitors pour in from D.C. and beyond, they taste cornbread patties and candied yams. Dab Appling said that the soul food in Macon gets to go all over the world — "And I'm not leaving, okay?"
Here are the places, faces, and stories of some of Macon's soul.
Theresa Cohen, Owner/Operator, Ma Dukes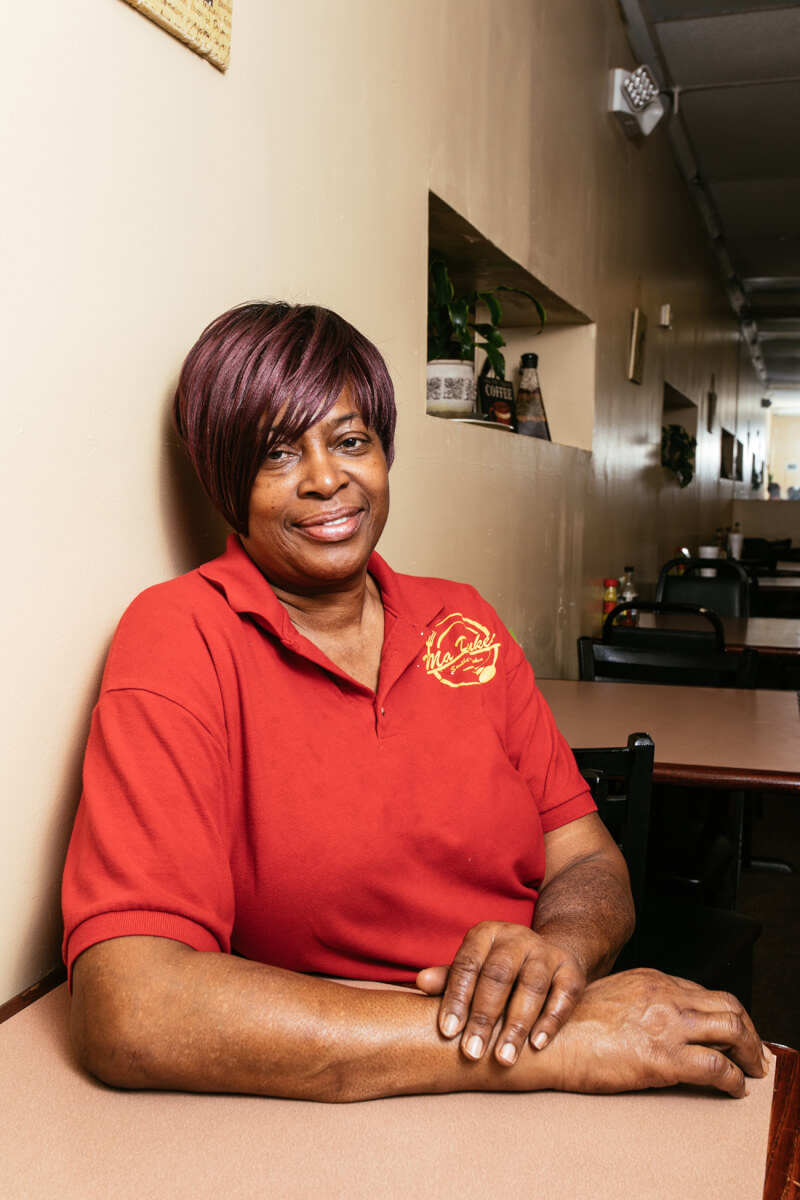 The term "ma dukes" is used to describe a southern mother or even a neighborhood woman who guides and feeds the children on her street who may not have much support at home.
"I put a lot of love in my food. You know, God is love. Everything I make has some of that spirit in it and I take a lot of pride in what I do," Ma Dukes owner and operator Theresa Cohen said.
"Soul food doesn't have measurements. Southern food follows a recipe, but soul food can't be found in a cookbook or online; it's cultural. You just know what you know from your grandma," said Ma Dukes server Kela.
Pat Bivins, Kitchen Manager, Dawson's Kitchen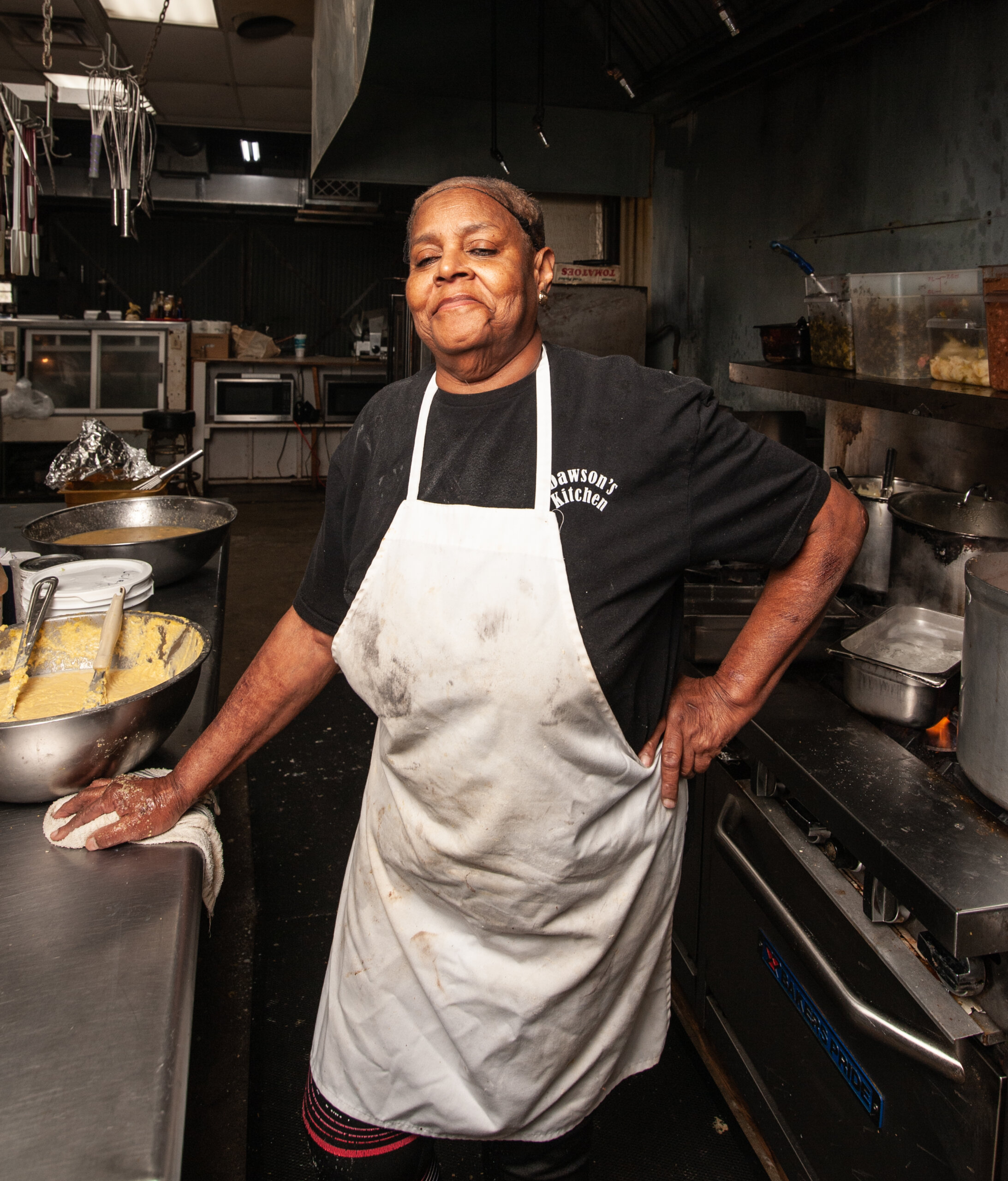 Though Pat said the "soul" found in her food is derived from the ham hocks she cooks with, co-owner Susan Moore insisted that Pat's food is tasty for another reason: "Pat cooks with love."
Earlene "Dab" Wallace-Appling, Proprietor, Dab's Cafe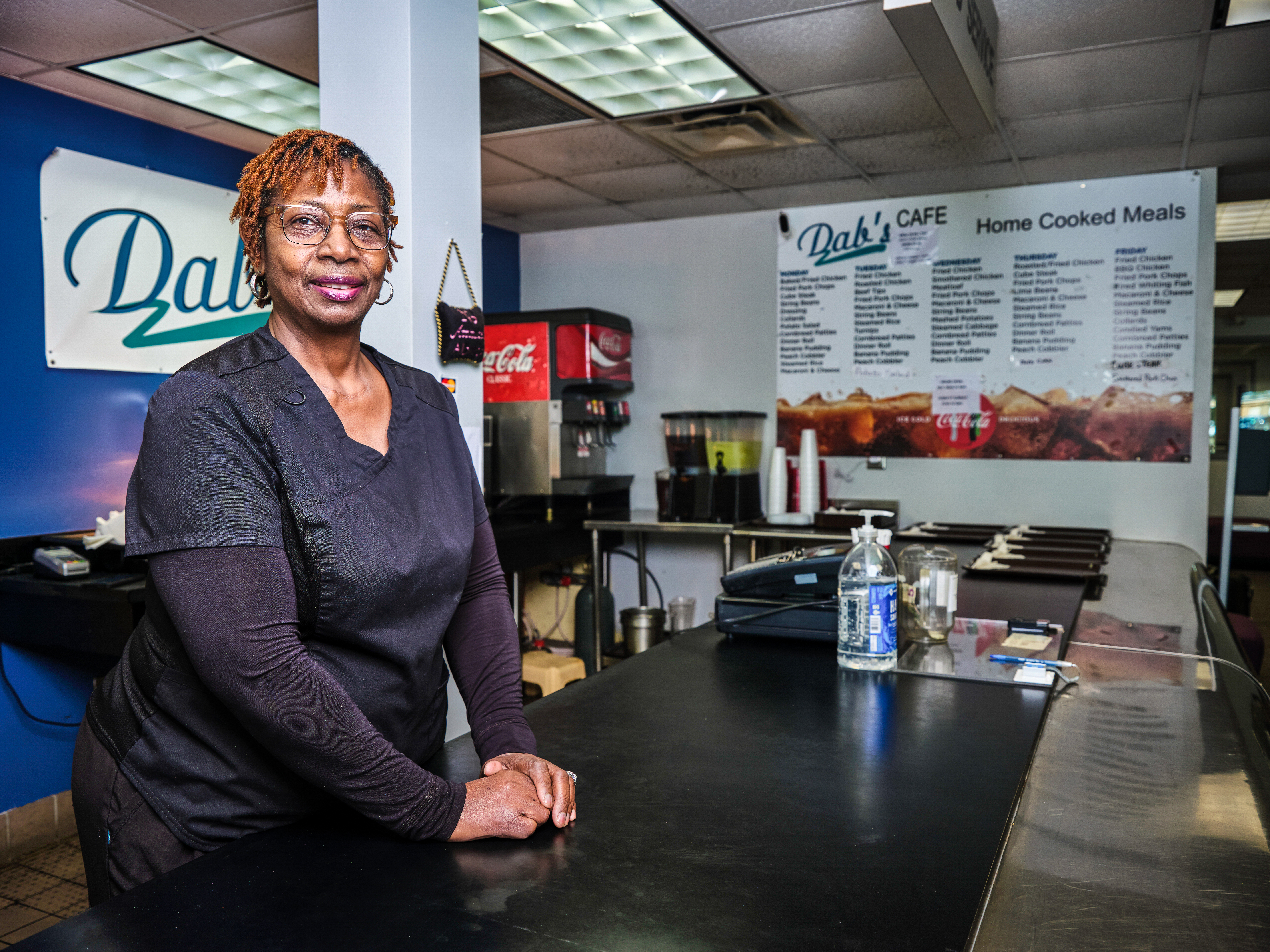 "You know, it's just like Macon. It's coming from the soul. It's really coming from the soul. And the key thing with homecooked meals and soul food is L-O-V-E. Do you love it? Do you love what you do?" asked Dab's Cafe proprietor Dab. "As far as the food itself, it's nothing different but L-O-V-E. It's love. And me knowing and cooking and loving to cook. You could give a person a recipe and two people make the same thing, the same recipe, and it will turn out differently. Why? It's according to what attitude they have when they were preparing it."
Tangie Myers, General Manager, H&H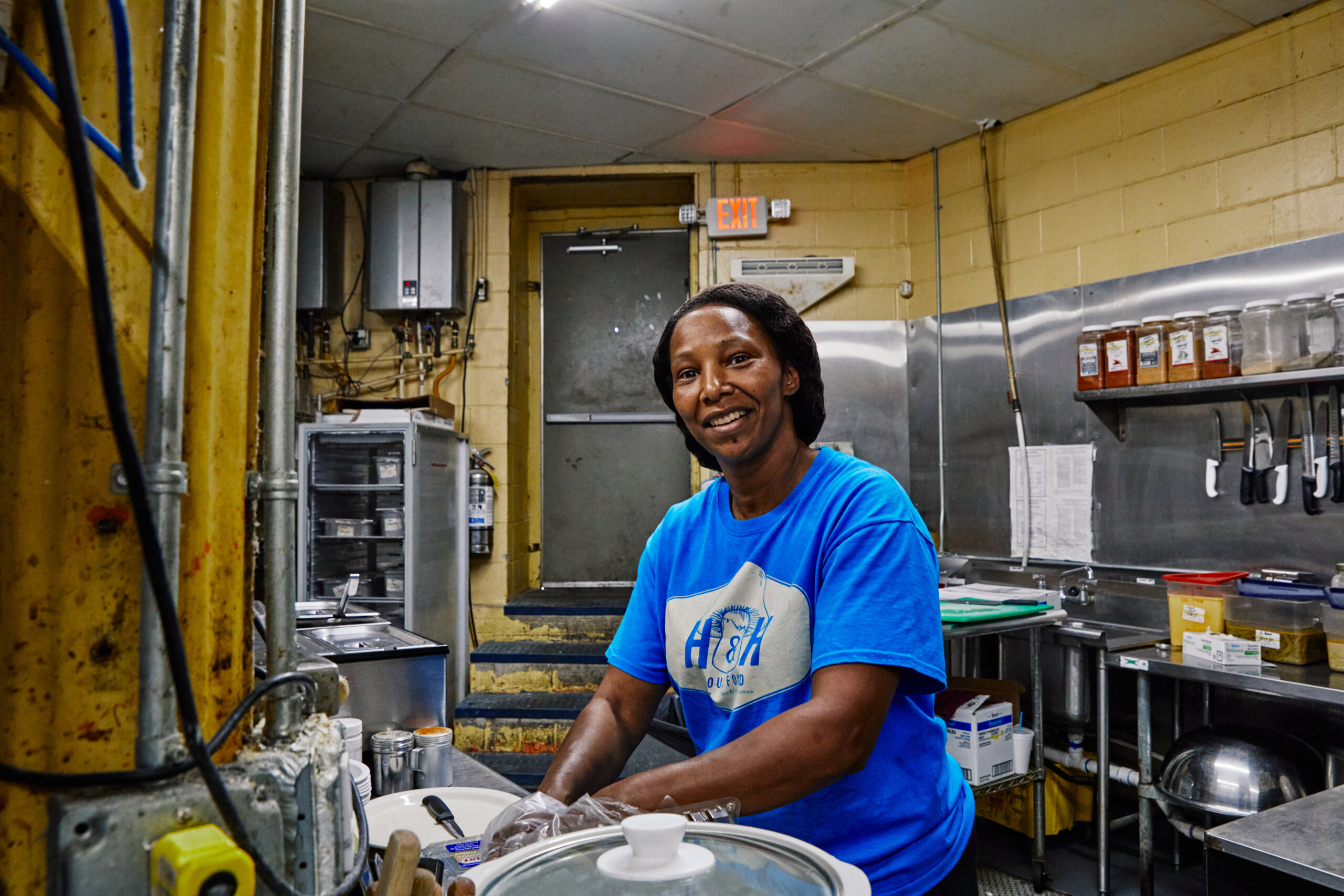 "How I approach recipes? It just comes out. It's in my head, and I pretty much just go from the heart. I mean, I don't have pretty much nothing written down. I just go from my heart and then put it into my cooking," H&H General Manager Tangie Myers explained. "Macon is a small, growing community, but it got a heart of gold. Macon got a lot of soul food, soulful roots. It's so deep embedded in everybody's history."
We want to hear your soulful Macon food stories. Email us at hello@maconmagazine.com and join the conversation on social media @maconmagazine.