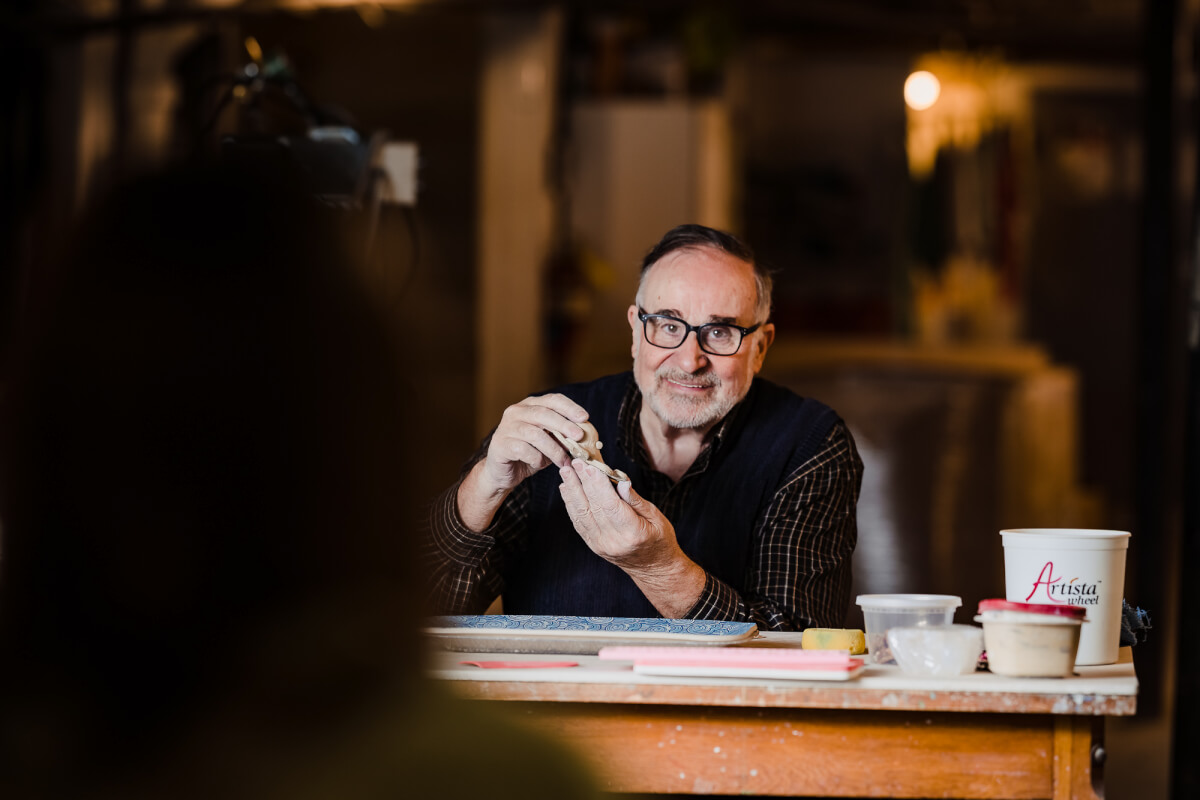 Putting the "arts" in culinary arts
By Michael W. Pannell
Photography by Mike Young
You may not know what a croquembouche is, but in 2015, Chef Jean-Yves Vendeville wrote the book on them. It's called Croquembouche: The Art and Technique. In Vendeville's homeland of France, they're common at weddings and as buffet and banquet centerpieces. Even a simple croquembouche is an artfully prepared French dessert, a conical tower of crispy cream puffs held in place by threads of caramel. Other ingredients and a decorative flair make any given croquembouche as low-key or beautifully festive as desired.
Now at 73, and three years retired, Vendeville and his family have lived in Macon since 2006. He can map the beginning of his culinary and baking journey back to when he was 14 and apprenticed to the confectioner in his hometown of Libercourt.
"I liked it, liked it very much, and continued on to become a pastry chef," Vendeville said. "But later, I turned to culinary pursuits. I've always enjoyed learning and new challenges, whether creating a new dish or menu, or managing kitchens or strings of kitchens for the hotels I've worked for. That was true my whole career and eventually led me to teach."
Technically, the culinary arts have to do with food, main dish preparation, and presentation, while bread, desserts, and confections are the domain of bakers and pastry chefs. Each offers its own trials and rewards.
"After pastry, I taught myself culinary, butchery, and kitchen management," Vendeville said. "Then I got interested in food and wine pairings. Once, I was very much a French wine purist, but now I appreciate others, like Pinots from Oregon and Chardonnays from California."
Lightly traced, Vendeville's successful and award-winning chef's journey took him from France to various corners of the world, eventually landing him in Montreal working in Ritz-Carlton hotels and then Toronto to work in the Four Seasons hotel network's head offices. Among his accomplishments there, he developed new menus and alternative cuisines including healthful three-course dinners of no more than 500 calories.
It was in Canada that he met his American wife-to-be, Maureen, and there his career took a turn toward teaching. He and his new family moved to Vermont, where he taught culinary arts. So how did he get to Georgia?
"That was Maureen," he said. "She was tired of the cold and wanted to live somewhere warm."
Why Macon? Again, it was Maureen's choice, and her answers were clear.
"I saw photos of Macon in the spring and its glorious profusion of blossoms and emerging leaves in white and pink and every shade in between," she said. "Really, after living here for 16 years, nothing I've experienced is as exciting as this city in the spring. There's a warm, sociable culture – Southern charm – but there's also a bit of spice mixed in. Truthfully, I don't know how to top what Macon has. It's city living for convenience but has the countryside and nature right alongside with no sacrifice of community feel."
In Macon, Vendeville was initially involved in developing the culinary program at Goodwill's Industries Polly's Hospitality Institute. In 2008, he agreed to head the Culinary Institute at Savannah Technical College while still keeping his Macon residence. Under his guidance, programs were added and enrollment doubled. Students from the program won four American Culinary Federation Southeast Regional Championships and went to nationals.
As for Vendeville, his reputation grew along with the school: He won Instructor of the Year for the Technical College System of Georgia; he was named Chef Educator of the Year by the American Culinary Federation; he was given the American Culinary Federation's top annual honor; he was inaugurated into the American Academy of Chefs; he was given lifetime Executive Pastry Chef Certification by the American Culinary Federation; and he was rewarded a lifetime Executive Chef Certification from the Chef Association of America; all among several other honors and distinctions.
Vendeville's accomplishments and the positive light he shone on French culture were not lost on his home government. He was made an honorary French consul and, in 2017, the French government bestowed on him the title of Knight of the Order of the French Academic Palms, the oldest and highest non-military honor given. It made him a Chevalier de l'Ordre des Palmes.
In 2020, he put down his chef's hat and retired.
Vendeville said he was open to new challenges beyond his gardening and other activities, and his wife presented him with another one of her good ideas. In light of having arthritis in his hands, Maureen – she herself a talented painter – suggested taking a ceramics class at The 567 Center might be fun and therapeutic.
"I brought what I already knew to what I learned of ceramics," he said. "There's great art in food and pastry creation. There's the fine work of cake decorating and so many things that require delicate work and artistic skill. I must have done well because about three weeks into the course my instructor told me, 'OK, just do whatever you want. I've taught you all I can.'"
And he did.
Occupying a great range of work, Vendeville's signature pieces lean toward the fanciful and often bring flower characters to life in various settings. He's careful to make his flowers as realistic as possible.
Ironically, he spent his career as a chef creating beautiful, delicate pastries and food, taking care not to burn them in hot ovens; in retirement, he creates delicate ceramic pieces and carefully burns them just right in a kiln.
"You can't stop in retirement," he said. "You must always be learning and never cut corners in what you're doing."
He even teaches others the art of ceramics in classes he leads at The 567 Center.
"There's such a connection between food and art," he said. "It's in how you think about it, the creativity involved, and the goal to please. You can't live without food; I believe you can't live without art. It's certainly true in our family. Maureen is so creative and our sons are as well. One works at Mercer University and also makes candles and works with resins, and the other is with Google in San Francisco and very good at drawing, painting, and writing."
Vendeville said the art connection is no surprise.
"There's a saying that you eat with your eyes first," he said. "Food should be pleasing to the eye first, and that has to do with its preparation and how it's plated. It's like when you see a beautiful dessert cart pass by and want everything on it. The production is different, of course: with food you have to get the order right and out the door quickly, while with art you can take your time, and if it doesn't go as you want, well, you can just throw it in the trash and start over."
While thinking of the artistry of making food, Vendeville's eyes lit up as his thoughts turned to baking and the wonders of bread.
"And oh," he exclaimed. "A nice fresh, crispy French baguette is a beautiful thing to the eye, and it sings in the mouth. I have to say, I'm still looking for the best here. I welcome all attempts to impress me."
Cook like a French person
Looking for a not-too-challenging French recipe? Chef Vendeville offered two dishes that are likely to succeed in home kitchens, plus his suggested wine pairings.
Authentic French Quiche Lorraine
This recipe calls for homemade pie dough crust and filling. Substitutions may be made but will affect the outcome's flavor and consistency.
Crust – Pie dough ingredients (Doesn't homemade taste better?)
1½ cup all-purpose flour
1 cup shortening or wagyu beef tallow (I prefer this and order mine through Amazon)
½ cup ice water
1 teaspoon salt
1 teaspoon brown sugar
Method: Preheat oven to 400 degrees Fahrenheit.
Mix flour and fat until grains are pea-sized.
Dissolve salt and brown sugar in the water.
Add flour mixture to the water solution all at once.
Mix together but do not
Form a log and wrap in plastic. Refrigerate for 20 minutes.
Roll the dough evenly and place on a 9-inch pie plate. With a fork, make small holes in the dough. Bake for 15 minutes and remove from oven.
Quiche Lorraine Filling – Ingredients
1 large onion, diced
8 slices of bacon cut in small pieces
Olive oil for sautéing
4 ounces Gruyère cheese (It's important to have the right cheese)
3 large eggs
½ cup heavy cream (Neither half and half nor milk works as well)
Seasoning – no salt added. Use a pinch of ground pepper and a pinch of nutmeg to taste.
Method: Pre-heat oven to 400 degrees Fahrenheit.
In a saucepan, sauté onion with olive oil. Before the onion caramelizes, remove from pan and set aside.
In the same saucepan, cook the bacon pieces until almost crispy. Add to the onion on the side.
Cut Gruyère cheese into small cubes.
In a mixing bowl, use a French whip (or fork) to whip together the eggs and cream. Do not add salt, as the mixture will take enough salt from the bacon and cheese. Add pepper and nutmeg.
Place the onion/bacon mixture at the bottom of the pie crust.
Cover evenly with the cheese.
Pour the cream/egg mixture gently overtop the pie.
Bake the quiche for 30 minutes or until the pie is firm to the touch in the middle. Let it rest 10 minutes before cutting and serving.
Wine Pairing
Since this dish is suitable for any meal of the day, I would recommend drinking a glass of wine with it to have the authentic French experience. A light red wine like a pinot noir, a French Beaujolais, or a dry, crisp rosé are all suitable.
Classic French Tarte a l'Orange
I have made this with a pie dough and a graham cracker crust, and I prefer the latter. Also, I use the oranges from the cold-hardy orange tree grown in my own yard – they have more tartness and less sugar.
Graham Cracker Crust – Ingredients
1½ cup finely ground graham crackers (I use a food processor when I can't find the crumbs in a box)
1/3 cup regular sugar
6 tablespoons butter, melted (I prefer unsalted)
Method: Pre-heat oven to 375 degrees Fahrenheit
Mix all ingredients together evenly and form crust by pressing firmly on bottom and sides of 9-inch pie plate.
Bake for 7 minutes. Cool down crust.
Tarte a l'Orange Filling – Ingredients
1 14-ounce can of condensed milk
1¼ cup fresh-squeezed orange juice (Fresh always makes a difference)
4 egg yolks
Juice of 1 lemon
Method: Preheat oven to 375 degrees Fahrenheit
Mix all the ingredients together.
Pour filling into crust.
Bake altogether for 15 minutes or until filling is set.
Let the pie cool down and then refrigerate for a few hours.
(Optional) Decorate the tart with a rosette of whipped cream (real, of course!) and/or orange zest candied in sugar.
Wine Pairing
The best wine to accompany this dessert would be a brut sparkling wine (from Napa Valley for example), or a French sparkling wine such as Blanquette de Limoux (my wife's favorite).