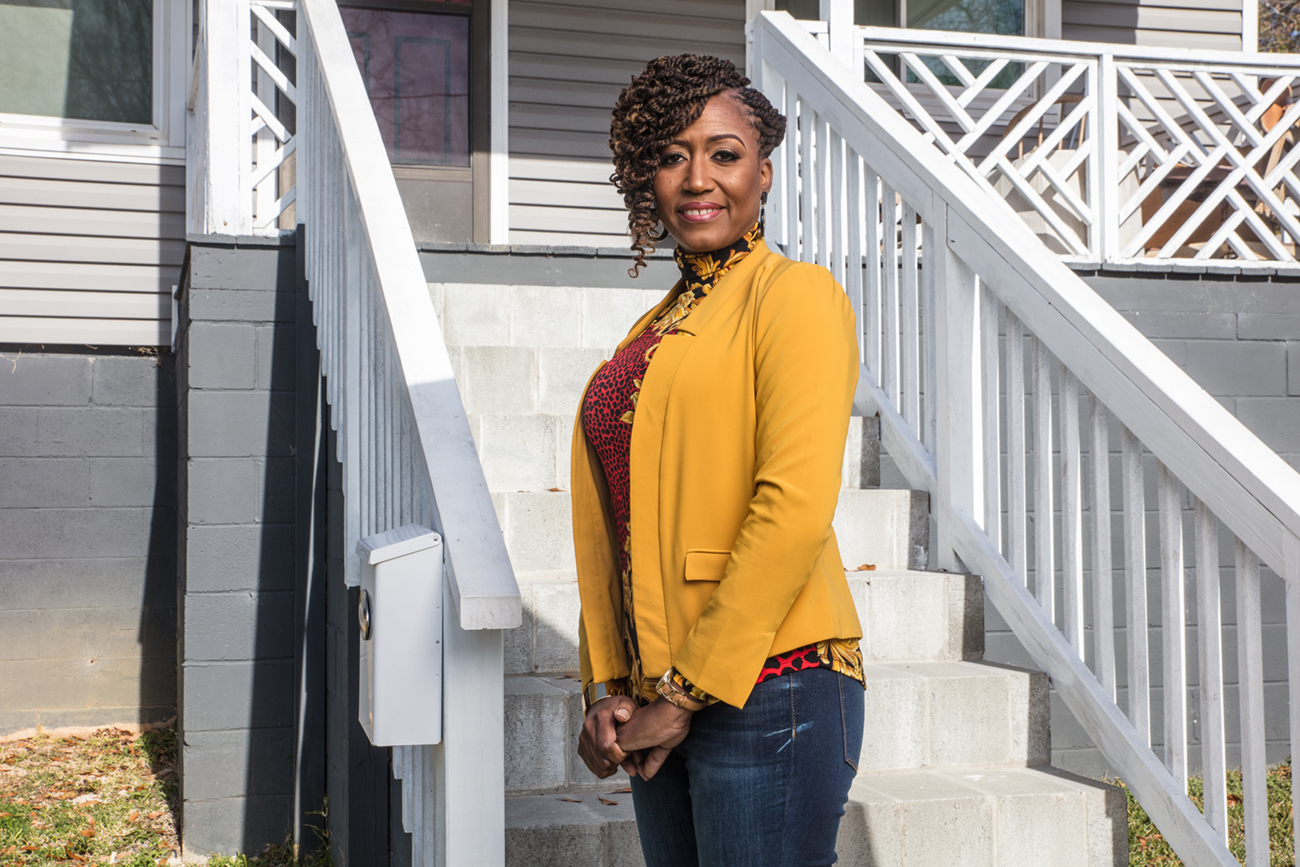 From Poverty to Paying it Forward 
Sheknita
 Davis
' 
People's Advocacy Group 
works to inform residents about their rights and responsibilities
By Lisa Pritchard Mayfield
Photography by Matt Odom
Booker T. Washington said, "Success is to be measured not so much by the position that one has reached in life as by the obstacles which he has overcome while trying to succeed." While many define success as the sum of their achievements, Macon's own Sheknita Davis knows better. 
"I have had the opportunity to change my life and impact the fiber of our community," said the grass roots social justice advocate. "We have so much momentum happening in our community. As we enter another decade, it's important to have hope. I refuse to let go of hope." 
A student at Mercer University's McAfee School of Theology and founder of In His Image Agency, a nonprofit people's advocacy organization, Davis has seen her share of impoverishment and adversity – both in others' lives, and in her own. 
There were many times in Davis' life when she didn't feel as full of hope as she does now. Her own story is one of good times – and bad. She speaks of growing up in a loving family in Macon's Bellevue community, where she attended public schools. The oldest of three children, she was raised by her mother, stepfather and maternal grandmother.  
"I lived a typical childhood," Davis said. "I loved reading and going to school. My mother and stepfather were very involved in our lives, especially our education. At an early age, I knew education was important to success." 
But by the time she was 11 years old, Davis' young life began a downward spiral when her mother and stepfather became addicted to crack cocaine. 
"Overnight, it seemed, our lives were turned upside down," she said. "I remember being 12 years old and hungry. There was no food in our home. My younger siblings were ages 6 and 7. I was scared, angry, bitter and frustrated. I felt a whole range of emotions, but mostly I was hurt. I wanted to know where all the people were that should have been helping us, knowing my mother was on drugs. No one came to make sure we were okay, and as a child, I was afraid to let anyone know about what was happening in my home. I remember being very angry at my life circumstances but needed to do something."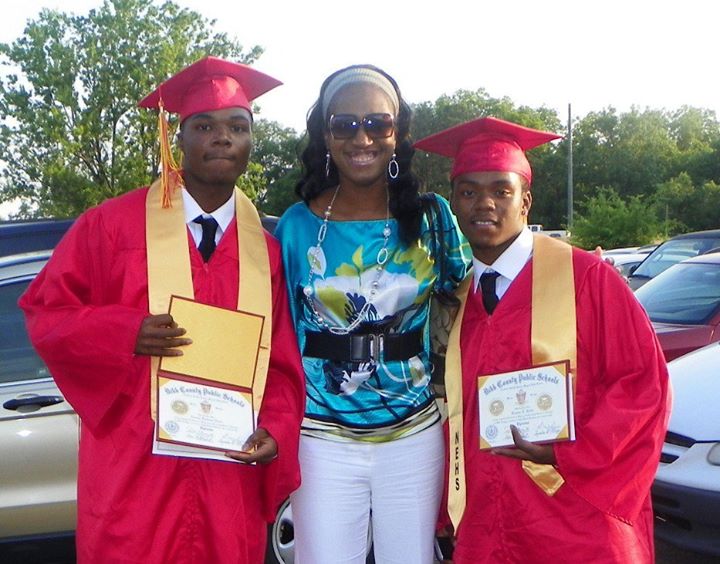 Raising siblings, raising sons
When she was 14, Davis lied on a job application, saying she was 16. 
"I wanted to do something to help my siblings," she said. "It was a dark time in my life and scarred my soul in ways I could not have imagined." 
Davis was just in middle school, but she made sure her younger siblings went to their elementary school every day: "I remember walking to school after they got on the bus, and arriving at school late." 
Davis said it was around this time she started "running away from home" and became pregnant at the age of 14, giving birth to her first child at 15. 
"It was the scariest moment of my life," she remembered. "I gave birth alone at the hospital and was terrified." 
Davis said her life continued to spiral out of control – she had four children by age 20. A young mother of four boys, Davis wanted to make sure her children had a better life than her own. 
"This pressure often gave me serious bouts of depression," she said. "I felt like a failure." 
Davis dropped out of high school in the eleventh grade and had difficulty finding a job to provide for her family, but she persevered. 
"All of my children have graduated high school and started lives of their own," Davis said. "Two of my sons have been shot – one of the most terrifying experiences of my life, but they survived their injuries." 
When her boys were younger, Davis promised herself they would have a better life than her own. Now, her sons are all grown, and all but one reside in Macon. 
"Like many young people, they are figuring out their career paths," she said. "I am very proud of them. I love my boys; they became my inspiration." 
Today, though Davis' mother and stepfather are no longer together, they both reside in Macon and live productive lives. Davis' mother went on to get her GED after recovering from her addiction and received several certifications and trainings that led to her becoming a welder. Her stepfather is a brick mason. 
"We are a family that loves spending time together," Davis said. "We truly value life and the precious gift of having a family."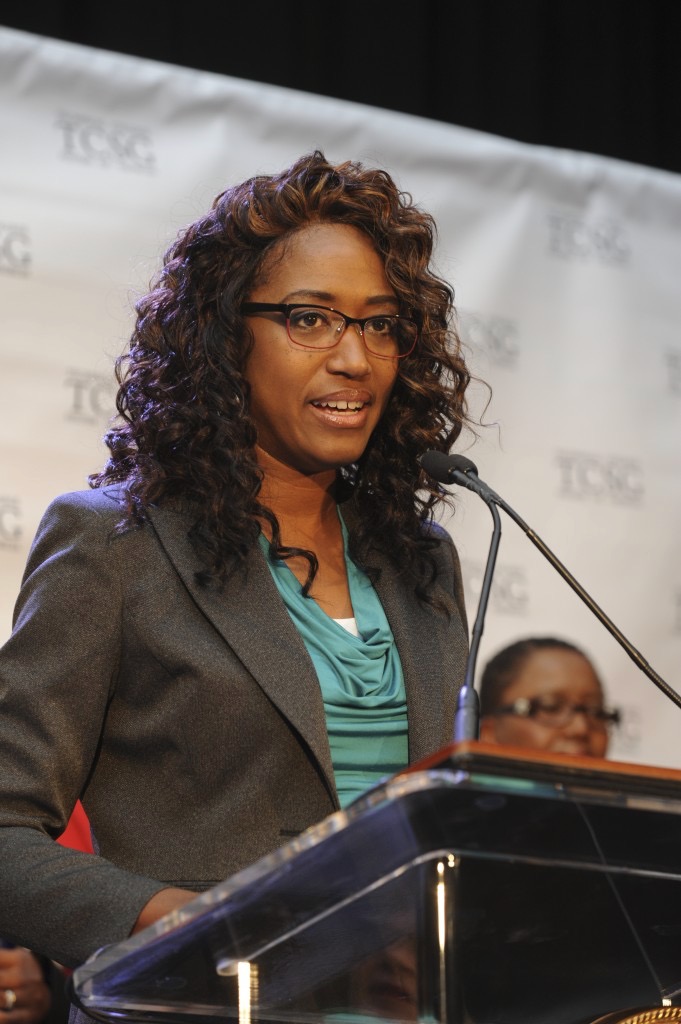 Education as a path to giving back
Davis earned her GED, attended and graduated from Mercer University with a bachelor's degree in human services and a minor in psychology, and started a career path. On that road, Davis worked jobs in juvenile justice, mental health, social services and workforce development. 
"Those jobs provided me the opportunity to give back to individuals who may have been experiencing similar situations as I had in my past," she said. 
Davis excelled in each of those roles, achieving various promotions, but she wanted more. 
"I wanted to pursue a master's degree, and after applying to several schools, I was offered a full scholarship at McAfee School of Theology," she said. "It has been a transformational experience; my faith has been an anchor in my life during both the dark times and the moments of celebration." 
In spring 2019, Davis experienced one of those celebratory moments when she was selected to participate in the Race, Equity and Leadership in Education (REAL) program at Harvard University. Davis' Harvard cohort consisted of 150 members; she was one of only two from Georgia. To be considered for acceptance, participants submitted an application which included a series of essay questions about their communities. 
"I talked about race, equity and leadership in Macon-Bibb County," she said. "It's an exciting time in our community, and I believe the program training will help enhance the services being provided here." 
Designed to address inequity in schools that creates barriers to learning, REAL introduced Davis to the effects of poverty and trauma on cognitive dissonance. She brought new insights back to Macon, and now Davis is working on developing a project to address this matter in adolescent and teen girls.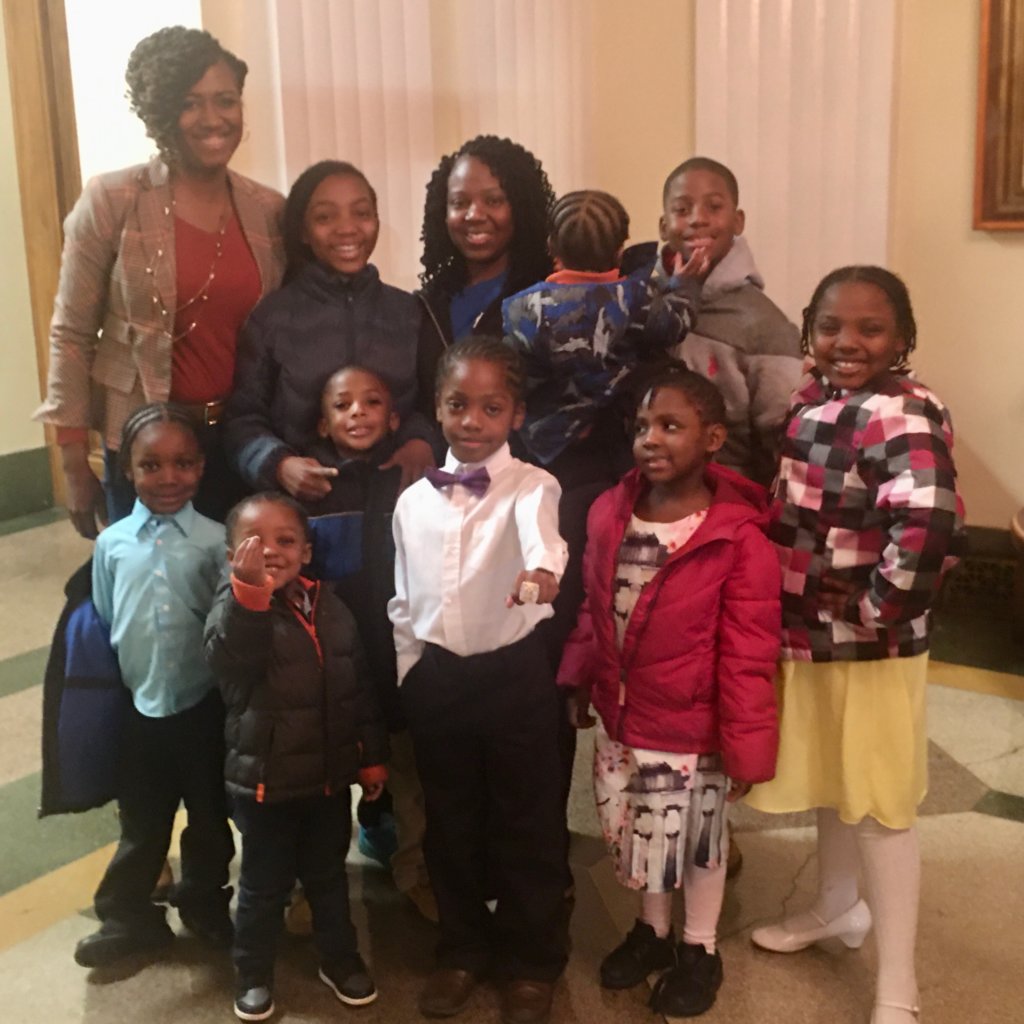 Advocating for her community
Her experiences at Harvard and McAfee led Davis to form the People's Advocacy Group Inc. (PAG), a nonprofit that focuses on community accountability, citizens' rights, civic engagement and restoring cultural identity. The organization's name has significant meaning for Davis. 
"Oftentimes, we will do things for individuals and never teach them how to do it for themselves. So, I wanted this organization – The People's Advocacy Group – to focus on empowering people about their rights, along with their responsibilities in a community," she said. 
Toward that end, it was in February 2019 that Davis had the opportunity to work with several other community leaders to assist the residents of Crystal Lake Apartments in Macon. 
"The residents of Crystal Lake represented the working poor, individuals with disabilities and children," Davis said. "It was a situation where the residents were being taken advantage of, and there were many systemic failures that led to them being evacuated on a Friday afternoon without a concrete plan of action. Many of those residents are still incurring the ripple effect of that day." 
Davis helped organize relief efforts for the residents, and said more than 20 families received help from community organizations. Support for the Crystal Lake community was part of a "community miracle," according to Davis. She recalls being at home and seeing a live feed on Facebook about the residents having one hour to leave the complex. She decided to go to the apartment community to see what she could do to help. 
"When I arrived, there were two elected officials on site, representatives from the school district, fire department and some very upset residents," she remembered. Another community activist, Registered & Ready's Marshall Talley was there, too. Together, Talley and Davis spoke to residents and secured six hotel rooms for temporary lodging. 
"Then a community miracle happened – our friends, family, churches and community philanthropy groups started to give, and we were able to secure 21 rooms," she said, adding that they maintained those rooms for up to 33 days while helping residents transition to permanent housing. "We called ourselves the Community Coalition. We were an unofficial group of leaders caring about the working residents of our community."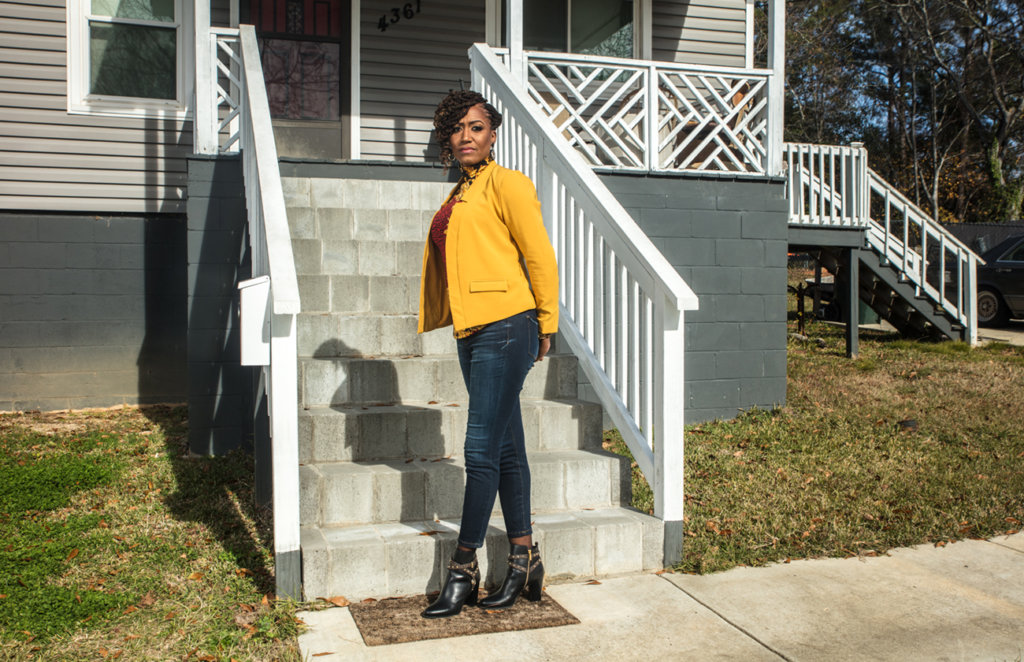 Ripple effect reaches others
Davis' life experiences have played a significant role in shaping the woman she's become. 
"I've had a lot of pain, disappointments, depression and failures," she said. "But those things do not have to define who you will become. The emotional trauma can be challenging when your life starts out rocky – and a lot of people do not recover. 
"I know there were gaps in services and community support in the early stages of my life. But I knew I had to give back and be in a position to give hope to others and advocate for those who may not have a voice. We must all create a community that is equitable and enjoyable for everyone." 
That happens, she said, by not ignoring the real challenges our community faces. 
"It is my desire to use my life to impact the lives of others," she said. "I am a social justice advocate and love issues dealing with race, diversity, equity, economic inclusion and community building." 
Part of that impact is the ripple effect Davis' good works have had on the community. One of the members of that community is former Crystal Lake resident Tiffany Young. The mother of eight children was among those displaced from the complex. 
"Sheknita Davis found out about my situation, and she didn't just try to fix it, she did much more," Young said. "I could actually feel the pain she had for me. She helped us as best she could, getting gift cards for food, making sure my kids had clothes. To this day, she'll help out any way she can when there's a need." 
But it's not just Davis' good works that have impacted Young, and many others. 
"She's a true role model – it just melts my heart," Young said. "She is so real; she knows how it is. I feel okay opening up to her. … She's inspired me, too. Now I want to make a difference in Macon, like she has." 
Davis envisions PAG becoming a social justice voice in our community and an advocate for the people. There are four pillars upon which PAG is founded: citizens' rights, community accountability, civic engagement and restoring cultural identity. A fifth pillar, Davis explained, will eventually be economic inclusion. 
"Many individuals are not informed of their rights and how to advocate for themselves. I want to see that change, especially in the African–American community," she said. "How do you hold your community – elected officials, organizations, agencies – accountable? As a citizen, what is my responsibility to my community? We must all take ownership of the city and leave no one behind."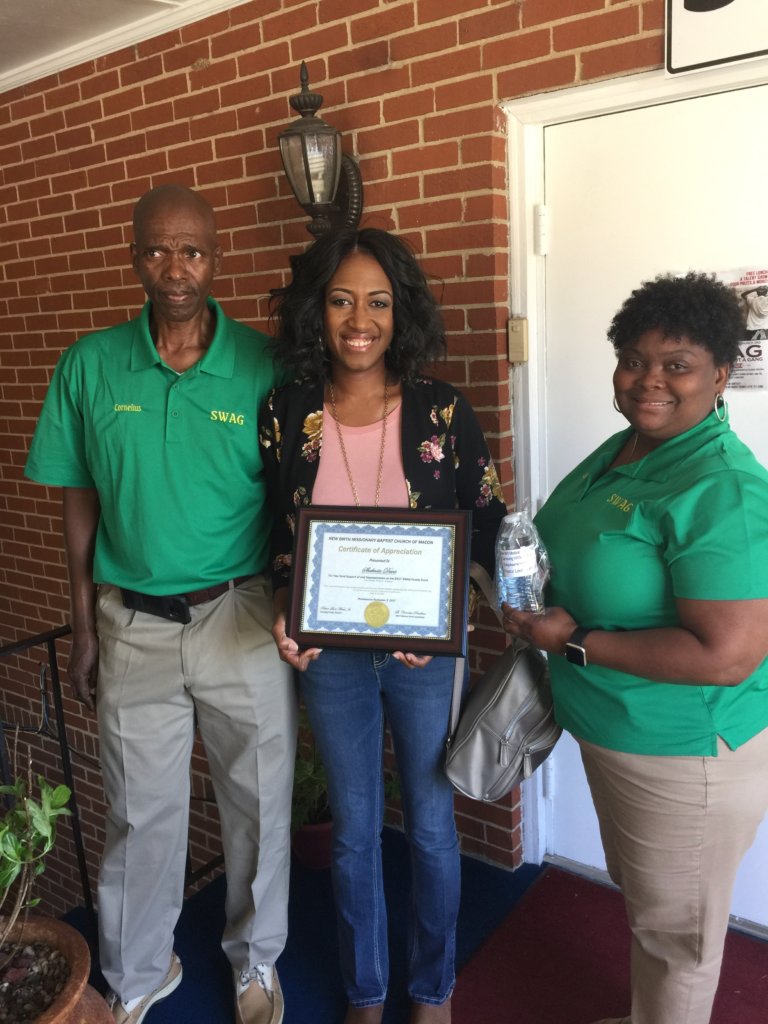 Davis is committed to impacting the lives of everyday people through advocacy, education and policy changes. 
"I want to see the People's Advocacy Group become a vital asset to our community," she said. "Community transformation starts inside the individuals in the community and expands outward. Every community needs affordable housing, access to food, quality jobs, solid education and people who care and are willing to be a sacrifice in the lives of others." 
Looking ahead, Davis would like to see thousands of lives changed and the community thriving. She believes that will happen when people are valued as human beings and not just as statistical numbers. 
"How we view people determines how we make decisions that impact lives," Davis said. "When we are too far removed from the issues affecting the very vulnerable individuals in our community, we tend to cause more damage than good. We make assumptions about lives and carelessly use our power, privilege and influence to hurt others. 
"All areas of our community matter and deserve to thrive in their own ways. We must educate and empower individuals in each neighborhood to create a beloved community that belongs to them. There is value and worth in diversity." 
Want to know more about how to help your community? See our list of compiled Middle Georgia associations that help combat poverty here.