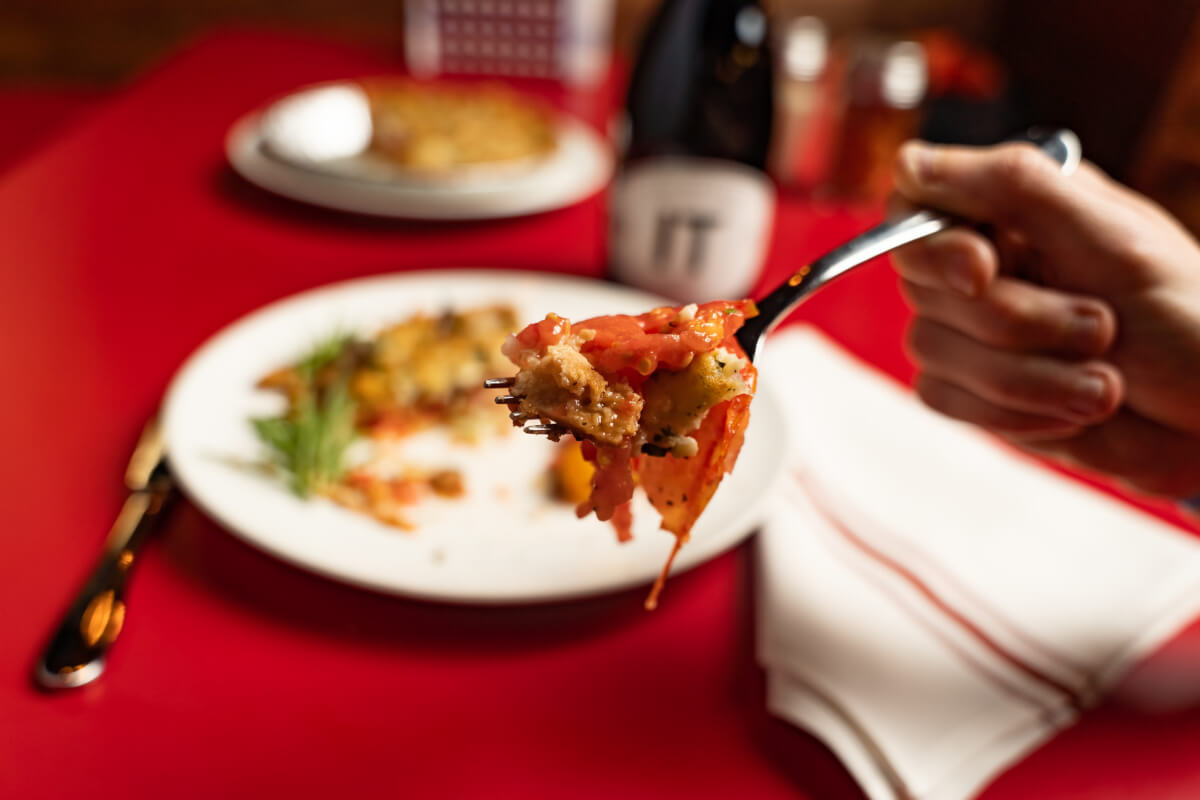 Terrific tomatoes
From a fruit stand to a restaurant table, seasonal tomatoes serve as culinary inspiration
Story and photos by Mike Young
When I stopped by the Northside Drive fruit stand to ask Trey Brown a few questions about tomatoes, I half expected him to be a farmer. He's not a farmer, nor does he have any major ties to the food industry. He tells me this whole fruit stand operation actually began to come together in Iraq in 2003.
"I'd ended up over there the same way as countless others, by being a broke college student," he says with a laugh. "I'd signed up with the Army Reserves for a little spending money, and not long after, we invaded."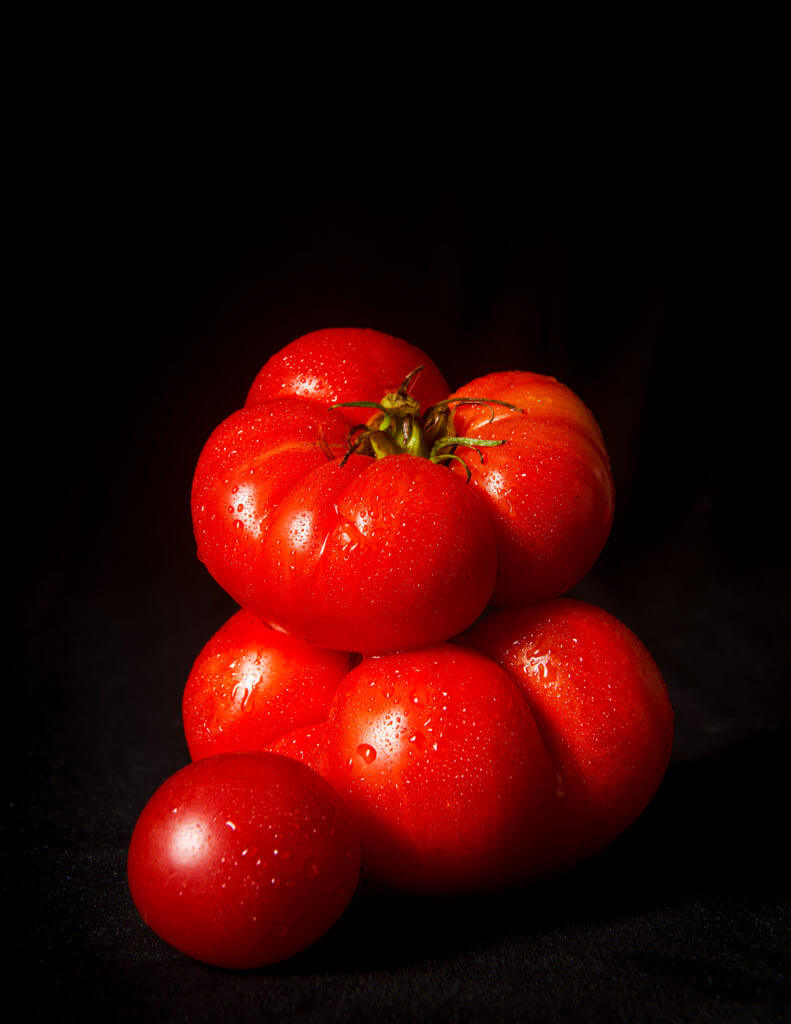 Time moves slowly when you're deployed, and Brown found himself looking forward to letters from home, as well as thinking up ways to fund paying rent that didn't involve assault rifles and the desert sun.
"I had this one buddy who'd write occasionally, Jason Reott, another chronically poor college student. Jason had recently quit his job waiting tables to open a fruit stand, and while the details were scarce, he made it sound like a good gig."
Brown shared the info with another Army buddy, and upon returning to the U.S., they opened their own stand.
"I'd planned on running the stand just that one summer until school started back," he says. "The extra spending money was nice, and I began to grow a passion for sourcing the absolute best produce I could find. Then, I'd decided to run it through college, as I had the summers off anyway. After college, just one more summer to get my feet under me before finding a real job."
He gestures at the stand behind him, "and now here I am, 40 years old, still running the fruit stand."
The passion for the industry has clearly grown on him.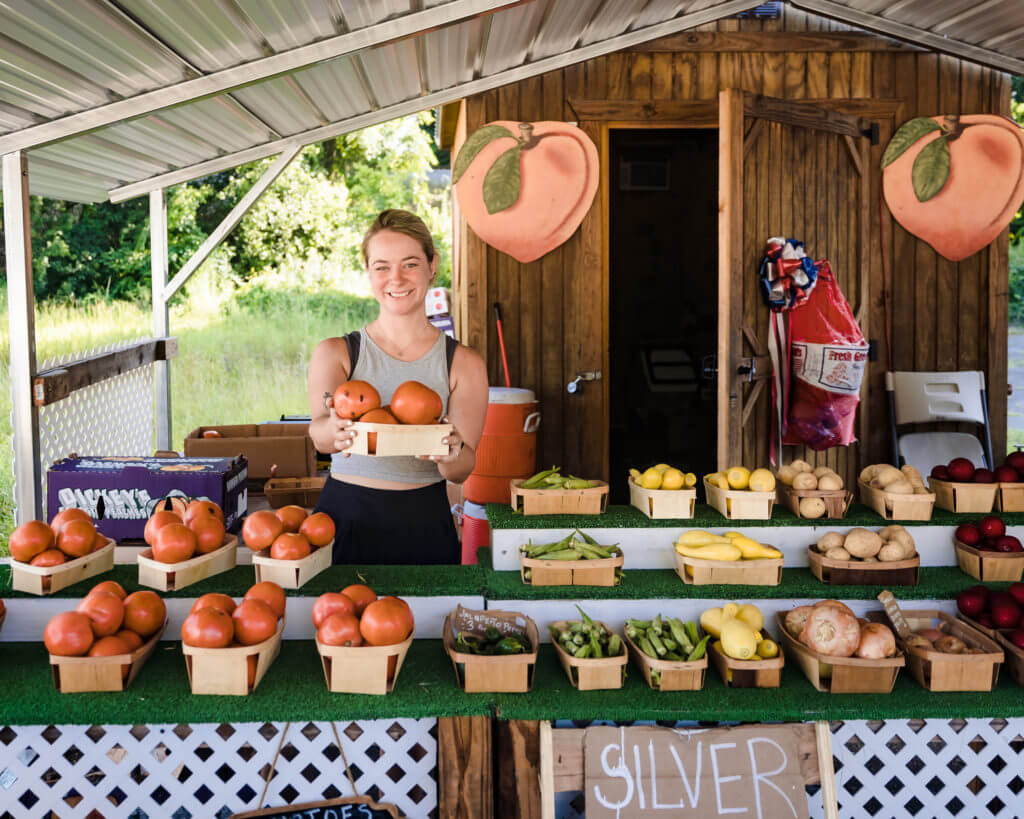 "Every year I have increased my knowledge and built a few more contacts. I source my produce from a wide range of people, from professional farmers to people who do it as a passion project," he says. "The only thing that matters is the quality of the food. One lesson I learned early on was that if you want people to keep coming back buying from you, the quality has to be there."
Buying bulk produce is not as easy as it may seem.
"Tomatoes are a great example. Most grocery store tomatoes have been gassed with preservatives that help them hold their color and not decompose. They were not allowed to color naturally from a green tomato to red, and that is why they tend to be bland," Brown explains. "If you want to find the best tomatoes, there's no substitute to driving out to the farms and getting to know the farmers. There is never any wondering what our produce has been through."
Looking around the stand, the care and attention that has gone in to sourcing the food is evident. Everything looks so fresh and vibrant, and Brown tells me most of it was still in the ground just that morning.
Natasha Phillips, owner of local restaurants Fountain of Juice and Romo's, has been buying her tomatoes here for years.
"Right now, local produce is in my favorite season, and the tomatoes coming through Trey's hands at the Northside stand are incredible," she says.
For Phillips, who grew up in a multi-generational restaurant family, fresh food was a way of life.
"My whole existence revolved around food. My family celebrated everything with food — birthday parties, holidays, Sundays, the seasons changing, any and all excuses for us to eat ourselves silly," she says.
I reminisce about my experience also growing up in a multi-generational restaurant family, and ask her how food has impacted her life.
"When I think about the role of food in my life, I think about the summers I spent in Italy. I see myself sitting at the base of a cherry tree, picking the ripe ones right off the branch, eating myself sick," she laughs before clarifying. "Literally, I was throwing up at the base of the tree. I have other memories, like the first time I tasted a tree-ripened apricot, that guide the way I cook to this day."
It was her desire to share that love of fresh food that prompted her to open Fountain of Juice nearly 14 years ago.
"I knew I wanted to serve simply-prepared, great local produce, just like I had growing up. When you taste something that is so perfect it blows your mind, it changes you as a person," she says. "We use local fruits, lettuce, vegetables, pecans, cheese and beef. On top of tasting better, supporting local producers has the added benefit of keeping our money in our community. It feeds one another's children and keeps us all thriving."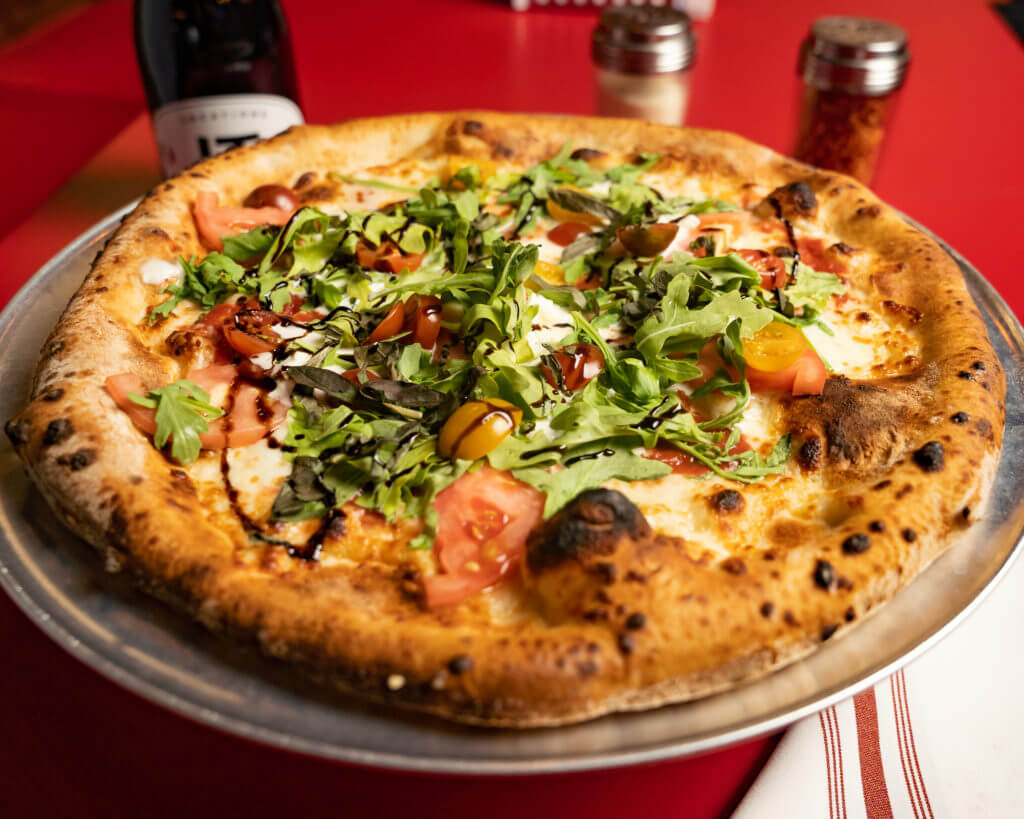 Tomatoes, like the ones she sources at Brown's fruit stand, can be found all over the menu at her restaurants, but they really shine on the Burrata Caprese Pizza at Romo's.
"The lightly charred, wood-fire pizza crust, pulled burrata and fresh tomatoes combine together to be something truly phenomenal. We also do a Southern Italian Tomato Pie at FOJ with chopped herbs, Parmesan and cheddar, and heaps of fresh tomatoes, all baked in a pie shell to gooey perfection," she says.
As she's describing the food to me, I can't help but feel grateful that she, along with Brown — as well as everyone from the field hands to the line cooks in the kitchen — came together to put this food on the table.
FOJ's Southern Italian Tomato Pie
Pie shell or pate brisée
2 pounds assorted heirloom tomatoes
1 1/2 teaspoon salt, divided
1 small Vidalia onion, chopped
1 teaspoon cracked pepper
1 tablespoon olive oil
½ cup chopped fresh herbs (basil, chives and parsley)
½ cup sharp cheddar cheese
½ cup Parmesan cheese
¼ cup mayonnaise
Prebake crust: Preheat oven to 425 degrees. Line crust with foil and fill with pie weights, bake 20 minutes. Allow to cool completely. Reduce oven to 350.
Prepare filling: Place tomatoes in a single layer on paper towels; sprinkle with 1 teaspoon salt. Let stand 10 minutes.
Meanwhile, sauté onion and 1/4 teaspoon each salt and pepper in hot oil in a skillet over medium heat until tender.
Pat tomatoes dry with a paper towel. Layer tomatoes, onion and herbs in prepared crust, seasoning each layer with pepper (1 teaspoon total). Stir together cheeses and mayonnaise; spread over pie. Cover edges of pie crust with foil to prevent over browning. Bake for 30 minutes or until lightly browned.
Serve hot, warm or at room temperature.