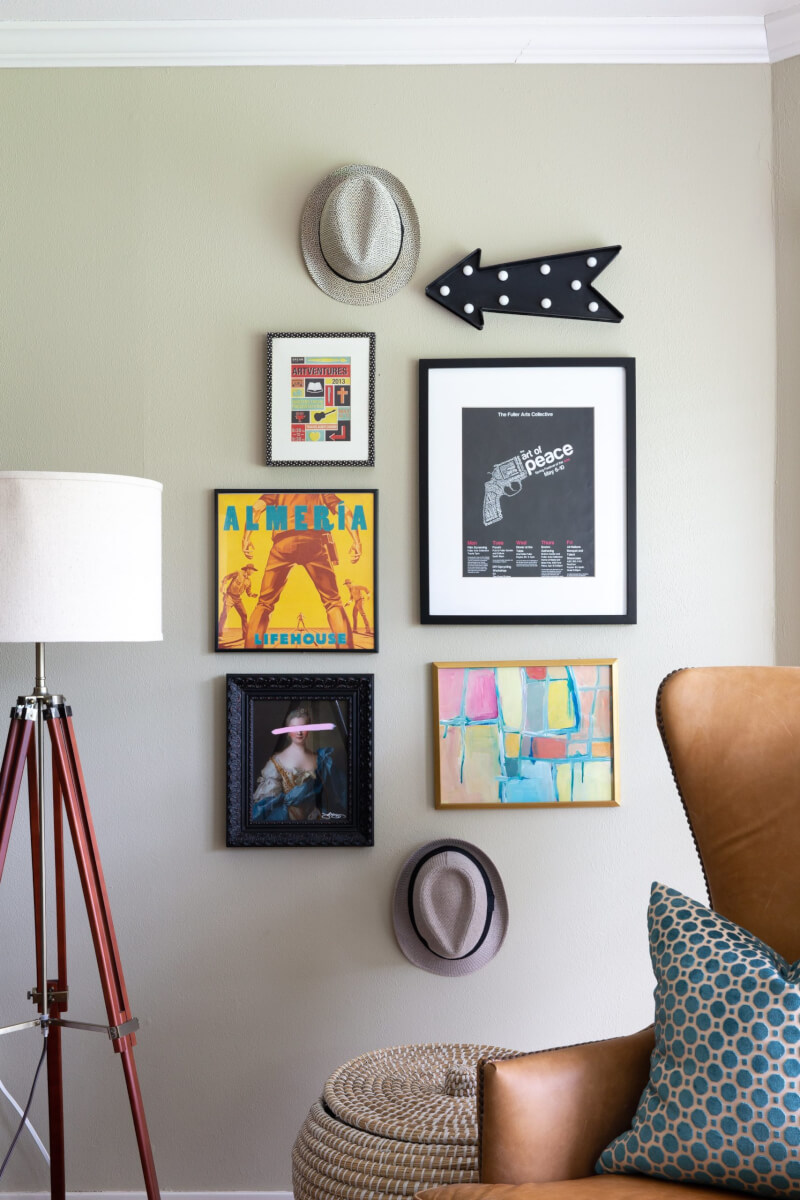 Art for all
Introducing original art into your home is easier than you think
By Lesley Myrick
Photos by Jeff Jones
When I started Lesley Myrick Interior Design in 2015, my business actually had a different name: Lesley Myrick Art + Design. As a collage artist and an interior designer, I couldn't make up my mind! I didn't want to limit myself and my business only to interior design when my love for creating original art — and collecting it — ran deep.
A few years ago, I closed my Etsy shop and shifted my focus fully to interiors, but art is still a central part of what I do and how I do it. Selecting art for my clients is one of the most vulnerable parts of my work as an interior designer. Art is so personal and needs to resonate on a much deeper level than a sofa or table lamp does. I can select an accent chair or chandelier for a client in a matter of minutes and feel confident with my decision, but with art, I agonize over it and second-guess myself.
And even if I personally love a specific piece of art, it doesn't mean that my clients will. We're all drawn to, and affected by, different elements in visual art. Last year, for a Macon client's bedroom, I chose a vintage photograph by Slim Aarons to be the focal point of the room. It had the right vibe, color palette and energy for the room, and it's a personal favorite piece of mine.
However, it was the one item my client requested I re-select for the space. I was baffled. Why didn't she like it? I adored that photo, and it felt so perfect for the room! I thought it was a slam-dunk design decision, but clearly, I had missed the net.
Her reason for requesting the change? She didn't like that the woman in the photo seemed to be staring right at her. It weirded her out.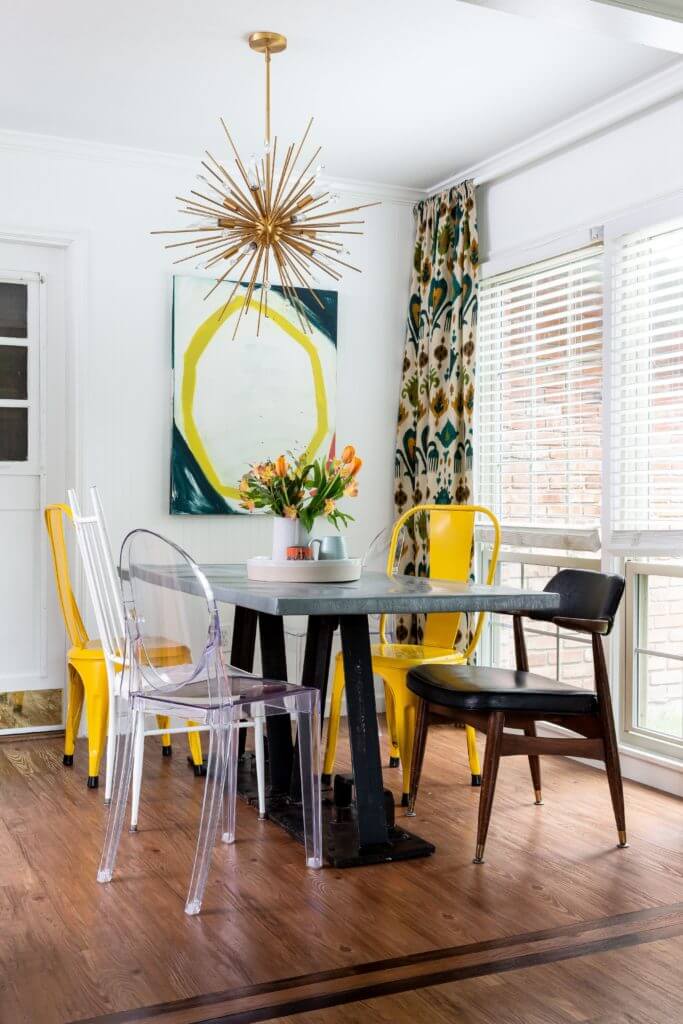 That is the power of art; to connect with the viewer, or even to repel the viewer. Great art makes you feel something.
I'm personally drawn to colorful abstract art; a few favorite local artists include Kathleen Jones, Joe Adams and She Keene. Collecting original art can seem like an exclusive world that's out of reach for most, but it's actually more accessible than you might think. Many contemporary artists and galleries offer payment plans for larger investment pieces, and smaller works are often quite reasonably priced, especially if purchased unframed. Independent galleries, community art collectives and even coffee shops can be superb sources for affordable originals.
I've found fantastic emerging artists on Instagram. Social media is making many things, including the world of original art, more affordable and more accessible. We're all familiar with the cliché of the starving artist, so let's be the generation that puts this in the past and compensates working artists well for their time and talents.
That Van Gogh poster you tacked up in your college dorm isn't helping anyone out, so please, as the pithy saying goes, "buy art from living artists; dead ones don't need the money."
Owning a unique piece of art, even if it's modestly sized, will always feel more special than hanging a mass-produced piece from a big-box home goods store.
I'll reluctantly admit that I'm guilty of using readily available cheap-and-cheerful art as gallery wall filler, but it's never going to tell the kind of story or have the meaning that an original piece does. I can assure you, of all the art I have hanging in my home, people never ask about the art I got from HomeGoods.
If collecting original art is still financially out of reach for you, there are ways to include unique art pieces for your home if you're willing to think outside the box — or frame, as it were. I have two framed original paintings in my entryway that only cost a few dollars. They were created with craft paint on paper by my kids at ages 1 and 4, and they're always a conversation starter when guests arrive.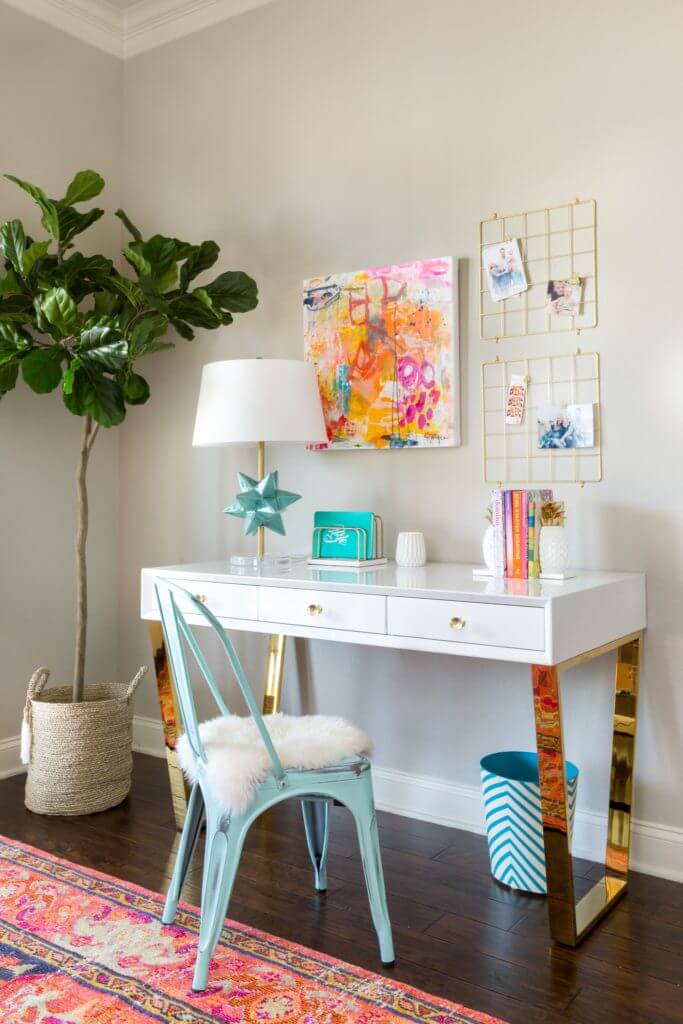 I've framed illustrated children's book pages, record album covers and wallpaper samples. I have oil paintings by my late grandmother, fedora hats and guitars hanging on my walls and propped up on bookshelves. I've framed vintage family photos rescued from dusty basements and mounted colorful wooden serving boards on the wall. Tapestries, quilts and even worn-out vintage band T-shirts can all become art if you decide to include them on the walls of your home.
When it comes to original art, anything goes.
The important thing is that what you hang on your walls sparks something in you. That it makes you feel something real; maybe it's a warm memory, a sparkling sense of curiosity or a convicting tug on your heart. For me, art is intuitive more than rational, which is why curating art for my clients is so difficult. I can't always explain why I love a piece of art; it's not about the logical elements and principles of design.
Art is about connection, about feelings, about memories. If you've been hesitant to collect original art, just start. Piece by piece, your walls will tell your own rich, unique and colorful story.
Lesley Myrick is an adventurous, organized and enthusiastic interior designer in Macon who helps high-achieving moms bust out of boring homes. Contact her at lesleymyrick.com.
Answers to your art-buying questions
What is the most common mistake people make when art shopping?
Buying art that's too small! Larger art is a larger investment, but the visual statement it makes is worth every penny.
What tips do you have for hanging art?
The vertical center of a piece of art (or the center of a group of artworks) should be around eye level, which for most adults is between 57 to 60 inches off the floor. If you have ceilings taller than 8-feet high, you may want to push the center of your art up to about 60 inches, which will feel more proportionate to the scale of your home.
I want a gallery wall. Where do I start?
I'm a fan of eclectic, collected gallery walls that don't look too perfect. I like to gather a mixture of framed photographs, paintings, prints and even 3D items (think woven wall hangings, a metal horseshoe or even a vintage hat) and lay them out on the floor to start playing with the arrangement. Start with the most visually heavy piece (it could be the largest, or the one with the darkest, thickest frame) in the middle and work outward from there. And before you start hanging, take a photo of your arrangement on the floor for reference!
What are some of your Etsy favorites?
Mae Chevrette is a mixed-media artist I've loved for years. @maechevrette
Mei Sheng has lovely large-scale textured canvases in gorgeous colors. @MeiShengArt
I love Heartfish Press' bold and simple letterpress prints. @HeartfishPress