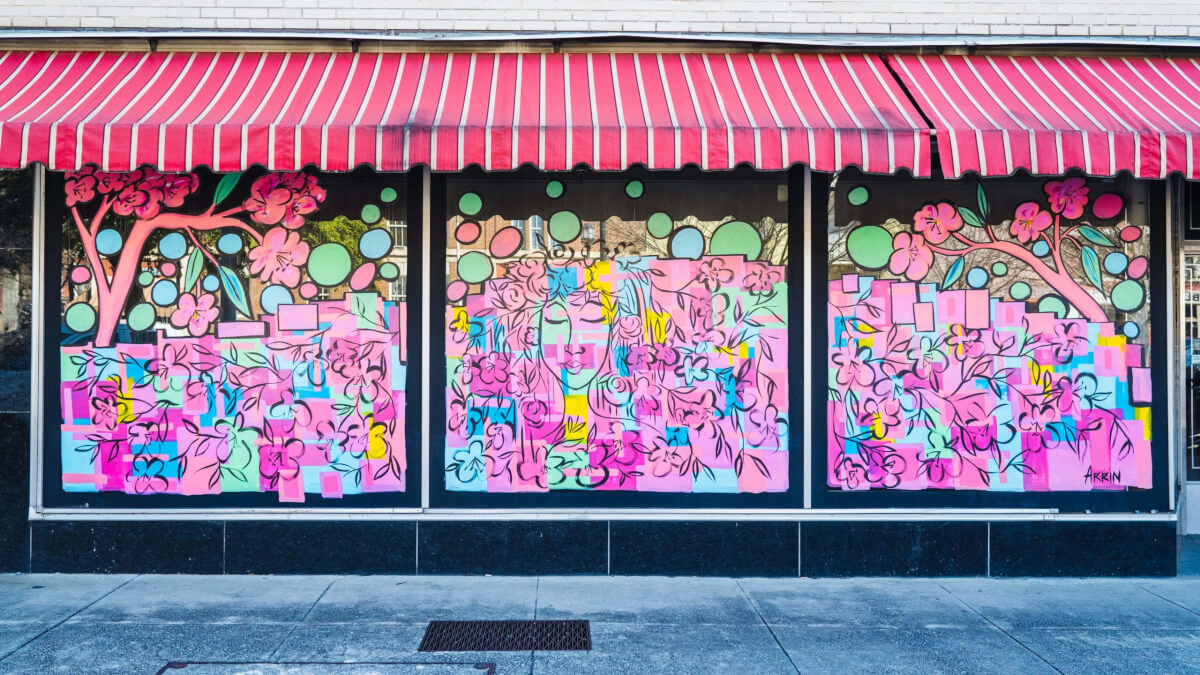 Artists make their mark for the 'Pinkest Party on Earth'
By Hannah Jett Theus
Photography by Jave Bjorkman
As far as congressional records go, Macon is touted as the Cherry Blossom Capital of the World. For us Maconites, we know how truly special and serene it is to be surrounded by the organic beauty of more than 350,000 Yoshino cherry trees.
The determination of William A. Fickling Sr. to discover the origin of a tree he had noticed in his own backyard, paired with Carolyn Crayton's vision of a town filled with beckoning blossoms and a community festival to celebrate them, forever changed the trajectory of March in Macon.
Throughout springtime, Yoshinos make Macon as vibrant as a work of art. With plenty of floral inspiration, Macon is home to graciously gifted artists. Some have grown up here and some have begun to call Macon home more recently, but their talent and regard for their community is remarkable.
Macon memories
Arrin Burgand has lived in Macon for more than 20 years and is a 2001 Bachelor of Arts in Studio Art graduate from Wesleyan College with a focus in oil painting. She shared her talents as an elementary school art teacher for several years and has been a freelancer since college, taking on various art commissions such as pet portraits, canvas works, murals and window paintings for local businesses.
"You may find me around town splashing windows, which began when I worked as an arts director for a local children's museum in the early 2000s," she said. "Years later, I found myself painting the windows for the holiday season at the local Fresh Market. I posted a photo of the entrance of the store on social media, and businesses started contacting me."
She found the new adventure to be fun.
"I found it so therapeutic to paint on glass and soon realized that I was having fun traveling to businesses with my car full of paints and getting to meet new people. I found an outlet that I truly enjoyed while my children were in school. I loved that I could create my own schedule while getting paid and having fun," she said.
For Burgand, window painting has been a blessing in disguise.
"I have so many fun, crazy stories that have come from splashing windows with my art," she said, adding that she even found her rescue dog, Scruffy, while painting cherry blossoms several years ago at a local business.
Burgand's special memories of the Cherry Blossom Festival lent a hand in the direction she wanted her Macon-Magazine-commissioned piece to go.
"Of course, you cannot get away from the pink, but the Cherry Blossom Festival is so much more than just a blossom," she said. "My first visit to the festival was in the 1980s with a childhood friend whose mom had six children. We piled into the station wagon and headed to Macon from my hometown of Warner Robins. I remember the park, cotton candy, rides and just us kids playing and enjoying what felt like the most amazing event I had ever visited."
As far as the mark she's making now, the window art, located at the old Blair's Furniture at 418 Third St. in downtown Macon, captures her feelings. She wanted to portray a female who was imagining cherry blossoms while the various colors depict flashes of memories such as what she experienced over the years. She was able to do this in just five hours.
Alicia Ford, pictured in front of this beauty, served as the Cherry Blossom Festival Queen from 2020-2021 due to the coronavirus pandemic halting festival plans in 2020. A sophomore at Wesleyan majoring in Biology and minoring in Business Management, Ford loves the festival and enjoys meeting new people. She also serves as the vice president for media operations of A Brooke Haven Lounge in downtown Macon. She is wearing Frankie's Boutique, located on Cherry Street, where she works and models.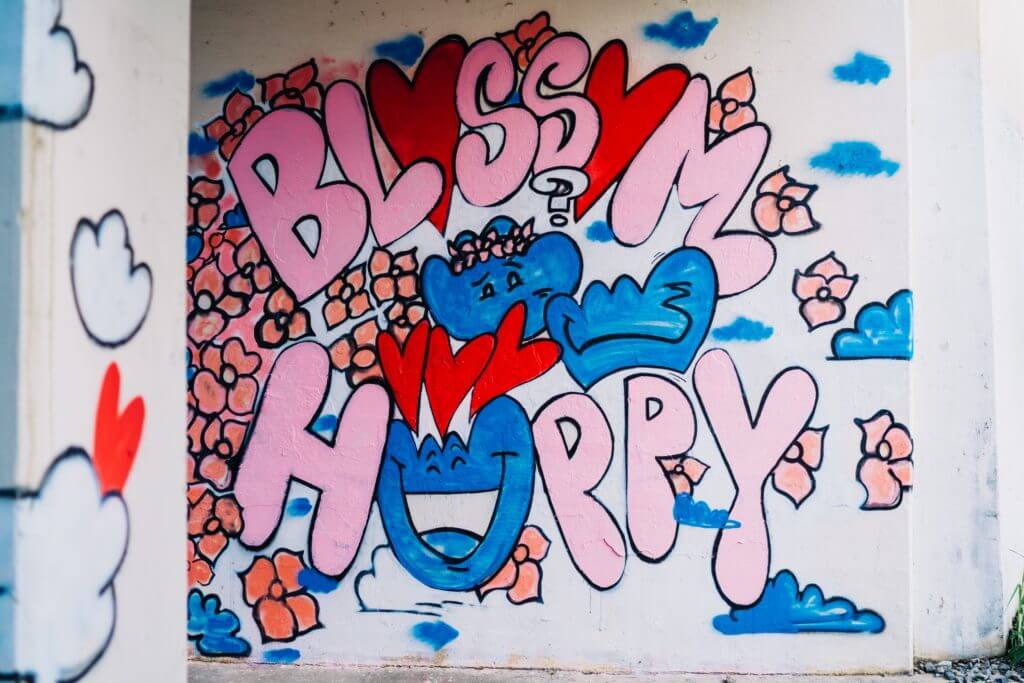 Blossom happy
Artist Randy H has a deep love for Macon and his family, and his passion for positivity is powerful.
"I think it is important for parents to understand that you have to create a space to encourage your children's art," he said. "Big shout out to my mom; she is so special. She's always encouraged my artwork and trusted my vision. My dad did an amazing job, too."
Randy graduated from American InterContinental University with a degree in Fashion Design and Marketing. An eastside Macon native, he traveled for 17 years, but decided to come back during the pandemic.
"The pandemic year really struck gold for my art," he said. "The message that I give my artwork is something people needed to hear like, 'Hey; I love you. Keep going.'"
"Blossom happy" is the theme for his work, located at the bridge at the intersection of Clisby Place and Roff Avenue in Macon.
"Macon has so many places that are vacant. I wanted to create beautiful messages that could speak to the world and the city," he said. "We all have circumstances. My message speaks to being uplifting."
Now an art teacher at Northeast High School, his very own alma mater, he's proud of the culture in East Macon. They didn't have an art class there for five years, so his return has blessed future artists and vacant spaces in Macon.
"The eastside is a mecca of memories, love and a little bit of struggle. Even with my students now, I see bits and pieces of the past," he said.
Graffiti, his art love language, "was never really invited here, but it can show the pain of the people and also uplift them," he said.
Calling the Cherry Blossom Festival "a beautiful time and space," his painting creates an inviting space.
"My character is full of life and love. I just need my folks to be happy — whether you're black, white, Hispanic, everything. I need all of us to be happy," he said. "We are the gatekeepers of our day; we've got to have the right mindset. I've seen the worst of the worst but people still chose to be happy. I paint the times, and we're in a tough time. I'm just trying to get you to talk about the happy thoughts. We can start focusing on new ideas, new behaviors, things that matter."
Modeling his sock and clothing line are Ayanna Hoskins, J'Mya Mann and Alysia Hazel. The models said their favorite festival events are the ones at Carolyn Crayton Park and the parade. From the food and the rides to the venders and the music, there is truly something for everyone.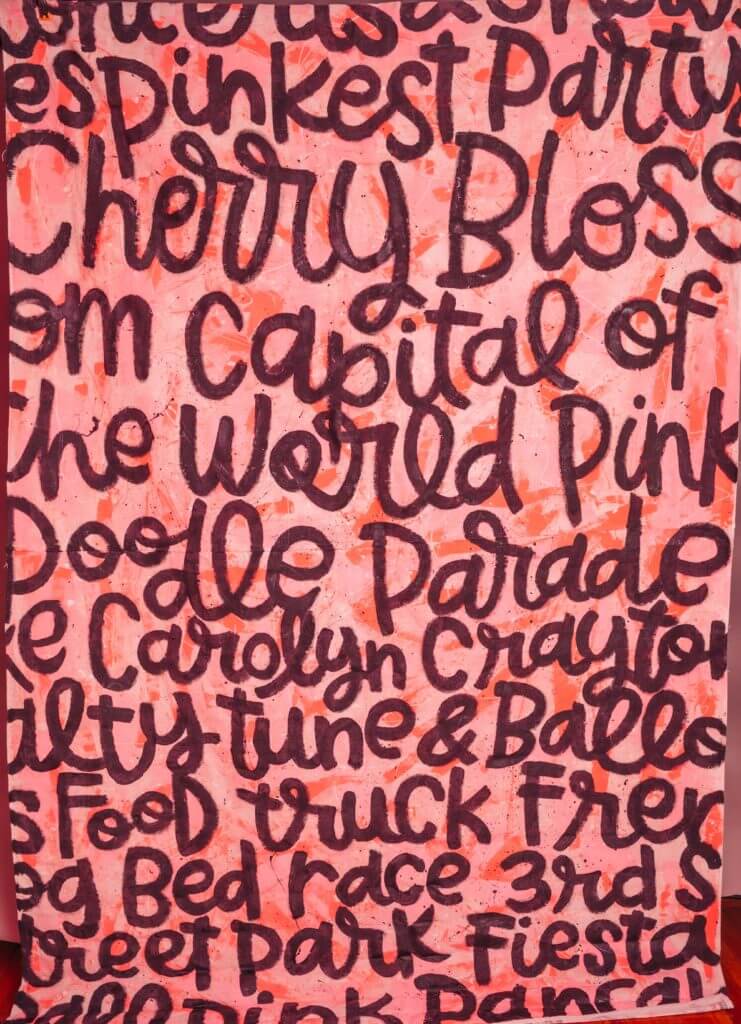 Pretty in pink
Erin Hawkins, owner of Mama Hawk Draws, has an ability to put a beautiful, quirky twist on eye-catching artwork. A graduate of James Madison University with a Bachelor of Fine Arts in Graphic Design, her creations are captivating and remind you of sunshine.
"When our family moved to Macon in 2015, I had a very hard time adjusting to our new city," she said. "I went from Washington, D.C., where I was working full-time with incredibly talented folks while being surrounded by an amazing group of friends, to now living in Macon, a completely unfamiliar city where I juggled kids with no support system while starting a new chapter in my professional career, freelancing full-time. For a while, all I could see was what Macon was lacking."
That didn't last long, though.
"Luckily, as time passed, my views on Macon changed greatly. I began to invest my time and talents into the community, which led to a better understanding of our great city. It also enabled me to meet more movers and shakers in our community," she said.
Hawkins learned that if you have the will, you can find a way to make an impact here.
"Currently, I am focused on bringing more art and access to art to our community. I work with students, community partners and fellow creatives to beautify our city through public art, as well as create designs for local and small businesses to help them flourish in their branding and marketing," she said.
Her drop-cloth mural was inspired by her 6-year-old daughter, who is in love with everything pink.
"Cherry Blossom Festival season is her favorite because our city explodes in pink — even the trash cans are pink! Combining her love of pink and my affinity for lettering, I created a bold piece of art that will entice any viewer to take a second to read, and possibly locate at their favorite Cherry Blossom Festival event," Hawkins said.
Modeling in front of her backdrop is Anna Roberts, owner of Rivoli Reality and the 2019 Cherry Blossom Festival Senior Queen. Her inviting and welcoming personality has shown through in her love for Macon as a realtor and community advocate since 1987. Her favorite events, Pasta on Poplar and the parade, are back and better than ever this year. She's also looking forward to seeing Walker Hayes perform on March 19.
Keep an eye out on social media for Hawkins' backdrop as it makes its way around town during the festival.
Make some memories and make your mark, Macon, as we celebrate 40 years of the "Pinkest Party on Earth!" Snap a picture in front of these new artistic beauties, and be sure to tag the artists — @arrinfreeman, @parkercloud and @mamahawkdraws — as well as @maconmagazine and the @pinkestparty.