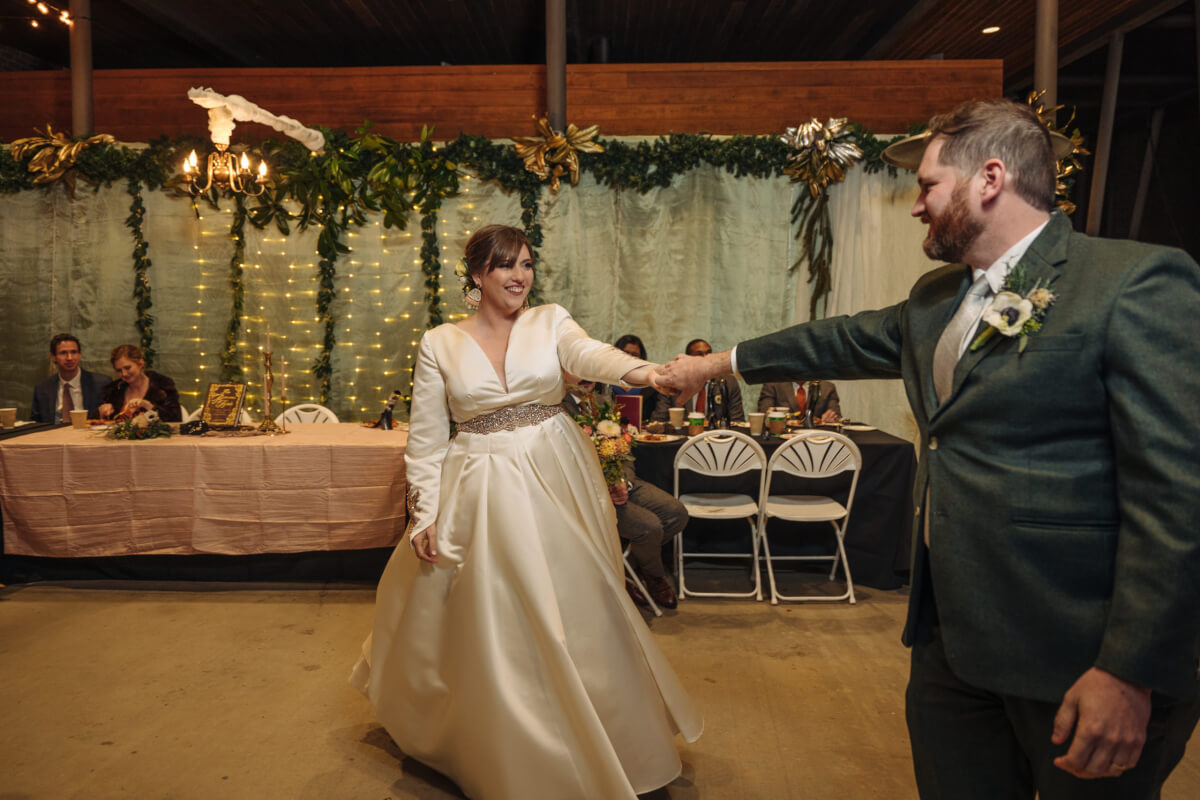 The wedding dress: One bride's story
By Rachelle Wilson
Photography by Jave Bjorkman
Whether you love fashion or find yourself resentful of its cultural power, every bride must consent to the importance of selecting the wedding dress that is perfect for her. No photograph is more preserved for generations to come than that of the wedding day.
The wedding dress expresses her personality, works for her body type, compliments the aesthetic of her other wedding choices, is stylish but not too trendy, unique but not ostentatious, perhaps sensuous while maintaining a level of classiness, maybe flirty and foxy without crossing into provocative, bridal but not matronly, practical but as extravagant as she wishes because it is, after all, her wedding day. All this and more goes into choosing this once-in-a-lifetime gown.
Amidst a sea of decisions geared toward others, this is the one that is (ostensibly) just for the bride. As a recent bride (married only a few weeks by the time this is published), my wedding dress journey was a defining part of my road to the altar. Almost immediately after getting engaged, a family friend and talented seamstress offered to make my dress for me. Having seen several wedding dresses she created, the decision was a no-brainer. We set to work immediately.
"The process of creating a custom gown takes many steps," she told me. And after almost a year of designs, revisions and adjustments, that may be an understatement.
An interior designer by profession, Patricia Berrie's foray into sewing began with drapery in 1974.
"I was puzzled by the quotes I received from drapery workrooms," she said, "specifically by the amount of fabric they said my treatments required. It seemed way too much by about another third. So, I began to fabricate my own drapery for design projects. As time passed, I became more and more confident and began to construct more complicated and intricate treatments. My efforts saved my clients a lot of money and there was little to no waste."
While the jump from drapery to dresses may seem like the unrealistic territory of characters like Maria Von Trapp or Scarlett O'Hara, for Berrie, that path was forged by the desire for a gown unlike any other.
"While still in design school, one of my classmates asked me to make her a yellow wedding gown. At that point, I had only made baby dresses for my daughter, but I took on the challenge and it actually turned out beautiful. I even made her a yellow veil. It was a great confidence booster for me," she said.
Forty-seven years and 10 wedding dresses later, Berrie began creating number 11: mine. We began by looking at photos, and soon after I was trying on gowns at a shop to narrow down a style while she tried to conceal her sketchbook from the attendant. Though I had a very clear idea of what I wanted, I agreed to be open and try on anything. I donned dresses that were lacey, others beaded. I fell in love with crepe and was disenchanted with tulle. Some were ball gowns, bedazzled or backless. I even tried on the dreaded mermaid style. I have to admit, I liked them all.
I left with a head full of gowns, and Berrie with a book full of sketches. Taking my favorite elements from the dresses I sampled, we toyed with some styles. Fairly quickly, a concept emerged. The most creative part in this process was our trip to select the fabric. Berrie was like a rock star in the recording studio. With a bit of blush lace in hand, ideas flowed as effortlessly as a riff.
Soon after, the design was fixed and the muslin prototype dress was in progress. In the following months, fittings were frequent as the sketch we created materialized before my eyes. For Berrie, this is the most defining part of the process with custom dresses.
"Most wedding gowns, after purchase, require alterations. A tuck here, a seam let out there and at the very least a hem," she said. "But a custom gown addresses these issues from the start. Every custom gown is different, but the common denominator is fit. It is specifically tailored to each bride."
By November, the wedding satin was cut and my final dress was ready. Even though I had spent countless hours in the prototype, there was still something magical about wearing the finished gown for the first time. Even for Berrie, that moment is special.
"My absolute favorite part of making a dress," she said, "is the joy on the bride's face when she tries on her finished gown. It is a culmination of her vision and reflects the authentic, unique beauty of who she is."
Never have I worn anything so beautiful or so fully an expression of me before. The dress and the journey to its completion were truly one-of-a-kind. And if you think I am extra for having a custom-made dress, just wait until I tell you about my second dress.
That's right, I had two.
My second dress is perhaps as opposite as one could get from the first, in every possible way. In style, in intention, in circumstance, dress number two foils the first entirely, and I love it.
When we had an emergency venue change nearly two months before the wedding day, the start time was pushed two hours later than originally planned. The lighting, the venue and the time constraints all necessitated a first-look, meaning the wedding photos needed to happen before the wedding. Call him old-fashioned, but that was one of the few suggestions my groom, Trent, was not a fan of. Though initially decided against, the situation we found ourselves in overruled personal preference, and the pre-wedding photos were accepted by us both, along with the new location.
While I was discussing this plight with our photographer, Jave Bjorkman, an idea emerged: A decoy dress. I would get a second dress to wear for the first-look and preserve the custom-made dress for the ceremony. Surprising the groom with a reveal at the aisle that I knew he deeply wanted was an idea too tempting to dismiss. But with only two months until the wedding, I had to act fast and find a gown I loved that was available off-the-rack. It was way easier said than done.
That Saturday I went from one bridal store to the next in desperate search of something that might work. Unlike my first visit to a bridal shop, nothing I tried on felt right. One felt too similar to my first gown, another too casual and still another felt impractical. Many stores didn't sell off-the-rack gowns or have availability for an appointment with me for weeks.
After a day of coming up empty-handed, I was about to give up hope. Then I found Carrie's Bridal Collection on Second Street. Operating in Macon since 2016, the bridal boutique features dresses by a Georgia designer and exclusively sells off-the-rack dresses. Bingo!
Shawna Ramirez greeted me with excitement (probably in part because I was her last bride of the day) and quickly pulled gowns that fit the description of what I wanted. Each dress I tried was lovely but nothing had that irresistible factor for me. Then she brought me a wild card.
"This one is a bit different," she said, "but just try it on for me."
She held up a lacey, champagne and ivory colored mermaid gown that I normally would have passed on in a heartbeat. But then I thought about my custom dress, the A-Line, satin, long-sleeved gown I was to wear down the aisle. I wanted the groom to know in an instant that that moment was special, that the gown was different from what I had on before. I needed the decoy dress to be as different as possible, and this unpredictable gown was just that.
When I looked in the mirror, it was clear this gown was more than just a decoy. It captured a part of me the other dress hadn't, a part of me I barely admitted to myself. It was glamorous and powerful and bold. Wearing it, I felt the same as I had on my first date with Trent, a knowing in my heart that this was the one.
What began as a spontaneous endeavor to surprise the groom became a moment of self-discovery. I am an intentional, A-line, custom dress kind of bride and a last-minute, mermaid, off-the-rack dress kind of bride and (most obnoxiously) a two dresses kind of bride. And I'm okay with that.