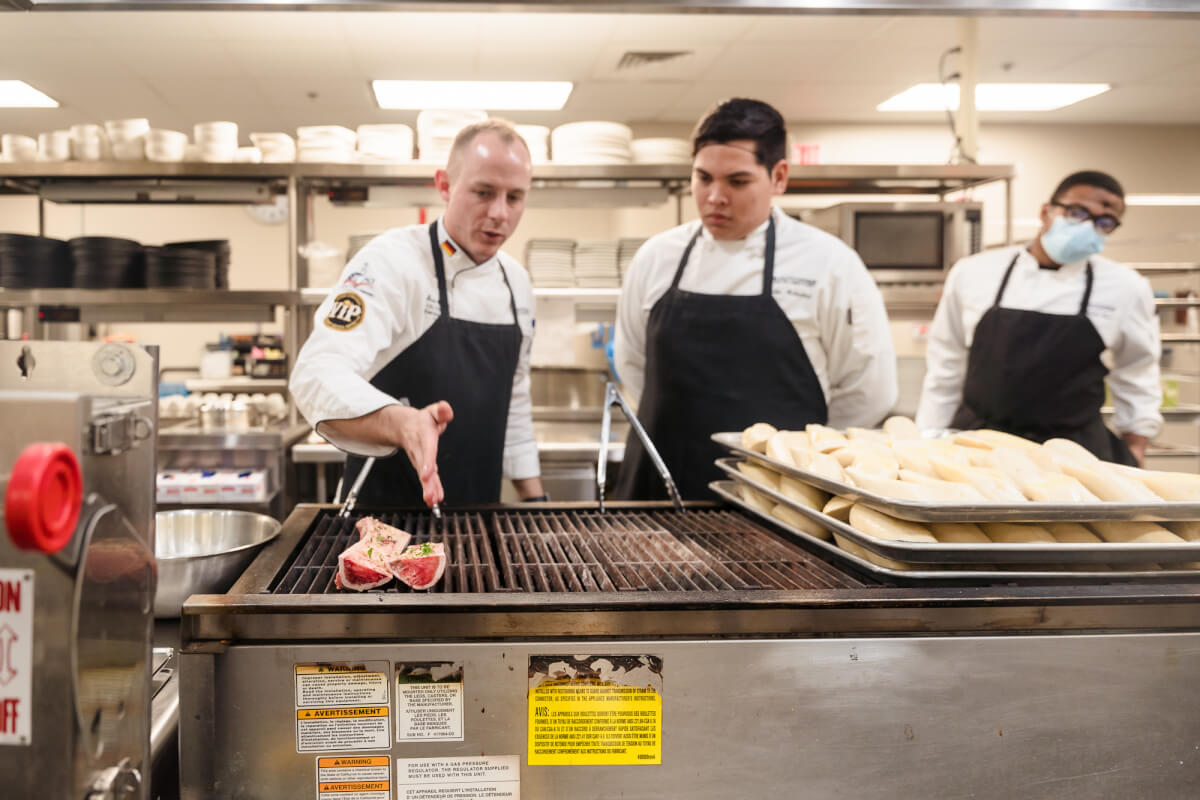 Double vision
by Jami Gaudet
Photography by Mike Young
Stuart Hardy quarterbacks the culinary program at Bibb County's Hutchings College and Career Academy with a deft hand and critical eye. Sure, he and his colleague, retired airman Mark Robinson, instruct their students on the finer points of sautéing and spatchcocking, but their vision and holistic approach to culinary education transcend the technical aspects of training students to be good employees in the food service industry. Students also gain life skills that can be applied after graduation when Hutchings alumni move forward to higher education, enlistment in the military, employment, or entrepreneurship.
Hardy, lead culinary instructor and executive chef of Compass Rose Café and Catering, and Robinson, culinary instructor, have a grand plan for schooling their young charges that begins with establishing the culinary world's Holy Grail: a work ethic. They're ever mindful of the restaurant industry's running joke that culinary students are some of the worst new hires because they're not taught that core principle of success. Hardy and Robinson agree that food service training must be rigorous, and they're tough taskmasters because they have to be.
In a restaurant, the minute employees report to work, it's show time. Hardy said, "In this fast-paced, high-stress environment, employees must be adaptive, understand rapid time exchange, and the pressure on management to keep budgets and food costs low. If culinary training doesn't focus on learning to operate under intense pressure and scrutiny, new hires don't make it a week."
In the Compass Rose kitchen, there are timelines, deadlines, and quality standards. Hardy explained, "When my second- and third-year students come to class, they have 10 minutes to dress out, sign in, check-in with me, complete their task, change clothes, and do their laundry for the next day before signing out. They either thrive and find enjoyment and success, or it's toxic, and they quit."
The chefs have crafted a real-world curriculum around industry standards — a restaurant, a catering event, a meal kit, and soon, a food truck, but Hardy is the first to say that they set themselves up for success. "We try not to overextend ourselves. It's not the same intensity level of a restaurant. We're not open daily and limit our hours. With catering, we choose our events, and we have the reputation of the school to uphold," he said.
Hardy and Robinson understand the delicate school/work balance they must strike when teaching teenagers about industry pressures because these are students, after all, and, as Hardy noted, "pressure molds diamonds or breaks stones. We've crafted the program around my vision and have been successful."
The savvy instructors skillfully expose their cohort to a range of career possibilities in food service — private chef, owner of a small catering company or bakery, or working for an Atlanta-based company specializing in high-end catering for the film industry. "If they're passionate about food and want to find a niche, they'll see a lot of options at Hutchings," Hardy said.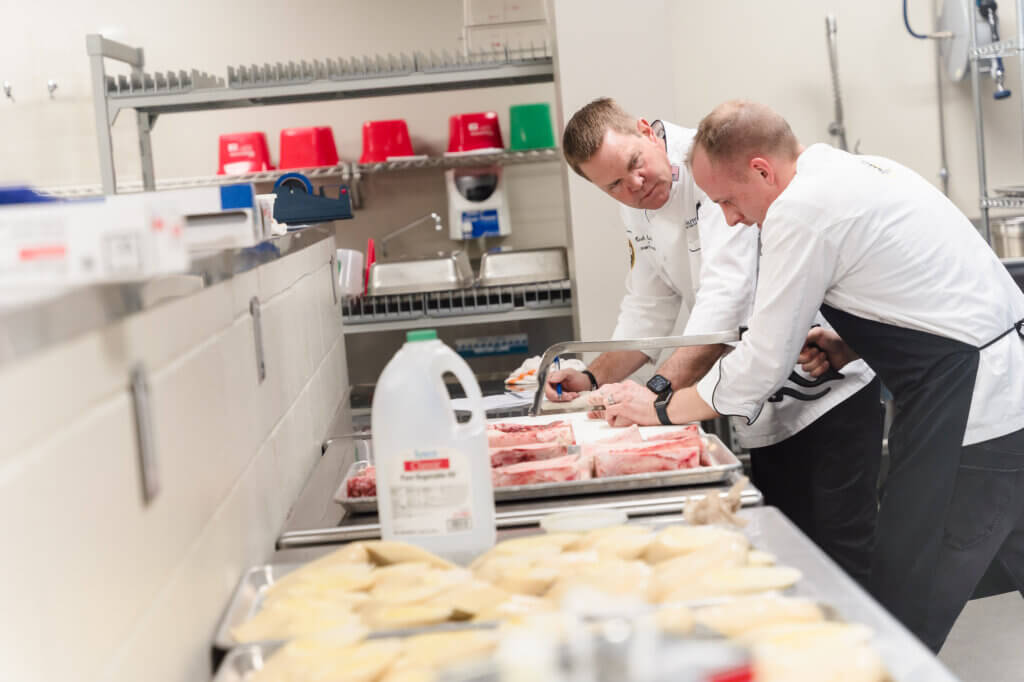 HUTCHINGS'S TOP CHEFS
Chef Stuart Hardy's culinary career spans 17 years. A certified executive chef, culinary administrator, and culinary educator through the American Culinary Federation, he's a food service management professional and certified food safety manager through the National Restaurant Association. His experience includes personal chef, banquets and catering chef, executive sous chef, and corporate trainer/kitchen manager.
Hardy credits Hutchings's success in large part to Dr. Cassandra Washington, who is both executive director of Career, Technical and Agricultural Education (CTAE) for the Bibb County School District and CEO of Hutchings College and Career Academy. The indefatigable Washington was the 2014 Georgia CTAE Director of the Year and National Administrator of the Year by the Association for Career and Technical Education (ACTE). "It was her vision to select Hutchings's pathways [courses of study] and staff the building with top-notch professionals," Hardy said.
In addition to her vision, one of Washington's greatest abilities, enthused Hardy, "is finding appropriate people to run Hutchings's 10 pathways. She seeks people from the specific industries and transitions them into teaching, rather than trying to find a teacher and educate the person on the pathway."
Washington discovered Hardy at Helms College in Macon, an arm of Goodwill Industries, where he had a similar role, but Washington's invitation to create his dream culinary program at Hutchings proved alluring. She called Hardy a gift and a blessing to the program and the school system, observing, "Stuart brings his love of culinary arts to the pathway and to the students and models leadership."
Chef Mark Robinson retired from the U.S. Air Force in 2015 after 24 years of active duty. 13 of those years he served as the aide/private chef to seven generals, trained at the Culinary Institute of America where he earned certification as a professional chef, and was certified by the American Culinary Federation. An adjunct teacher at Helms College after transitioning out of the military, Hardy enticed him to team up with him at Hutchings, entrusting him to direct the first-year program and students.
Washington praised Robinson for his stern but loving touch, adding that students are naturally drawn to him. "His military background is a perfect fit with first year students. He's a father figure in the classroom, and he wants to see every student succeed," she said.
In addition to their kitchen prowess, Hardy and Robinson are popular and esteemed educators. Hardy was a 2020 Golden Eagles Teacher of the Year winner, and Robinson was recognized as the 2019 Bibb County Teacher of the Year and winner of a Howard High School Silver Paw, voted on by honor graduates and presented to the teacher who most impacted their academic career.
Robinson is keenly aware that not every student's goal is to become a chef, but said, "They leave my classroom better equipped for the work world having gained experience in soft skills, perseverance, professionalism, and integrity, and with the knowledge that those things make them better men and women."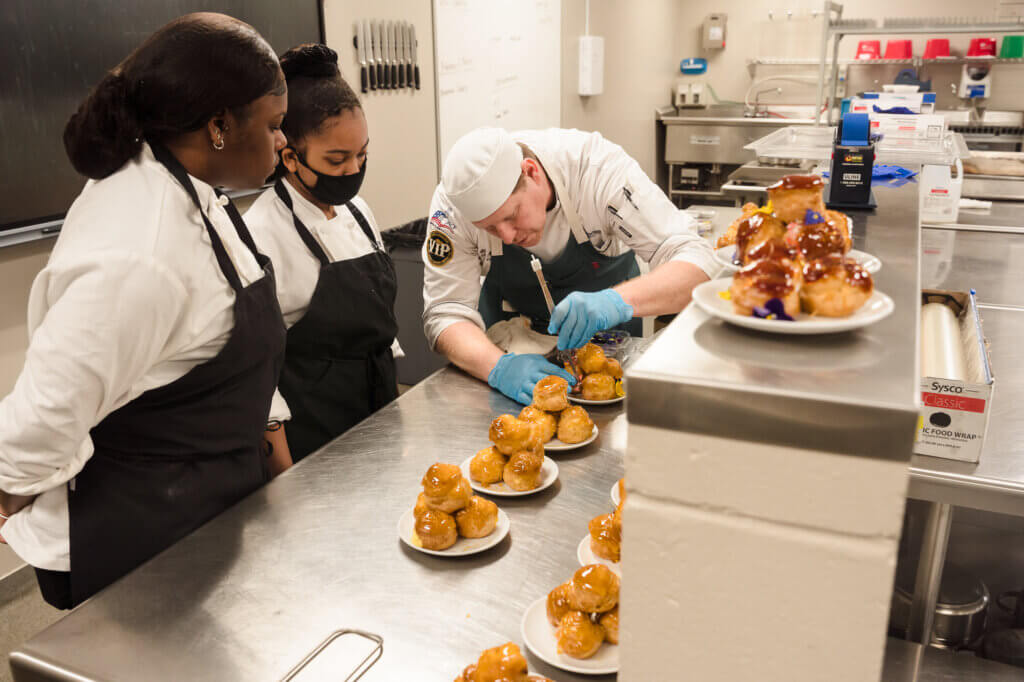 OPENING MINDS AND ENTICING PALATES
Real-world culinary education includes opening students' minds to fresh food and fine dining, and Compass Rose Café is more than a student-run restaurant serving lunch under the tutelage of Hardy and Robinson. The Café also expands students' worldviews through global cuisines.
Hardy pointed out that their students come to them with a limited view of the world, and the Café is an avenue for teaching them about different types of foods from different regions and cultures. "During the school year we introduce cuisine from four regions in the U.S. — the South, Northeast, Southwest, and a melting pot. Then we cross the pond to Europe, always covering French cuisine because the French founded culinary arts and remain the standard for quality food. We also cover other European cuisines like Spanish and Italian, and to a lesser extent, Asian and African cuisines — and we insist that they try everything we serve."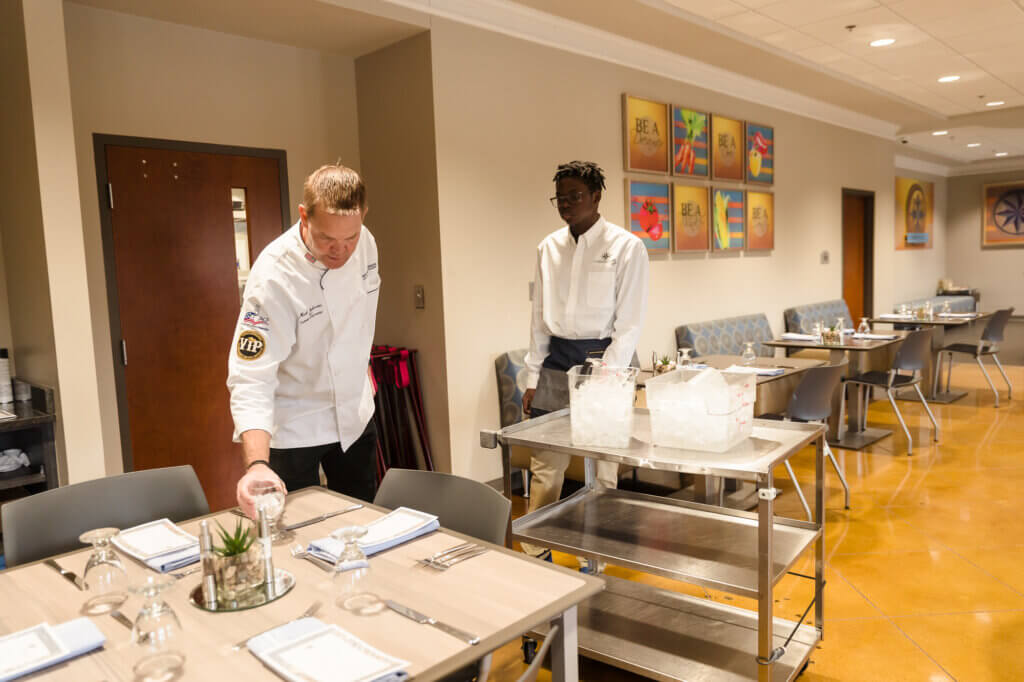 COMPASS ROSE CAFÉ
The chefs and their student crews have been wowing locals in-the-know for Friday lunch since 2016, serving a four-course menu for up to 60 people. The price is $20 per person. Compass Rose is a loss leader for the school, meaning that the Café prices meals lower than they cost to make in order to attract new and returning customers. Profits primarily stem from the thriving catering division.
Clearly a source of pride, Hardy said, "If you're a chef, eventually, you want to get to a high-quality James Beard- or Michelin-rated restaurant. So, we expose our students to the pinnacle of food service, and they're privy to every phase of the Café's operation. We work on plating with three-dimensional designs using textures, flavors, colors, and smells. We talk about restaurant music, body language, and how to serve customers."
When the chefs review menu concepts, they dive into a recipe's origin. Case in point, the Jan. 13, 2023, menu featuring Regional French Cuisine. When the students saw "moules marinières et frites," they understood they'd be serving the renowned mussels from Prince Edward Island's chilly Canadian waters prepared with wine and herbs alongside crispy shoestring fries paired with a whole grain mustard aioli for dipping. Hardy added, "We brought in the French teacher from the other side of the building to make sure their French pronunciations were correct."
The students are quizzed about the delicacies they serve, and Hardy pointed out, "If asked a question by a guest, we expect them to give a clear, concise answer. And if they don't know, to say they'll ask the chef and then return with an answer. Good servers speak knowledgeably about the food they serve to inspire confidence."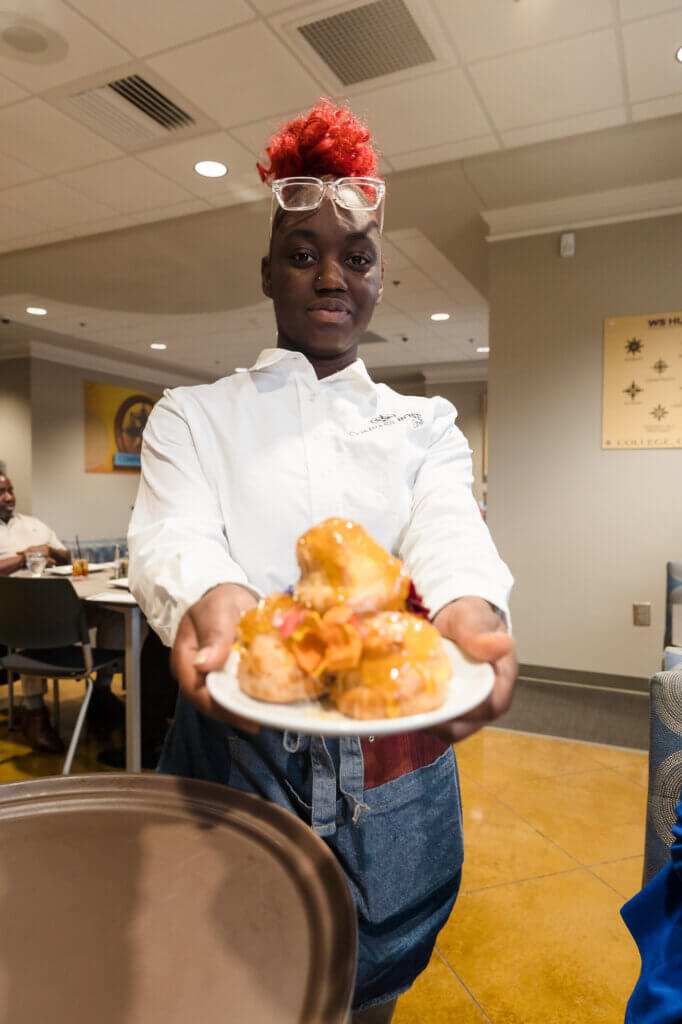 MAKING THE GRADE
The culinary pathway at Hutchings College and Career Charter Academy is a collaboration with Family Career and Community Leaders of America (FCCLA) and Central Georgia Technical College (CGTC). All Hutchings students are dually enrolled in another Bibb County High School or a high school in Twiggs or Monroe County, where they must be on track to graduate and have completed their core courses. They spend half the day at their home school and the other half at Hutchings.
Entry into the Hutchings culinary program is selective, with character and behavior top of mind. Students must have a 2.6 grade point average, and because each student's behavioral record is scrutinized, Hardy said, "We don't have discipline problems because our students want to be here, and once here, we closely monitor attendance, which is key. The culinary pathway is lab-based." He quipped, "I can't send a student home with a knife, sauté pan, and a recipe card and say, 'Make it.' Students must be in class."
At the end of Year One, students encounter a crossroads. Those who aspire to continue their culinary training must pass the ServSafe manager-level sanitation exam, the industry standard for food safety, required of all adult food service managers. Hardy and Robinson said they treat it as an elimination test. "Students who fail the exam are removed from the program because we serve the public and our students must know the level of safety we require. Most culinary colleges permit a student who passes the exam to exempt their first post-secondary class, Safety & Sanitation 101, and culinary students can test out of other classes based on their course work in our program," Hardy explained.
Each pathway at Hutchings yields three elective credits and is so rigorous that an embedded academic credit is included. That's by design, according to Washington, in order to attract students. In the case of the culinary pathway, the in-depth study of food science generates one science credit annually.
She described Hutchings as the best of both worlds, allowing students to stay at their home school while working at Hutchings toward who they want to be as adults. "Our goal is to create life-changing experiences aligned with our mission for students to be enrolled, employed or enlisted, and we've added entrepreneurship to the list," she said.
According to Tiffany Andrews, director of workforce development at Middle Georgia Regional Commission, "We provide career coaches to Hutchings to ensure students have the tools they need to continue their education, find employment, enlist [in the military], or create entrepreneurship opportunities. By collaborating and braiding funds, we're able to remove barriers that prevent students from maximizing those opportunities."
Private and home-school students also are eligible for dual enrollment study at Hutchings, a little-known fact that Washington is working to improve. "We need to do a better job of getting the word out about the 10 pathway opportunities at Hutchings, from valedictorians to students who need extra help or direction," she said.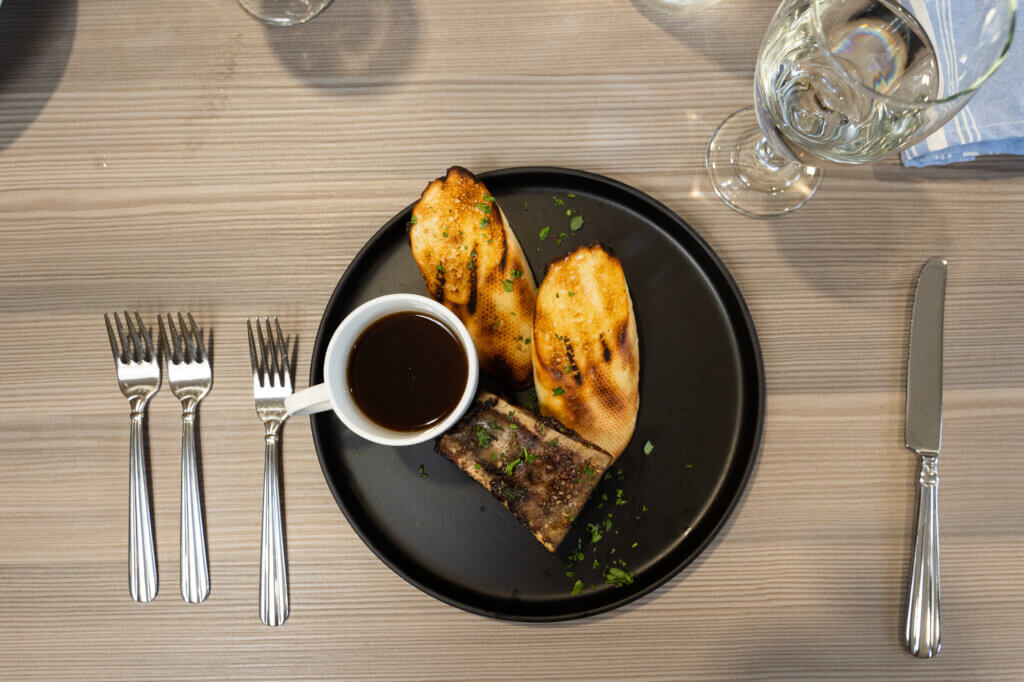 LATEST VENTURE — MAC SHACK FOOD TRUCK
The latest culinary brainchild of the Hardy/Robinson duo is Mac Shack, a food truck specializing in pasta. Like each operation within the Hutchings culinary portfolio, the emphasis is education and inspiration. Hardy said, "The food truck introduces students to a line cook's job, or hostess, or whoever takes the money at the counter. They'll experience more customers at a faster pace and more unknowns. In the Café, we control the number of people and exactly what each person is served. With catering, there are no surprises. The menu is finalized a week in advance, and we know what customers are eating and when they're eating it."
With Mac Shack, Hardy's goal is another footprint on a consistent basis. "We're planning to park somewhere downtown, having no idea when or how many people will show up to the window. We're still working out times, days, and locations, but are thinking that students will prep early in the week and take the truck out later in the week. In advance we'll post on our website when and where the Mac Shack will be located. We want to create consistency so customers can depend on our times, days, locations, and menu. We'd also like to park Mac Shack at high school football games and offer it for catering, too."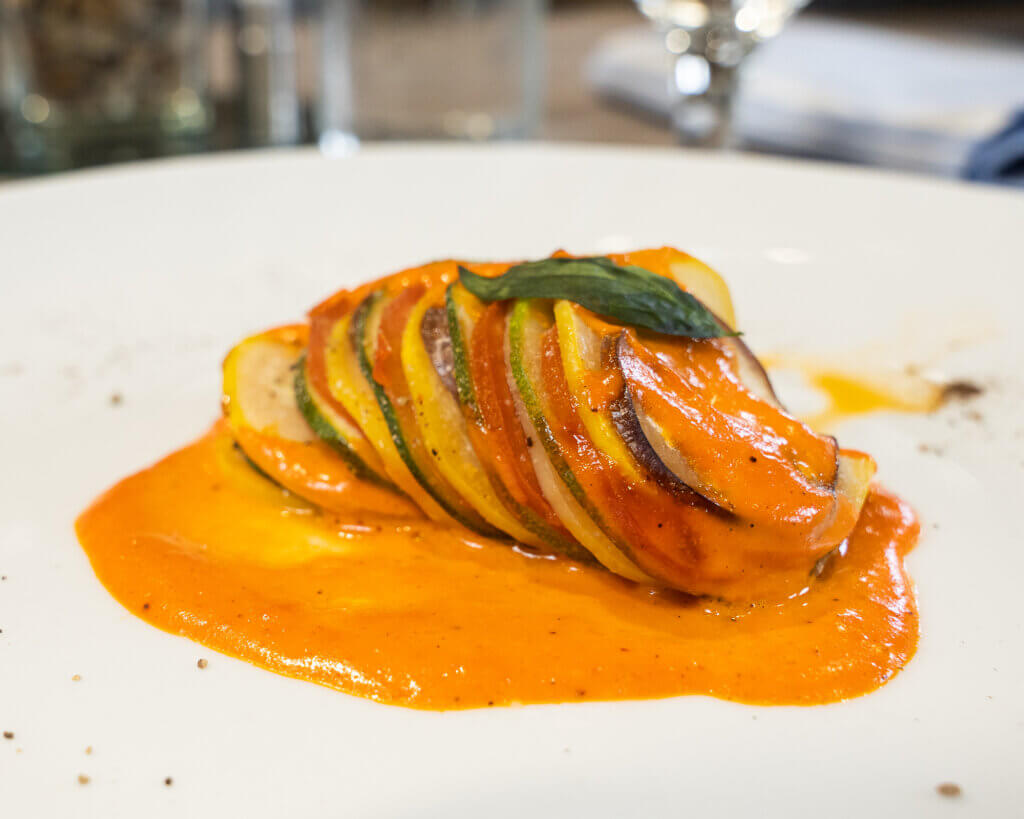 ON THE DRAWING BOARD
Chefs Hardy and Robinson have another new project on a back burner, one that's been carefully researched and fills a local void. Their newest venture will be a conference space and coffee shop located in the former Bowen Brothers Clothiers location at 484 Mulberry St. in Downtown Macon, owned and operated by the Bibb County Board of Education. Washington reported, "The goal is to house a baking and pastry pathway there. The students' work-based learning (WBL) will be the coffee shop where they'll sell coffee and bakery items daily like bagels, Danishes, and muffins. We're hoping to launch the new baking and pastry pathway at the beginning of the 2023 – 24 school year."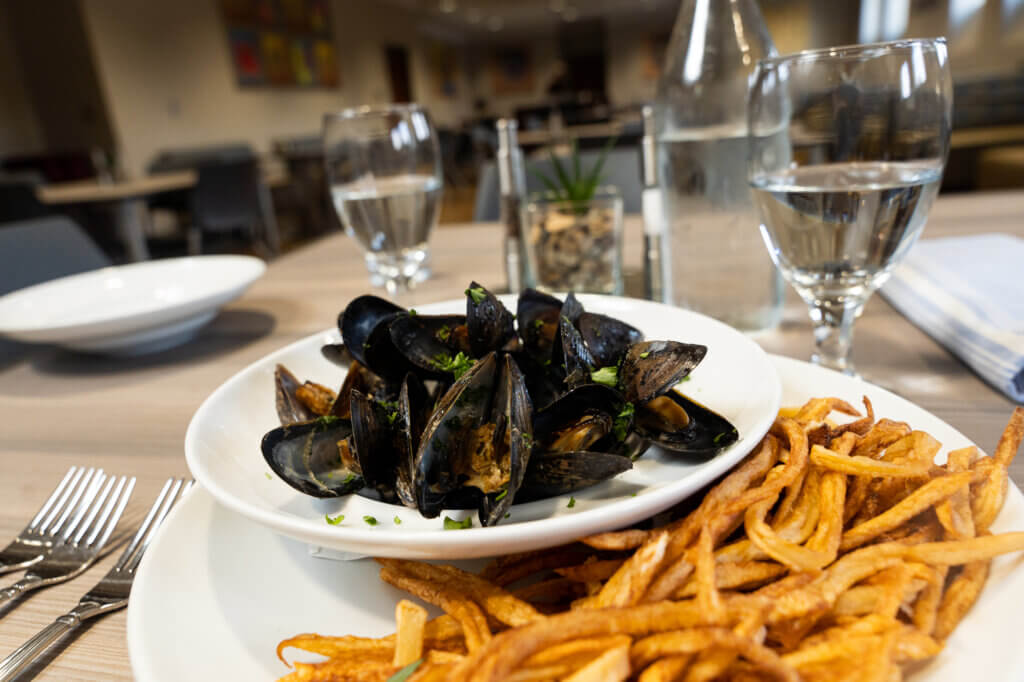 RECIPE FOR SUCCESS
Washington, Hardy, and Robinson are the dynamic triumvirate behind Hutchings's cutting-edge culinary pathway with success that transcends program completion. Hardy said he relishes watching students grow, "not just in their ability to cook, but in their level of accountability." Circling back to the program's foundation, he asserted, "From day one we treat them as young adults with the idea that if we treat them as professionals, they'll be obliged to respond as such. And while that's not always the case, enough of them rise to the occasion to make me feel like I've done something to prepare them for the world ahead."
"The proof," Robinson said, "is watching students with very little cooking experience grow into becoming chefs and find employment in the food industry."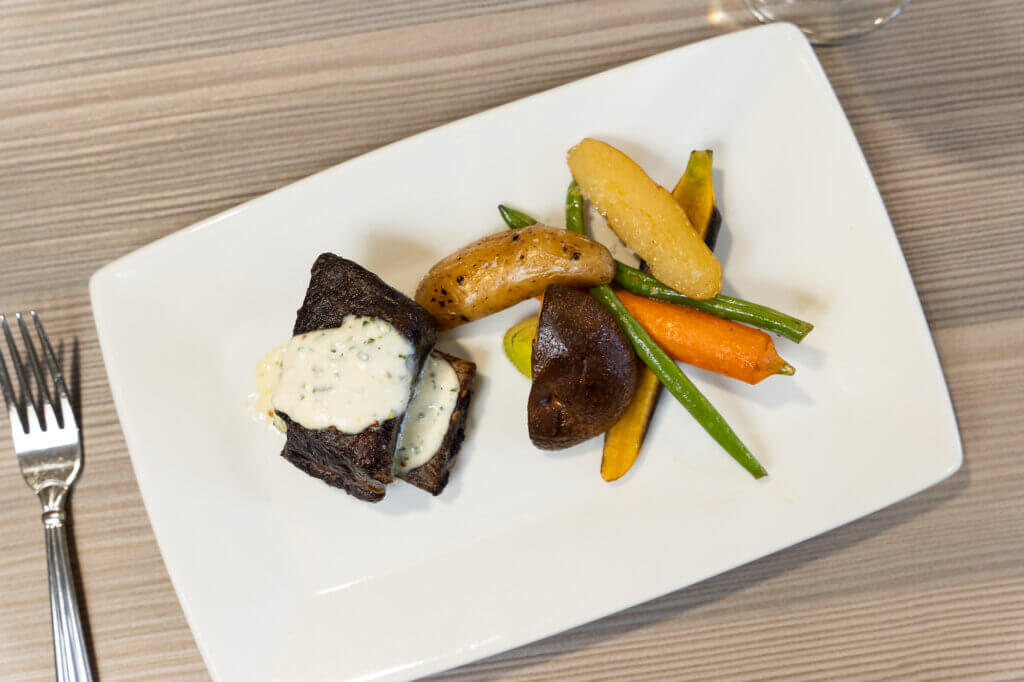 FAN FARE
Hutchings's bragging rights extend beyond the classroom and the kitchen. Hardy said he sees the faces and the numbers. "Our program has an extremely long reach. We're part of the lives of hundreds of people in the community and have countless stories of students cooking with their parents and grandparents and bringing their families together over home-cooked meals, or people learning about new cuisines when they dine at the Café, which has excited them about food as an experience and not just a commodity."
The Hutchings experience empowers students with two visions: a vision for excellence in food service and a vision for leading a disciplined life.
Our compliments to the chefs!
Compass Rose Café
Located at 1780 Anthony Rd., inside Hutchings College and Career Academy
Serves up to 60 guests on designated Friday afternoons during the school year
Lunch is served from 12:30 – 1:30 p.m.
Reservations of up to four people can be made online (only) at compassrosecafe.com
Larger parties must make multiple reservations
$20 per person, including a beverage. Guests may tip.
Questions/Information: Stuart.Hardy@bcsdk12.net or (478) 779-2562
Catering
Compass Rose will customize any menu
Menu is finalized seven days in advance, accompanied by 25% deposit, balance due the day of event
Hors d' oeuvres, appetizers, breakfast, lunch, dinner, dessert
Catering inquiries: https://www.compassrosecafe.com/catering-inquiry
Meal Kits
$25, serves two people
Menu options change weekly, vegetarian option available
Ingredients are precut, marinated or par-cooked to ensure quick and convenient meal prep
Come in temperature-safe bags that stay cool for 12 hours
Kits stay fresh for up to three days
Orders ready for pickup on Fridays 11:00 a.m. – 4:30 p.m. at Compass Rose host stand.
NOTE: Upon request, with one week's notice, dietary requests can be accommodated in the Café and in Meal Kits.
Fresh Local Produce from TGW Agriculture
Order fresh, local produce year-round from the same purveyor used by Compass Rose.
Orders ready for pickup at Compass Rose on Thursday after 4:00 p.m. or Friday after 5:00 p.m.
Place order: https://www.tgwagriculture.com/order-online
Mac Shack (expected launch in March 2023)
10 pasta-based menu items
Days, times, and food truck location to be listed on website: compassrosecafe.com
CUSTOMER TESTIMONIALS
"I love eating at the Compass Rose Café because it brings me joy to see former students working in their passion. The food is delicious and something I typically wouldn't be able to enjoy at that price point. Eating at the Compass Rose Café exposes Compass Rose because it gives students real-world experience in all aspects of hospitality food service." — Charles Richardson, community liaison of the office of the president at Middle Georgia State University
STUDENT TESTIMONIALS
"One of the biggest takeaways of this program is learning the importance of a great work ethic, how to work as a team, and what it's like to have a professional job." — Ja'Mya Freeman, third-year student
"I enjoy learning skills and about new cultures. I've learned respect for professional chefs and have learned life skills and how to work around the kitchen." — Ki'Ajah Thomas, second-year student
people to different cuisines while meeting new people. This is a foodie's paradise." — Shiona Drummer, director of personalized learning, instructional technology specialist, and Twiggs Academy online facilitator
"Compass Rose is a hidden jewel in Macon. The food is fabulous, and the staff was wonderful and attentive. They have bright futures ahead of them because of this innovative program. So proud of this program and all it has to offer." — Dee Simms, executive director at Crisis Line & Safe House of Central Georgia
"The food is delicious, whether you eat in the restaurant or prepare a Meal Kit at home. The directions are clean and easy to follow. My wife and I patronize