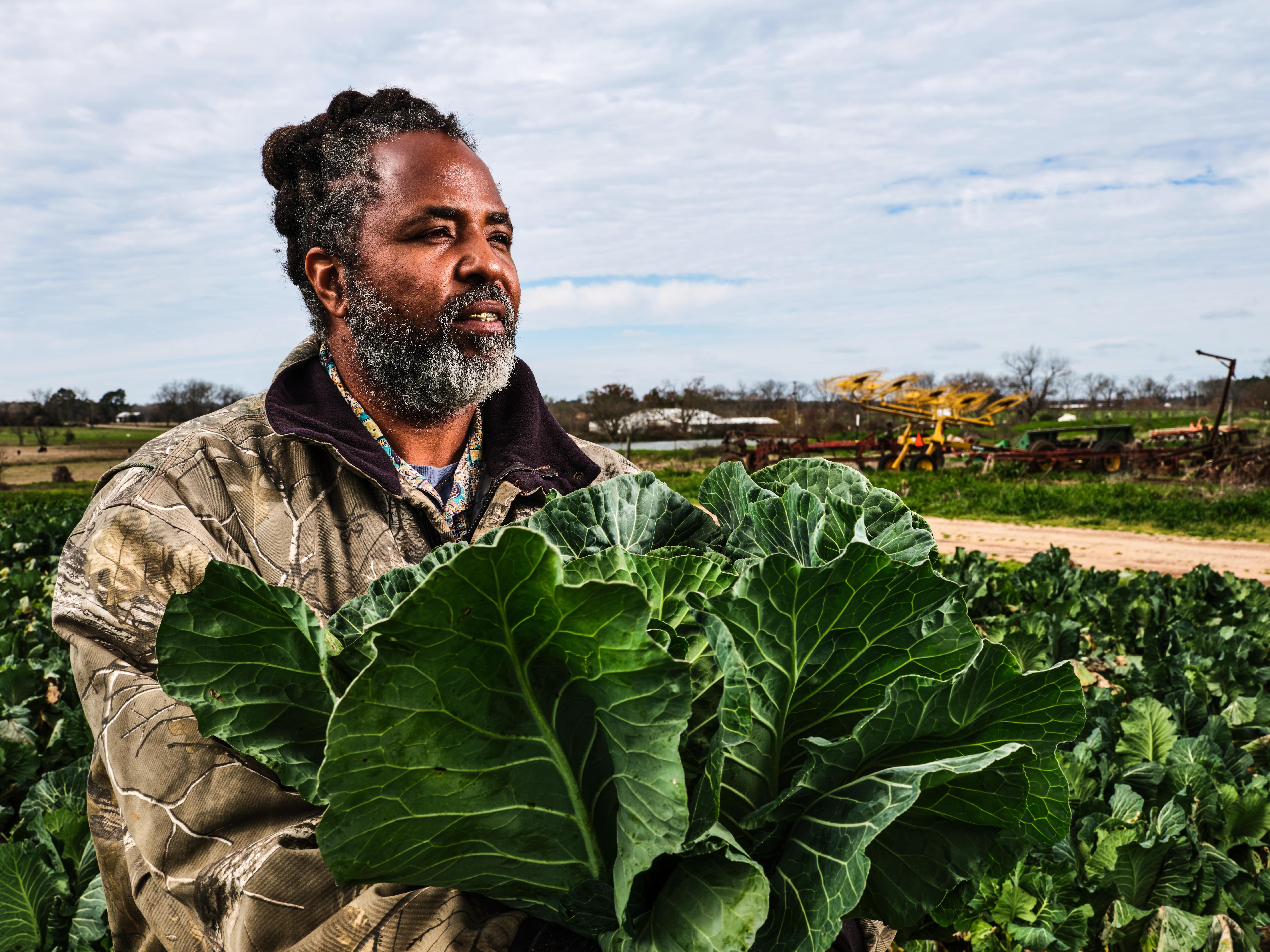 Feeding everyone
By Edna Ruiz
Photography by Matt Odom
Macon has so many different, delicious restaurants that it can be difficult to choose what to eat on any given night, which, in a way, is a luxury. For many of our neighbors, it's not that simple. For some, the question isn't "which delicious meal should I choose to eat?" The question is "can I afford to eat?"
According to the United Way of Central Georgia, 14.1% of people in Georgia are food insecure. That's over 1.5 million hungry Georgians, including one in five Georgia children. In Macon-Bibb County, the percentage is even higher: 21.8% of our neighbors are food insecure; 9,750 of those are children.
In other words, nearly 10,000 children in Macon-Bibb don't know when and where their next meal will come from, and over 24,000 adults face the same difficult, daily choice: can I afford to eat?
Fortunately, there are several county and community leaders are committed to fixing this dire issue.
A HOLISTIC APPROACH TO FOOD INSECURITY
"This Mayor and the commission truly understand the interconnectedness of poverty, crime, hunger, the residual effects of red-lining and blight, and how addressing one is not enough," said Mayor Pro Tempore Seth Clark. "Since we've passed our homelessness and hunger initiatives, we've coupled those with increased funding to law enforcement, no-cost mental health clinics, we've funded an affordable housing trust fund at a higher rate than Atlanta, we've funded the Macon Violence Prevention program, and we've increased the capacity of the food bank."
Last year, Macon-Bibb County allocated $2.5 million in American Rescue Plan (ARP) funds to address food insecurity and food deserts in our community. In March, nearly 20 local organizations, including local churches, The Mentor's Project of Bibb County, U Create Macon, Choosing a Quality Life (C-QUL), and Fathers Among Men, received a total of $500,000 in ARP money to help distribute food in different areas in the community.
"We believe the impediment caused by residing in a food desert negatively impacts long-term mental health outcomes," said C-QUL Executive Director Andrea Cooke. "There is a direct connection between lack of access to good quality food and increased negative impact on the mind."
C-QUL is a nonprofit organization aiming to eliminate barriers to effective mental health services. They received $35,225, which will be used to provide market services in both the Napier Heights and the Pleasant Hill communities.
The Mentor's Project received the same amount of grant funding and aspires to make a difference in a child's life by improving the graduation rate and providing wraparound services for students. It also feeds children and their families during holiday and summer breaks. During the pandemic in 2020 and 2021, The Mentor's Project fed more than 12,000 students and their families.
"We will be able to deliver and provide food, not only to students in the Mentor's Project, but to other students as well," said The Mentor's Project Executive Director June O'Neal. "We are so thankful to receive this money because we'll be able to expand our feeding program."
Meanwhile, our local government is also working to make sure local organizations and business owners have what they need to continue to help. Opening the Brookdale Resource Center in 2021 so people could stay the night, get a meal, and access so many other resources was part of the county's effort to address food insecurity.
MIDDLE GEORGIA FOOD BANK
With ARP and grant funding, the Middle Georgia Food Bank was able to begin construction for its new expansion of its headquarters on Ocmulgee East Boulevard. Construction started in July 2022 for additional lobby and administrative space, renovations of a boardroom for meetings and training, building upgrades, and entrance expansion. The Georgia Department of Community Affairs awarded Macon-Bibb County $2,318,898 as part of a Community Development Block Grant, with Macon-Bibb matching that with $993,814 of its own ARP funds. All of this funding was then awarded to the food bank.
"This money will help us with staff support for partner agencies throughout 24 counties where food is distributed to neighbors in need," said Middle Georgia Food Bank President and CEO Kathy McCollum. "It also helps with more staff support for programs to reach pockets of underserved areas where people in need are limited by transportation, economic barriers, and local access to fresh produce and nutritious food."
"Too many people are struggling with food insecurity in our community, and this is another way we are working to improve access to healthy, quality food," said Mayor Lester Miller. "People should not have to worry about where their family's next healthy meal will come from, and I want to thank the Food Bank for all they do to help keep that from happening."
"Our job is to make sure we invest in ways that aren't just a one-time shot in the arm, but that the money is spent in a way that has long-lasting effects. We cannot fix hunger overnight, but we can make sure our neighbors survive the night and have the resources they need to reclaim their lives in the morning," Clark agreed.
ECD AND THE SMALL BUSINESS DEVELOPMENT ASSISTANCE PROGRAM
The funding for the Food Bank was part of nearly $2.5 million in ARP funds Commissioners approved to be used to address food insecurity issues in 2021. Part of that was approving $1 million for the Economic and Community Development Department (ECD) to use as a revolving loan fund as part of its Small Business Development Assistance Program. As a revolving loan fund, the businesses eventually have to pay the money back, meaning this program could operate for many years to come.
This program would incentivize brick-and-mortar grocery stores to open in areas classified as food deserts, or areas where access to affordable, healthy food is limited or impossible. Businesses could only qualify for these loans if they plan to open in qualified areas of the country, and the money would go towards start-up and construction costs. Once those applications are available, they will be posted online, and announcements will be sent to the public.
LOY'S FARMER'S MARKET
Loy Young, owner of Loy's Farmer's Market, is one business owner who applied for a loan with the ECD. This money is helping him bring fresh, local grown food to neighborhoods that fall within food deserts.
"When they closed the Kroger on Pio Nono Avenue, that brought light to that area being a food desert," Young said. "My customers depend on me in that area to bring fresh produce to them."
Young comes from a family of farmers in Montezuma, Georgia. His love for selling produce came from his Uncle AC Leary. Young experienced troubling younger years and ended up in prison. Once he was released, he knew he needed to turn his life around. Young wanted to work for himself, and Uncle AC encouraged him to go into the produce business. It was something that was familiar to Young since he had been around it all of his childhood. He decided to come to Macon and worked at a local sandwich shop, but he never forgot about his uncle's idea.
"I finally caved, talked to my uncle, went into the field in Montezuma, got some produce, and put it in my truck," Young said. "With my uncle's guidance, I started off slowly selling watermelon but stuck with it, and it has evolved into what it is now."
Fast forward six years, Young works with local farmers to harvest and bring fresh produce to different parts of the community. He has pop-up produce stands in different locations, including farmer's markets. He currently grows and harvests his own watermelon and greens. He's proud to be a representation of the farm-to-table movement and doesn't take it for granted.
"After meeting and talking with a variety of people, especially seniors, I realized how much they need this service," Young said. "Many are disabled or can't afford to get around to fresh groceries."
Those conversations pushed Young to go to the Senior Centers around town each month, add more stops, and even start accepting EBT. He's constantly trying to find new ways to make fresh food accessible to every individual. He has held three annual community events called Loy's Community Give Back, where he feeds hundreds of families in the area for free. In December, he fed 400 families, handing out food on the corner of Third and Hazel Streets.
"So many people depend on me," Young said.
With the loan from ECD, Young is in the process of opening two brick and mortar locations near Beall's Hill at 1217 Third St. and another near Unionville at 2384 Pio Nono Ave. He's hopeful that he will be able to open the location on Third Street later this year.
"To go and get a load of fruit and come back and watch the joy on people's faces when they can tell you it was the best day they ever had," Young said, "that experience of it, and building relationships with people, connecting through that way, is the best."
Young is committed to feeding his community, but he confessed that he does get overwhelmed since he is just one person. He encourages more people to learn about growing their own food, and if able, give back. When able, he works with local nonprofits such as Fathers Among Men, which exists to teach teenagers and children important life lessons.
"I give them summer jobs, teach them how to chop firewood, how to harvest, letting them earn money, and talking to them about the importance of education," Young said. "It's more than just about food."
He's hoping this generation and future generations will step up to close the gaps of food insecurity and food deserts. He encourages more people to open up pantries and learn how to get involved.
Grow Macon Incorporated Uses Gardening for Peace
By Julia Morrison
Founder Charmiska Myers believes food insecurity ties directly to violence in communities
"You hear it all the time – you are what you eat. Our food has a direct connection to mental and emotional health." So says Charmiska Myers, who is on a mission to use her passion for gardening to alleviate violence in Macon with the use of community gardens. Myers founded Grow Macon Incorporated last year to make this vision a reality.
The impact of violence has come straight to Myers's door. Growing up in the Fort Hill neighborhood of Macon, she heard of numerous acquaintances getting caught up in violent activity. It came to her doorstep when her sister-in-law was hit by a stray bullet. Myers found a sense of healing and purpose when husband found a garden at a community center gym – soon, she was hooked on gardening, too.
"Grow Macon Incorporated was started as a call to action. These kids need to find something to do," explains Myers about her purpose. After receiving a Macon Violence Prevention grant and filing for 501(c)3 nonprofit status, Myers is working with partners to establish more community gardens in Macon neighborhoods beset with both violence and food insecurity.
Her first gardens will open in the coming months, with upcoming partnerships between the Bibb County Sheriff's Office and the Juvenile Justice Center. Myers feels activities that provide restoration and healing, like the positive psycho-social impacts of gardening, can lead to a decrease in crime. "You hear people say it all the time: If I don't have it and I need it, I'll take it. Well, what if we give you the tools to make it yourself?"
Learn more at growmaconinc.com, follow Grow Macon Inc on Instagram @growmaconnpo, or Grow Macon Non-Profit on Facebook.