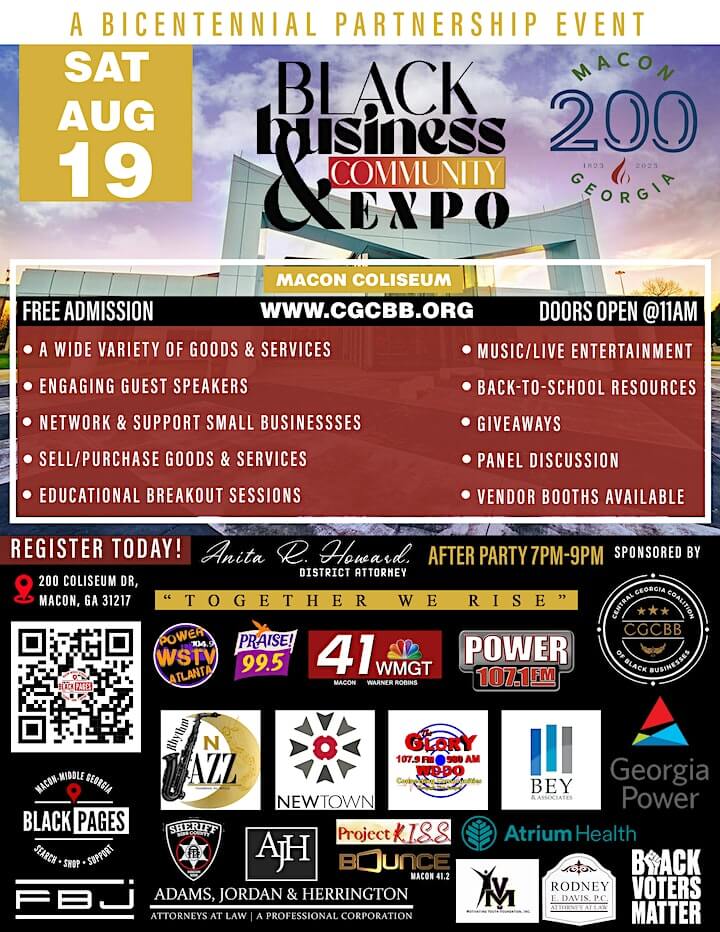 Black Business & Community Expo poised to support economic empowerment in Central Georgia
Central Georgia residents and businesses interested in increasing their economic and networking prowess are invited and encouraged to attend the first ever Black Business & Community Expo on Saturday August 19 beginning at 11am at the Macon Coliseum.
A 7 p.m. after party will follow the expo.
CGCBB's Executive Director Brittney Brisco Perry says the expo is a way for all in attendance to access resources designed to make their lives better. "It's time for everyone to break out of their silos and cities and highlight our region. Collaboration is essential to expanding and moving as one," said Perry.
The Black Pages shared in past publications that Blacks in Central Georgia wield billions of dollars of disposable income. Its founder Alex Habersham says it's time to leverage that wealth in constructive ways and he feels the expo could be an effective way of doing so. "This is a movement. The expo is bigger than an event," he suggests. "A rising tide raises the whole ship, and this event is a means by which that can be done to the benefit of all in support of it."
"Together We Rise" is also a Bicentennial Partnership event with Macon 200 using a holistic approach since the needs are many towards building and maintaining a mid-state environment anchored by a healthy, educated, financially secure, unified citizenry Perry and Habersham agreeingly shared.
A plethora of resources will be available including health screenings by Atrium Health, breakout sessions, and a panel discussion focused on business building, inspiring parents, getting small business certifications, and doing business with Macon-Bibb County. Georgia Power will conduct energy assistance sign up.
In addition, veteran Macon-Bibb County Commissioner Elaine Lucas; renowned businessman Billy Pitts; and revered researcher, educator, and historian Muriel Jackson – pioneers in politics, entrepreneurship, and public service — will be honored with a Humanitarian Award for their long standing contributions toward making Central Georgia more livable.
Sponsored primarily by the Central Georgia Coalition of Black Businesses in partnership with the Macon-Middle Georgia Black Pages, and supported by notables in business, local government, media, and nonprofits, the free event will feature live entertainment, vendor spotlights, giveaways, and goods and services.
For more information on vending, sponsoring, and attending the Black Business & Community Expo visit CGCBB.org or call 478-464-0074.