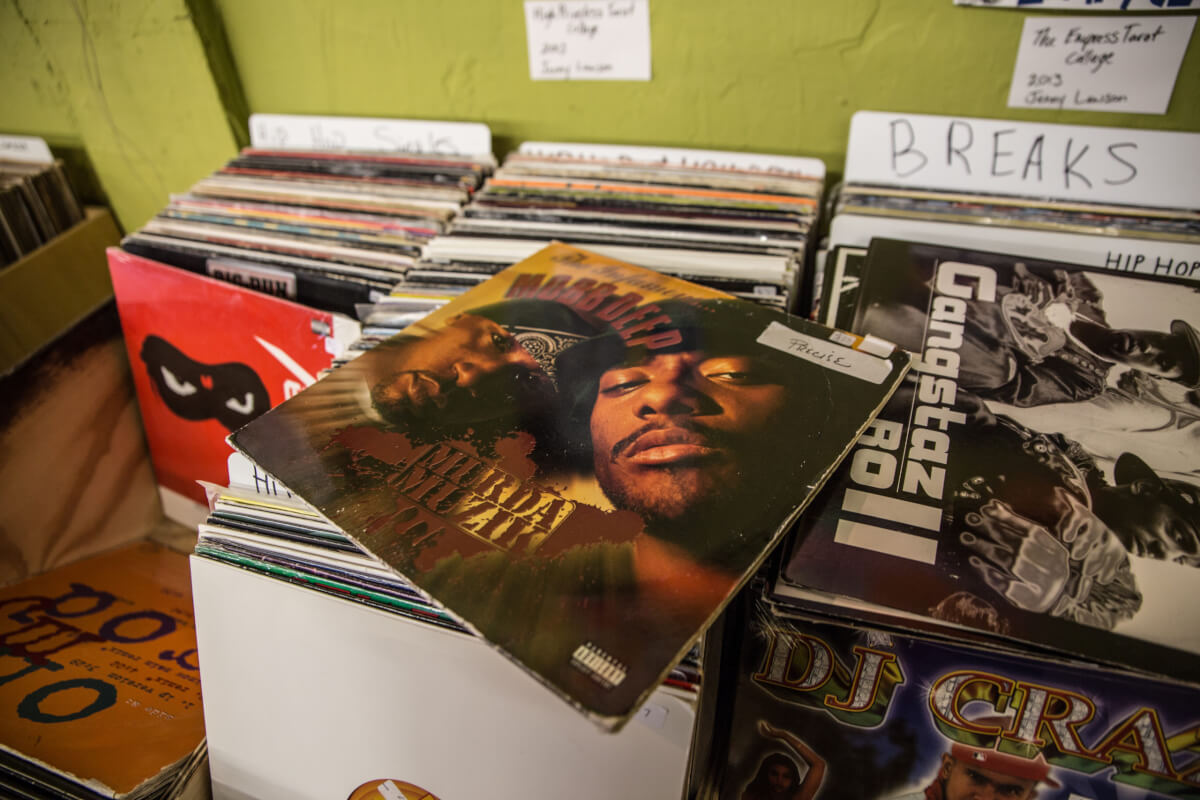 Fresh Produce Records relocating to Cherry Street
By Ivy Marie Clarke
Photography by Matt Odom
Some urban development experts say you can gauge community vibrancy by the success of the local record store. Today, what started as a funky, ambiguous store storefront on Martin Luther King, Jr. Bld. – where you could once purchase a used vinyl and pick up locally grown produce from an organic farm co-op – has centered itself as a purveyor of music in Downtown Macon. Now, Fresh Produce Records is moving to Macon's main vein, relocating to the prime location of 567 Cherry St.
Fresh Produce Records has proven to be a staple of Downtown Macon. Since opening in 2013, owner William Dantzler (affectionately known around the community as Willie D.) and store manager William Rutledge (aka Will) have done much more than sell used and new indie records at discount prices.
Stocked with thousands of records across hundreds of genres available to buy in store or from their thriving online market, and an eagerness to order any record a customer might want that is missing from stock, Fresh Produce also supports Macon's local artists directly by selling locally-produced music alongside well-known labels, hosting shows in-store and supporting local artists who perform at other venues in Macon.
"It's not just about flipping units," Willie D. said. "Macon being a music city, but really any city, needs a heart and soul for music lovers. That's always been my intention with it. I came into setting the business up really just out of the motivation to create a home and a safe haven for people like myself, who basically had your life saved by music."
Fresh Produce has always been by the community, for the community, with both Dantzler and Rutledge born and raised Maconites. And it's not going anywhere—except down the road.
"We want Macon to have this. I'm very proud of the progress I've seen in downtown in the past couple years and want to add something to that. Why would we do it somewhere else?" Rutledge said.
With support from NewTown Loans, Fresh Produce is actively moving from its location at 451 MLK Jr. Blvd. to 567 Cherry St., with an opening projected for mid-June. With this move comes an increase in the store's square footage, customer accessibility, store efficiency, display opportunities and foot traffic.
"The driver of our success is just, let's keep this thing going," Willie D. said.
There are a lot of firsts for Fresh Produce Records with this move: buying instead of renting the new building, building up equity, bringing tax dollars into Downtown and cementing Macon as a music lover's destination spot.
"Everyone hears us say we've got 30,000 records packed into a room . . . We've got so much music that if you are even remotely a music lover, this is something that will make your absolute day, if not your week, warmer," Rutledge said.
Read on for our exclusive interviews with Will and Willie D. on the relocation of Fresh Produce Records.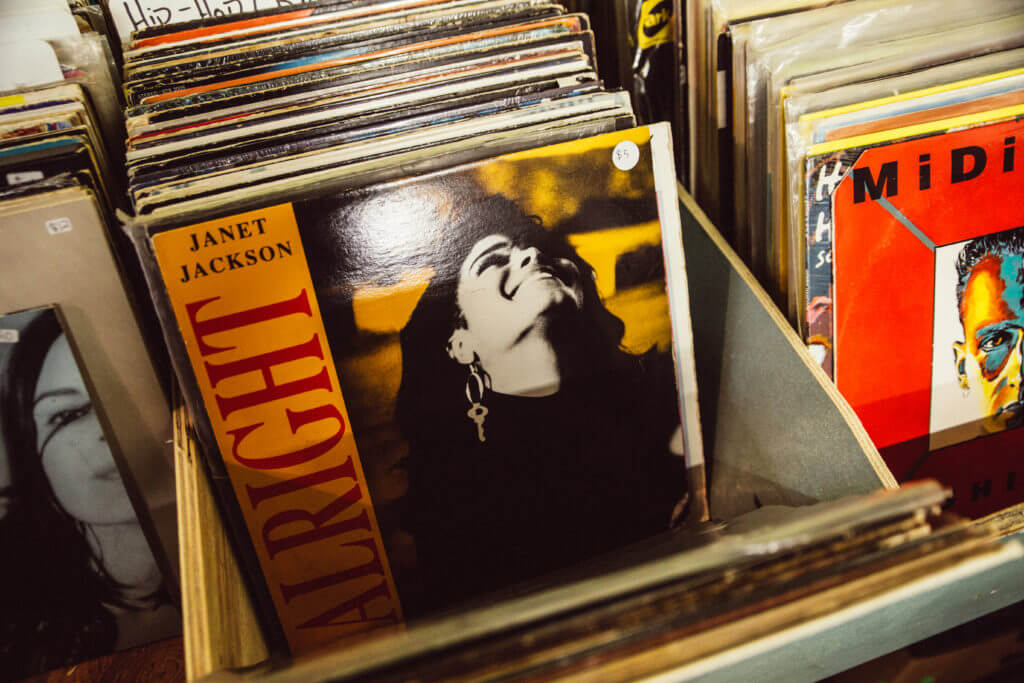 ON THE MOVE: WITH WILL RUTLEDGE
When are you moving?
WILL RUTLEDGE: We are actively moving right now.
Do you know when you'll be all settled in?
WILL: Hopefully in about the next week and a half. Guess that puts us at an opening, hopefully, in the middle of June we will be open. Shooting for the 15th at least. We still have a few more sales fixtures to install over there, like our wall panels and stuff like that.
As is the case when dealing with purchasing a property, that may get pushed back again. What we do is pretty simple. We're literally just a room with stuff in it, so it's not going to be anything too complicated. But just being prudent and allowing a little bit of wiggle room for error, I think we'll be in there and open by the 15th, if not by the end of June, certainly. We're hoping. June 15th is the date right now that we are looking at.
What is going to be new with that move?
WILL: More space. A better setup and store showroom that will have more room for mobility in the shop and being able to move around. It gets to a certain point where we have about 30 or 40 people in here, and you couldn't squeeze more people in if you wanted to. This storefront should be a lot more open and accessible. It should allow us to display a bit more. We are reassessing our efficiency in how we display stuff, so it should be a little bit easier to browse and see everything. There are a lot of tiny tweaks and changes we're making. I think it's going to be a more solid record store experience at the end of the day. We got a lot of tightening nuts and bolts to do as far as how we organize our collection and making it more browsable. That's an ever-continuing problem that we are working on, just, how do we make this effortlessly for someone to come in and have it all logically organized to where people understand where everything is supposed to be? Honestly, [it is] something we are always growing and working on ourselves because we are by no means retail experts. We just do what we do. So far, it's worked out. But we're hoping to bring improvements into the place, so it is easier on the customer and
hopefully easier for us to stock. We are at the point where we have people coming from all over to our shop. We want to keep up with the demands of the customer as far as getting people the music they want, making sure our shelves stay stocked. We are expecting a lot more foot traffic in this location, so it's going to be a little bit of growing pains for sure, but we're excited for it.
It's definitely a challenge when you have thousands of records. I think I read somewhere that you had over 30,000 records?
WILL : We've got over 30,000 records, and that's only our used inventory. As far as new inventory goes, we probably have another 2,500 to 3,000 titles we stock, and some of those titles I'm sitting on 20 or 30 thousands of. It's a chunk of music crammed into a small spot. But we're hoping to get into this new building and be able to spread our legs a little bit and, you know, stretch out. We've got a bunch of stuff that's honestly just displayed on lower bends and kind of tucked out of the way where if you didn't know it was there, you would never dig for it. A good example is we've got a massive jazz collection that is just tucked into the back of our shop right now because our jazz section cannot physically hold anymore. That probably has two or 3,000 jazz LPS that just will not fit on my shelf for over a year.
That'll be nice, to have some space to spread out.
WILL : We'll be able to spread out, kind of just do more of what we're doing more effortlessly. There's no doubt if I'd had all that jazz out on the sales floor, we probably would have sold another thousand records out of it by now, but we're just really pushing the limits on this building.
What keeps you choosing Downtown Macon?
WILL : Oh, honestly, me and Willie D. are both from Macon, born and raised, and really, it's kind of the default option for us. I've definitely had some people ask us, "Why aren't you doing this in, you know, Athens or Atlanta?" And the honest answer I can think of is because we want Macon to have this. I'm very proud of the progress I've seen in downtown the past couple of years, and I want to add something to that. Why would we do it somewhere else? We're scratching money off the table. Why do it somewhere else is kind of the natural response to us.
We talked about what the move means to the store, and I guess this kind of goes back to when you grew up in Macon, but what does it mean to you that Fresh Produce is expanding and growing and bringing in more people and more records?
WILL : Oh, it just is a thrill. We're very proud of what we've built, which is something that has people coming from Atlanta, Augusta, Dublin, Savannah. That's the short list. I've got customers in Germany that visit us every time they're in the States. It just, it really is going to be, I think, a shining star in downtown. I think we're going to be right where we need to be for the level of attention that we're drawing. A lot of people don't know this, but in addition to what we do in store, we probably have 5,000 or 6,000 dedicated online customers that shop with us all over the US, and it is starting to expand all over the world.
We're drawing as much attention to Macon, Georgia, as we can. I've already had at least, I'm gonna say on the low estimate, I've had a couple hundred of those online customers make Macon a destination spot because they know about us. So, we've already drawn tax dollars and revenue for businesses to Macon, without what we've got coming on check on Cherry Street. We're hoping that this is sort of fuel on the fire, and we'll just exponentially increase our ability to do that.
Do you have anything else you want to say about this move or about Fresh Produce?
WILL: If you haven't checked this out yet, you're missing out on something that you cannot comprehend. Everyone hears us say we've got 30,000 records packed into a room, and I don't think people know exactly what that looks like, or what that entails. We've got so much music that if you are even remotely a music lover, this is something that will make your absolute day, if not your week, warmer.
Well, thank you. It's really impressive. I'm so excited to stop by the new location.
WILL : Yeah, honestly, we're super excited to see everyone. Since we've hung our banner up over there, we've already had dozens of people stop in and just be like, "We had no clue Macon had a record store!"
That's what I was kind of thinking because it's kind of tucked in a weird little side street. It's awesome to be on Cherry Street Now.
WILL : It's one of those things that if you're already into records, and if you have a turntable, then you're probably googling where are record stores in my area, and you'll find us. As far as just the common populace knowing that we've got a record store down here, there's not really a reason for them to know. And we don't do a whole lot of advertising down here. We typically do some postering and stuff like that. But honestly, since we found out that a new store might be an option, we've kind of tapered off on that because we did not want to be advertising a spot that we were only going to be at for another six months. So we're really hoping to come out the gate strong over there and do a poster and campaign and a little bit of advertisement to get the word out. Typically the way it goes after we get that initial seed of people coming in is word of mouth takes care of the rest. So we're pretty excited to see what we can do.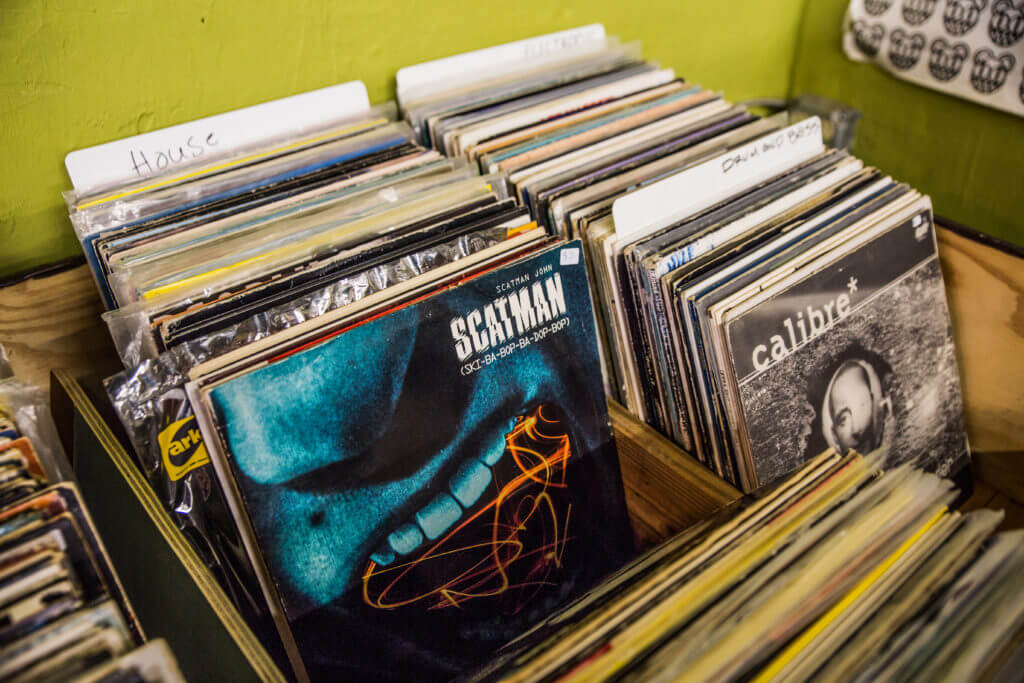 ON THE MOVE: WITH WILLIE D.
WILLIE D : I feel like it's Macon being a music city, but really any city needs a sort of heart and soul for music lovers for the music scene, if you will. And that's always kind of been my intention with [Fresh Produce Records]. I came into setting the business up really just out of a motivation to create a home and a safe haven for people like myself who basically had their life saved by music, and you just want to create space for that. That's where it gets personal for me and important for me to keep doing this because it's not just about flipping units or whatever. It's about having that place where people can come and connect to music that they love, discover new things, meet like-minded people. And that's why we've always been into hosting shows and doing the entertainment thing around town. It's one of those things where you want to be there for that family. And that's–that's really the intention.
So it must be especially meaningful to you that it's growing into Cherry Street.
WILLIE D : Yeah, I mean, it feels good to know that it's headed in the right direction because by being able to grow, we can do more for more people. And that's a driver of our success. It's just, let's keep this thing going. There's so much music out there. Here, it's hard to stop at just one thing. It's encouraging to see it growing because we know that we're just able to do more now. And that's really exciting. Also, it brings a sense of security. Like, we're buying our building instead of renting. We're building some equity. We're doing some pretty big business moves for us. A lot of first for us right now. It feels like we've taken this next step, and it's a solid footing. It feels awesome.
On that note, what are your wildest dreams for Fresh Produce, or yourself, going into the future?
WILLIE D: These are all things that are kind of in the five-year plan or what have you, but we'd love to start pressing vinyl for local artists and beyond. We're really big into showing people stuff that we like to say, hey, you need to check this artist out or this particular album. And some stuff is not available unless somebody's out there pressing it. We want to start doing vinyl pressings. And also, on a similar tip, maybe do more shows around town, get into bigger festival-type settings, stuff like that, where we can really bring in some big talent, stretch our legs with the production side of things, because we've always kind of dabbled in that. That's another thing I'd like to see us grow and be able to do more with.
Do you have anything else you want people to know about the store or the move?
WILLIE D: Just, you know, come down and see us. We're slowly transitioning now, but once we get it set up, and we're open every day and trying to build our team, I want people to feel like they can come down there anytime and hang out and check out some music.