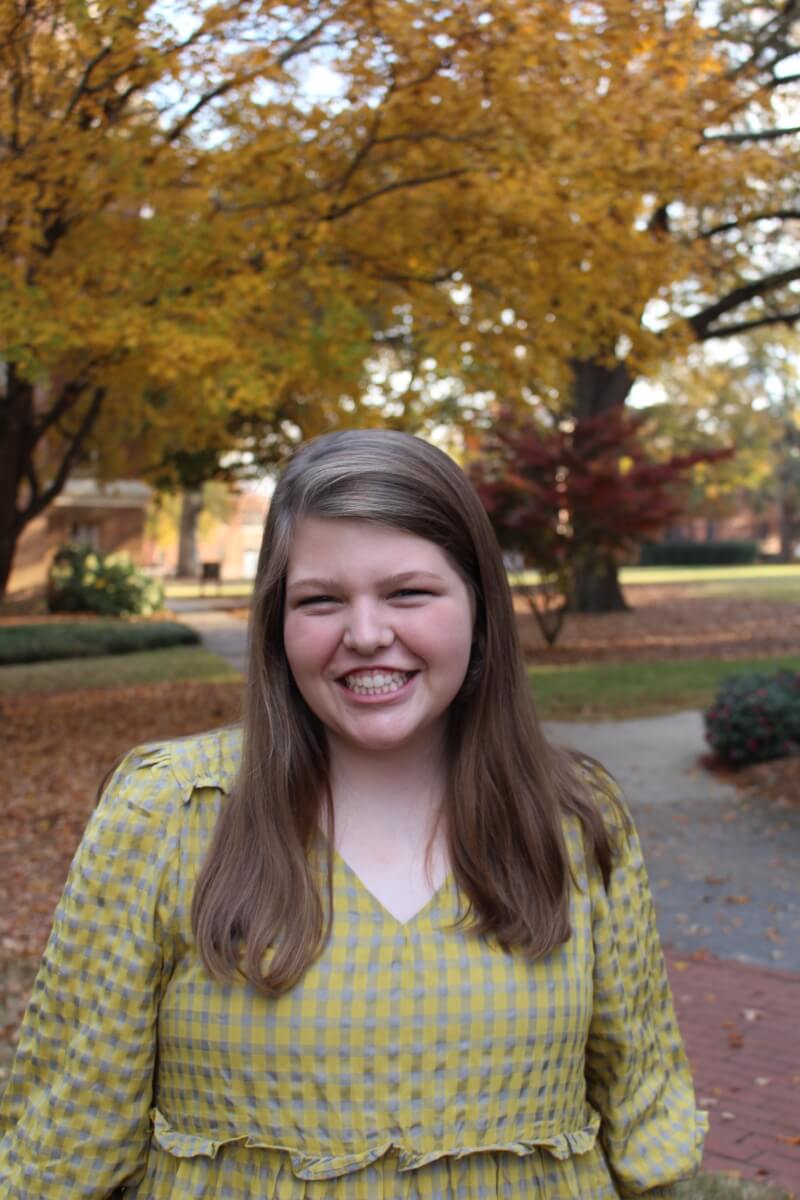 Get to know Molly
Molly Griffin is a senior at Mercer University. She is studying marketing and graphic design and plans to pursue a career that will intertwine both of those fields. Molly joined the Macon Magazine team to gain experience in advertising and to learn more about what it takes to run a business. In her free time, Molly enjoys painting, calligraphy and reading. Read more about Molly below.
Who do you admire and why?
I admire my parents because they serve as constant role models for me and have worked hard their entire lives to provide for my family.
Best advice you have received:
If it is not going to matter in five years, then do not spend more than five minutes worrying about it.
What I love most about Macon is _.
That there is always something new and innovative happening! I also love that Macon is big enough where you try new things but small enough where you still run into a few people you know every time you leave the house.
What the world needs is more __.
People with good morals.
What do you wish more people understood about young people?
I wish more people would remember that they were once in our shoes, and we are still trying to figure our lives out.
Salty or sweet?
Sweet!
Guilty pleasure?
Iced coffee.
What is your favorite book?
A tie between Ugly Love by Colleen Hoover and Where the Crawdads Sing by Delia Owens.
Favorite writer?
My current favorite is Colleen Hoover.
To me, success means:
I believe success means getting to a point where you can take the time to enjoy what you are doing, instead of just constantly worrying about it.
I'm exceptionally good at:
Painting and calligraphy.
I'd like to become better at:
Being patient and spending my time more intentionally.
What talent would you like to have?
I don't know if this is considered a talent or a skill, but I would love to learn to needlepoint!
What three qualities matter most in life?
Loyalty, self-control, and humility.
What do you consider your greatest achievement?
I can't think of a specific great achievement in my life, but I am very proud of the fact that I have found a place in my life where I can be content with what I have and what I am doing.
You are walking up to a group of people who are talking about you. What is it that you would hope they are saying about you?
I would hope people are saying that they enjoy my company and appreciate the way I treat them and others!
What is the best thing you have seen or heard lately?
The Bridgerton books and Netflix series.
Three songs in heavy rotation on your playlist?
This is quite a variety, but three of my favorites have to be "Right Where You Left Me" by Taylor Swift, "Dandelions" by Ruth B., and "Love in this Club" by Usher!
Something better in theory than in practice:
Keeping your opinions to yourself.
What I know for sure:
I know that God has a plan for my life, and I will end up okay even if I mess it up a few times!