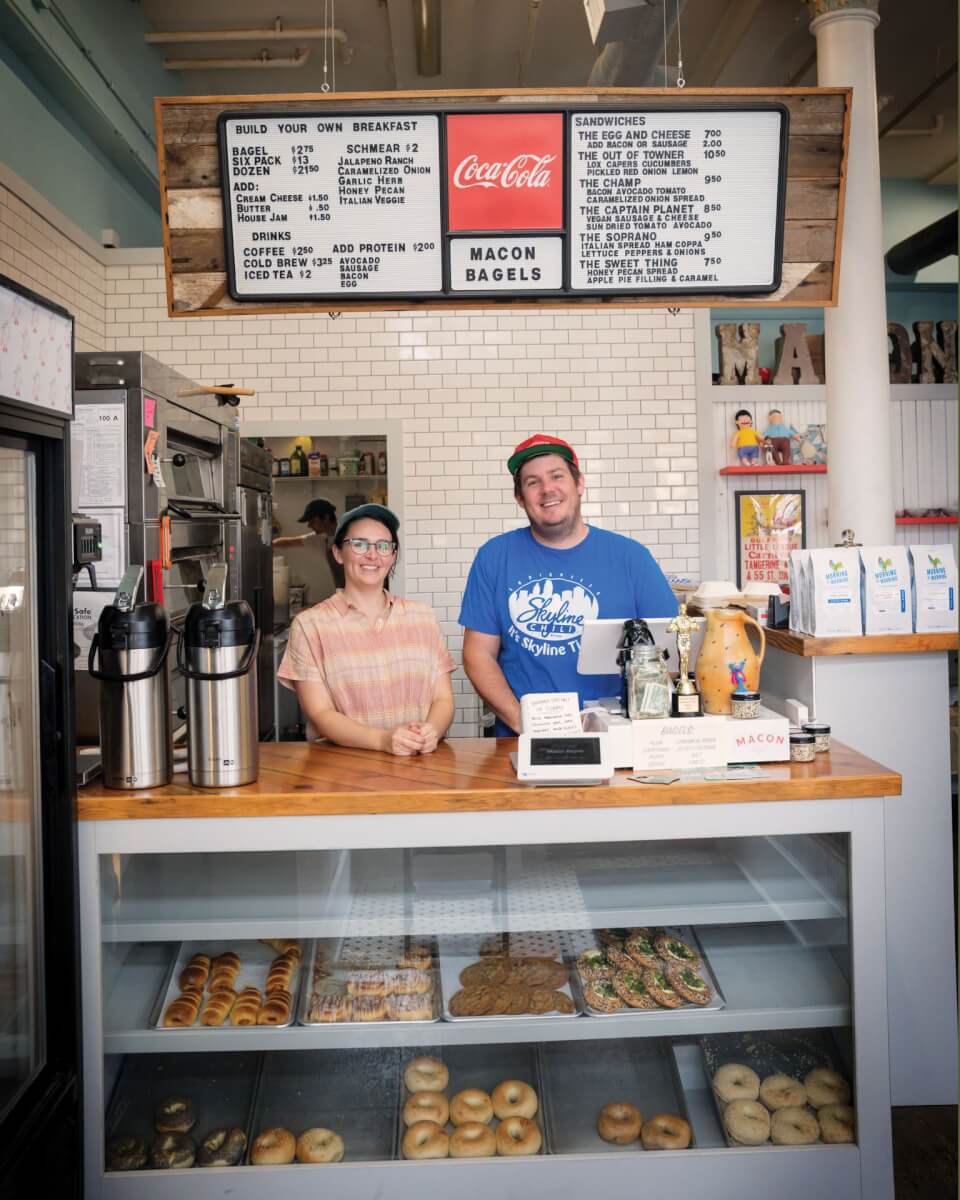 Macon Bagels shows downtown is fully baked
By Julia Morrison
Photography by Jessica Whitley
Downtown Macon's economic rise resembles dough's floury rise – slow, steady, and made up of a delicate mixture. But, the arrival of entrepreneurs like Patrick Rademaker and Lauren Bone prove that the city may be fully baked and ready to enjoy.
What's the mix that makes the small bakery on Third Street frequently run out of their signature product before noon? Macon Bagels says it's a combination of 100% made-from-scratch food, treating your people right, and inspiration from great neighbors.
As Florida natives, Rademaker, 32, and Bone, 30, both grew up in St. Petersburg, a beach town near Tampa. The couple both had prior experience working in restaurants and used the change of pace caused by the COVID-19 pandemic to take a leap of faith. "We had our own frustrations at our jobs and were kicking around starting our own business but didn't have a firm idea until the world changed," Bone commented, who started baking more with her extra free time.
Rademaker described what he brought to the table as "a lot of cooking, but not a lot of business knowledge." That's where Macon comes in. The city was never intended to become home when they made a simple pit stop driving back to Florida in August 2020, but Rademaker and Bone liked Macon so much that they decided to move to downtown and pursue their dream.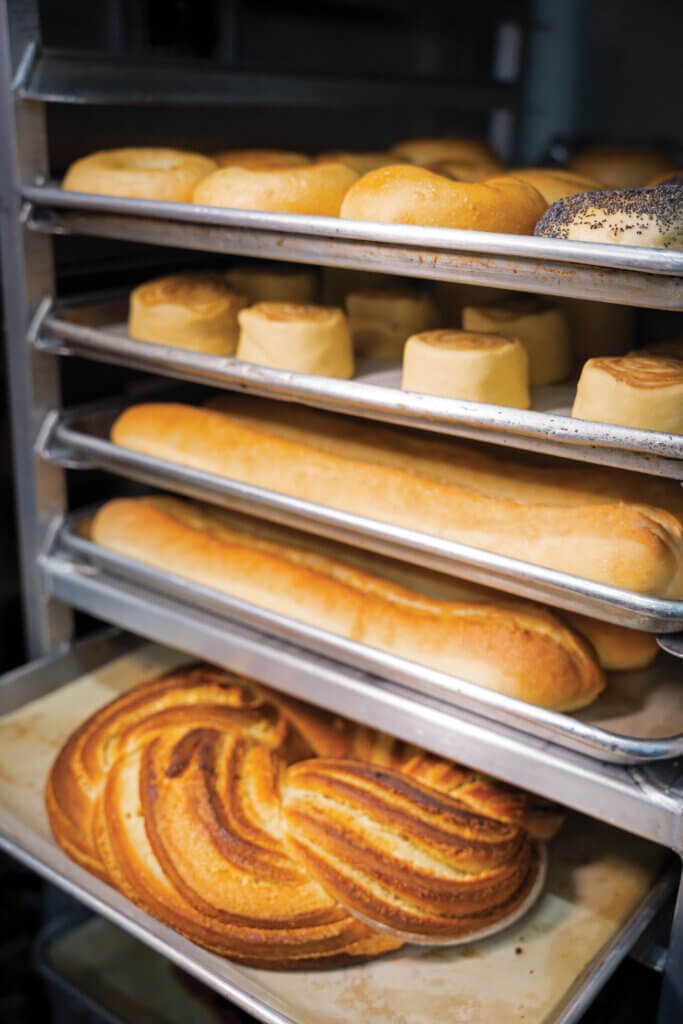 "It felt like starting a restaurant. You needed to have a team of investors to even think about making it," Bone explained. "Somewhere like Macon, where the people are really engaged and supportive of small business, helped." Rademaker added, "Macon made it feel a lot more realistic. I think the amount of energy going into downtown in general really helped."
Both cited Macon's affordable cost of living as a factor for moving here, but one element was more esoteric – the warmth of the community. Rademaker and Bone returned to Macon in February 2021 to think seriously about starting a bagel shop and quickly met other owners and managers who were eager to help in their journey. The staff at Piedmont Brewery and Kitchen pointed the couple towards a space for lease on their block that would eventually become their restaurant. Befriending Whitney Boyer and Jeremy Smith of Reboot Retrocade and Bar provided them a model for young, successful entrepreneurs who were their age.
This kind of community in Downtown Macon isn't an accident. Over a decade of planning by collaborative organizations and private sector investment have led to a streetscape of mom and pop stores, where neighbors know one another to borrow resources and share ideas. NewTown Macon's Director of Place and Main Street Macon Manager Emily Hopkins observed, "Downtown Macon is special because of its democratic leadership. When you walk our downtown streets or visit our downtown businesses, you can immediately sense that this a district led by locals and that they are the ones creating the experience they want to see in their hometown."
Why bagels? For one thing, there wasn't a place for hand-rolled bagels anywhere in Central Georgia. But also, for Bone, the all-purpose utility of a bagel appealed to her: "It's, like, a cool little niche that bagel shops occupy. It's breakfast-y and lunch-y; it can be savory and sweet."
Bone noted that grabbing a bagel could be a casual date with friends or for a quick work meeting. It's also a meal without a hefty price tag; lunch can be had for under $10. "You have spaces in your hometown where you think, 'I'm going to run into 500 people I know.' That's what I wanted. Something that felt comfortable, and a place where people can run into each other."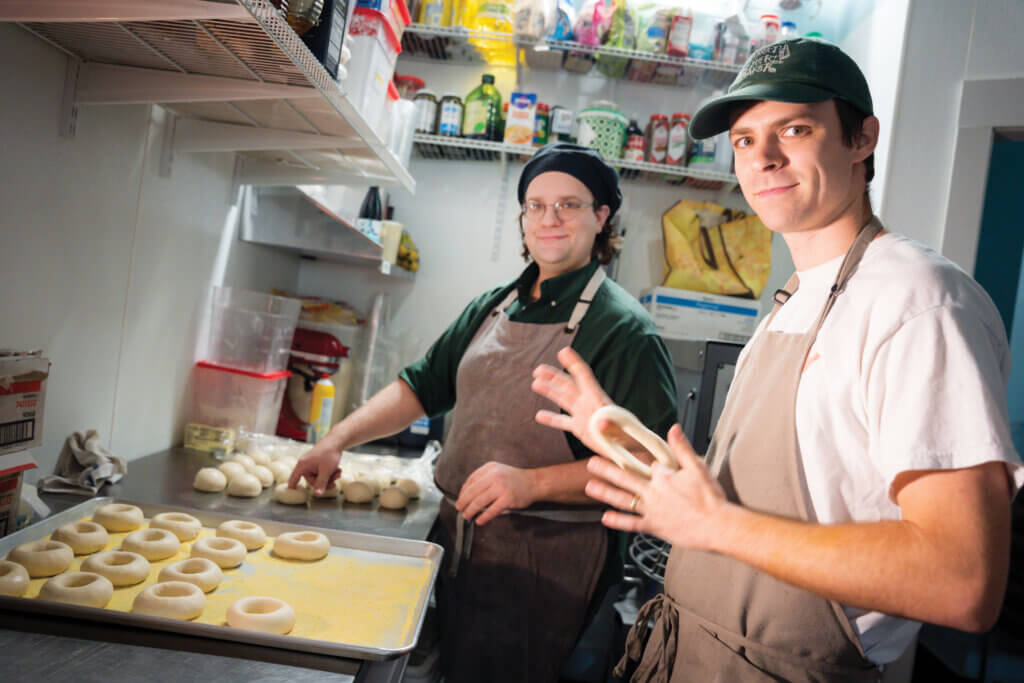 The short menu, hung on a vintage letterboard Coca-Cola sign – much of the shop's decor is thrifted finds. The short menu, hung on a vintage letterboard Coca-Cola sign, was crafted to illustrate both classic and unique sandwich combinations. Of course, an iconic bagel and lox makes an appearance, dressed in crisp pickled red onion and cucumber, and the menu also offers a comforting bacon, egg, and cheese breakfast sandwich. The owners knew they would need a sweet option, so the appropriately named "The Sweet Thing" features apple pie filling. Bone wanted to be sure there was at least one vegan plate on the menu, so a white bean spread and house-made olive tapenade, among other mouthwatering ingredients, anchors "The Pep Talk." You can also mix and match to create your own special bite, with seven bagel options, eight homemade spreads, four add-on proteins, and six veggie toppings.
The staff at Macon Bagels experiment with homemade pastries each day, so a customer can always try something new. Special sandwiches each week correspond with pop culture references and delectable spins on timeless foods, like an Italian sandwich called "The Soprano," which sings with spicy olive and pepper cream cheese, ham, prosciutto, sopressata, coppa, banana peppers, and sherry vinaigrette.
Everything on the menu is homemade, from the whipped schmears to the sweet treats. McKinley Starks, a baker at Macon Bagels, said, "The joy of baking for us is not going from a box to a plate – it is from our hearts to their stomachs."
The success of the shop caught Rademaker and Bone by surprise. They envisioned building an audience over a few years and did not originally anticipate needing to hire other employees so quickly. But on their first day, a line trailed out the door to the end of the block, and Macon Bagels was sold out in an hour. The owners soon found themselves in the position of being bosses and disappointing customers when they ran out of their doughy product each day.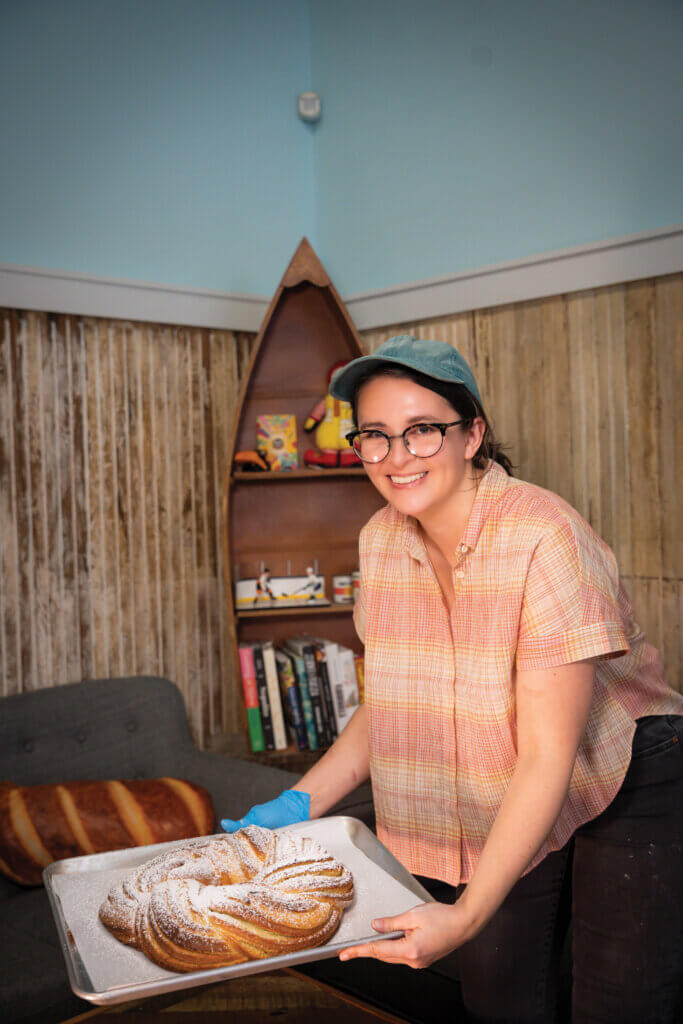 "The thing we try to do the most is always lead with kindness," Rademaker said about their strategy. They learned from what they didn't like about other service industry jobs they've had, like not having a set schedule or an environment that seemed like a pressure cooker, and tried to model a different attitude for their employees. And when bagels run out, Rademaker likes to offer a nice word and suggest a different treat, or to make it up on the next visit.
The kindness approach has allowed the couple to get past the frazzle of the early weeks and food cost increases to the point where they are exploring their own work-life balance and developing long-term relationships with the community. They've grown their staff from two to six, and keep Maconites coming back.
It's working, according to their employees. Starks enthused, "Even outside of the working environment, they're excited to see me, and I'm excited to see them." Starks said it's easy to stay at Macon Bagels because they value voluntary pay raises above market rate, working relationships that feel democratic, and support for outside passions. They credited Rademaker and Bone for seeing their employees as people first.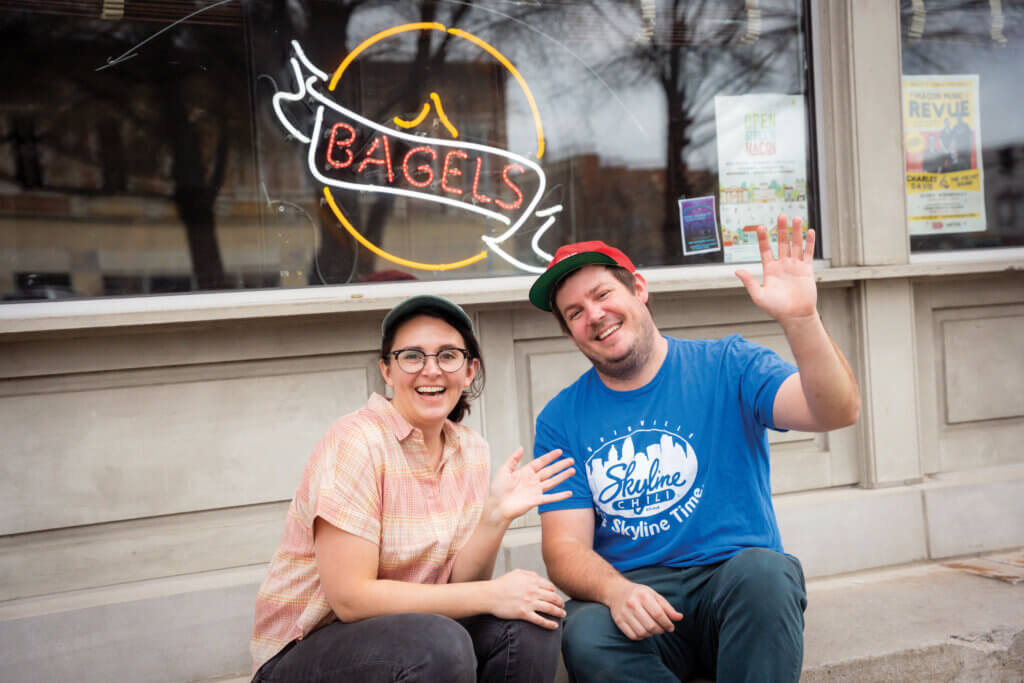 The pair want the business to reflect their values. When a women's march for reproductive rights was happening two blocks away, the staff felt glum and wanted to help. "Do you want to just close now?" Rademaker asked the crew. They responded affirmatively, so everyone jumped into action, packing bagels to give the other protesters and creating homemade signs. Before leaving, one team member told Bone, "Thanks – I've never been able to participate in one of these before because I've always had to work." These types of interactions stick out as what they've been most proud of as entrepreneurs.
Rademaker and Bone are starting to love living downtown and being part of the fabric of the central business district, where they patronize other establishments owned by people they know on a first-name basis. "That sense of ownership from Maconites is what makes downtown still feel real and different from any other place you can visit," Hopkins noted.
This intimacy is exemplified by a moment when the couple recently walked into a downtown bar to be greeted raucously from other patrons, "Hey! It's the bagel people!" It was at that moment that Rademaker and Bone knew they were welcome.
The rapid rise of Macon Bagels has already had investors ask about franchising or opening a second location, but the couple like the vibe they have created on Third Street and are in no rush to expand. Their upcoming ambitions? "Maybe a Cuban," Rademaker hinted with a grin. "Or a nice baguette."