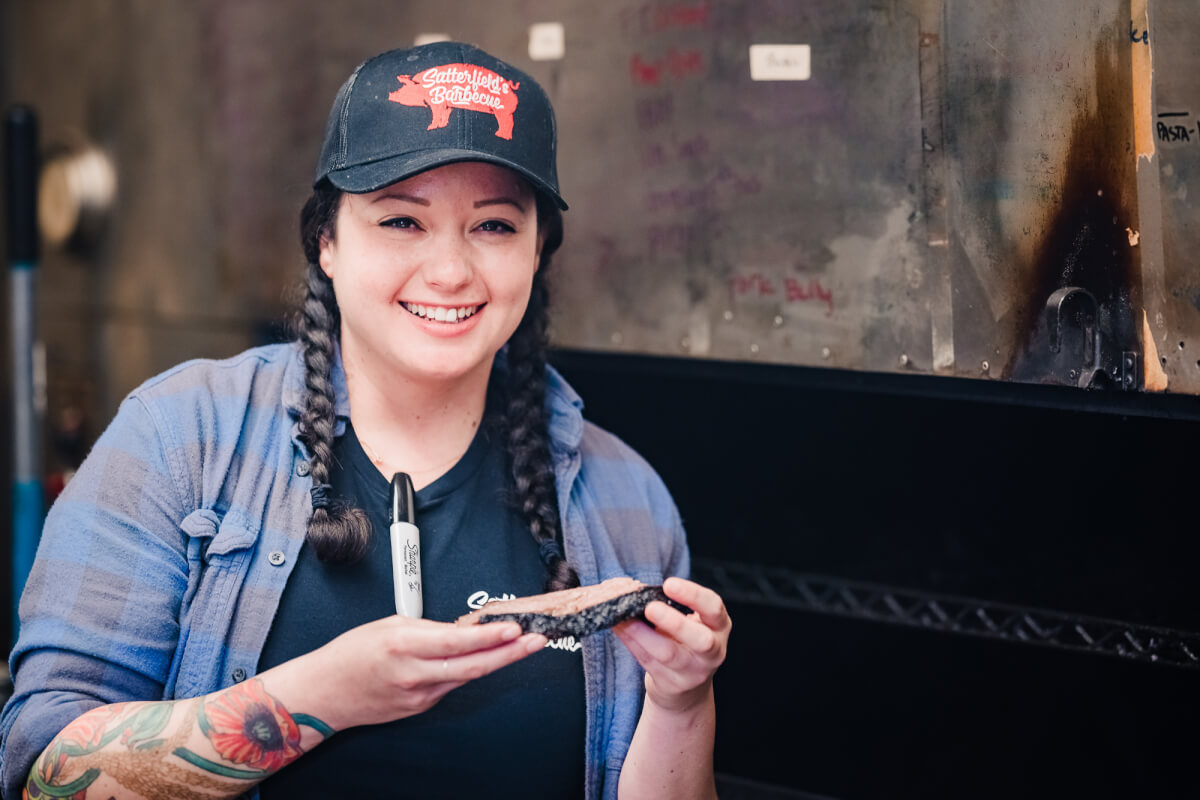 Talking chop
By Sierra Stevens
Photography by Mike Young
Victoria Lopez began her career in Macon with her business, Victory Bagels, out of the Mill Hill Community Arts Center. Before that, she'd been the chef of a vegan and vegetarian restaurant called Treehouse in St. Louis, Missouri. Her initial connection to Satterfield's was formed through Victory Bagels. Husband and wife duo Ben Hampton and Marla Kaplan (who purchased the 1983-founded Satterfield's in 2019) tried her challah bread. "The second I tasted that bread, I knew I wanted it for all the sandwiches at Satterfield's," Hampton said. Lopez began baking for them, then started helping part-time in the restaurant.
This January, she became Satterfield's new head chef. Lopez had never worked in barbecue before, but Hampton worked for a decade running the catering department and managing the front of house for Heirloom Market Barbecue, which is listed as one of the top barbecue restaurants in the United States by publications including Southern Living, Business Insider, and HuffPost. Pit Master and Catering Manager Antwon Fleming (better known as "Snack") is part of Satterfield's original family legacy: his uncle was the Pit Master for 20 years before Snack took over in 2020. In short, their small team lacks no expertise. Lopez has since been cross-trained in everything she needs to know about smoking, meat drops, and the ins and outs of the complex barbecue process.
"I love learning new things," Lopez shared.
"It's cool thing. She's never come into the world of barbecue before. But she's an amazing chef … and her mindset is like, 'Yeah, let's bring in more veggies.' We need that," Hampton said. The two teach each other and grow together as a team. Hampton expressed that everyone on their staff is cross-trained to fill in wherever they're needed, so bringing in a chef that can teach them new skills — like baking and great veggie recipes — enhances the restaurant's ability to impress guests.
"Our core staff is only five people," Lopez explained.
"So everyone has to learn everything," Hampton chimed in. It's tough to manage lunch, dinner, (and now Saturday brunch), plus large and frequent catering with such a small crew. "But we are a family, and we do what we got to do," Hampton said. They don't do it the easy way, either.
"We do things the right way. Everything is from scratch. I'm talking sauce, pickles, bread, meat. Everything you're eating here, we made with our hands. When you eat a turkey sandwich here, we butchered those whole turkeys. We made the rub. We smoked and sliced it." The smoking process alone is incredibly labor-intensive. "It's a 12-hour, 14-hour cook on these pork butts. Or whole hogs, when we can get them from Comfort Farms …" Hampton began
"It takes days," Lopez finished.
"We're doing everything the right way. We just stick true to who we are because we firmly believe in our product," Hampton said.
Creating delicious food from scratch isn't the only challenge. They have to sell it, too. Hampton explained that they are "off the beaten path here. People come here because they love our barbecue, but we don't get that downtown foot traffic [this far from Cherry Street. But] we have to survive. We have to sell food. Whatever it is we got to do, we got to do it …. This is how I feed my family. This is how my kid's gonna go to college. We put everything we have into this little building at 120 New Street."
Lopez said she believes the rewards of the work outweigh the challenges. "I've been here for over a year, and I've yet to feel burnt out. I feel like that's huge …. I mean, honestly, in the food industry, during the pandemic, I was like, done. I didn't want to do it anymore. I was burned out. I was underpaid, not appreciated …. Working with Ben rejuvenated my love for the industry because of his passion and how committed he is. We're working our asses off. He's on top of the roof, putting a new roof on. He says he's going to do something, he does it. And not once in my 15 years in this industry have I worked with somebody like Ben. And Marla," Lopez said.
"We care about each other," Hampton said of their team. "No one's trying to put all their [mess] on one person and walk away from it. That would be screwing over your friend."
"That's why you have a team," Lopez said.
"Restaurants are hard in a perfect world. … It is tough. But anything worth it, you gotta go through the trials and tribulations," Hampton said.
But the tribulations have lessened since Lopez joined. Hampton was working "16-, 19-hour days" a lot of the time, he said. But recently, he was able to take a morning off to build a fence at home. When he called to check in on how the day went, everything had been smooth. One busy Saturday, Lopez and Hampton were both at a catering, and Snack held down the fort. "When we came back, everything was beautiful." Hampton said.
"Clean! Even more things were done than usual," Lopez enthused.
Finding a team, however small, that works together so seamlessly that any of them can take a day off — "I can't say how much that means to me as a business owner, father, boss," Hampton said. Hampton and Lopez' hard work and teambuilding result in delicious dishes like juicy, slow-smoked brisket on homemade buns with fresh slaw, fried mac and cheese, and smoked turkey and collard greens. And they are proud of what they do. Hampton encourages people to try the food for themselves: "What I really want people to know is this: We're doing things right. Give us a chance. Come eat the food. You might pay a couple extra bucks, but you're eating stuff made by hand, made from scratch, made with love."
MORE CHEF NEWS
NATALIA'S
New executive chef: Brad Stevens
Brad Stevens has championed the local food movement downtown at Dovetail for the last decade and helped put Macon on the foodie map of the South. Now, he's taking on a new challenge: Natalia's. Thanks to Natalia del Basso Orsini (who founded the restaurant in 1984 and contributed to its 34 years of thriving) and Moonhanger Group (who purchased the property in 2018 when Orsini retired and are laying the groundwork for a long and successful future), Natalia's is a lion in Macon's food scene with a reputation for excellence. Honoring Natalias' pedigree, switching from New American to classic Italian cuisine, and leading a staff and feeding a dining room twice as large as Dovetail's: These new challenges energize Stevens. "I'm excited about the challenge of operating the kitchen at Natalia's. I'll do my best to honor the strong traditions there while infusing a modern approach to Northern Italian cuisine," Stevens said. Foodies across Macon can't wait to hear the venerable lion's new roar.
DOVETAIL
New head chef: Lane Richardson
Chef Richardson has been a key player at Dovetail for five years. He became Chef de Cuisine (second-in-command) in June 2022, and he's bringing his experience, training in culinary arts at Helms College, and passion for local foodways to this new and exciting role as Head Chef in 2023. "I have the opportunity to lead the restaurant that I used to dream about getting a job at, and not a lot of people get to say that. Dovetail has always stood for principles that I value; creativity, community growth, working with and supporting local farmers and artisans, seasonality, pushing boundaries, and holding ourselves to the highest standard we possibly can. I'm so thankful that I've been able to spend the last several years learning under Chef Brad Stevens, thankful for the incredibly talented and hard-working team we have, and I'm proud and beyond excited to be at the helm going forward," Richardson said.
PEARL AND MY GRANDMA'S EMPANADAS
Ashley Doolin and Rikki Waite team up, bringing empanadas to Pearl
Local business owners and chefs Ashley Doolin of Pearl in Macon and Rikki Waite of My Grandma's Empanadas in Warner Robins are teaming up. Doolin, wanting to add empanadas to the menu at her restaurant, approached the empanada empress of Central Georgia, Waite, about featuring her delectable, flaky, spicy chicken turnovers full-time on the menu. "In the state of Georgia, only 22 percent of businesses are owned by women, and we want to see that number rise!" Doolin wrote in a social media post announcing the partnership. Head downtown to First Street to grab an empanada and some of Doolin's famous bread pudding to celebrate women supporting women, one delicious hand-pie at a time.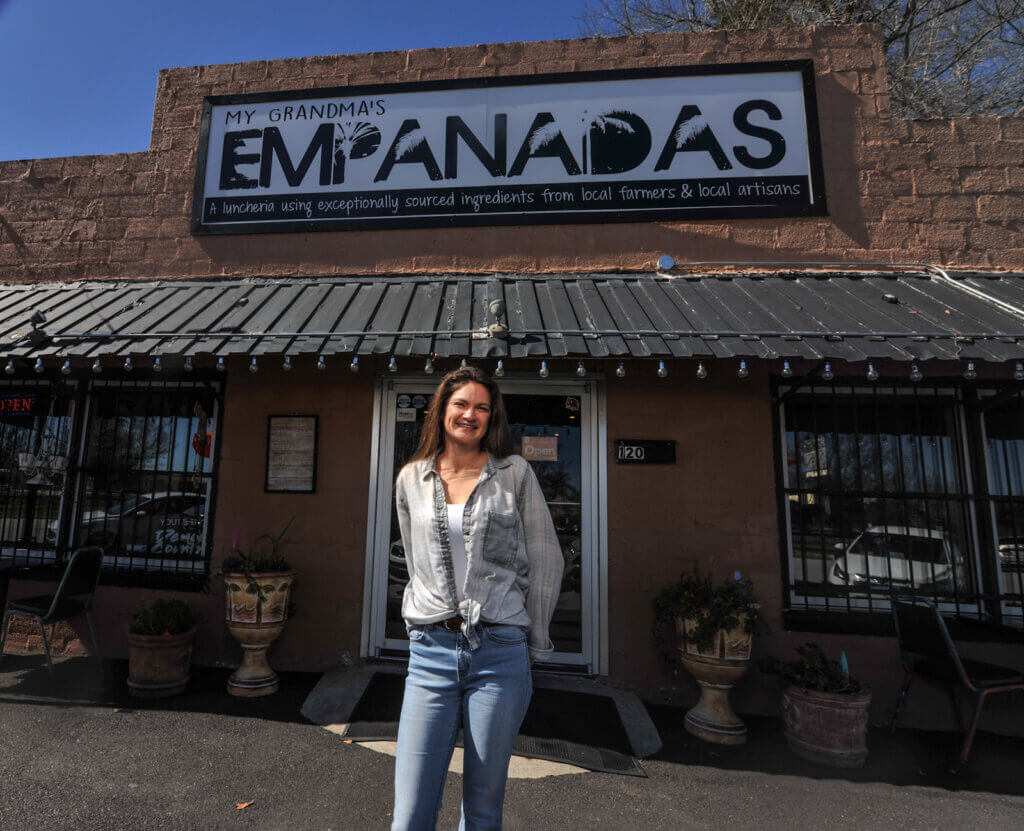 CHURCHILL'S ON CHERRY AND BEARFOOT TAVERN
New head chef: Gerard Atkinson
Bearfoot Tavern and the new cigar lounge, Churchill's on Cherry, partner to bring Chef Gerard Atkinson from Savannah to Macon as head chef. Gerard brings experience in fine dining and more casual fare, including Sea Island Resort, River House Seafood, and, most recently, Lady & Sons. His cooking style is influenced by his coastal Georgia, Gullah-Geechee heritage and global fine dining techniques. He said he's excited to refine Bearfoot's menu while introducing dishes like Wagyu Oscar strip steaks at the more upscale Churchill's.
Atkinson said he is enjoying the change of scene. "I've been in the restaurant industry for going on 29 years, and I promise you this has been the best vibe, the best energy on Thursday, Friday, Saturday night. I've never seen it before in my life. It feels good to come to work," Atkinson said.