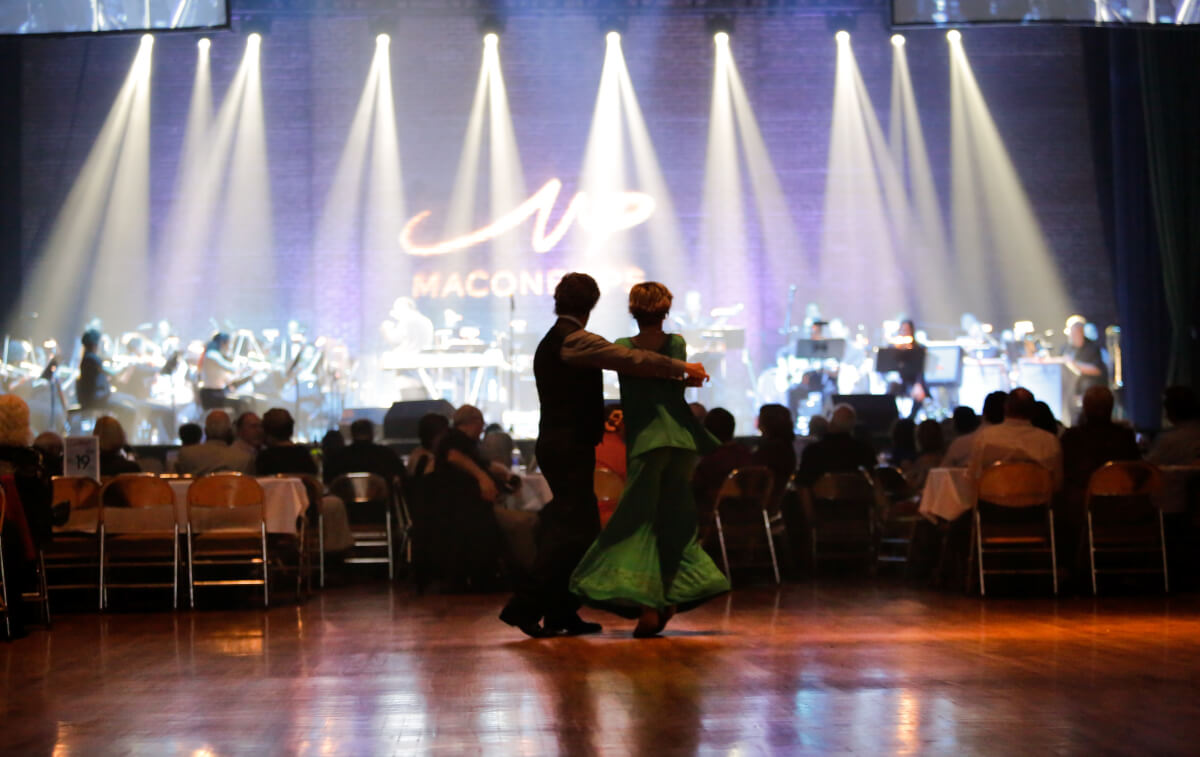 One community, two world-class ensembles
By Michael W. Pannell
Photography by Maryann Bates and Christopher Smith
Where else in the world does one town have two highly skilled ensembles and a cast of players who are just as in tuned to classic rockers as they are classical greats and aren't afraid to bend the baton by urging people to get up and dance or incorporating local hip hop artists?
Welcome to Macon, Georgia, where music bends boundaries in double doses and the bands play on.
The League of American Orchestras recognizes attendance at orchestral events is declining across the U.S., causing many orchestras facing downsizing and bankruptcy, including Macon's own former symphony in 2017. But now, it feels like the opposite in Central Georgia.
In Macon, listening opportunities for classical-style music are booming, with the city now having claim to not one but two impactful groups: the Macon Pops, entering its 10th year, and the Macon-Mercer Symphony Orchestra, completing its first.
By all music scene measures, it's unique for a city of Macon's size to have two such orchestral organizations, and it's the special nature of each that allows regional audiences the ongoing opportunity to hear great music performed live by superior musicians.
As president and CEO of Visit Macon, it's Gary Wheat's job to know what's up in town and what makes Macon stand out.
"They're two different entities, each with a unique personality and voice, but individually and together they speak to Macon being a music city and destination," he said. "They clearly bring enjoyment to audiences, and other area organizations have gotten behind them. Even that speaks to the value our community puts on art and culture. It's a very exceptional blend and adds one more feather in our artistic cap."
MACON POPS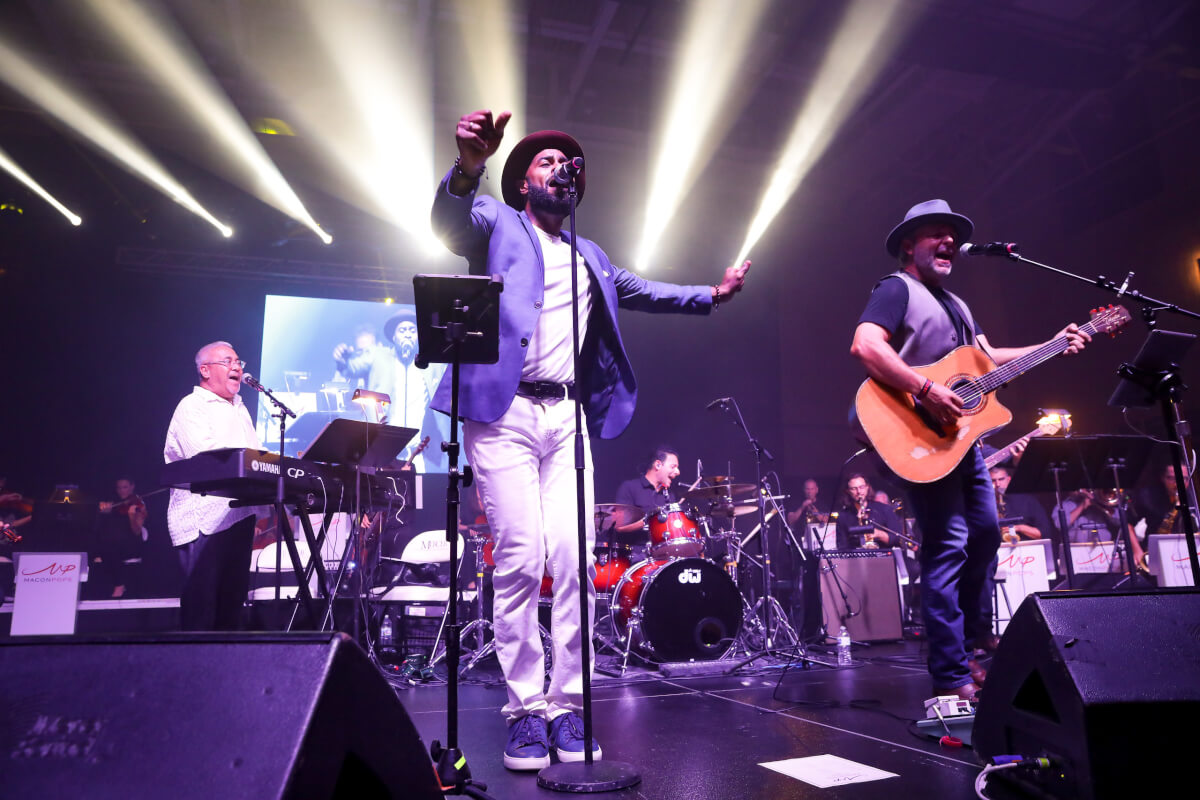 By loose definition, a pops orchestra is made of players from a larger city orchestra who perform popular music, show tunes and similar fare with classical works. Macon Pops has succeeded by simultaneously keeping and transgressing those tenants.
One, Macon is not a "larger" city. Two, its players are not from a single, standing orchestra. And three, it concentrates on popular music in an orchestral, big band fashion, leaving classical works to others.
"Macon Pops is not just a concert; it's an event," Pops President, CEO and percussionist Steve Moretti regularly says. Moretti founded the nonprofit Pops along with arranger-director Matt Catingub.
"Every concert is created from scratch with unique arrangements from Matt. At Mercer's Hawkins Arena, The Grand Opera House, the Cherry Blossom Festival, Christmas lights show or wherever, we bring the fun with a 40-piece orchestra with rock show energy. And whatever we do, we do at the highest musical quality," Moretti said.
The Pops has the musical power of the best studio, performing and orchestral musicians from Atlanta and beyond who come for one-off gigs. Added are a smattering of students from Mercer's Robert McDuffie Center for Strings plus local vocalists. It's a potent arrangement with themed shows covering Michael Jackson, The Beatles, James Bond soundtracks, southern rock, soul, big bands, country and more.
As it enters a decade of performances, Moretti has observed large crowds for outdoor, public events like the Downtown Christmas Lights Extravaganza matched by substantial audiences for indoor ticketed shows. Ahead, he said, the Pops will expand community outreach and educational programs and develop an endowment program to ensure a long Pops future.
"I'm grateful for the past 10 years," he said, "and can't wait to see what happens in the next."
MACON-MERCER SYMPHONY ORCHESTRA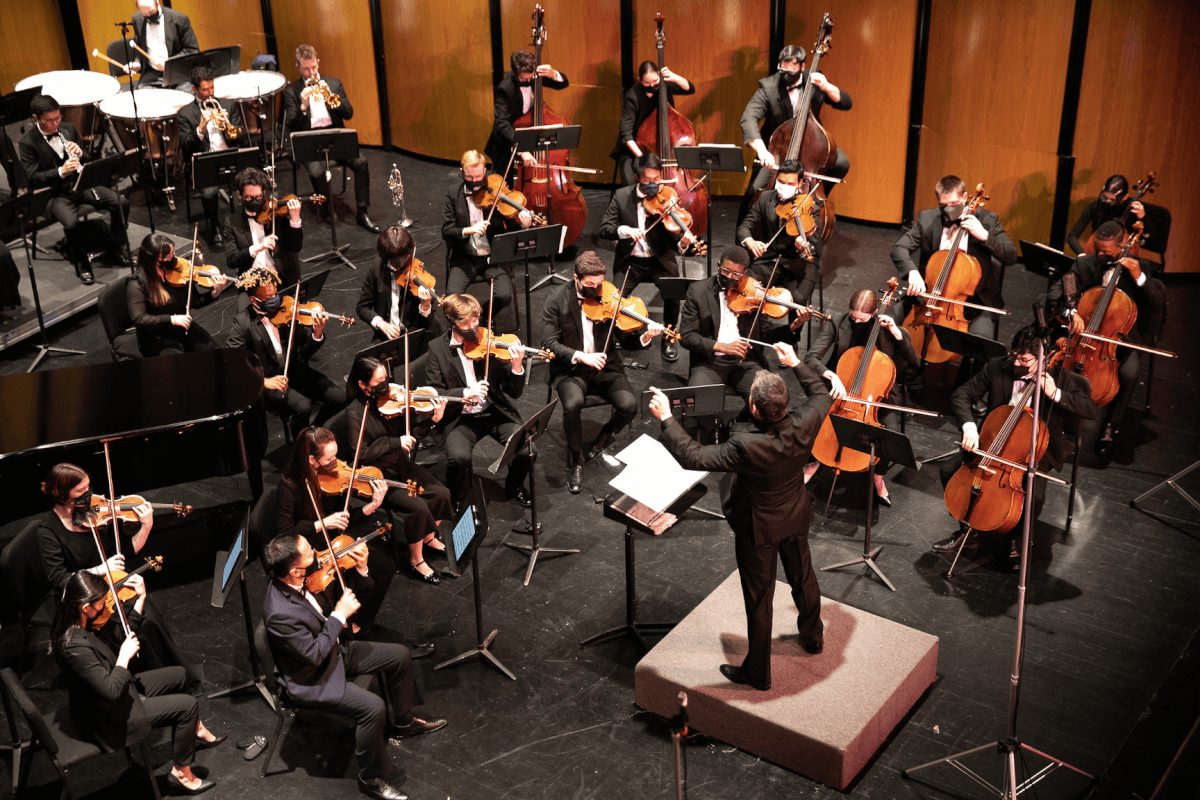 Violin virtuoso Robert McDuffie and McDuffie Center for Strings Director Amy Schwartz Moretti imagined bringing principal players from the Atlanta Symphony Orchestra (ASO) to Macon to play alongside and benefit Center students.
And they made it happen.
"Losing the [Macon] Symphony was a real void in the community," McDuffie said. "Instead of bringing back a typical orchestra, why not something world class?"
There's not another known orchestra like the Macon-Mercer Symphony Orchestra (MMSO) that serves students and brings symphonic benefits to a mid-sized community – like Macon – with players who might otherwise be out of reach.
"It's always about the students. With this hybrid model of conservatory students and world-class professional players, performing side by side, there are cultural and educational boxes that are checked … students are experiencing real-world professionalism in real time. And that's crucial and invaluable for them," he stated.
The ASO musicians stay overnight and coach students the day of the concert, holding mock auditions to give them an idea of what it would be like to audition for an orchestra.
Unique in makeup and purpose, the MMSO also opts to showcase local performers and present them without (excuse it being said) "lowering" symphonic standards but "elevating" guest artists' work to symphonic levels, regardless of genre.
"On the repertoire front, it's always a balance," McDuffie said. "We need to challenge our students, but we don't want to punish the audience. So, we're looking at repertoire that's difficult for the students but highly enjoyable for the audience."
Consider this: Though beginning during a pandemic and with concerts on Monday nights, the new symphony has filled over 90 percent of The Grand seats for every performance with not only long-time classical symphony stalwarts but also an inclusive crowd of young, hip, diverse audiences.
In April, local hip-hop artist Bob Lennon joined the MMSO as a guest artist for the season finale, performing an original commission titled "Don't You Look at Me."
"Classical music has got to connect to the larger culture. That means in Macon we need to connect with the African American community and with a younger audience," McDuffie said. "We love our old guard classical music lovers, but we certainly want to have all of Macon represented in the audience."
"To be asked to be a part of that process meant so much to me because I've been through so much to just be taken serious as an artist," Lennon said. "Being asked to be a part of something so prestigious and special showed me that all of my hard work and obstacles were for a bigger purpose and meaning."
"The community of Central Georgia has a hometown orchestra that is extremely high level … That's my hometown pride coming through," McDuffie added.
If the worn phrase "exceeding expectations" fits anywhere, it does in this regard.
"The artistry and the repertoire have been outstanding, and I look forward to what year two of the MMSO brings for our community," said Mercer University President William D. Underwood.
BETWEEN THE TWO
One person more than any stands connected to the two orchestras: Amy Schwartz Moretti.
Schwartz Moretti not only directs the McDuffie Center, whose students are the heart of the MMSO, but she is also the wife of Pops founder Steve Moretti.
An in-demand soloist, symphonic and chamber orchestra violinist herself, the seed of the Pops orchestra began in 2013 when she and Moretti sought an opportunity to play together publicly. They asked their friend Catingub, who had originally introduced them, to create a violin concerto she, he, Moretti and McDuffie Center students could perform in locally.
"The response was so good, it seemed clear we should pursue some sort of pops orchestra for Macon," Moretti said.
Years later, with the advent of the MMSO, Schwartz Moretti said all the pieces were in place for the school. By extension, the same is true for Macon's overall fine arts following, especially considering the McDuffie Center also features frequent chamber orchestra evenings.
Key for the Center and the MMSO is their unique collaboration and support.
"During the 15 years of collaboration with Robert (McDuffie) at the center, I've been amazed at his care for the students and for his hometown community," Schwartz Moretti said. "Having him always come from his New York base or international travels to be our student's teacher and cheerleader, plus everything (Mercer University President) Bill Underwood has done and the support we get from the community – well, it's been beyond overwhelming and proof what a team working together can do."
SEASON OPENERS
Macon Pops will host Rolling Stones keyboardist Chuck Leavell for its 10th season celebration gala on Sept. 17. For full season lineup and tickets: maconpops.com
Germany based American conductor Roderick Cox, who was born and raised in Macon, will conduct the MMSO opening night on Oct. 17, which will include "Symphonic Dances" from Leonard Bernstein's West Side Story. Find information on the full season and subscriptions for the upcoming year: mcduffie.mercer.edu/symphony