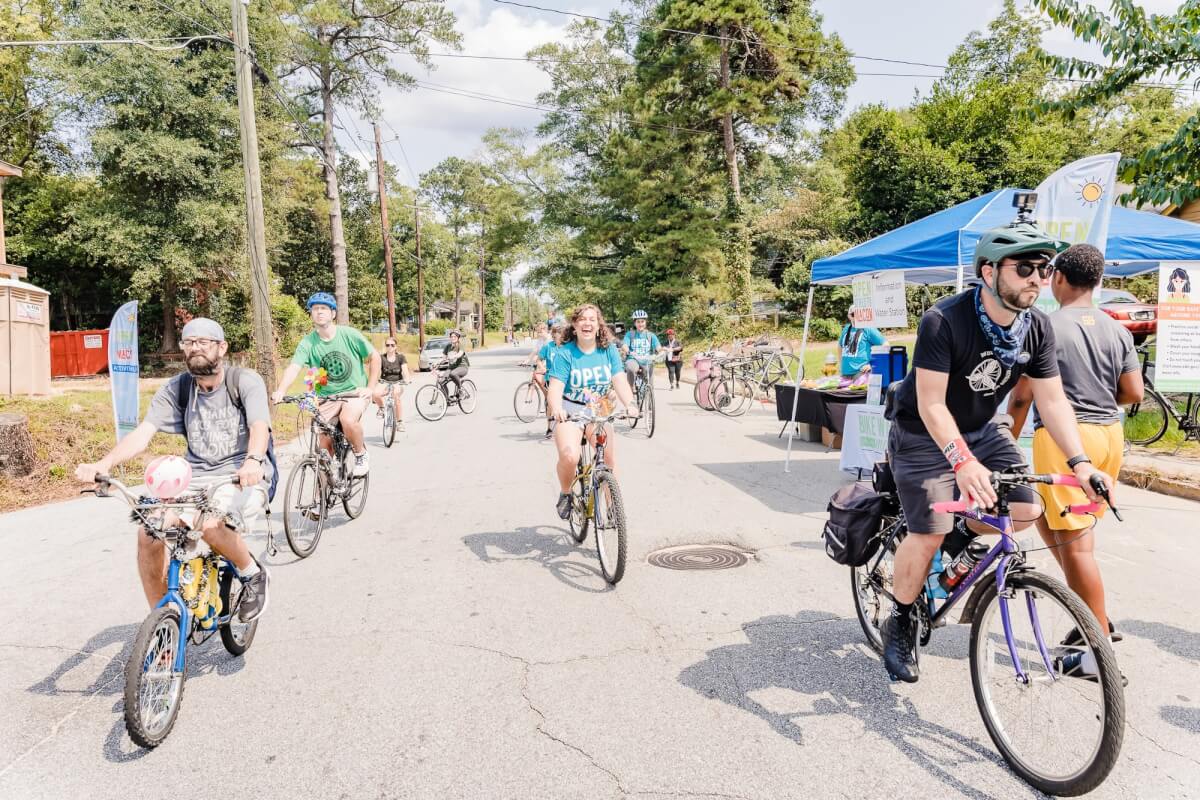 Open Streets Macon announces two new routes for 2022
Introduced by Bike Walk Macon
By Nora Jorgensen
Sometimes everyone needs reminders that there are different ways to stay active and that streets belong to people, not just cars. Bike Walk Macon is a nonprofit grassroots advocacy organization that promotes walking and cycling to stay healthy while having fun with friends. Bike Walk also seeks to enhance mobility so all Maconites to have the option of active transportation, especially in a safe and convenient environment.
Open Streets Macon is now an initiative of Bike Walk Macon that was originally founded in 2015. Its goal is to celebrate public space by closing streets to cars, allowing people to enjoy these routes for outdoor activities. This re-imagination of public streets allows people to socially connect safely in their neighborhoods and break away from a car-dominated world.
The typical activities hosted by this outdoor celebration include art, music, skateboarding, bicycling, walking the route, playing with hula hoops or simply enjoying the outside weather.
For 2022 Bike Walk announced two new routes that will be used for Open Streets: one in the Pleasant Hill neighborhood and one connecting Pleasant Hill to the Vineville neighborhood through Walnut/Clayton streets.
● On Sunday, Oct. 2, the 0.8 mile Pleasant Hill Route will begin just off of Vineville Avenue, and will go through Pursley Street, Third Avenue and Ward Street. Bring a buddy to enjoy this historic neighborhood from 2-5 p.m.
● On Sunday, Nov. 6, the Walnut/Clayton route will be closed to cars from 2-5 p.m. The route will be 1.3 miles in an area that connects two historic neighborhoods, Pleasant Hill and Vineville, consisting of Walnut Street, Clayton Street, Buford Place, and Oak Haven Avenue.
Open Streets Macon chose these areas to complement other efforts to improve the connection between the Pleasant Hill Neighborhood and the Ocmulgee Heritage Trail, including a proposed plan from the Reimagining the Civic Commons Initiative. Walnut Street specifically connects both neighborhoods directly to Downtown Macon.
Tonja Khabir, a Pleasant Hill resident and neighborhood champion, said Open Streets Macon has "helped us prompt discussions about public health and safety. I can't wait to see it back in Pleasant Hill to further support the strategic work we are doing here and to create safe and more sustainable neighborhoods across our city as well."
A Vineville resident and Walnut/Clayton Street neighborhood champion, Brad Coman also said he also believes that "Open Streets is an opportunity for us to connect with our neighbors to see part of our city transformed into a safer place for active transportation in all forms, something that everyone benefits from…because Macon is better in every way when we work together."
Open Streets Macon has four pillars: health, transportation options, living streets and civic pride. All are welcome to get involved with Open Streets either by organizing activities themselves that fall under these pillars (such as teaching sports, exercise classes, or events that promote health and wellness) or by joining the volunteer team to help keep events safe and pleasant.
Visit www.openstreetsmacon.com or bikewalkmacon.com for more information.