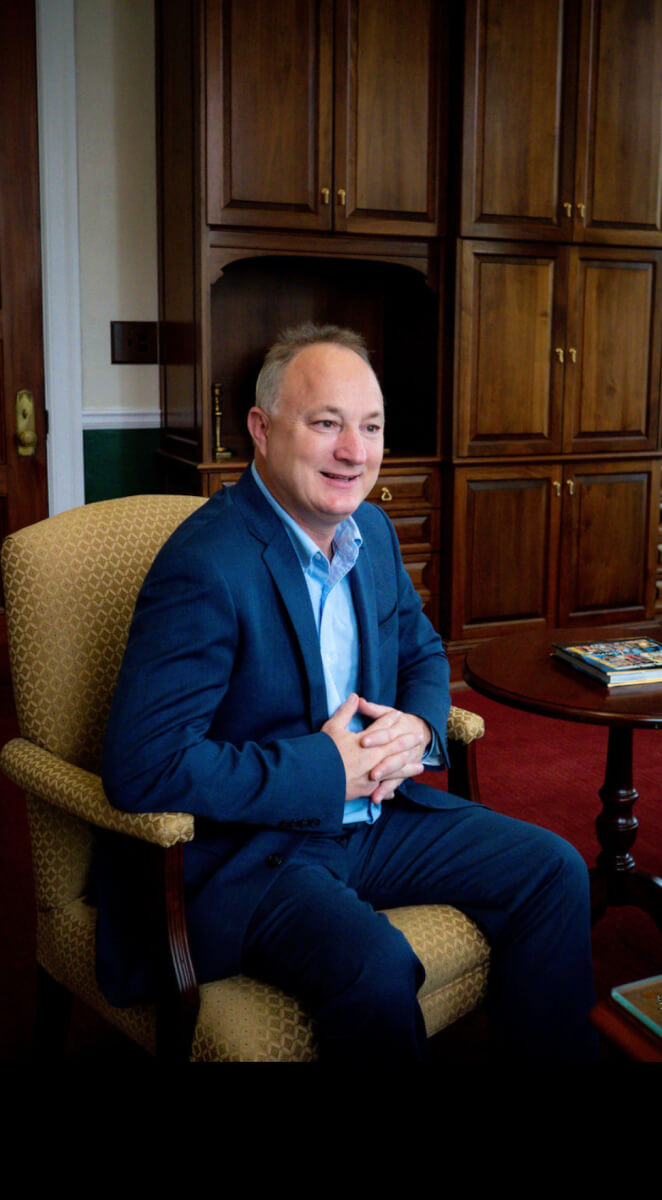 The Miller way

New Macon-Bibb County Mayor Lester Miller shares goals and challenges for his term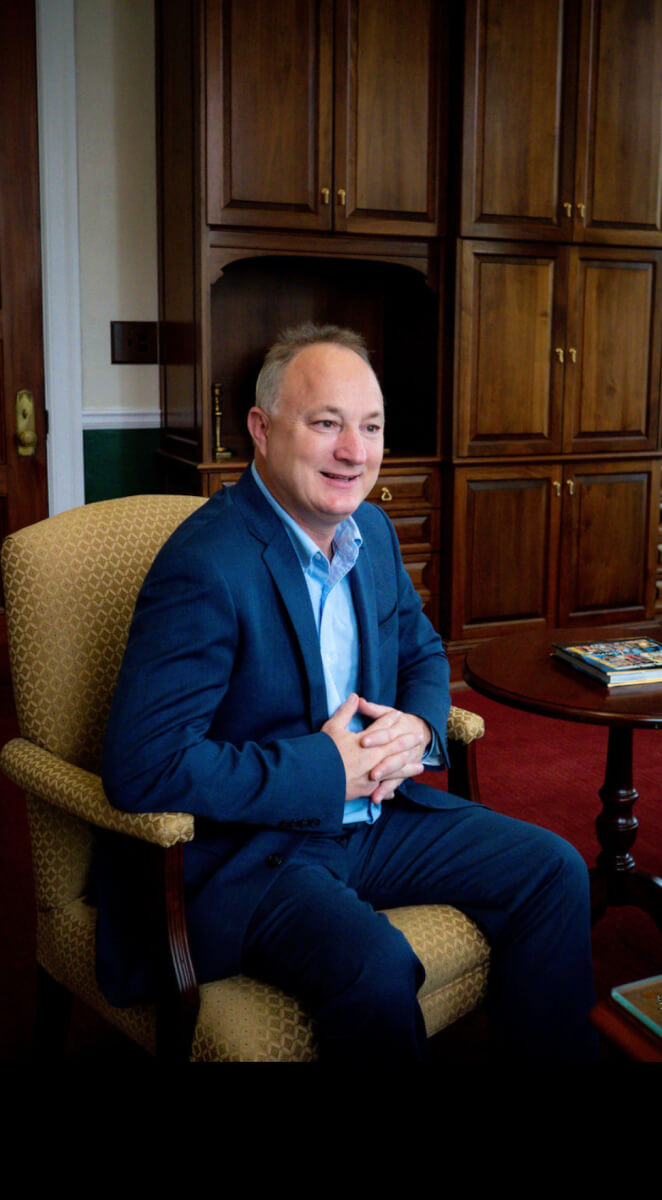 The Miller Way
New Macon-Bibb County Mayor Lester Miller shares goals and challenges for his term
By Jami Gaudet
Photography by Jessica Whitley
Last November, after a hard-fought race in a crowded field followed by a contentious, racially charged runoff, Macon-Bibb County voters elected attorney, businessman and entrepreneur Lester Miller to be their new mayor.
The consolidated government's unassuming second mayor has big ideas and plans for the city — some he shared, some under wraps and others being formulated. Miller thinks strategically, which is how he intends to manage the city, and, subject to commission approval, believes he has assembled a solid team of department heads also known as directors.
The former Bibb County school board president aims to bring the collaboration and consensus-building skills he honed in that role to city politics. The pragmatic Miller says he's unafraid to lead, learns from his mistakes and will make tough calls when necessary.
Two watchwords of the Miller administration will be "accountability" — his and everyone else's, and "listening." He has no time to dawdle, acknowledging, "I've got four years to accomplish my agenda, with four additional years if I'm successful."
Miller's hardscrabble childhood was a springboard for his ambition, success and desire to serve. As a free- and reduced-lunch kid, he felt the sting of scarcity, which guides his thinking and informs his priorities. A self-described outsider, in his youth he found acceptance on the baseball diamond where he bonded with his father, who coached him. But at 14 that scarcity drove him to give up the game he loved to work as a busboy, and by age 18 he and a partner opened a restaurant, the first of Miller's many business ventures.
A double Mercer Bear with a Juris Doctor and an undergraduate degree in political science, Miller's story is an instructive one — about insiders and outsiders, what it takes to win a seat at the civic table in Macon, and the prudence of reaching deeper into the community to identify volunteers with the interest, capability and drive to lead.
Days before his Dec. 30 inauguration, Miller chatted in his new office, which literally and figuratively signals a new era — freshly painted walls, now hunter green and white, with a change of carpet, now burgundy, and windows devoid of drapes and blinds — like Miller, waiting to be installed. But most striking was the placement of the mayor's desk in a new direction — a theme repeatedly echoed in our conversation.
JAMI GAUDET: YOU RAN FOR MAYOR FOR MORE THAN TWO YEARS. WHEN DID YOU KNOW YOU WANTED TO RUN AND WHY DID YOU RUN?
MAYOR LESTER MILLER: I knew my second term on the Bibb County school board was ending, and although I was able to run for a third term, I thought the board needed new ideas and a new person so I looked for other ways to serve the community. Eight years is a good term limit for anything and anybody.
I thought the city should go a different way and knew the mayor's job was opening. I looked at who was running and met with a couple of people who encouraged me to think and pray about it and talk with my family, which I did.
I didn't know I wanted to run until Jan. 28, 2018, when I filed the paperwork and hired a consultant. It was a gamble, but turned out to be the best thing. I got out of the gate quickly to keep others from running and was able to fundraise. By the time the pandemic hit, my campaign was well established while others' campaigning was limited.
I ran for mayor for the same reason I ran for school board. I brought experiences from my childhood to the job. On the school board, I thought I could help bring equity across the districts, and as mayor, I think I can bring equity to the city.
After growing up in seven neighborhoods, I can relate to the common person in Bibb County. I married my high school sweetheart and this is our home. I ran to make things better for the community and for my boys, who are 24 and 20. I want them to stay in Macon, get good jobs and raise their families here.
JG: YOU APPEARED TO HAVE A WELL-FORMULATED, LONG RANGE PLAN TO RUN FOR MAYOR, BUT YOU'RE SAYING IT WASN'T A LONG-TERM CONTEMPLATION.
MAYOR: As a child, being a free- and reduced-lunch kid was embarrassing, so over the years I sold candy, cut grass and picked up pecans to pay for my lunch. When I was on the school board, we secured federal funding to ensure that every child ate free to remove the stigma.
After experiencing my family's bankruptcies, I worked at Beall's 1860 and the Green Jacket to help my parents. I become a cook and a chef and had a scholarship to the Culinary Institute of America but chose to stay in Macon. I opened my first business when I was 18, Martin and Miller's (M&M's) Pub, and also opened The Symphony, Red Baron restaurant at the airport and Charter Café in the Fickling Building, all while I was in school. I laid the foundation in my teens that most people lay when starting a business as an adult.
I thought I had done all of the right things in the community to have gotten noticed enough to serve on a board. I was a pretty successful businessman, a decent lawyer, but never made a list until I was elected president of the school board. Then I got to do the food bank, Chamber of Commerce and NewTown.
I knew about the community as a volunteer, but through those board appointments I learned about networking and finance and how things work behind the scenes. I met new people and made contacts for the school board. If I hadn't been on the school board, I probably would never have been asked to be on anything.
PUBLIC SAFETY
JG: MACON-BIBB ENDED 2020 WITH AN ALARMING MURDER RATE OF 51. PEOPLE ARE SCARED AND WEARY OF DEPUTY SHORTAGES. YOU CAMPAIGNED ON PUBLIC SAFETY. HOW WILL YOU ADDRESS CRIME?
MAYOR: You'll see me very involved. I want to get the sheriff's immediate help without raising taxes. Law enforcement saw salary increases on Jan. 15 from the previous administration and we will fund the pay scale and incentive pay.
We do have more applicants now because of salary increases, and once deputies see real changes I think those who were considering leaving will stay and return if they've left.
We need another approach to decreasing crime because what we're doing isn't working. We can't have a 16-year-old get killed and not do something. We didn't pull the trigger or sell the guns or drugs, but regardless of the circumstances, we failed that child and the person who killed him.
I don't want to see deputies sitting behind a desk or standing around the jail. My goal is fewer people in corrections and more in the streets on patrol.
We'll build a training center and strengthen community policing. I told the sheriff I want him to accelerate hiring and work with the civil service board to speed the process. Financially we can't hire 150 deputies, but we can rehire retired officers part-time. It may mean fast tracking people straight out of the military and reducing the time deputies work in the jail.
There's no need for us to pay $55 a day per inmate in the jail and pay for their mental health and other ailments when we can establish a program called Justice Works to reduce the number of non-violent inmates waiting to go to court.
Offenders work during the day to support their families, and depending on the category of their crime, they can be electronically monitored at home or returned to the jail at night. This isn't being weak on crime, it's being smart and it will reduce the number of deputies needed in the jail.
G: HOW ABOUT THE FIRE DEPARTMENT? CHIEF MARVIN RIGGINS RECENTLY RETIRED. HOW WILL YOU SELECT HIS REPLACEMENT?
MAYOR: Deputy fire chief Shane Edwards will serve as our interim chief. I've asked him to spend a few months fast tracking some projects for me. Then I'm going to post the position and we'll hire the most qualified person.
JG: WILL THAT BE A NATIONAL SEARCH?
MAYOR: Yes. I always want to provide an opportunity to promote from within, but at the end of the day, I want the most qualified person. I'm not going to rush the process.
PRIORITY PROJECTS
JG: WHAT PROJECTS ARE HIGH ON YOUR PRIORITY LIST?
MAYOR: The O-LOST (Other Local Option Sales Tax). I will sponsor a resolution and I'm confident we can put together a team to pass it. Taxpayers need relief, which will include a 100 percent rollback in taxes for businesses and home owners. I don't mind revenue neutral, but this will allow us to fund projects in public safety, recreation and the arts. We want the local delegation's approval so it can be on the ballot as a referendum later this year.
It's impossible to do an OLOST and a TSPLOST on the same ballot so we have to prioritize. We can work on smaller projects, like general maintenance and upkeep of roads, without passing the TSPLOST.
JG: BUT HOW DO YOU MAKE UP THE REVENUE?
MAYOR: You don't make it up. There's a period of time when you collect the money before distributing it. It shores up the money in your account so there's a safety net and you can spend money in the general fund. By saving SPLOST money, we can pay down debt from the general fund this year.
Our administration will have an additional $10 million in debt that we didn't have the last several years due to the pay scale and not putting enough debt in the SPLOST initially. So, now that money comes out of the general fund instead of SPLOST dollars.
We'll start our five-year waste plan in January and I want to clean up every gateway into Macon, which includes every highway and exit. One of my priorities is to open convenience centers, which I'll bring to the commissioners for approval early on.
JG: WHAT'S A CONVENIENCE CENTER?
MAYOR: It's a drive-thru location within three or four miles of your home where you can bring recyclables and anything but household garbage free of charge, which will reduce illegal dumping.
Each convenience center will be serviced by an employee who ensures that the people using it are Bibb County residents, and he tells them where to put the various items. I want five convenience centers and have already identified three properties.
This also frees up money to work with Keep Macon-Bibb Beautiful on neighborhood clean-ups. Every quarter we'll roll out as many bins as requested countywide and on the same Saturday we'll do free pick-ups for debris, recyclables and other items. This probably will save $4 million to $5 million in SPLOST money.
All of the sexy money is out of the SPLOST. The goody has been gotten out. I'm the mayor who gets to work on water, sewage and roads. Using SPLOST funds to pay off debt frees up money in the general fund we can use for blight and remediation and to tear down and rehab houses.
BLIGHT AND CLEAN-UP
JG: HUNDREDS OF BLIGHTED HOUSES HAVE BEEN TORN DOWN, BUT THOUSANDS REMAIN. IS THERE A MORE EFFICIENT, LESS BURDENSOME APPROACH TO ERADICATING BLIGHT?
MAYOR: I hope the commission will approve former GBI special agent J.T. Ricketson as director of the new code enforcement department. Ricketson, who ran for sheriff, will be assisted by four abatement officers.
Currently, the local ordinance states that if we get a demolition order on a house it must be demolished within 270 days. Out of the current list of around 600 properties that have been approved for demolition, none can be removed because all have been on the list longer than 270 days. It's a faulty process and the properties could be worthless because of our own ordinance. We'll need to change some ordinances and expedite the process. Municipal court will deal with blight only, traffic citations will move to state court and we're studying best practices across the U.S.
JG: YOU'RE ELIMINATING THE SOLID WASTE DEPARTMENT. HOW WILL YOU ABSORB IT?
MAYOR: Eliminating that department will help us financially, and we'll quit losing money at the landfill, which is closing this year. We can't afford to maintain 20 trash trucks, so we'll have to surplus them and outsource garbage pickup and debris.
It's subject to commission approval, but solid waste employees can work in the convenience centers I mentioned.
We're consistently short employees in Public Works and in Parks and Recreation. We need 18 people in those departments and have 36 employees in Solid Waste. We'll lose some employees through attrition, absorb some in other departments and will fill-in where needed.
The Macon Water Authority takes over storm water in 2021 and starts charging us for it in 2022. They may pay more than we do, and potentially, we'll lose employees. But this will enable us to have what I call strike teams to handle illegal dumping, increase grass cutting and maintain the gateways that need attention.
We want to be fully staffed for the first time since consolidation to supply the services we're supposed to provide for tax payers. We're going to save money, but we'll spend money on things like mental health and homelessness. The homeless can't be helped with drug abuse or a job until they have a place to live.
Update: On Jan. 4, Mayor Miller announced the opening of a "warming center" in the former Brookdale Elementary School after two homeless men in Macon froze to death on Christmas day. Miller organized the project with 18 local partners in a mere five days.
WORKING WITH
THE COMMISSION
JG: YOU'VE MENTIONED RESOLUTIONS, ORDINANCES AND PERSONNEL CHANGES, BUT WILL THE COMMISSION SUPPORT YOUR INTENDED CHANGES AND AGENDA?
MAYOR: I never would have run for mayor if I didn't think I could get the support of the commission. I will have an open-door policy, and if they have questions, I want them to call or come by to discuss it. I'm a hands-on person and will communicate or overcommunicate with each commissioner to give them all the information and answers they need before our meetings.
On the school board, I learned that you don't bring something to public discussion without knowing the outcome. I won't violate a meeting or sunshine law, but there should be a general consensus about whether something will pass. And I won't bring anything to the commission until I have five or six votes. I want nine votes every time, but I'm going to count to five (majority) and then we'll discuss changes.
I hope to build consensus, but realize that commissioners must cater to their own constituents and we won't always agree. But if we're locked in a tie, I want to know why someone can't support it and we'll work to make a change to get a majority.
If we act foolish, we'll rile up our constituents and they'll act foolish, too. If we treat each other with respect, which we should do whether or not we agree with someone's position, for the most part we'll get respect in return, which avoids hurt feelings, grandstanding, off-the-cuff remarks and one-upmanship.
New and returning commissioners want to be in the majority because they want to do great things for their district. Both sides must be willing to make that happen.
JG: HOW DOES THE NEW COMMITTEE STRUCTURE WORK?
MAYOR: The new commission elected new District 5 Commissioner Seth Clark mayor pro-tem. We're doing away with the old committee structure and now all commissioners can attend all committee meetings, a much more transparent and efficient way to conduct business.
CONSOLIDATION
JG: YOUR PREDECESSOR, FORMER MAYOR ROBERT REICHERT, TOLD ME IN AN EXIT INTERVIEW FOR THIS MAGAZINE THAT CONSOLIDATION WAS THE BEST THING WE'VE EVER DONE. IS THAT YOUR ASSESSMENT?
MAYOR: Consolidation was necessary and I was a supporter, but it was a little rushed. It's easy to Monday morning quarterback, but we were allotted a certain period of time to get down to the amounts for the tax portion and we should have taken that time. It may have seemed equitable, but it put us in a financial bind.
I see the benefits of franchise fees and the reduction in the duplication of services, but we still have a city versus county mentality among employees and departments. There are city and county pensions, and some people got a better deal. It's a work in progress. I'm looking forward to making a few changes, but not overwhelmingly.
JG: HOW DO YOU ADDRESS THE CRITICISM THAT CITY SERVICES HAVE DECLINED WHILE TAXES CONTINUE TO GO UP?
MAYOR: The OLOST will get us back to what we're supposed to be doing. If we cut taxes by 6 or 7 mils, in a year or two it will enable people to recover.
I'm going to be intentional about helping all parts of the community. I love downtown, which will continue to thrive, but I've identified five other areas for community resource centers: Houston Avenue, Payne City, Pleasant Hill, East Macon and Bloomfield. We can focus on multiple areas and do it well with the right people and mindset.
We're going to concentrate on the business aspect of government. I've owned successful businesses and know what works, and have had unsuccessful businesses and know what doesn't work.
We'll increase efficiency by creating a standalone procurement department with a new director and staff, which will lighten the load for finance and human resources and enable us to hold people accountable. Small business affairs will monitor the items our charter requires rather than just filling positions.
We will return departments to city buildings. It makes no sense to have 42 vacant offices in the Government Center while paying to rent space elsewhere. It will cost money to renovate space, but it's a one-time cost as opposed to ongoing rental fees, and we have several buildings that we can rent, sell or lease. It adds up.
THE MILLER WAY
JG: WHAT'S YOUR LEADERSHIP STYLE?
MAYOR: I listen and build consensus. Very few people will outwork me. I got that from my father, who worked several jobs to provide for our family. I'm going get my hands dirty and people will see me with regular people like myself. We're a strong mayor form of government and I'm going to use that to the advantage of our residents.
I do research and due diligence before giving an opinion, and if I don't know the answer, I'm not going to give an opinion. I surround myself with people who know what they're doing and I accept their advice.
I'm not afraid to change some things, even if it's the way we've always done it. But if we're doing something right, the last thing I want to do is undo it.
I know my tenure will be shorter than Mayor Reichert's, so I'll have to do bigger things more quickly and that's why I wanted to start the transition as soon as possible and hit the ground running. I'm used to doing multiple things. When I was operating my baseball organizations, I was running my law practice and was a father and a husband. And I still have the beauty shop that I've had for 20 years.
JG: WHAT? YOU OWN A BEAUTY SHOP?
MAYOR: The Gallery of Styles in the Bloomfield Shopping Center, where I get my hair cut. They were going to close because the owner had become disabled and everyone was going to be out of jobs, so I bought the business and have owned it since 1999.
JG: YOU WERE A BORN ENTREPRENEUR.
MAYOR: You can do a lot of projects if you surround yourself with good people and choose quality over just relationships. In the end, you'll get both.
JG: WHEN YOU NEED ADVICE AND COUNSEL, WHO ARE YOUR GO-TO PEOPLE?
MAYOR: It depends on the issue, but I'm going to hire Henry Ficklin for a new job as director of community affairs. He was my teacher at Southwest and has always given me sound advice, even though politically we don't always agree. He knows city council and consolidation. He's well respected and has a history in the community.
I call Thelma Dillard my spiritual advisor and accountability partner. We met on the school board and have been best friends ever since. She traveled with me to school board conferences and we supported each other's campaigns.
Jason Downey was a good friend on the school board. I talk to Duke Groover, our interim county attorney. He's smart and politically knowledgably. Daryl Morton is a good friend. We're on different sides on national issues, but agree on a lot of other things.
JG: DID THE FORMER MAYOR GIVE YOU ANY PARTING ADVICE?
MAYOR: You can't do everything for everybody. He suggested that I pace myself, but I've never taken that advice very well.
DREAM PROJECT
JG: MAYOR REICHERT TACKLED CONSOLIDATION AND THE SECOND STREET CORRIDOR. DO YOU HAVE ANY DREAM PROJECTS IN MIND?
I have huge plans. I want to build an amphitheater. It takes a lot of money, but I don't want to use tax dollars. I'm going to do it and I know where. The question is, how soon I can make it happen.
JG: WHAT DO YOU ENVISION?
MAYOR: An amphitheater to complement the City Auditorium and Macon Coliseum that can bring people together for the arts as well as films and all musical genres. It won't be located in a typical area. But it will be something we can afford and be proud of.
TRANSITION TEAM
JG: YOU ASSEMBLED A DIVERSE GROUP OF 31 PEOPLE. WHAT WAS ACCOMPLISHED AND DOES THE TEAM HAVE A ROLE GOING FORWARD?
MAYOR: I was very intentional in selecting a diverse group, some who didn't support me. And some, like me, were previously overlooked in the community and were honored to serve.
When we released our report at our final meeting, I told them I want them to be my accountability partners. I promised to provide the resources to accomplish the things they said the community wanted, so I want them to own and defend our work.
I promised to be a mayor for all people and I value their input. I'll be calling on them for advice and on who to select for various board appointments to make sure we have new faces. I have approximately 120 slots to fill.
JG: IMMEDIATELY UPON TAKING OFFICE YOU ISSUED THREE EXECUTIVE ORDERS AND PULLED TOGETHER MACON'S NEW WARMING CENTER IN RECORD TIME. WHAT ELSE WILL WE SEE INITIALLY IN YOUR ADMINISTRATION?
MAYOR: The fruition of the last months of my campaign and the transition team's work. The first 100 days will have a lot of action items.
We've been very engaged with the community the entire campaign. You'll see from our meetings and my appointments that their voices will be heard. We're well organized and plan to make things happen quickly.
RACE
JG: GIVE ME YOUR PERSPECTIVE ON RACE IN MACON-BIBB COUNTY AND HOW YOU'LL ADDRESS RACIAL ISSUES.
MAYOR: You do what you say you're going to do and don't over-promise. If I say I'm concerned about East Macon, then I better do something about it. If I say I'm going to do something about public safety, if I can't stop the bullet, then I better be there for prayer at the graveside. You have to let people know how much you care. That's how you do race.
We need to build trust in small battles instead of fighting the war. I'm going to encourage people to build bridges by discussing common ground. And as we build trust and are more comfortable with each other, we can tackle bigger issues.
I intend to have courageous conversations demonstrating that everyone matters and I'm serious about equity. I've lived in the areas that need work, so in some respects, I can relate. I was the minority in most of the seven elementary schools I attended, and I have something to prove to the naysayers who didn't support me.
FAMILY
JG: WILL YOU TELL US A LITTLE ABOUT YOUR FAMILY?
MAYOR: My wife, Toby, isn't political, but I always talk to her. She was my high school sweetheart at Southwest. She's a nurse and a worker bee behind the scenes. She's done a really good job raising our boys while I've done my small part. They get their business sense from me and everything else from her.
She's held our family together and is the reason I can do what I do. When someone asked what to call her now that her husband is mayor she said, "Toby."
My mom got pregnant as teen. She had no opportunities and was encouraged to drop out of school. The best she could do was make tips as a waitress. She never had dental or health insurance and neither did we. That's why I'm passionate about equal pay for equal work and women getting an education and childcare, even if they've made mistakes.
My dad met my mom in the restaurant business, and was food and beverage manager for the City of Macon. He got me my first job when I was 14 and I got him his last job. He has worked in my office for the last 10 years.
JG: WHAT DO YOUR BOYS THINK OF YOUR NEW HIGH-PROFILE JOB?
MAYOR: They're not political but are protective of me and my wife. They're millennials and keep me in check.
Sizing Up Miller
Daryl Morton, school board colleague, succeeded him as president: "Lester is the quintessential servant leader. He is relentless in the pursuit of doing what he feels is right. He doesn't seek credit for doing the right thing but is satisfied knowing that the right thing was done. I've never seen anyone work harder to make his community better. Frankly, I don't know when he sleeps."
Jim Crisp, Transition Team member and Theatre Macon founder: "Lester Miller began his tenure as mayor by listening. Our opening retreat was an impressive two days filled with the substantial thoughts and ideas from a vividly diverse group and some of Macon's most experienced leaders. Many voices were heard. The resulting strategic plan will be a superb launching pad for the future of this community. Kudos to Mayor Miller for creating this team and for listening with an open mind and heart. The future of Macon-Bibb is in excellent hands."
Thelma Dillard, school board colleague and friend: "Lester is fearless and a man of his word. He has an outstanding work ethic and a unique way of bringing people together whether they like him or not. He is a born leader and a family man who genuinely cares about people and his community. Lester can make a decision on his feet and does whatever it takes to get things done. He's always searching for a better way to do things."