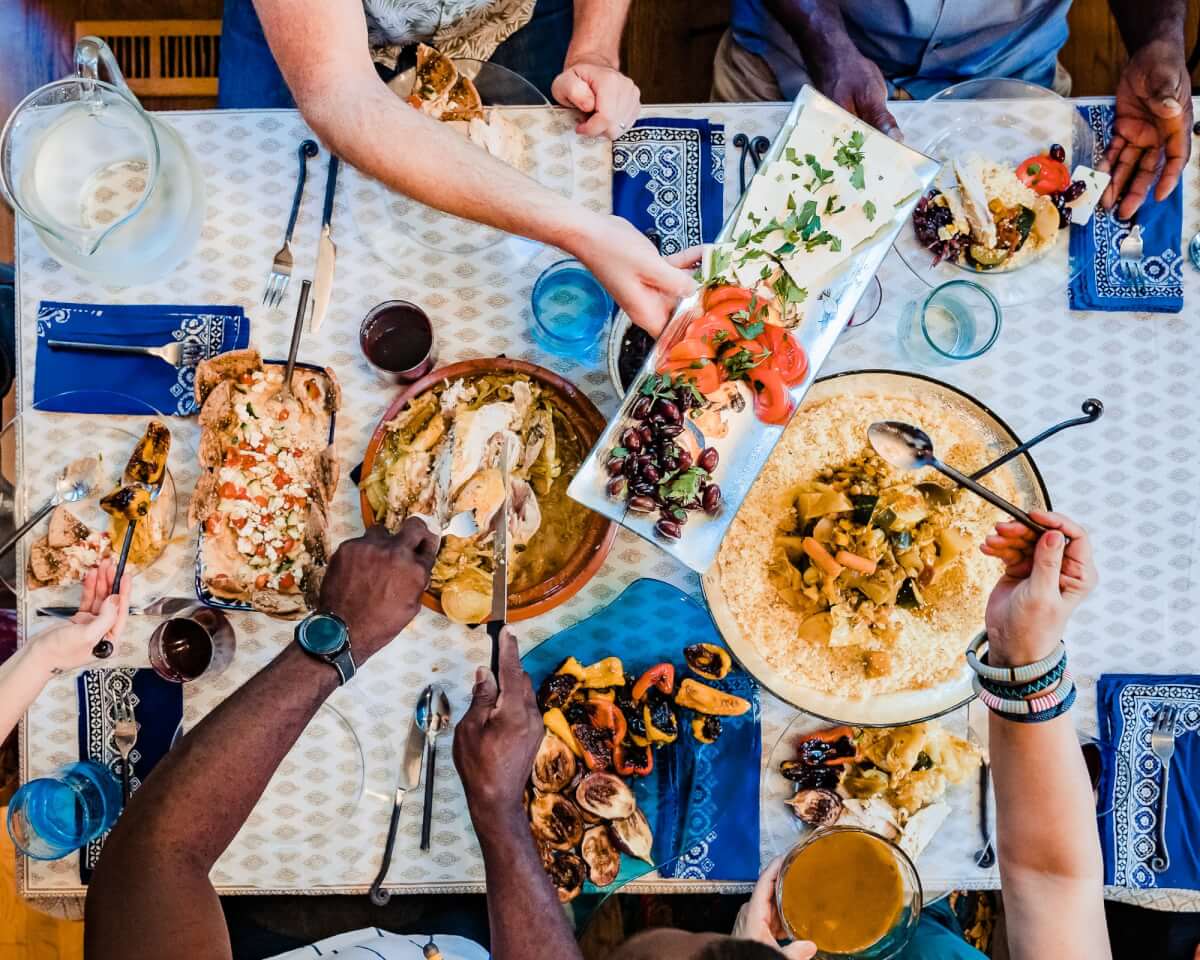 Together again
By Rachelle Wilson
Photography by Jave Bjorkman, Mike Young, and Jessica Whitley
The South is distinguished in part by its hospitality. A welcoming home, often complete with a tall glass of sweet tea, is signature for mamas throughout the Bible belt. But the common act of hosting friends, family, colleagues, or neighbors for dinner has undoubtedly been elevated to an art in the passing years, an art that has come to define an industry, dominating blogs, books, stores, and more.
Some seem born to play host or hostess, never breaking a sweat, even when the wine glass breaks. They always know how to navigate a night of varying tastes. Watching them at work seems at once the result of a lifetime of practice while also an effortless talent. No matter what, a night with one of these master hosts is a night that ends sweetly and with a tad of hosting envy.
For many of us, the inherent pressures of hosting only seem more insurmountable after over two years out of practice. The thought of inviting people in again can be daunting. But when we pause to consider the purpose for hosting — to share our blessings, lives, and favorite recipes with those we love — we can refocus our intention. Sharing your table does not have to be something grand; it can be simple and attainable. Allow the tips and tricks of these practiced (and practical) hosts help to take the pressure off.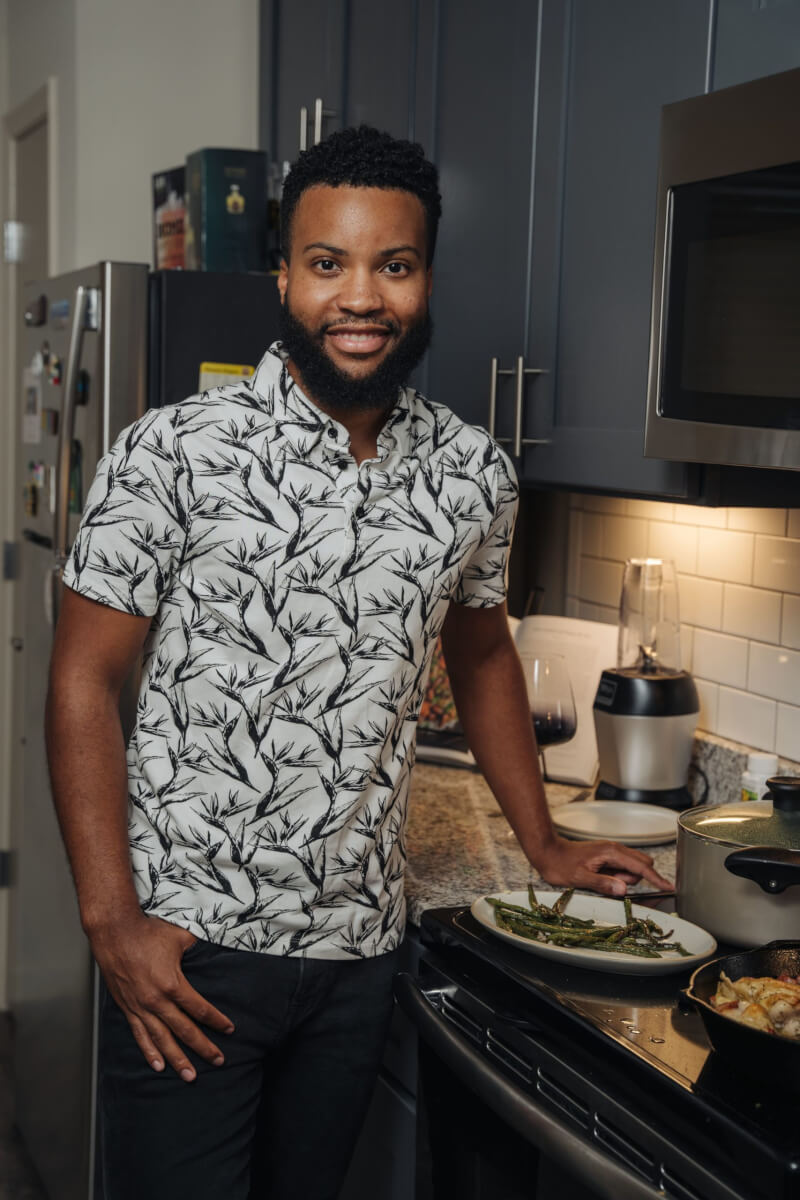 Chris Canady
Downtown
Chris Canady's hosting strategy has been a long time in the making. From hosting his first gathering in high school (complete with pizza and Wii dancing) to his more recent soirees (like having the M&R team over for a hot chocolate buffet), Canady has picked up several best practices that have helped his hosting level up.
"For me, presentation is everything," Canady said. "I take great care in laying out the food, styling the counter, and placing things. Details set the vibe, the mood; they tell the visitor what type of experience they can expect to have. Oftentimes, details will inspire a visitor, too! I have had guests leave with an idea for their next gathering."
To Canady, hosting is more than an event. It is an experience. "I aim to give an experience that guests did not expect to have," he said. "I am always finding ways to stay on my toes and surprise people who come to my gatherings. Whether that's a dish or a handmade cocktail, I want people to feel the intentionality I put into hosting."
Intentionality is a reliable way to show guests they are important but can seem ambitious to a new party-thrower. After years of practice, Canady said he has found a few ways to take some anxiety out of it. "Thinking through the experience the night before is a huge stress reliever. I mentally walk through the run-of-show, and that helps me prepare each room. Another stressor is the food. There have been times I've forgotten to pick up ingredients and had to make-do without. What I have learned to do is start with an inventory of what I have before I go to the store. I actually take things out of the pantry so I can see everything on the counter. From there, I make a list of what I need. This strategy really helps me feel confident because not preparing something the way I want or not having enough for everyone is my hosting nightmare."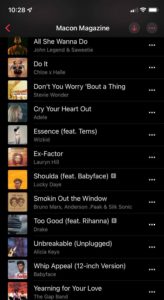 Another lesson Canady has learned along the way is to start by cooking dishes he is already comfortable with. "I used to try making new dishes that I haven't made before when I hosted," he said, "but I learned to avoid that. I make something new privately so there is one taste-tester instead of ten. It gives me a chance to perfect it."
An experience at Canady's house is one that begins before guests even arrive. Canady sets his own energy during prep time by playing classic records while he cooks, switching to a curated playlist once guests begin to arrive. Music is integral to the evening and typically features a variety of genres. The music, like the food and the spread, is all part of creating an experience.
"I want people to feel welcome," he said. "I want them to notice the details, the taste, the smell, the look. I love when people walk in and smell everything. It's an aura that happens."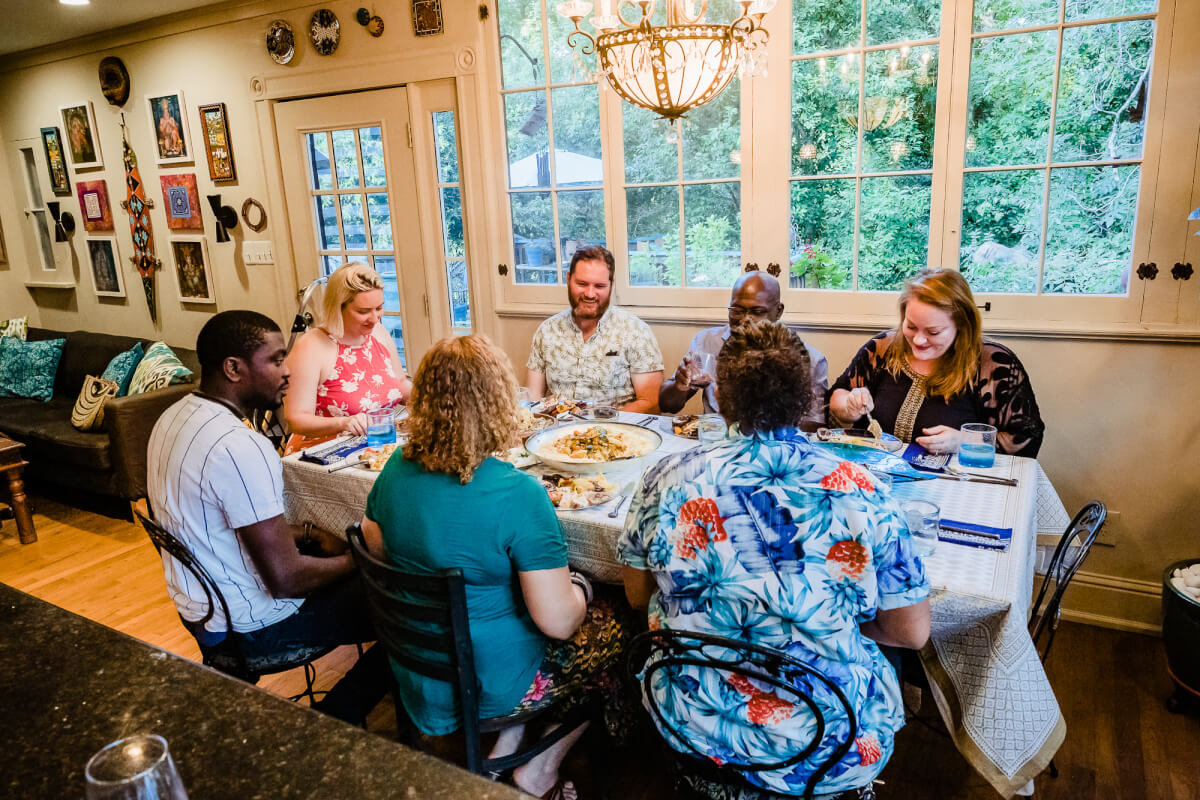 Susan Raza and Omer Kondo
North Highlands
Curating an experience is also a priority for hosts Susan Raza and Omer Kondo. Collectively, the couple has been to 21 countries across the globe, taking the time to absorb culture and cuisine along the way. "We are all about multiculturalism," Raza said. "We see hosting as an opportunity to share dishes that our friends haven't had before. We love introducing folks to a new palette."
But it doesn't stop at the food. Their home is an interactive museum of their travels, complete with instruments, art, and music that invite guests to learn more about places like Togo (Kondo's homeland) or Thailand (where Raza has family.) "The evening is a story," Raza said. "The food, the music, the anecdotes work together to create as authentic of an experience as possible. I want people to feel like they discovered something new or had their mind expanded."
Raza and Kondo have called Macon home for 16 years. Their international experiences are intertwined with touches of the South. Their 1910 Queen Anne home in North Highlands is the perfect backdrop for the global collective they have created. When they host, Raza incorporates the natural beauty of Georgia by featuring native plants within her tablescape. "I cut things from my yard for the flower spread," she said. "Depending on the season, I may have Camellia, Wisteria, Lady Banks Roses, or even Loropetalum, which gives a great pop of color."
Whether they are sharing a Moroccan tagine, explaining a drum circle of Togo, or introducing a flower native to Georgia's backyard, an evening at Raza and Kondo's is at once unique and welcoming. "We hope to get to know people on an authentic level," Raza said. "It's really more about the energy we create. I want it to feel warm, inviting, rich, and casual." Their secret to creating that environment is to be fully themselves. "We often find ourselves outside of the crowd," Raza said. "So we created an environment where we can be ourselves and anyone who comes through our doors can bring their uniqueness with them."
—
Susan's Dip
● Babahum and toasted garlic herb pitas
● 8 or 9 oz. of hummus (either homemade or store bought)
● 1 cup of sesame paste, otherwise known as tahini
● 1 cup of smoked eggplant (I buy mine while in Atlanta at a Turkish grocer, but it could be ordered online)
● Juice of 1 lemon
● 2 or more large cloves of garlic, ground or finely minced
● 1 tbsp. of red wine vinegar or more depending on the consistency you prefer
● 3 tbsp. of toasted sesame seeds
● Salt to taste
Mix the above ingredients and then spread the Babahum in a serving tray. Sprinkle the ingredients below on the surface of the Babahum. You may want to prepare and bake the pita triangles while cutting the veggies below.
Sautee 1 red onion and 1 green bell pepper until singed on the edges, then finish off with a splash of balsamic vinegar to caramelize.
● 1 ripe tomato, diced
● ½ a red onion, diced
● ½ cup of cucumber cut matchstick style
● Kalamata olive pieces
● Feta crumbles
● Za'atar or dried oregano
Sprinkle the caramelized onions and peppers, diced tomato, diced onion, and cucumber over the Babahum. Then sprinkle with kalamata pieces and feta crumbles to taste. Finally sprinkle with Za'atar (a ground herb mixture of mostly thyme and sesame seeds).
Brush each whole wheat pita with garlic-infused olive oil.
Sprinkle with Za'atar or dried oregano.
Cut into 6 triangles per pita.
Toast at 350 degrees until cracker-like.
The pita triangles may be placed on a separate plate or may line the edges of the Babahum for a decorative effect. Enjoy as a meal or an appetizer.
—
When hosting becomes a collaborative endeavor, when guests are invited to contribute to the experience, the gathering is elevated.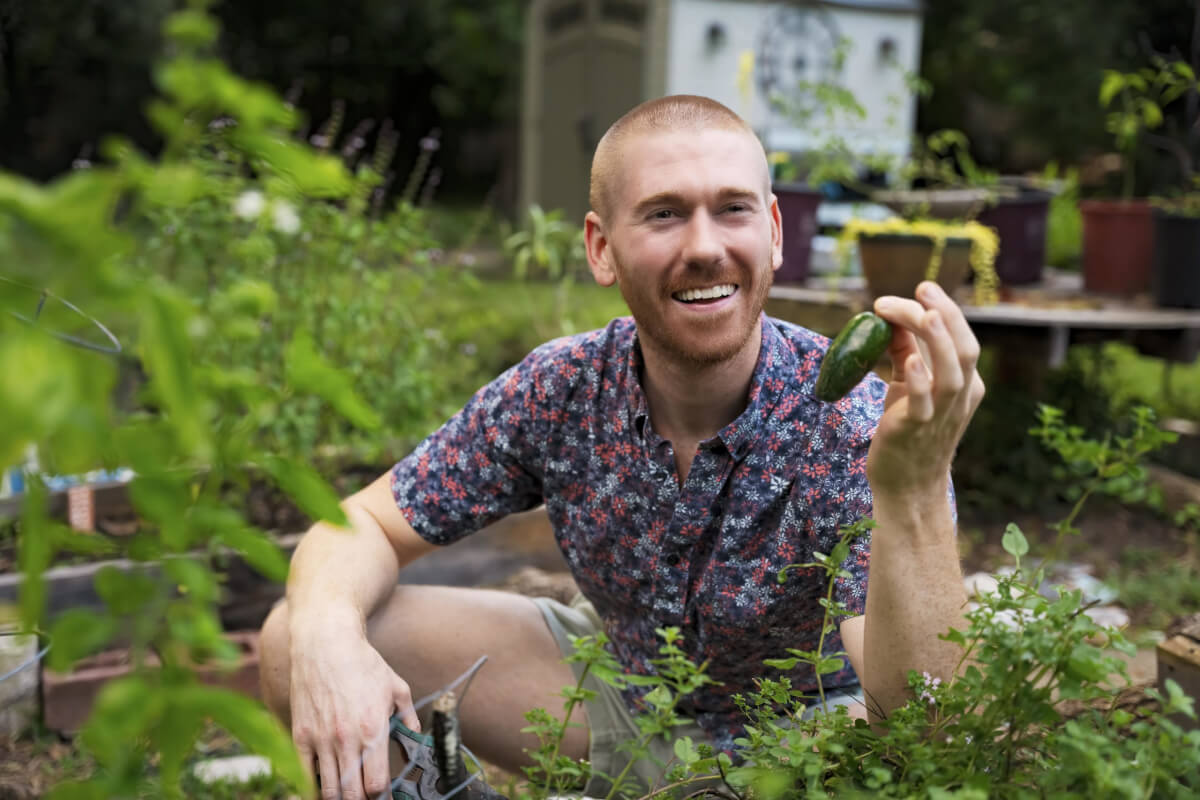 Jake Grisamore
Ingleside Neighborhood
For Jake Grisamore, hosting friends has become a way of life. After closing on his first house in March 2020, he transformed his yard into an intentional space that is characterized by repurposed materials. The garden takes center stage and springs from beds and paths made from reclaimed wood and marble. The art gallery along the fence is reminiscent of Howard Finster's Paradise Gardens and inspires creativity. The bonfire area is inviting, complete with a handmade bar for continuing a night of fun without interruption. "I love hosting bonfires," Grisamore said. "Everyone gathers around for warmth. It's so human and natural and sets the vibe of the event."
When asked about what he has learned through hosting frequently, Grisamore had plenty of lessons to share. Early on, he said he allowed his gatherings to become stressful by what he calls over-hosting. "I was overly attentive to the point where I was not focused on myself having fun. Being in the service industry, that urge will creep in if I let it. I had to teach myself that I am here to enjoy this time with these people too. I have learned to be present by setting it up for success from the start," Grisamore explained.
For him, that means keeping his house and yard well maintained on a daily basis. "My space is always presentable," he said. "I keep good music queued up and extra drinks on hand." Another strategy Grisamore has honed is to grow commonly used ingredients himself. "I grow tomatoes and use them on a charcuterie board. These herbs find their way into dips and drinks. And the jalapenos are used for my signature cocktail."
His jalapeño margaritas greet every guest, who are considered the main competent to a successful evening. "I want everyone to feel excited to be here," Grisamore said. "Good conversation in a happy environment allows people to connect. I invite people that I know will have a good time together. And don't be afraid to ask people to contribute! At my gatherings, everyone brings a snack to share." Sharing, whether it be snacks or ideas, is a signature element for Grisamore. His goal when hosting is to create an environment that is exciting and inclusive. The casual, creative nature of his space allows room for each guest to bring their full self and collaborate in generating the vibe of the evening.
—
Jalapeño margarita spritzer
● 1.5 oz tequila
● 1 oz triple sec
● 1.5 oz fresh lime juice
● Splash of simple syrup
Top with topo chico and serve over ice. Garnish with jalapeño and lime. Rim glass with habanero tajin and salt.
Steve and Laura Bell
Intown Neighborhood
Steve and Laura Bell have spent a lifetime opening their home on College Street to others. They hosted their first couch surfer (before CouchSurfing was a thing) in 1997, the year they married. Since then, they have housed everyone from friends to foreigners, some of whom now host them in countries across the globe.
When society shut down in March 2020, they knew they had to find a way to keep their relationships afloat. "We started taking walks every day," Steve explained. "We began to connect with neighbors along the way. We'd say hi to them on their porches and they'd say hi to us on ours. From there, our porch quickly evolved into a weekly porch party."
The front porch, another southern staple, paired perfectly with their hosting habits during the early season of Covid-19. Monday nights became a ritual, a gathering of friends and neighbors that allowed them to maintain their social ways outdoors and at a safe distance.
Jim Crisp, a weekly porch patron, described Monday nights on their porch as "finding a port in a storm. It was like being shipwrecked and finding a safe spot."
Monday nights on the porch quickly became a fixture for all involved. There are some friends who come by Steve and Laura's nearly weekly, others who come when they can, and still passersby who see a friendly face and unexpectedly find themselves an added member to a party they didn't previously know existed.
"One of my favorite things is sharing a meal with people," Steve said. "When Covid made that unsafe, this became that. Every visitor has a guaranteed shared experience. The dynamics change as people come and go throughout the night, but this is always a non-judgmental, open-door environment."
Monday nights on Steve and Laura's front porch has done more than bring people together to discuss ideas. It has created a feeling of home.
When Mary O'Malley first moved to Macon in January 2021, it was, as she put it, "a ghost town." But when she met Laura, Macon began to unfold before her. "Laura invited me to Monday night on her porch, and I realized I found my people. It is so cinematic; it's what I imagined Macon would be. This was integral for me. I would not have considered staying here so seriously if not for this porch. This is how I fell in love with Macon," O'Malley said.
Though Steve and Laura have been known for hosting bigger parties and helping producing events, like Macon Beer Festival – back again this October, Monday nights are casual, come-as-you-are gatherings. For Laura, the thing that has kept a weekly gathering sustainable for the past two years is to keep it comfortable. "Mondays on the porch is an open invitation. We have a window of time and people just come when they're ready," she said.
On this porch, ideas flow as frequently as wine. Conversations mirror what I imagine one of Gertrude Stein's salons might have fostered. When they host, Steve believes that "people should leave feeling better than when they arrived." Every person, and every idea, is welcome. As old friends and new acquaintances converse eagerly, the inhibitions of one's day seem a distant memory. The key to it all is simple. "Always have wine," Laura advised. "There's something really plenteous about bringing out another bottle."