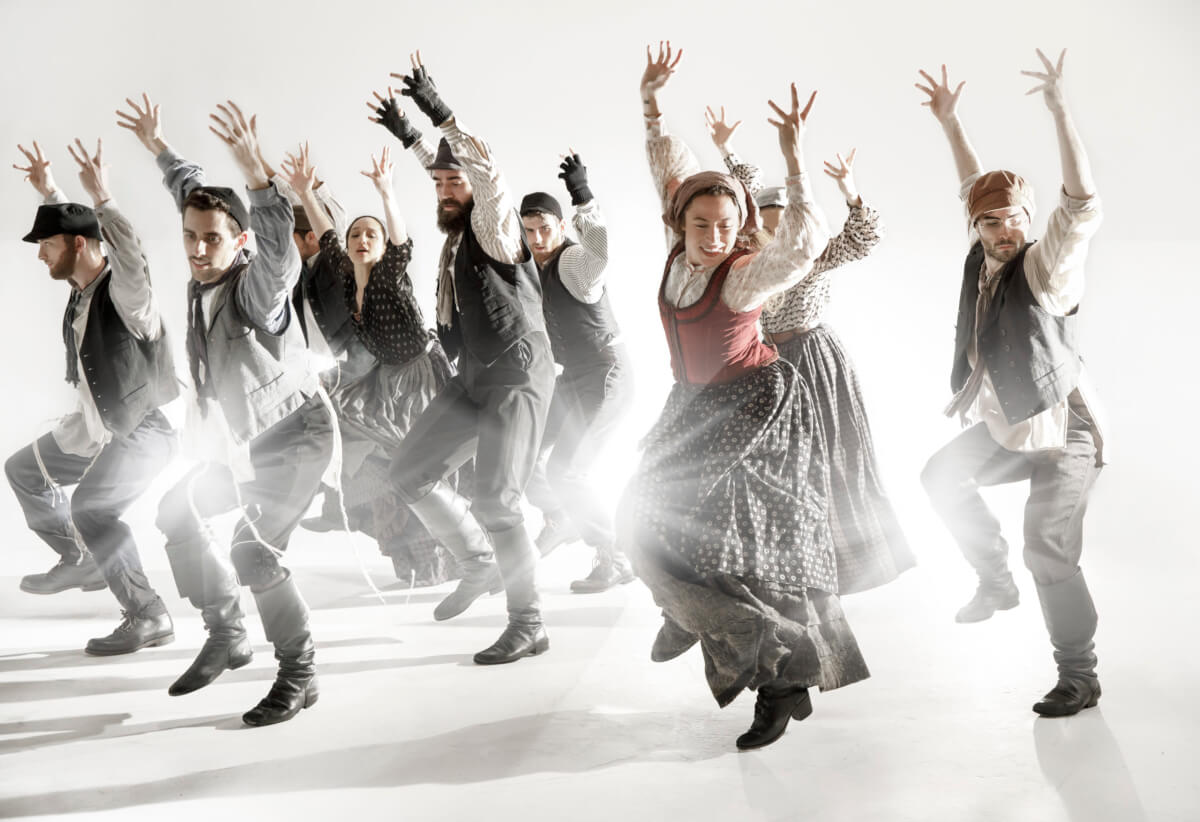 Broadway is back at The Grand
It's been three years since a Broadway musical has been live on stage at The Grand Opera House, but that changes Nov. 3 – 4 when the curtain goes up for The Fiddler on the Roof.
Julia Rubens, director of arts marketing and community engagement for Mercer University and The Grand, noted a unique and timely aspect of presenting Fiddler in November is that the musical's story takes place in Russian-occupied Ukraine. "For us to be doing this story here in 2022 is more relevant than ever," she said. "In light of what people are suffering there, we're donating $1 from each ticket to Atlanta-based Care USA for humanitarian aid for the Ukrainian people."
Musicals – like this season's Fiddler, Legally Blonde, and On Your Feet! – have been missing from the stage since the COVID-19 pandemic disrupted touring performances. Local audiences are glad to have them back.
"A lot of people have wondered and asked when touring companies would be able to return," said Rubens. "People love these shows because they're always great entertainment. Plus, they've become part of Macon's social fabric. Season subscribers have told me they're looking forward to sitting next to and watching shows with people they've sat next to and watched shows with for 20 years."
A night at the theater at The Grand is highlighted by a great show, but many consider being in the restored historic 1905 facility part of the evening's charm. With more than 50 downtown restaurants and bars just a walk away before and after shows, the evening is complete.
"It's amazing being right downtown as part of the cultural life of the community with all it offers and the benefit of free parking to the west side of the theater," Rubens said. "It's common now for theaters to be outside the city center with a hefty bill for parking in their lots."
She said though The Grand has kept busy with films, locally curated cabarets, concerts, and other events, the return of Broadway fare is special. She said that at one point, suspicions were that regional tours wouldn't run again until 2025, only increasing the delight of those now able to buy season subscriptions or show-by-show tickets. Rubens said the ticket sales prove that pleasure.
"Since subscription sales opened in early August, we've seen almost all our past subscribers come back, plus we've added 100 more," she said.
The new season promises familiar and new experiences with each title's two-night showing. Here's a rundown:
Fiddler on the Roof, Nov. 3 – 4. Directed by Tony-award-winning director Bartlett Sher, the long-time Broadway masterpiece comes with an authentic new vision while keeping its award-winning backbone. Its original production won 10 Tonys and introduced classic songs like "Tradition," "If I Were a Rich Man," "Sunrise, Sunset," "Matchmaker, Matchmaker," and "To Life" into popular culture.

Legally Blonde – The Musical, 12 – 13, 2023. Based on the hit movie, this comedy is a tribute to girl power with Elle Woods overcoming sexism, stereotypes, snobbery, and scandal as she pursues her dreams and proves you can be blonde and still be the smartest person in the room. Familiar with the movie? Rubens said the musical adds much more, but you'll already know exactly where many songs come from, like "Bend and Snap."

On Your Feet! The Story of Emilio and Gloria Estefan, April 18 – 19, 2023. Based on the Estefan's inspiring true story, the musical is about heart, heritage, and two people who believed in their talent and each other. It also pours the sound and feel of Miami nightlife right into downtown Macon. A new musical, On Your Feet! features familiar songs of the last quarter century like "Rhythm is Gonna Get You," "Conga," "Get On Your Feet," "Don't Want To Lose You Now," "1-2-3," and "Coming Out of the Dark." And Rubens said it's OK to get up on your feet for this one.
Show, series, ticketing, subscriptions, and other information are available online at thegrandmacon.com or by calling (478) 301-5470.