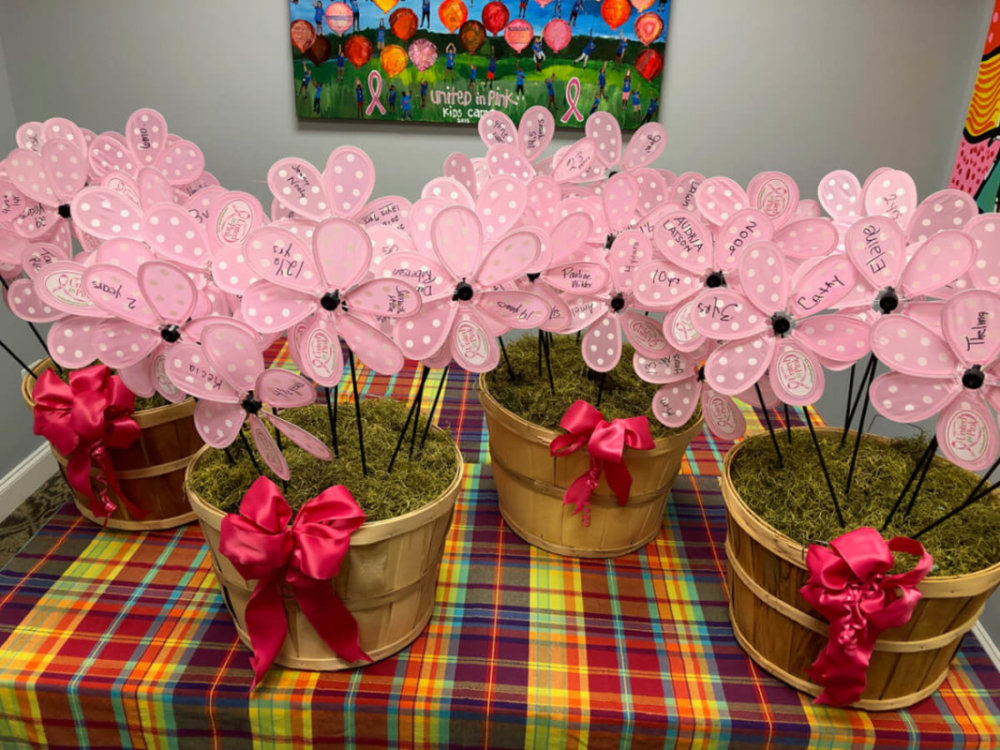 Uniquely United
Middle Georgia's United in Pink reaches out to assist local survivors and their families
By Lisa Pritchard Mayfield
Photography by Christopher Smith
When local breast cancer survivor Sandy Union set out in 2005 to host a fundraiser as an outreach and token of appreciation to the community that supported her, she had no idea the wheels she had set in motion. In 2007, Union's event, Bunko for Breast Cancer, incorporated and became a nonprofit organization. Its mission was – and continues to be – to support the entire family affected by a breast cancer diagnosis.
In 2011, the organization changed its name to United in Pink, according to Laura Paxton, co-founder, executive director and daughter of Sandy Union.
"Our mission focuses on survivorship and quality of life for families affected by a breast cancer diagnosis," Paxton said. "Our programs, services and resources continue to expand and adapt to the needs of the families we serve."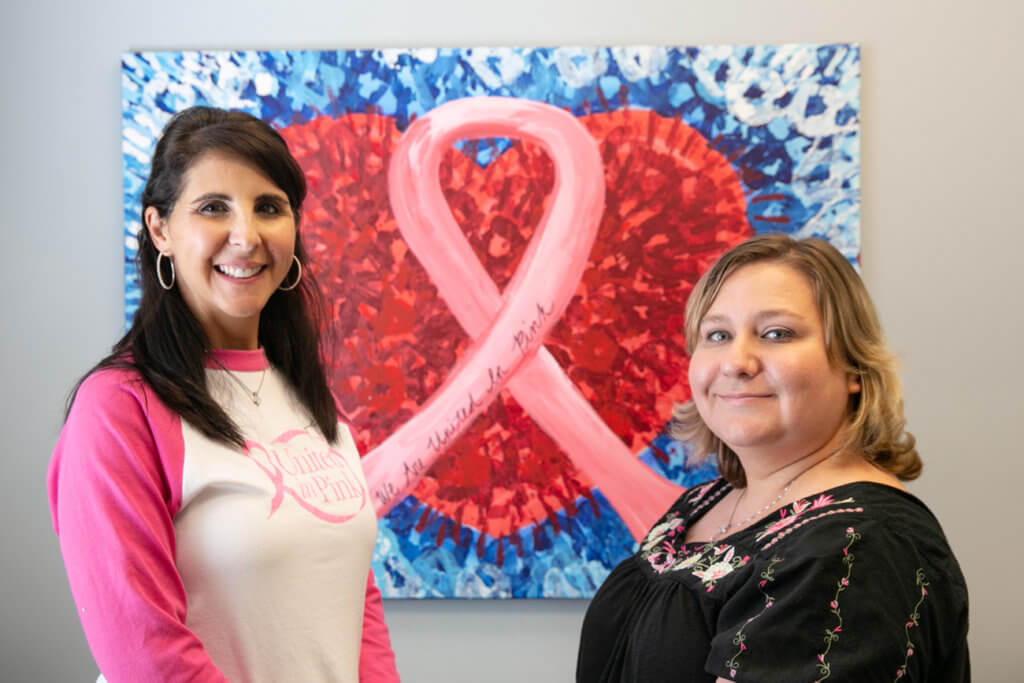 Because a breast cancer diagnosis is devastating to all members of the family, United in Pink provides programming to support and address the difficult journey each family member faces after their loved one has been diagnosed. The services are offered at no charge and have no barriers to access.
"Our mission is to enhance the quality of life for breast cancer survivors and their families by addressing their unique physical, psychological, relational, financial and educational needs," she said.
The organization is funded solely by private donations, fundraisers and grants. By utilizing partnerships within the medical community, United in Pink receives the majority of referrals from nurses and physicians seeking survivorship care that enhances their patients' long-term health and quality of life, Paxton said.
Connie Forbes, RN, OCN and breast health specialist at the Breast Care Center, Navicent Health, is among those medical professionals who refer patients to the organization.
"When I ask patients we have referred about United in Pink, their faces light up," she said. "They talk about how much love and support they receive through the staff and other patients, not only for themselves, but their family as well. What United in Pink offers our patients is priceless."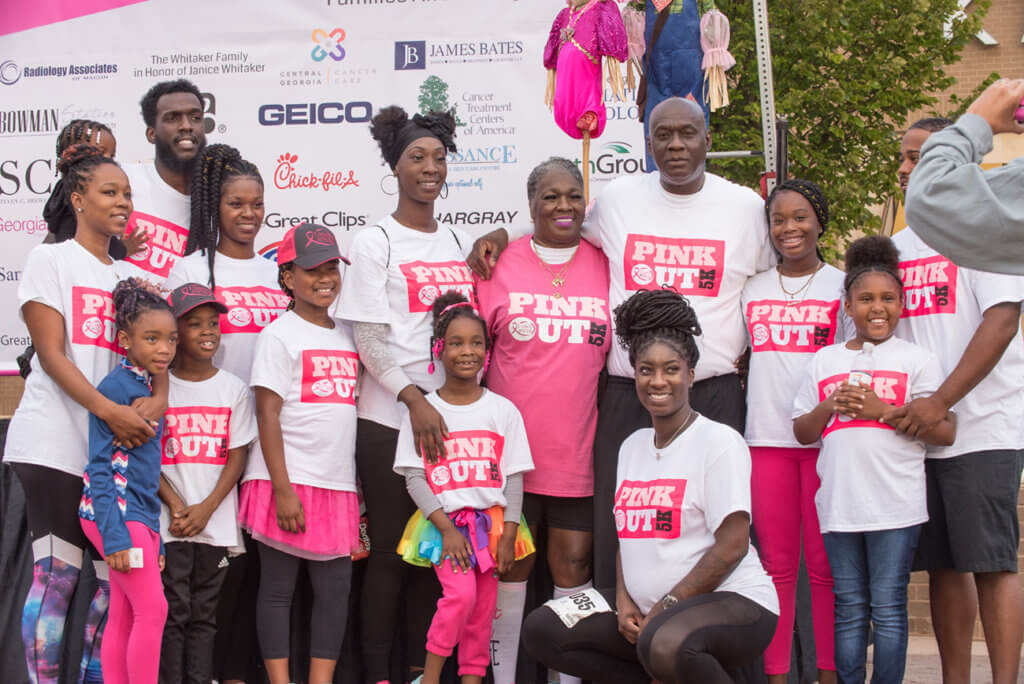 From victim to volunteer
"When someone supports you the way this organization does, it makes you feel like you can accomplish anything," said Katie Croft, a Lizella survivor. "They make it their mission to make sure not only that you're okay, but that your family is as well."
Croft first discovered the lump in her breast in December 2017, shortly after her third son was born.
"At first I thought it was a clogged milk duct," she said, adding that it turned out to be a malignant tumor, which already had spread to her lymph nodes. Croft was officially diagnosed with breast cancer on Dec. 26, 2017, and began her treatment by having a port placed for chemotherapy. By the time she had completed four-and-a-half months of chemo, her immune system was weak.
"I was a frequent flyer in the ER," she said. "I developed pneumonia once and had to spend a week in the hospital just days before my double mastectomy."
Croft also had 33 radiation treatments, followed by an oophorectomy and multiple reconstruction surgeries. She first learned about United in Pink from a friend, a fellow survivor.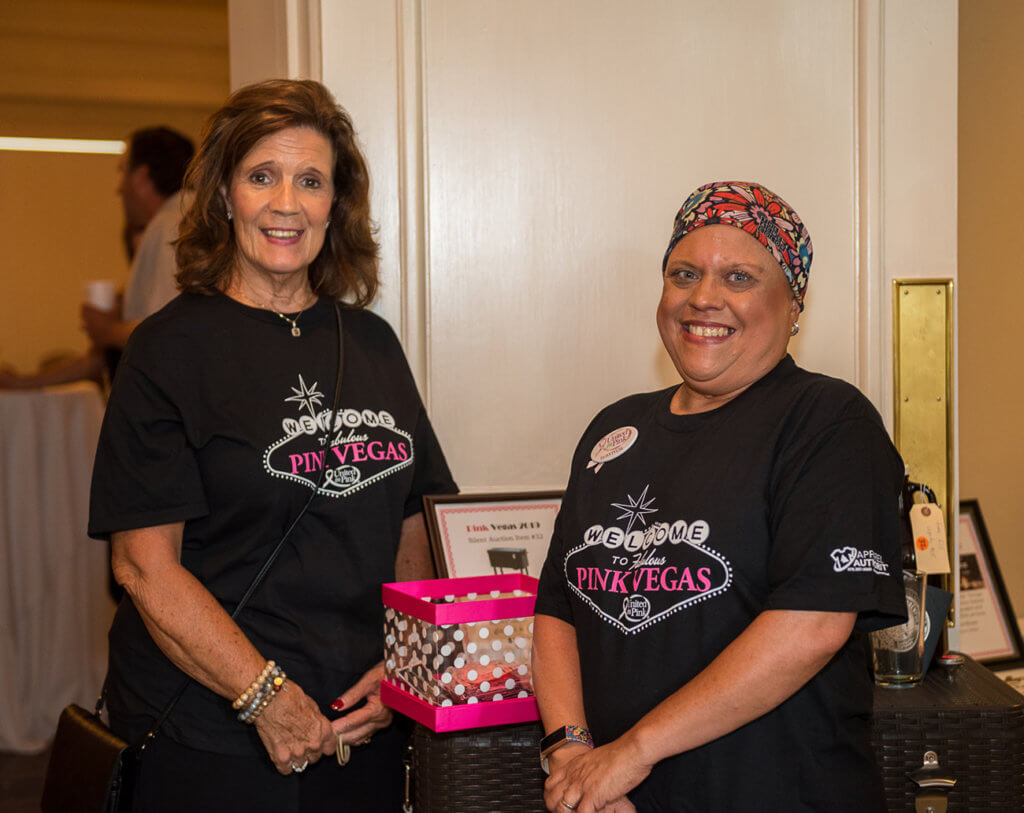 "At the beginning of my treatment I didn't reach out to them because I was in what I call 'fight or flight mode' and I just wanted to do my treatments and focus on being cancer-free," she said. "It wasn't until things started to slow down during my radiation treatments that I reached out. From then on, they were my family."
United in Pink checks up on Croft frequently.
"They made sure my family had meals when I was recovering from surgery, they send me cards in the mail just for encouragement, and when my father passed away in June – yes, United in Pink was there for me then, too," she said.
The organization fills a void for patients and families of those being treated or diagnosed, or survivors of breast cancer, said Dr. Arnold Conforti, surgical oncologist at Navicent Health.
"The void it fills has to do not with the medical treatment and needs of the patient, but with the social and emotional burdens imposed by the diagnosis of breast cancer," he said. "United in Pink addresses the patient's needs, their significant other's needs and their children's needs."
Established in February, UIP's Pink Bridge program helps offset the financial burden for families in active treatment, and already has awarded more than $34,000 to families in need. From helping offset medical costs and living expenses to providing compression garments, all of the assistance has made a tremendous impact because the program is able to provide up to $2,500 per family, Paxton said.

Shifting the cancer narrative
The impact of this holistic help, beyond the medical work, is shifting the narrative of life with and after breast cancer, for both survivors and their families.
"United in Pink sees the many layers of a survivor, and is seeking to help with the internal impact. We offer tangible items like wigs, caps or comfort items, meal deliveries and such, but often what is most remembered are the encouraging and validating words and the community of others who 'get it,' " Paxton said.
Some of those individuals are breast cancer survivors who also volunteer with United in Pink, creating an even stronger sense of connection to the patients it serves. Croft is one of those special people.
"She finds more joy in serving than in being served," Paxton said. "While she has endured so much from her diagnosis, you will never see her without a smile on her face pushing forward. Her focus is not on what is happening with her, but on how she can help the next person."
Croft recently co-chaired a large fundraising campaign at her workplace to ensure as many employees were aware of and had an opportunity to support United in Pink.
"It really means a lot that most of the volunteers with this organization are breast cancer survivors themselves," said Teresa VanHorne, RN, BSN, CBCN and breast health specialist at the Breast Care Center. "Our breast cancer survivors love the fact that they can talk with someone either on the phone or in person who has been where they are now."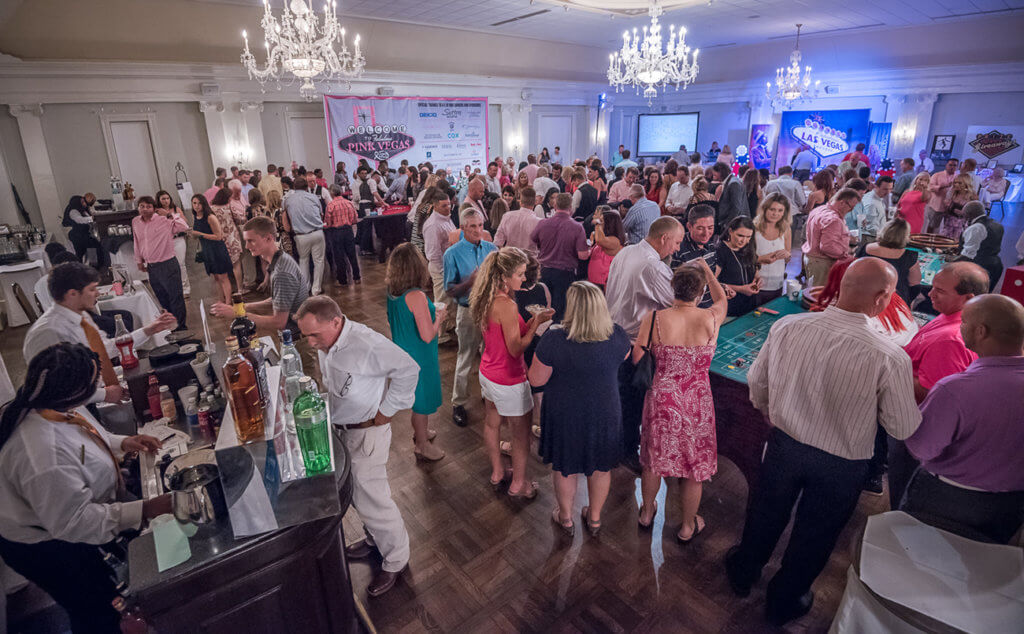 Fundraising for the future
In order to support its many programs and resources, United in Pink hosts three major fundraisers annually. Its 10th annual Pink Vegas Fundraiser was held in August and the Pink Out 5K will happen Oct. 19 at The Shoppes at River Crossing.
"We welcome runners and walkers of all ages," Paxton said about the 5K. If a shorter distance is desired, participants may join a 1-mile fun run.
On Feb. 28, 2020, the 16th annual Bunko for Breast Cancer will be held.
"Not only do we play bunko, we also have an amazing and emotional survivor tribute, raffle, silent auction, prizes, food and DJ. We typically have around 500 in attendance each year," she said.
All of the money raised through these events stays right here in Middle Georgia, and only 8 percent of those funds go toward administrative costs.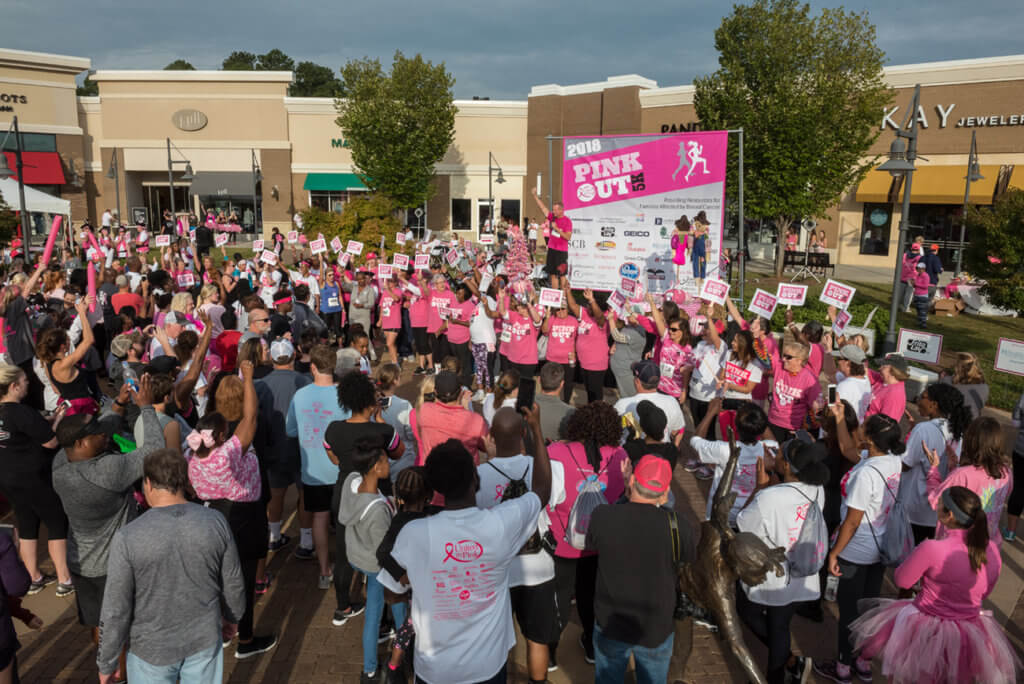 "We are a local, grassroots organization, so there is no additional overhead or affiliation fees," Paxton said.
As with any nonprofit, fundraising is always a challenge.
"We fundraise to exist," Paxton said, adding that the organization receives a minimum of 150 new referrals each year. "Every donation makes a big difference, so we are appreciative of every gift received."
United in Pink is excited about its future, and has plans to expand some of its family resources.
"We are currently working with other local partners to increase our ability to meet some of the educational, physical and clinical needs of our families," Paxton said. "Listening to our survivors and their family members has been the successful ingredient from our beginning roots up to today and will continue to be at the core of all we do. … Thank you to everyone who has had a hand in helping us become what we are today, and what we strive to be tomorrow."
Learn more at UnitedInPink.org.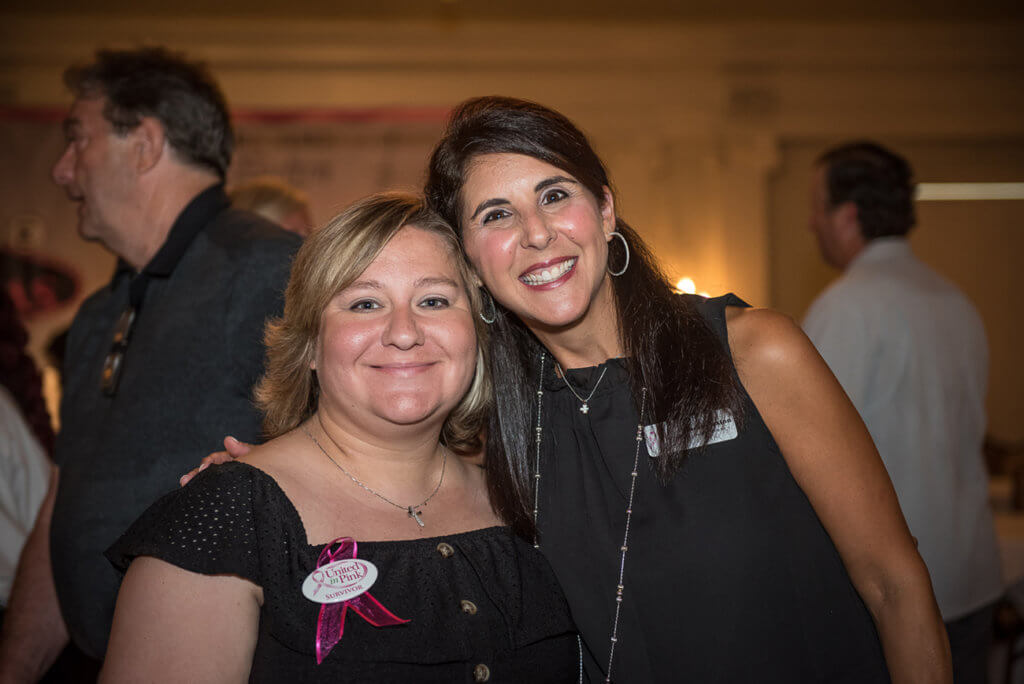 Support for survivors
Some of the families reached by United in Pink's Pink Bridge program:
● Rhonda, a stage 4 breast cancer survivor, is receiving last effort treatment options at MD Anderson in Texas and is required to live there. Her husband has had to continue to work in Macon while they finance two households during her treatment. The Pink Bridge program has assisted their family by taking care of two months' rent while she is in lifesaving treatment.
● Michelle, a single mother and full-time employee who has owned her home for 19 years, was diagnosed with breast cancer and could not work. With no income, she got behind on her mortgage payments and was in the beginning stages of foreclosure when the Pink Bridge program stepped in to help with payments. "Michelle cried when she found out she was able to keep her home," Paxton said.
● Carol, a single mother of two young children, had to rely solely on family members to help her while she was unable to work due to a breast cancer diagnosis. Because of the Pink Bridge program, Carol has been able to relieve this burden from her family by having her rent and medical bills paid.
● Debra had to use all her leave from work due to procedures, surgeries and hospitalizations, then she and her husband had to put some bills on hold because they had been unable to pay them with the rising number of medical bills. Because of the program, they have been able to pay more on their mounting medical bills.
● Sarena, a stage 4 breast cancer patient, has depended on her two grown daughters to help her out as much as possible. With the Pink Bridge program's help, some of the financial pressure has been relieved as it covered her living expenses while she receives lifesaving treatment.