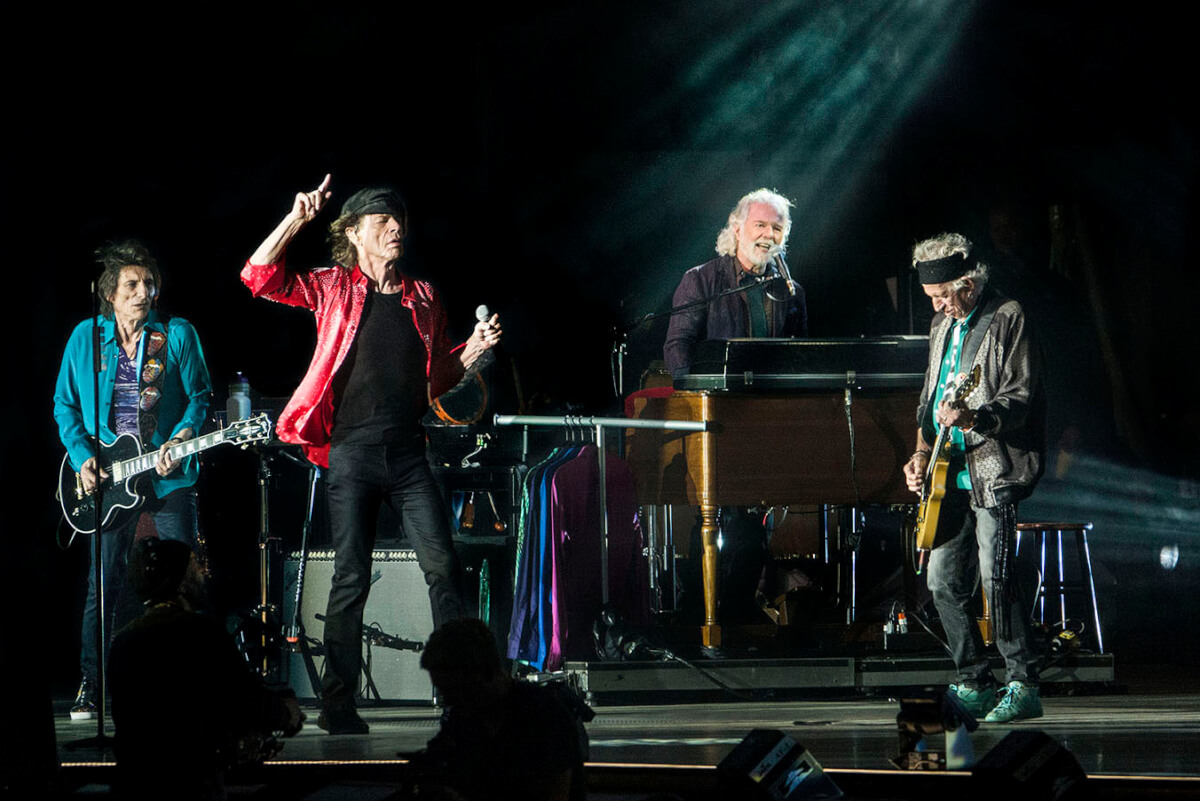 10 things Chuck Leavell loves about Macon
Ten things Chuck Leavell loves about Macon and Central Georgia
Chuck Leavell just may be Central Georgia's finest import. The Alabama native arrived in Macon in 1969 as a young, hungry musician. By way of the Allman Brothers Band, he made a name for himself as a sought-after pianist, multi-talented artist and extraordinarily gifted composer. If being discovered wasn't enough, he also met the love of his life, Rose Lane White, who, at the time, worked as an office assistant at Capricorn Records. Fast forward nearly 50 years since, and the Leavells continue to call Central Georgia home.
That is, when he's not on the road with The Rolling Stones. Since 1982, he's held the steady gig as The Rolling Stones's keyboardist and bandleader, traveling the world and performing to thousands of audiences along every tour stop in the Stones's modern day history.
But here, Chuck is everyone's favorite tree farmer. He and Rose Lane's sprawling Charlane Woods and Preserve in Twiggs County is a landmark of land stewardship, where music and sustainable forestry are at home in natural harmony.
You can go backstage to Chuck's incredible life and twin passions through his recent documentary, Chuck Leavell: The Tree Man, available on demand through streaming services like Amazon. You can also catch him on his PBS television show America's Forests with Chuck Leavell. And when he's not on the tree farm, on the road with the Stones or in the studio laying down the next great piano track, you'll find him taking in some of the top 10 things he loves about home.
1.The People: I am a "dyed-in-the-wool" southerner, and having the chance to travel all over the world in my role as a musician, I can say that the people in the South are the nicest and most congenial on the planet. That includes Macon and Central Georgia!
2.The Music: I may be a bit prejudiced, but when you realize that artists like Otis Redding, Little Richard, The Allman Brothers Band, James Brown, Robert McDuffie and others owe their heritage to Macon and Central Georgia, that pretty much says it all.
3.The Food: Let's start with the legendary H&H Restaurant. When I first came to Macon and settled in to work at Capricorn Studios and for the Capricorn Record label back in 1969, it wasn't long before someone suggested we go to "The H" for lunch. Mama Louise, as she was known to all of us, served up the best soul food I ever had. Even though she is retired now, the tradition continues, and we are all very grateful for that.
4.More Food: Macon isn't known for just soul food, and two other favorites of mine are The Rookery and Dovetail restaurants: the Rookery for good 'ol burgers and such, always top quality, and Dovetail just above it on the second floor for a more elegant cuisine and atmosphere.
5.And More Food: Some other excellent offerings in Macon include Kudzu Seafood, Famous Mike's, Michael's, Oliver's, Natalia's, Fish n' Pig, Downtown Grill, The Bear's Den, Jim Shaw's Seafood, La Parrilla Mexican and many more. Okay . . . I could go on, but I'm getting hungry now.
6.Mercer University: I say this not just because they bestowed upon me an Honorary PhD some years ago but also because they have done so much for our Central Georgia community in so many ways. An excellent educational institution, Mercer University turns out high quality professionals in so many walks of life, from Mercer Medical, Mercer Law, Mercer Music—including the McDuffie School for Strings—to Business, Liberal Arts, Nursing and so much more. But it's not just the academics – Mercer engages in so many other community efforts, and I shudder to think what Macon and Central Georgia would be without Mercer. Thank you, Mercer!
7.The Grand Opera House: One of the best venues for the performing arts in America – and in the world! And I've seen a lot of similar beautiful rooms in my career. Thanks again to Mercer University for saving and renovating this very special place. I have had some of my best memories playing music in that venue, from the Allman Brothers's "Saturday Night In Macon" broadcast back in the early 70s, to my band, Sea Level, bringing our own brand of rock, jazz and soul to the room in the early 80s, to our recent A Night of Georgia Music performance featuring my pals Robert McDuffie, his student orchestra and Mike Mills of R.E.M., along with yours truly. That was one of the best and most memorable nights of music for me in my career.
8.Capricorn Studios: Thanks again to Mercer, along with some forward-thinking developers like Jim Daws and millions in donations from a host of generous donors, this historic recording facility is back in action. Not only a state-of-the art recording facility, it also has a fun museum component. I have used it to record with many artists since its re-opening and was proud to be musical director for a live concert celebration called "Capricorn Revival" a few years back at the Macon City Auditorium.
9.The Big House: A fantastic museum dedicated to the 50-year history of the Allman Brothers Band. I was fortunate to be part of that history when I was an official member from 1972-1976, as well as interacting on many occasions in years afterward. The Big House is a very special place, and I am happy that it will be expanding over the next couple of years. A must for visitors and locals alike.
10.The Creek 100.9 FM: A local radio station that is unique and brave in its programming. The Creek will play anything – you might hear a track by my band Sea Level or the Allman Brothers Band, and then a track from some obscure blues artist, followed by something from the Americana or country genres. I love the wide diversity of the playlists and also the promotion of local music and other arts events. The Creek Rocks!