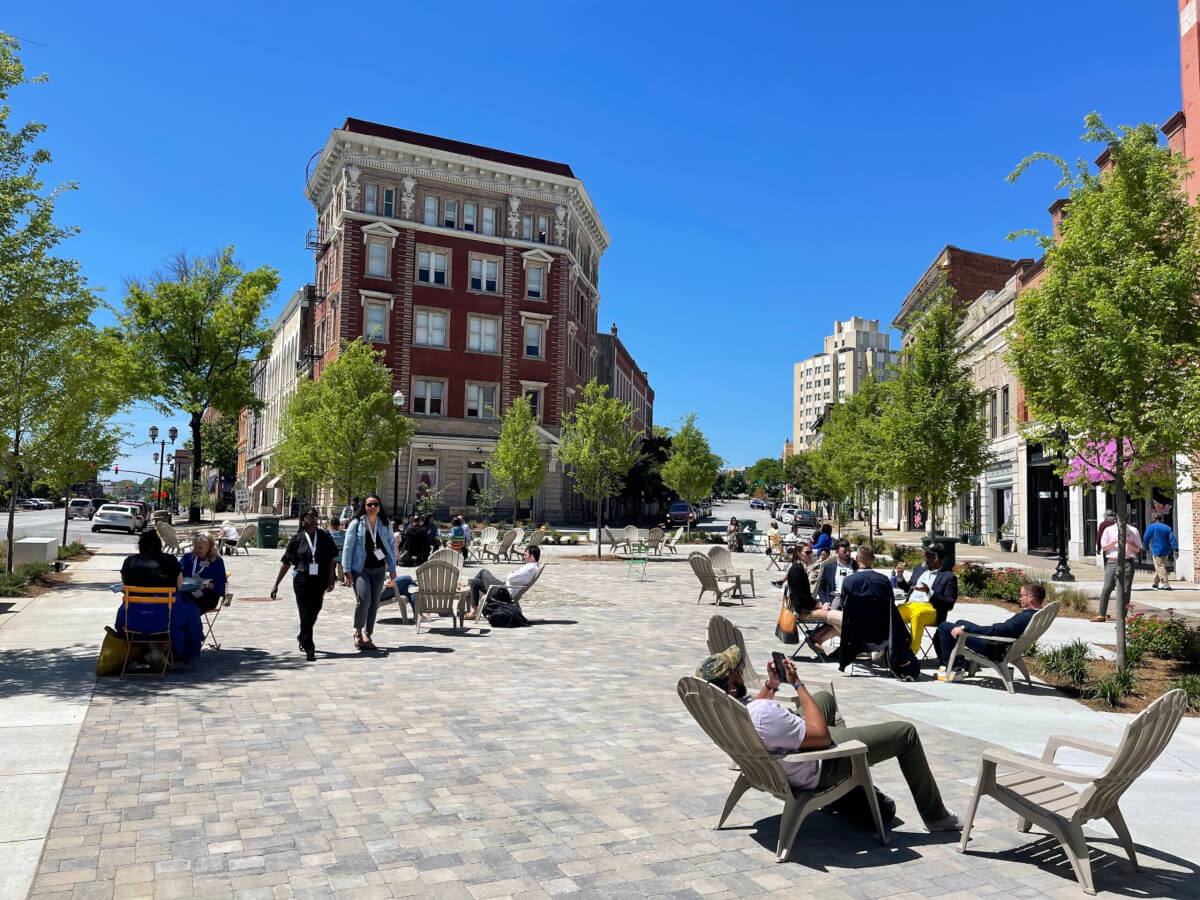 Building stronger cities, with the power of imagination
By Kristen Soles McCrackin and Macon Magazine Staff
Photography by Dsto Moore, Julia Anne Morrison, and Jessica Whitley
ANSWERING BIG QUESTIONS HIDING IN CITY BLOCKS
Can a neighborhood park alleviate poverty? After the COVID-19 pandemic, how does society best come together in public again? And how do people learn to really trust those who look and act differently to them? These questions may seem like esoteric topics for a philosophy class, but they form the cornerstone of a real-world task force here in Macon that is pounding the pavement — literally — to change our city for the greater good.
The Reimagining the Civic Commons (RCC) initiative believes local public spaces can break down silos that keep people apart, and in doing so, solve some of the most pressing issues of our time. It began as a network of city governments, nonprofits, and community groups powered by four national foundations: The John S. and James L. Knight Foundation, The JPB Foundation, The Kresge Foundation, and William Penn Foundation.
The original cohort of five cities, chosen to be demonstrations of how to put better urban life into practice, were well known. Chicago. Detroit. Philadelphia. But when five expansion cities were announced in 2020, one name was significantly smaller than the rest: Macon, Georgia. A testament to the strength of our collaborative community-building, Macon's RCC team is showing the country how we create change where soul lives.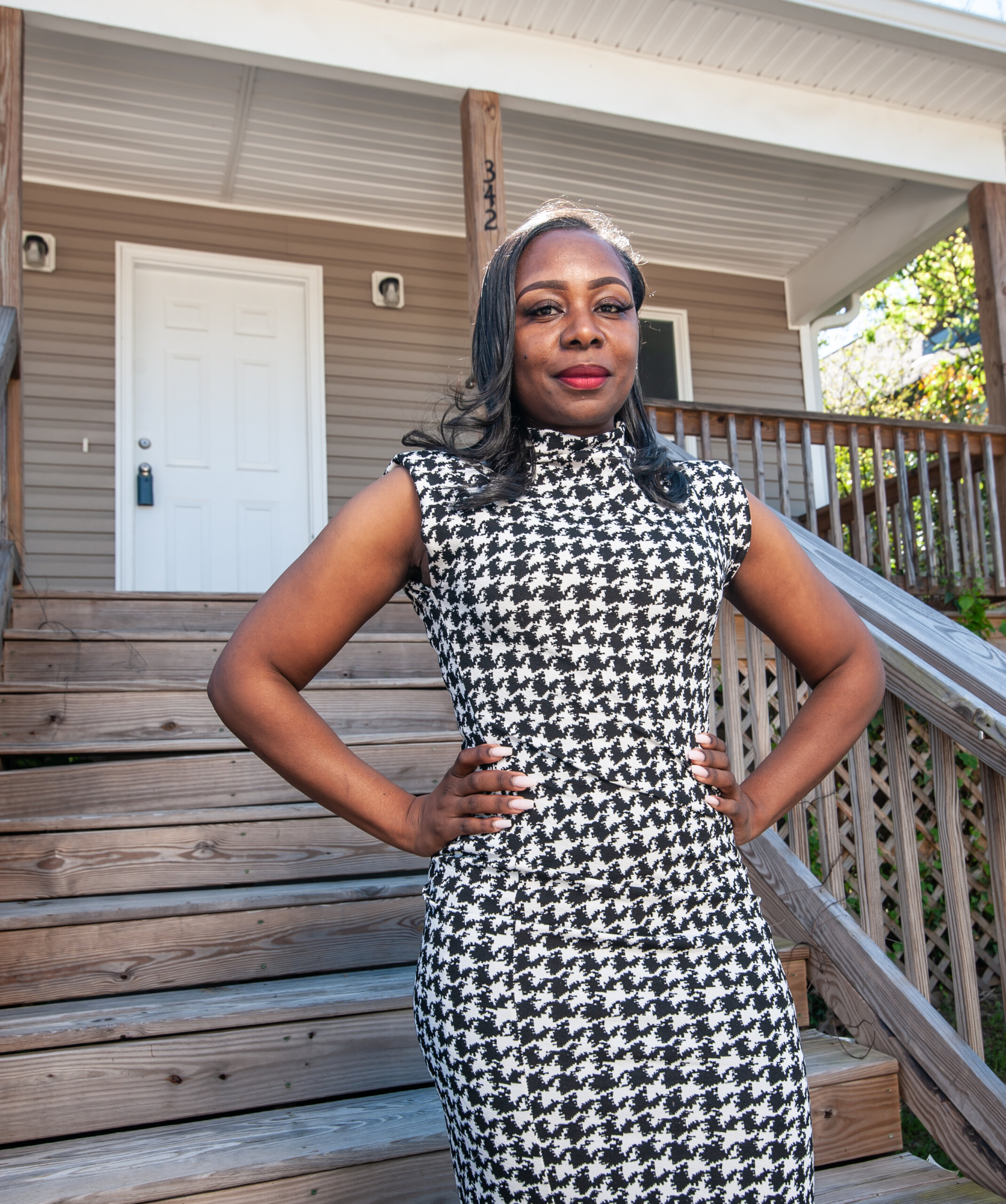 A DYNAMIC FACE ON MACON'S RCC TEAM DEFINES NEIGHBORHOOD RESILIENCE
This issue of Macon Magazine highlights women in business, whose accomplishments as leaders are often unsung. While women bring logic, reason, and compassion to the table like any other leader, an analysis of almost 8,500 companies worldwide by S&P Global found female CEOs have more emphasis on empathy, adaptability, accountability, and diversity in their leadership styles.
In our community, one female leader on Macon's RCC committee exemplifies this ethos. Tedra Huston has made an impact in the business, government, and nonprofit scene in Macon, showing a steadfast commitment to local life.
Huston hails from small, historic Scotlandville in northern Baton Rouge, Louisiana, and traveled the country as a military brat. She originally came to Macon in 1999 to attend Mercer University. She fell in love with the city but left upon graduation to pursue her career. For several years, she worked in the bonding industry, giving her a first-hand look into a criminal justice system that didn't serve everyone, which drove her interest in studying law. Upon her acceptance to Mercer Law School, Huston returned to Macon in 2006.
"The great thing about a Mercer education is it's very involved in the community," said Huston, who hadn't felt deeply connected to a place before Macon. Working with local legal defense work and with Professor Sarah Gerwig-Moore gave her that connection. After Huston got her JD in 2009, she never left Macon-Bibb.
Currently, she wears multiple hats: executive director of the Community Enhancement Authority (CEA), owner of a business that purchases and restores properties at tax sale auctions, a dedicated Pleasant Hill neighbor, and mom to four boys.
At the CEA, Huston is tasked with overseeing commercial development and community improvement, eliminating blight, and alleviating poverty, particularly in Pleasant Hill. The historically Black neighborhood was once-thriving, where creative luminaries like fiction writer John Oliver Killens grew up and musician James Brown lived alongside lawyers, teachers, and doctors. But the practice of redlining, de facto in 20th century Macon, artificially devalued homes in the area, which led to GDOT forcibly acquiring and destroying over 500 properties to construct I-75. The neighborhood, once walkable to downtown, was torn in half by the interstate. It never recovered socioeconomically.
CEA is a quasi-governmental agency funded through various sources and has had a number of achievements in the past couple of years to lend it credibility, taking charge on $10 million given by GDOT to mitigate the trauma of their actions in the previous generation.
Due to interstate construction, the house Little Richard grew up in had been severely neglected. The CEA both moved and revitalized the house, putting it in a central location so that it could be properly contextualized and preserved, using GDOT funds. The CEA oversaw this project, and the house, now styled The Little Richard House, has been staffed and turned into a museum to not only illustrate the life of the famous artist, but to proclaim the importance of Pleasant Hill, the neighborhood of his origins.
Dozens of brand-new houses are also being built in Pleasant Hill by the CEA, with some historic homes renovated. The top-of-the-line buildings, constructed all over the neighborhood, create infill that raise the property values, generating wealth in the form of home equity for current residents.
This project comes with an added bonus. Huston explained, "When we started building houses in the community, we worked with a local nonprofit and CGTC [Central Georgia Technical College] to help workers in Pleasant Hill and other Macon communities get their construction certification, and then they were hired on with contractors in the building of the new homes. So they were hired at a livable wage, they got their construction certification, and they were able to work with those contractors." Of the 15 graduates of the program, at least one was hired on for a future construction job at Habitat for Humanity.
The Booker T. Washington Center has also reopened in Pleasant Hill. The Center was once a vital community hub where elders remember spending almost all of their youth. By reopening the center for public use, it is a symbol that the neighborhood is full of life again and there are places for neighbors to gather.
Huston said she is grateful to the mayor and commissioners for allowing the CEA to manage the facility. The Center is a myriad of resources for residents, with nonprofit agencies offering services including mental health care, diapers, feminine hygiene products, baby formula, a food pantry, after-school care, school tutoring, piano lessons, and dance lessons. Huston said, "Even if we don't provide the service, we can tell them who does."
She went on to describe their most recent offering, which she believes will have a big impact. "This week, we just started programming for mothers who have lost their children to gun violence. So many times we see the violence, but we don't understand that has such a lasting effect on the family."
After taking the job, Huston relocated her home and her family, believing she couldn't work with neighbors to create positive change without authentically being a constituent. Even her personal business, MJM Consolidated Services, is dedicated to bringing excellence back to Pleasant Hill: Huston attends judicial in rem tax sales to buy blighted properties at auction, which she flips so that they can be put back into productive use.
Though she's not practicing as an attorney, Huston said her legal education comes in handy for community development work, from understanding how contracts work to advocating for residents with complex needs in bureaucratic agencies.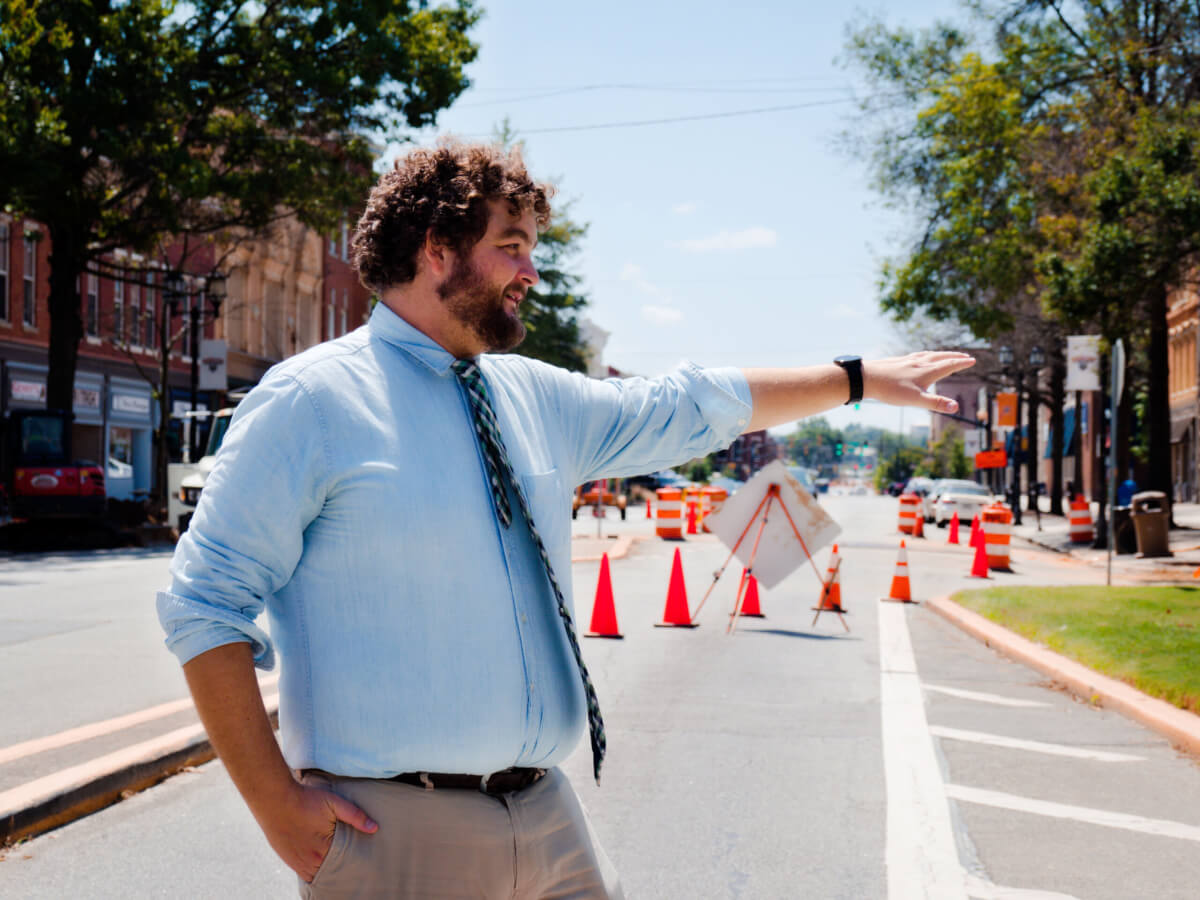 BRIDGING GAPS, MENDING WOUNDS WITH ACCESSIBLE INFRASTRUCTURE
Through her work with the CEA, Huston joined the group of forward-thinking citizens heading up the RCC, using volunteer time to think about how the experiences of public cities could transform Pleasant Hill.
Asked about the decision to use this area as a focal point, RCC co-chair Alex Morrison replied, "The use of Walnut Street as a connection to downtown was part of MAP [Macon Action Plan], but as our local team came together, it was clear that connecting to Pleasant Hill was the biggest impact our team could have with our time in the cohort and for the benefit of the most Maconites."
When the project is completed, Pleasant Hill will be better reconnected for bikers and pedestrians to travel to Downtown Macon — just as it once was before the interstate — by way of the Ocmulgee Heritage Trail. This pathway will allow residents easier access to entertainment, shopping, food, and recreation downtown. Walkability is important in this initiative since about one third of Macon residents don't have a driver's license, according to Bike Walk Macon.
The Trail will also allow greater access for all Maconites to explore to new green spaces in Pleasant Hill, like the recently completed Jefferson Long Park and Linear Park, finished with GDOT mitigation funds and maintained by Huston and the CEA. Those who haven't been to Pleasant Hill in years might pop in for the annual Little Richard Festival or rent a park for as little as $75 for a birthday party or community event.
This April, Macon's RCC team came together to paint bike lanes and crosswalks on Walnut Street, starting the intervention with a colorful street mural by Kevin "Scene" Lewis and volunteers. RCC member Rachel Umana described the project, which came together after collecting months of input from Pleasant Hill residents: "We consistently heard they wanted to slow down traffic and create a welcoming and creative sense of place. So these quick-action improvements will have a long-lasting impact by creating a safer, slower, friendlier, and more connected corridor for all modes of transportation. And this is just the start!" Their work was funded by $75,000 from Knight Foundation, with Morrison adding that more will be done to finish the project this year.
In April, Macon will host the RCC Studio, welcoming experts from other cities nationwide to learn from our community's collaborative success. Emily Hopkins, director of place and Main Street Macon manager, is a consult on the design of the conference. She explained that the experience will, "Show other members of the network how all our public spaces work together to connect our historic neighborhoods and create more opportunities for economic opportunity and community."
From the colorful Walnut Street improvements, to the soon to be designated national park at the Ocmulgee Mounds, to expansive green spaces downtown, Hopkins designed the tour because "These sites speak for themselves and help tell our Macon story," she said.
Hopkins also noted that the RCC Studio will hold sessions in some of Macon's most iconic venues like The Grand Opera House, Capitol Theatre, Georgia Sports Hall of Fame, Tubman Museum, and Fall Line Station.
Robert Walker, RCC co-chair, said he hopes Macon leaders get some valuable takeaways from the visit: "Public spaces are an excellent way to revitalize communities and promote sustainability."
For Huston, her work with RCC puts new tools in her arsenal to continue her work as an empathetic, transformational leader. She enthused, "It's so intentional about community involvement, that we're going to see those worlds really connect."