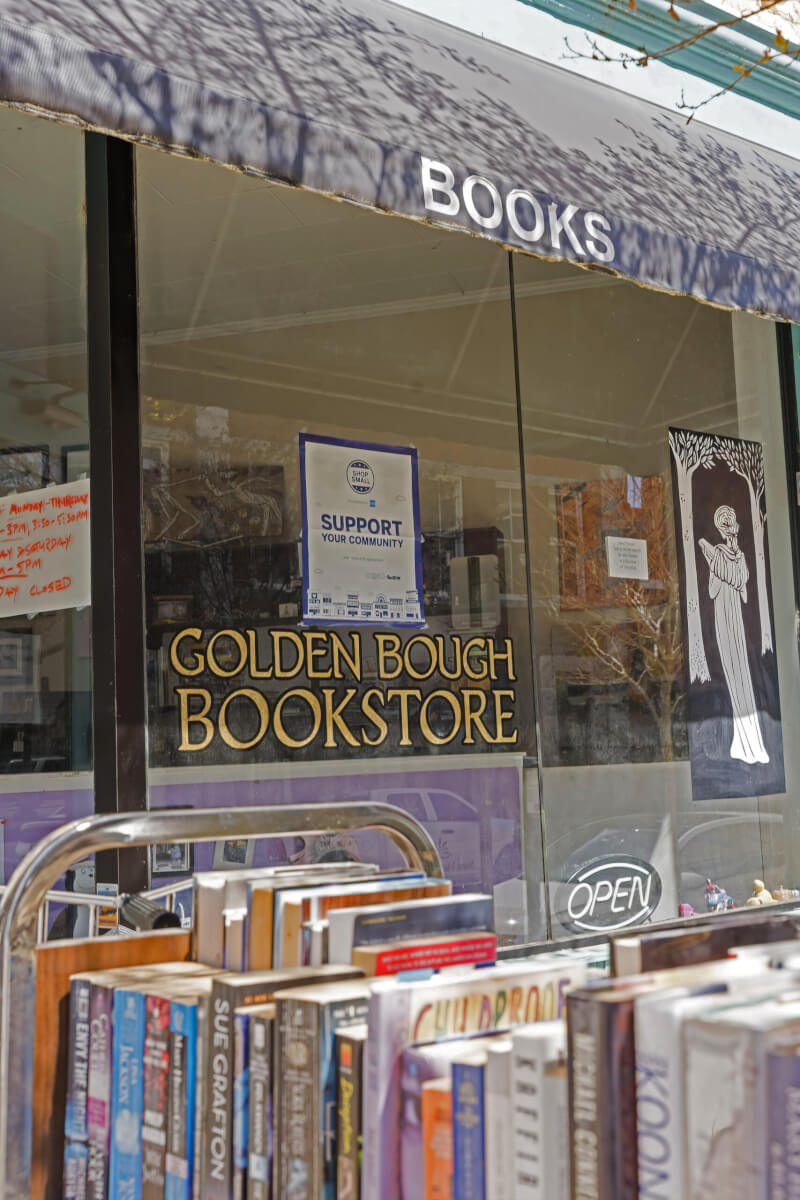 A community of readers
By Rachelle Wilson
Photography by Jessica Whitley
The year is 2007. Nearly 50 million people are rushing to movie theaters to be disappointed by Spiderman 3, Beyonce's Irreplaceable tops the music charts, and Harry Potter and the Deathly Hallows makes (and maintains) the Guinness World Record for most novels sold within 24 hours of release, with 8.3 million in the US alone. For Harry Potter, bookstores across the nation hosted midnight book release parties for the first, and perhaps only, time. Not only did the phenomenon of the book series make reading cool to kids, it also brought nerd culture front and center. Readers ruled the world — or at least the $3.1 billion book industry.
But after robed teenagers with wands went home with their final book in the series, bookstores had something to worry about, and not just the end of Rowling's sales-bolstering tale. A few months later, Amazon released Kindle, the e-reader that sold out in just over five hours. Within four years, printed book sales would fall nearly 36% while e-book sales rose year over year by roughly 100%. As the beloved film You've Got Mail so charmingly predicted, independent bookstores faced many threats and were closing at a quick rate.
Meanwhile, in the heart of Georgia, newlyweds and recent Mercer University graduates Shane and Abbey Gottwals decided to open a used bookstore. In 2007, the inaugural Gottwals Books opened in Warner Robins and within a few years opened in Byron, Perry, and Macon. Seemingly counter to the national conversation dooming independent booksellers, Gottwals Books expanded faster than anyone could have predicted.
Reflecting on what factors may have fortified them from the shifting economy, Shane wondered if the culture itself catalyzed people to seek out a good old fashioned paperback. "Everybody is looking at screens all day for work and play," he observed. "People value the book in hand. You feel like you're conquering something; you can physically see your progress. A book is something you have a relationship with as you read it. You build a bond with it, one you get to hold onto."
And when a book may not be one you want to hold onto forever, Gottwals will buy it back. Their business model keeps books in circulation, from one reader to another. Even the buildings that house Gottwals Books across the state are a testament to the stewardship at the heart of their enterprise. From a former bank building to an old clothing store, Gottwals Books' locations exemplify adaptive reuse as a viable approach to preservation.
In any building, it is the reading community that matters most to Gottwals Books. "We owe a lot to Macon for keeping us successful," Shane said. "When we opened in 2007, everyone thought print was dead. The community around us and the wonderful team working here are what keep us going strong."
For many readers, there is a thrill to wandering aisles filled with possible worlds, a thrill unattainable through a screen. Each book store develops its own personality, and sometimes it is the only place you want to be on a rainy day. There is a charm to discovering a bookseller — who seems to be part mind-reader and part human encyclopedia — who can help you find a book whose title you cannot recall by an author whose name you never knew.
Another used bookstore in Downtown Macon thrives against the odds. Golden Bough Bookstore opened in 1989 and has offered a niche treasure trove for sci-fi lovers, philosophical explorers, romance addicts, and every reader in between. Current owner Eric Wakefield took the helm in 2007. At that time, Downtown Macon was a hub for counterculture. Hipsters young and old gathered at Golden Bough on First Fridays to find their people. In the back room, listeners (like this 17-year-old wannabe, yours truly) would sit on the floor, shoulder-to-shoulder, to hear a local artist sing their heart out. Between sets, the eclectic crowd would peruse the shelves for nothing in particular, waiting for a book to choose them.
Some reading communities formed over popular titles and others over the black and white tile floor of a small store in an all but deserted downtown. Both created bonds that endure.
Today, reading communities take all shapes and sizes. Whether it be the monthly book selection of a high-profile media mogul, a virtual book discussion by your favorite podcaster, or your neighbor's back porch book club, chances are you have crossed paths with one of them.
"We are looking for ways to connect," said Margaret Harrington, founder of Bears Books Book Talks. "For me and for a lot of people, being quarantined became a reflective period of time. The people who attend Book Talks come to listen to each other and to build relationships on a deeper level."
Inspired by her own desire to connect with others over a shared reading experience, Harrington began hosting monthly book talks in August 2022 at The Web House. Open to anyone, book selections range from classics to nonfiction to modern novels. Each book choice attracts a different group of attendees, something that encourages Harrington: "A lot of times we get in our own little routines and circles. I've enjoyed connecting with people outside of my day-to-day routine, and I love seeing that happen with other people too, all because of a book."
For this writer, and for many kids with limited resources, my formative love of reading was cultivated in a library. The library on Rocky Creek Road was the beacon of my childhood. The puppet shows were fun and the books were fantastic. A homeschooled oddball, I found friends in Anne Shirley, Addy Walker, and Amy March. They taught me the values of family, kindness, freedom, generosity, empathy, and humility. These characters were my only community for a time, a kindness made possible through a reading institution that reaches all corners of Macon.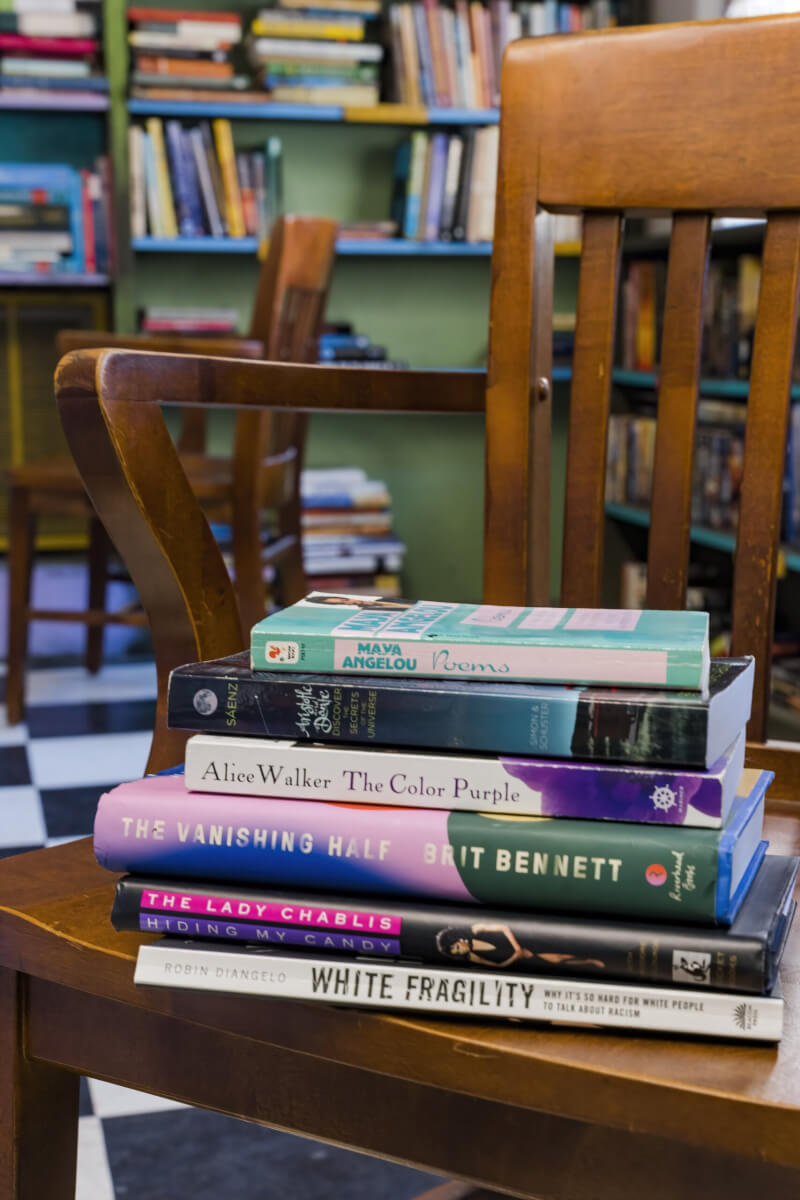 With 16 locations throughout Central Georgia (plus a library on wheels), Middle Georgia Regional Libraries offer so much more than books. Dedicated to the region they serve, promoting literacy is at the heart of their mission.
"Reading in a group can be encouraging to someone just getting into the practice of reading for pleasure," said Rebekah Scarborough-McGraw, the literacy librarian at Washington Memorial Library. "The fun of coming together can be the motivator or even the accountability some of us need." Scarborough-McGraw leads book clubs but also offers Book Chats, a free service that helps people find the book that is right for them. "To some, the library has overwhelming options. Taking a little time to understand their interests can help us build a little reading community of our own. I absolutely love helping someone find their next favorite book!"
In downtown Forsyth, the drive to bond over books is just as strong. Jennie Ridley founded Dog Eared Books, a boutique bookshop carrying a curated selection of pre-read and new books at Old Mill Market, in January 2022. Over the last year, the positive response from shoppers helped grow Dog Eared Books from a small nook in the Makers Mart to a prominent place on the main floor.
Ridley said, "People don't just want to grab a book and go; they want to share their reaction and listen to how others feel about the story. I started a monthly book club to connect these amazing readers with each other. Books can help us discover something about ourselves; books in community can help us discover something about the world around us."
Readers gravitate towards each other to share their thoughts, to hear from others, and to find their people. Princess Sanderson has always loved to read and write, but when she found her first book club, Literary Ladies, last year, her reading experience elevated. "Others see things in the text that I may never have noticed," she said, "and same from me to them. A shared reading experience is like unlocking a new layer of a book."
"I read because of my community," Shanoya Cordew said. "My book club, Shelf Awareness, meets virtually every month and is composed of people I have met at various stages of my life. We choose our reading selections by voting, so it often happens that some of us are reading things we never would have picked for ourselves. I love it."
When one reads in a group, there is an X factor, an external force pulling each person out of themselves. Sometimes that pull is to read about a different topic or in a different genre. For many, a different perspective is what reading is all about.
Matt Jennings has facilitated reading in Middle Georgia State University classrooms for 15 years. Time and again he has seen words from the past evoke passion in the present. He specializes in Native history. For him, reading as a class is key to unlocking an education that resonates.
"The willingness of my students to see things from a variety of perspectives continues to astound me," Jennings said. "A book like Boarding School Seasons by Brenda J. Child illuminates the horrific experience of many Native children and parents during the first half of the 20th century, but also the kids' and parents' ingenuity, persistence, and strength. Childs's use of letters is powerful and has a lingering effect on students. A college classroom is a rare, almost sacred, space, in part because within it, people from different backgrounds can share readings, life experiences, and feelings."
Books can do so much more than entertain us. They can do even more than bond us. Books can elevate us, personally and collectively.
One local entity that is strategically maximizing books as an agent of change is Georgia Women (And Those Who Stand With Us). A grassroots social welfare organization whose purpose is to raise a common voice about issues important to women and to the country, Georgia Women recently launched a reading community known as the Book Circle.
"We began the Book Circle to build community within our membership, to help us reach a new audience, and to equip ourselves with the tools we need to better advocate for ourselves and our community," said Georgia Women member and Book Circle leader Andrea Cooke. "To this purpose, we specifically focus on books that pertain to social justice."
Meeting quarterly, Georgia Women's Book Circle is open to anyone. Members select each book through a voting process and have three months to read and reflect before joining together for a discussion. For Georgia Women, the shared reading experience pulls the best out of the book and out of each other.
Reading culture has not waned since the pivotal year of 2007. Local bookstores are thriving, reading groups of all kinds await new members with open arms, Middle Georgia Regional Library remains a go-to for resources of all kinds, and literacy efforts are front and center for Macon's leadership. Whether your to-read list is taller than your bedside lamp or the dust is collecting on your empty shelves, if your next book is shared within a reading community, those pages will take flight. And if that book is sourced from a library or local bookshop, you will be a part of the force keeping them alive.
In the words of Shane Gottwals, "There will never be a shortage of good writing, but we have a responsibility to foster it."
Macon Reading Groups
Macon Readers is a monthly book club focusing on popular books that spark conversation. It takes place every third Wednesday at Washington Memorial Library on the reference floor at 6 p.m.
Next Up: Bookshop on the Corner by Jenny Colgan, Wednesday, April 19, at 6 p.m., Washington Memorial Library
Bears Books Book Talks are a monthly, casual conversation about selections that vary from classics to nonfiction to modern novels. They are always free and open to the public.
Next Up: The Emerald Mile: The Epic Story of the Fastest Ride in History Through the Heart of the Grand Canyon by Kevin Fedarko, Tuesday, April 18, 6 – 8 p.m. at The Web House. Register under the events tab at .
Georgia Women Book Circle is quarterly and open to the public. To keep informed of upcoming book selections and gatherings visit
Dog Eared Books Book Club meets monthly at the Old Mill Market in Forsyth.
Next Up: Tomorrow and Tomorrow and Tomorrow by Gabrielle Zevin, Thursday, May 11, at 6 p.m. Visit the events tab on to RSVP.