Art + graffiti = future

Triangle Arts Macon brings new life to an industrial site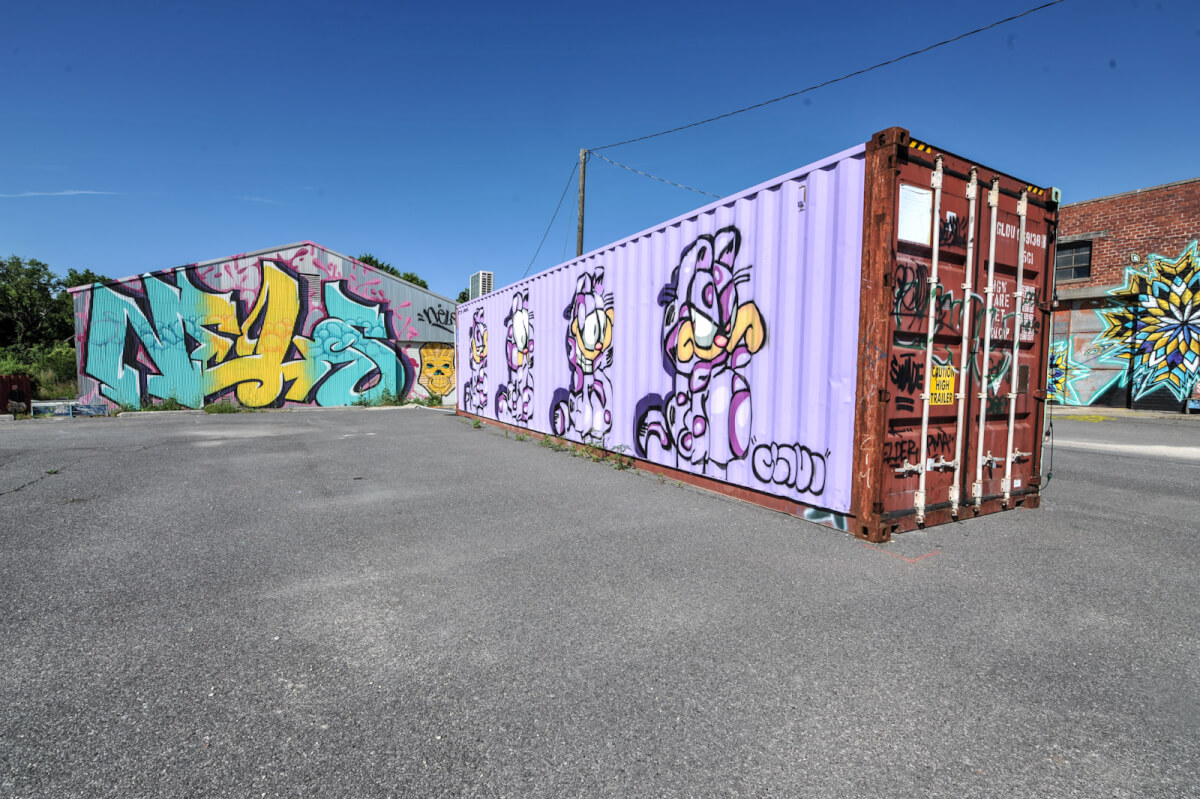 Art + graffiti = future
Triangle Arts Macon brings new life to an industrial site
By Michael W. Pannell
Photography by Dsto Moore
Those not familiar with Triangle Arts Macon – with its non-mainstream location and graffiti everywhere – may wonder just what it is. Those who are familiar with it may also wonder at times.
In the midst of wondering, each may be curious what a little lady tugging at Ric Geyer's arm in a blighted Detroit neighborhood has to do with art in Macon and Triangle Arts' mission.
True, it can be confusing because Triangle Arts doesn't fit an ordinary mold — even in the art world. Truer still because COVID-19 setbacks and shutdowns stalled permits, renovations and original plans for its intended full operation by now.
And yet, much has happened.
Put most simply in physical terms, Triangle Arts Macon is 3.5 acres of buildings and woods that was once home to Triangle Chemical Co. at 206 Lower Elm St., several blocks east of Martin Luther King Jr. Boulevard in Macon's old industrial area.
Triangle Chemical Co. began at the location in 1947 and was focused on developing and manufacturing fertilizers and agricultural products. It then shifted away from manufacturing to concentrate on the distribution of industrial agricultural needs such as seeds, fertilizers and crop protection products throughout the Southeast via a network of rural service personnel and 50 stores.
Though Macon is not a market for the family-run business, it maintains its headquarters here and continued growth necessitated a move from Lower Elm to larger offices on Preston Court in 2018.
Geyer bought the property in 2019 to create a unique space for artists and other creatives to rent studios and offices and for promoters and community members to have indoor and outdoor spaces for concerts, festivals, parties, corporate events, weddings, receptions and more.
What did happen — despite pandemic delays — was that high-profile and lesser-known urban artists and local graffitists began decorating buildings. There was even an early-on Graffiti Ball to help put artful paint on walls — a hallmark of Triangle Arts' persona.
Besides using existing buildings as canvases, other spots have been created for art and portraits, and there have been drive-through art shows and low-key happenings that meet pandemic restrictions.
Unofficially, many have wandered onto the grounds to view and create art, hang out, ask what's going on and at times become part of what's going on — another Triangle Arts hallmark.
Still, part of the problem of explaining exactly what Triangle Arts does is that its goal is an idea, not a physical space or series of events. Geyer said the underlying purpose of Triangle Arts, its fundamental goal, is not just to show art but to build an inspiring, diverse, inclusive and affordable setting that creates opportunity, fosters innovation and impacts the community in a variety of ways including moving it toward greater social equity.
"I want Triangle Arts to be a place a kid can come, an underprivileged kid or whoever, and be inspired to realize they can reach their dreams," he said. "It might be through art, music or it might be learning how to drive a nail to help with an exhibit. Or they might be older and want to promote a concert or start some venture.
"The idea is everyone is included, and as far as possible we want to say 'yes' then partner with them and get behind the dream with them. What others do here will make Triangle Arts what we want it to be, and that may be different than what we've thought of so far."
To understand better, it helps to glimpse Geyer's backstory.
From Akron, he set his sights on corporate success and attended University of Akron night classes, later getting an MBA from The Wharton School. He worked in marketing and strategic planning for years in Detroit with major accounting and consulting firms like Arthur Anderson and Deloitte Consulting, and with Ford Motor Co. in project planning.
"I loved it but got fed up with how slowly big corporations move," he said. "I got tired of the status quo and left. I worked with city government and started my own consulting business, mainly helping small businesses and nonprofits. I felt more at home in urban situations than sipping wine at corporate functions."
As a result of having friends on both the rich and poor sides of town, Geyer got a call one day asking him to take charge of giving a van full of frozen turkeys to churches and food kitchens serving the poor.
The same happened with a load of basketballs.
"I was in the worst parts of Detroit, but I saw nothing but smiles," he said. "It made me feel good, really good, and I saw what helping others and connecting people could do."
Geyer bought an empty warehouse in a blighted neighborhood and let people create art and music there. Seeing someone invest and bring life to the area caused the woman mentioned earlier to tug at Geyer and thank him, saying, "Nobody does anything for us down here."
It was a landmark moment. Problem was, it was the late 2000s. The economic crash put Geyer in bankruptcy and in divorce courts, losing everything. He left Detroit for Atlanta to be near his son and again bought a dilapidated urban space for events and to welcome street artists. He used his Deloitte pension money to do it.
"It was at 787 Windsor so we named it that," he said. "We got almost immediate permits and zoning and it was a huge success. It was home to Atlanta's Afropunk Festival, other music, culture and art festivals and concerts, weddings, corporate happenings and reveals for people like Miller Beer, Brooklyn Brewing and Reebok and for Red Bull shows. It was named venue of the year in 2018 by Creative Loafing."
But Geyer said he wanted to move from the big city to a mid-size town.
"I fell in love with Macon, moved here and bought the Triangle Arts property," he said. "I started working on something similar to Detroit and Atlanta."
With COVID-19 concerns lifting, work began again in earnest in May, clearing the way for city approval to rent studio space and to have crowds at shows and events. Geyer said the lucrative sale of 787 Windsor allowed him to continue through the pandemic shutdown without too much stress.
Julie Wilkerson considers Triangle Arts a legitimate part of Macon's art world. She's executive director of the Macon Arts Alliance, which advances arts and culture in Central Georgia.
"It's filling a need," she said. "And I'm not just talking about a need for murals and street art. It's about creating a place where artists of all ages, races and ethnicities feel welcome and free to express themselves the way they want to. It's a plus they're partnering with other community, arts and charitable groups and being a voice for social justice. It's a special place."
Colin Pendorff graduated from Middle Georgia State College in 2016 and stayed in Macon, believing it was on the cusp of an arts heyday and that it wasn't necessary to go to Atlanta or beyond to succeed. He became the fine art director of the 567 Center for Renewal, president of the Ocmulgee Artist Guild and has now been named executive director of Triangle Arts.
"To me, Triangle Arts is a platform," he said. "With it as a hub, we can promote diversity and inclusion by means of creativity while helping artists and others succeed in their own vision, whether it's art, music, photography, film — whatever. Our studio spaces are about to open, and so is our first indoor event space. Our parking lots can be used for outdoor events. It means we're about to be able to say yes to a lot more people's ideas, and that's what we want."
As the vision on the Triangle Arts property takes greater shape, so does its impact beyond Lower Elm. An out-of-state developer asked Triangle Arts to provide art for a construction fence on Bass Road at North Macon Plaza. Geyer's alma mater, The Wharton School, asked him to record TED-style talks on how successful businesses can effectively engage and help in their communities. Geyer is working to join with several established outdoor art locations in the state to create a "tourist art trail."
Gary Wheat, president and CEO of Visit Macon, said Triangle Arts is helping enliven Macon's tourism landscape and providing a platform for up-and-coming artists.
"Ric Geyer has created a true tourism gem," he said. "His connections to the artists and the community have breathed creative life into the industrial area and surrounding neighborhood, and the Triangle Arts campus is now a featured venue when the Visit Macon team works with groups looking for off-site activities and space. Always open to collaboration, they partner with our organization on convention and film familiarization tours as well as looking at the development of art trails and exhibits to highlight Macon's artists and cultural history."
All the while, Geyer still talks about the individuals, dreamers and kids he hopes will be inspired to create new things and launch out from Triangle Arts.
"Things are starting to go," he said. "I think what we're about and what we're doing will be more and more clear now. I love business, and I love art, but to me it's best when they serve a greater purpose — when a kid can be encouraged or someone set off on their dreams. I think my role is to connect people and ideas. I think about what that lady grabbing my arm said to me. That's my currency. I'm trying to generate as much of that currency as I can. To some, that's nothing, but to me, that's as good as it gets."