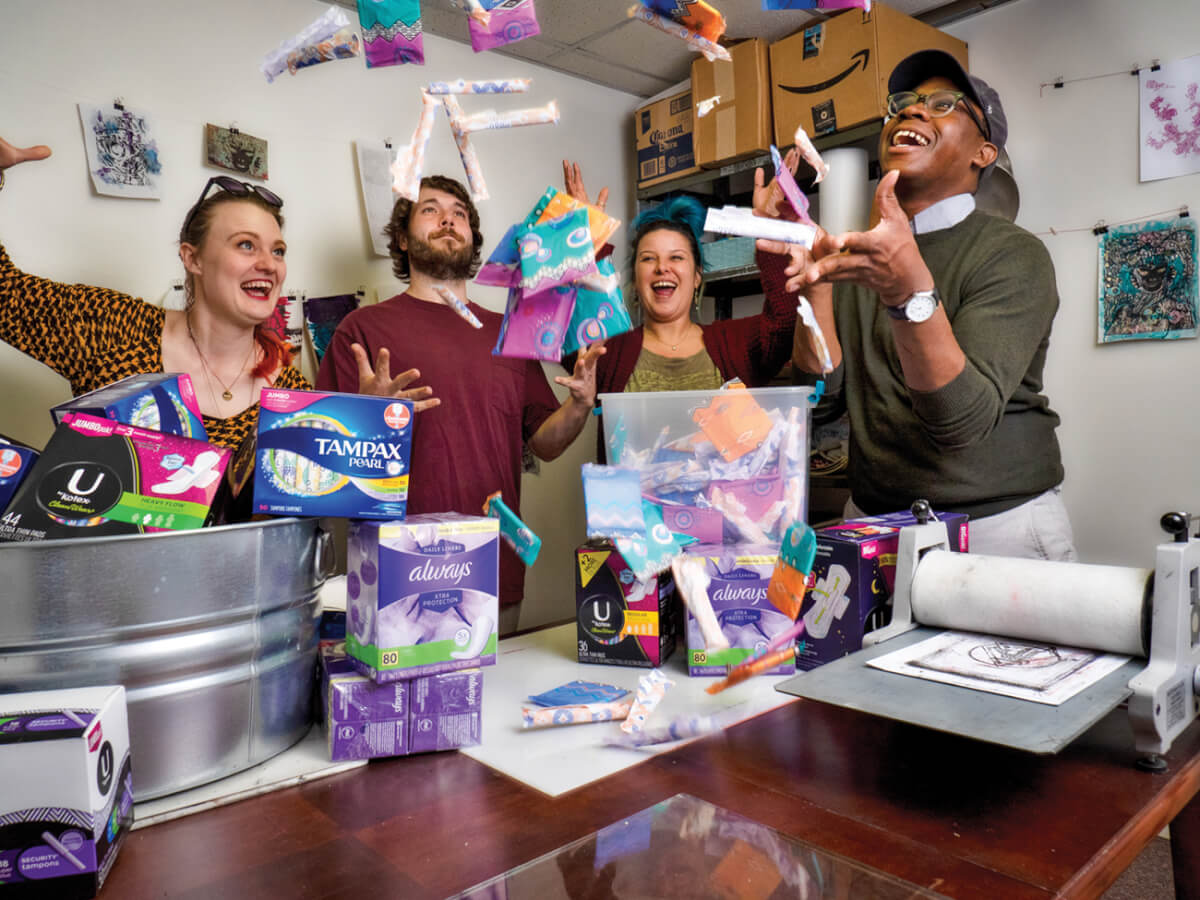 Demystifying Menstruation
Macon Periods Easier works to supply period products to women in need
By Renee Corwine and Lawren Mann
Photography by Jessica Whitley
When Eve Fincher's mother first got her period, she did the only thing that came to mind: She used a Band-Aid to stop the bleeding.
"Raised by her father, my mom was oblivious, and no one had ever spoken to her about this naturally occurring life change," Fincher said. "She, in turn, became very aware of this when I started mine, and was open in discussing this change with me."
Following her mother's example, Fincher has made herself a resource to young women so that none of them feels as unprepared or uneducated as her mom did.
A teacher at Howard High School, she's keenly aware of terms like "period poverty" and the stigma associated with it. Period poverty occurs when the lack of money for period products becomes a barrier to going about your daily life. For some girls, this means days spent at home instead of at school and embarrassment when they start their period at school but have no products to use.
"It seems to be an issue that is kept quiet due to embarrassment for lack of knowledge, or lack of necessities," Fincher said. "I saw it was a need and my motherly instincts kick in. I am a mother to a teenage daughter, so I understand the uncomfortable situation in which some girls may find themselves."
Having established herself as a resource among students, Fincher keeps maxi pads at her desk and said girls will come up and quietly whisper in her ear.
"Usually, I lead them to my desk and covertly slip them a pad. They leave and that's it; no questions are asked," she said.
During an interview of six Howard High students, more than a few of the young ladies expressed their appreciation for teachers and administrators like Fincher, who make them feel "normal" and not "awkward" about asking for help.
They said menstruation can be a "hassle." Daily routines such as picking out clothes or participating in extracurriculars, like swimming, become tasks they avoid as they learn to live with their menstrual cycle. 
Some young girls with older sisters have the advantage of intimate conversations on how to remain active and stay comfortable during their period. Some get advice and coping skills from their mothers – and some of them reach out to Fincher.
"If they trust me, I will first advise they speak with a family member," Fincher said. "If they don't feel comfortable with that, I may request a school counselor. But if I'm their favored choice, I will have a private talk with them about any questions or concerns they may have concerning periods, cycles, resources, etc."
Fincher isn't the only one on a mission to open up the conversation about menstruation and to help those in need.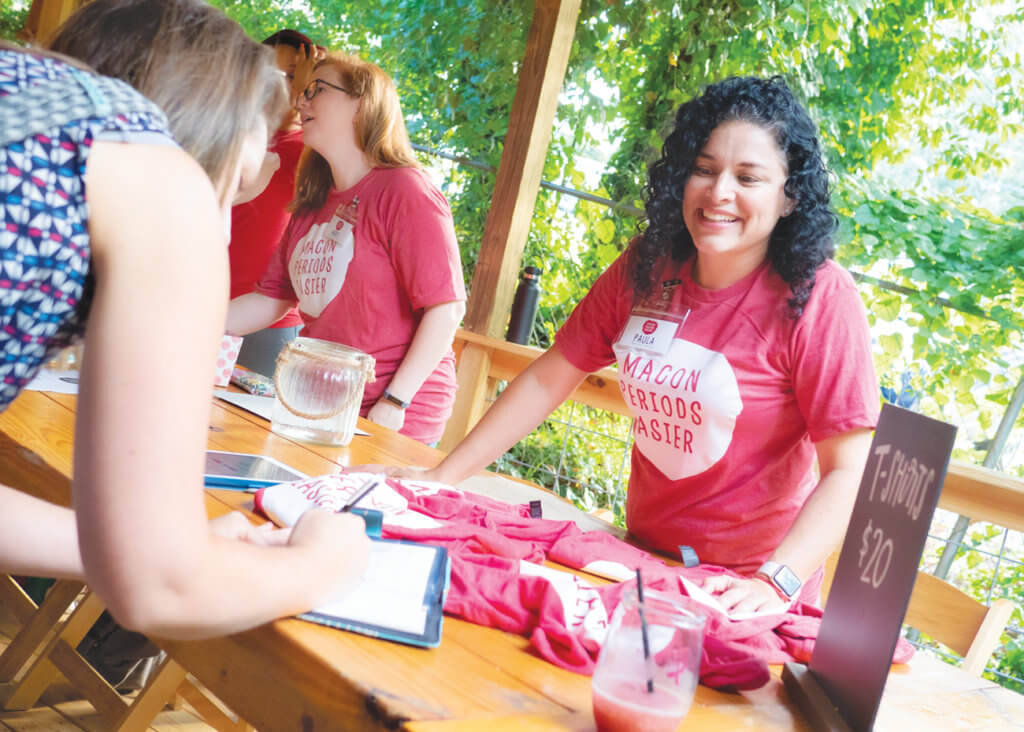 Macon Periods Easier was founded in February 2019 with a mission to "raise awareness of period poverty in Macon-Bibb County in the homeless community and schools with free access to menstrual products, as well as normalizing the conversation of periods," according to their mission statement.
The group was sparked by an experience Claire Cox had while working with Georgia Women (And Those Who Stand With Us), urging legislators to eliminate the sales tax on menstrual products. A member of the statewide coalition Georgia STOMP (Stop Tax On Menstrual Products), the group connected with the Homeless Period Project from Greenville, S.C.
"At the time, I had been researching needs in schools in Georgia," Cox said. "Working with Georgia STOMP leadership and state legislators, we were working on a bill for the legislature to establish a study commission to determine need in Georgia schools. I met with Bibb County nurses and district leadership to research needs locally. Until very recently, there has been little or no research in the United States that documents menstrual product need."
The more Cox worked in that arena, the more she became concerned about who was going to take care of students in Macon-Bibb.
"I felt strongly that someone locally needed to do what I was seeing be done in other parts of the state and country," she said.
So, last year Cox issued a broad invitation to a meeting she called "Macon Periods Easier."
"Out of that meeting came the amazing group of women who now lead Macon Periods Easier. They are doing phenomenal work meeting the needs of Macon-Bibb students," Cox said. "I support them in every way I can, lifting up their work and donating, but they get all the credit for making this supply network exist."
What started with a leadership of seven members has now grown to nine. The group has served 80 local schools and, as of August, has distributed 23,000 period products.
"We want to raise awareness amongst students and normalize the conversations about menstruation through education, presentation and events," said Paula del Rio, a member of the MPE leadership team. "To that end, we don't call them 'feminine hygiene products.' We use the real words, 'tampons, pads, liners,' to normalize the conversation."
It's a conversation this community is ripe for. 
"While we do have access to poverty data for Macon-Bibb County, we unfortunately do not have any recorded numbers specifically on period poverty," said Andrea Cooke, another member of the MPE leadership team. 
According to statistics from MPE, the concentrated poverty level in Macon-Bibb County is 44.7 percent, which is the third highest in the nation. In 2017, 13,567 children lived in poverty in Macon-Bibb. That means period poverty is a very real problem.
"At the Macon-Bibb County health department, we realize the financial strain that buying feminine hygiene products can place on individuals and their families. Our legislatures saw this need and starting this year we are able to provide feminine hygiene products free of charge to community members," said Dr. Renee Haynes, district health director for the North Central Health District. "I am delighted that our community was chosen as one of five nationwide to receive national help with providing feminine hygiene resources to those with limited access. Macon Periods Easier has provided over 23,000 menstrual products to residents and are making a difference."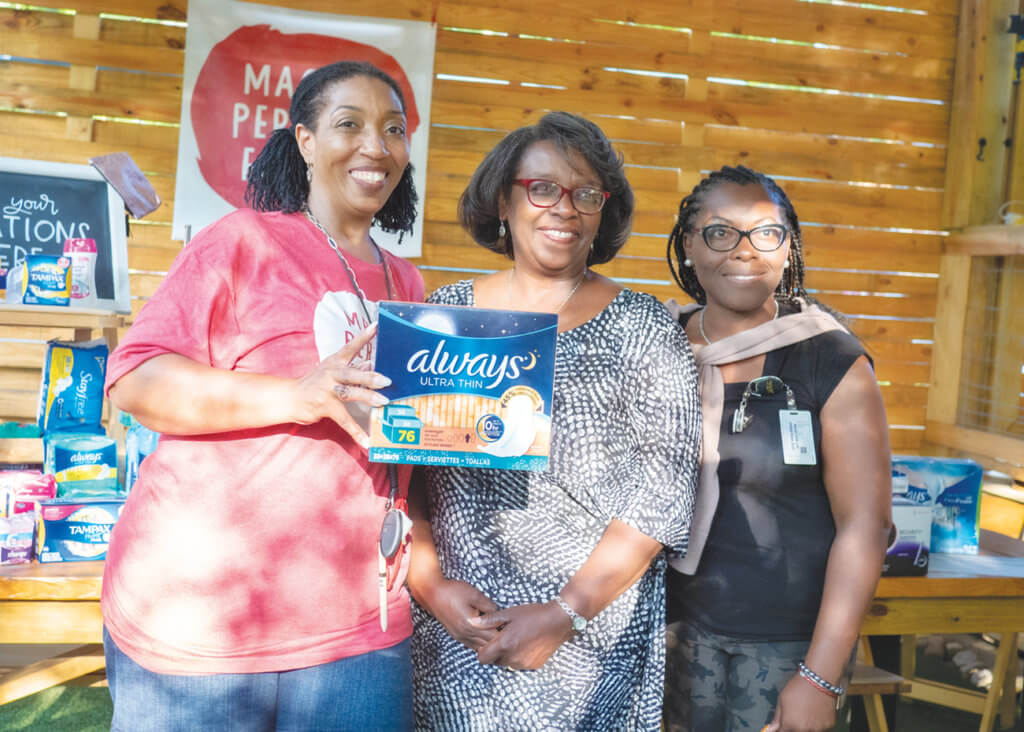 For some families, that difference is significant.
"Having a period costs $12 to $20 a month. If you have more than one woman in your household, that adds up to a lot of money," del Rio said. "There are people here who can't afford groceries, much less period products." 
 Cooke said that due to various factors and stigmas, period poverty is a problem that's only come to the forefront in recent years.
"Period poverty has existed much longer than that, but changing attitudes toward menstruation have brought it to light," she said. "That's part of why we are doing what we're doing. By bringing attention to the problem, we're dismantling stigmas, making people aware of an issue in their own backyards and showing people how they can help. Ideally, this work will create a conversation and we'll be able to compile stats on period poverty locally, and eventually across the state and U.S."
The work MPE is doing locally already has garnered national attention. Major period product brand Always reached out to MPE and selected the group to be a "local period hero." Macon Mayor Robert Reichert declared October as Period Poverty Awareness Month and MPE held a news conference in late September at Howard High announcing that Always donated 35,000 pads to the organization.
Those pads – along with a second, more recent donation of 15,000 pads from Always – are being packed with other period supplies into goodie bags, which are distributed to schools and other organizations across Middle Georgia.
"Period Parties" are happening at schools, churches and even among groups of friends. Women – and some men – are collecting donations and packing bags containing four pads, two tampons, two liners and two wipes. Del Rio said the bags have been distributed locally to recreation centers, rehabilitation facilities, homeless shelters and most importantly, to schools.
"Our school district is thankful for organizations like Macon Periods Easier that see a need in our community and then step up to fill that need," said Bibb County Schools Superintendent Dr. Curtis Jones. "We know the lack of menstrual products is an issue because the Georgia General Assembly took action to set aside funding in the current budget to help provide feminine hygiene products for low-income students. The work and dedication of Macon Periods Easier takes that a step further to ensure no female students lack access to these products during school.
"This is so important because each day of instruction missed can impact a student's achievement, and this support means students won't have to choose between school or staying home due to lack of products."
Looking to the future of the organization, MPE leadership member Erin Hawkins said she hopes to continue reaching more women in need – in Macon and surrounding counties – and meeting the challenges of storage space and funding.
"Our current challenges are having space to hold all of our donations and be able to host packing parties," Hawkins said. "We also have the challenge of not having the funds to buy things like storage containers, paying for gas for deliveries and other supply/maintenance things a group needs. We are all volunteers at this time, but hope to soon be a nonprofit and be able to have a salaried executive director."
As for Cox, she continues to support MPE while working to eliminate the tax on period products. She said many people ask her why she chooses to work to eliminate the "tampon tax" with all the "more important" issues she could focus her time and energy toward.
"The answer is," she said, "it is a gateway for getting the public to talk and to think about the wider implications of menstruation – social, economic and otherwise in our policy making."
Thanks to Cox and MPE, that conversation locally is well underway.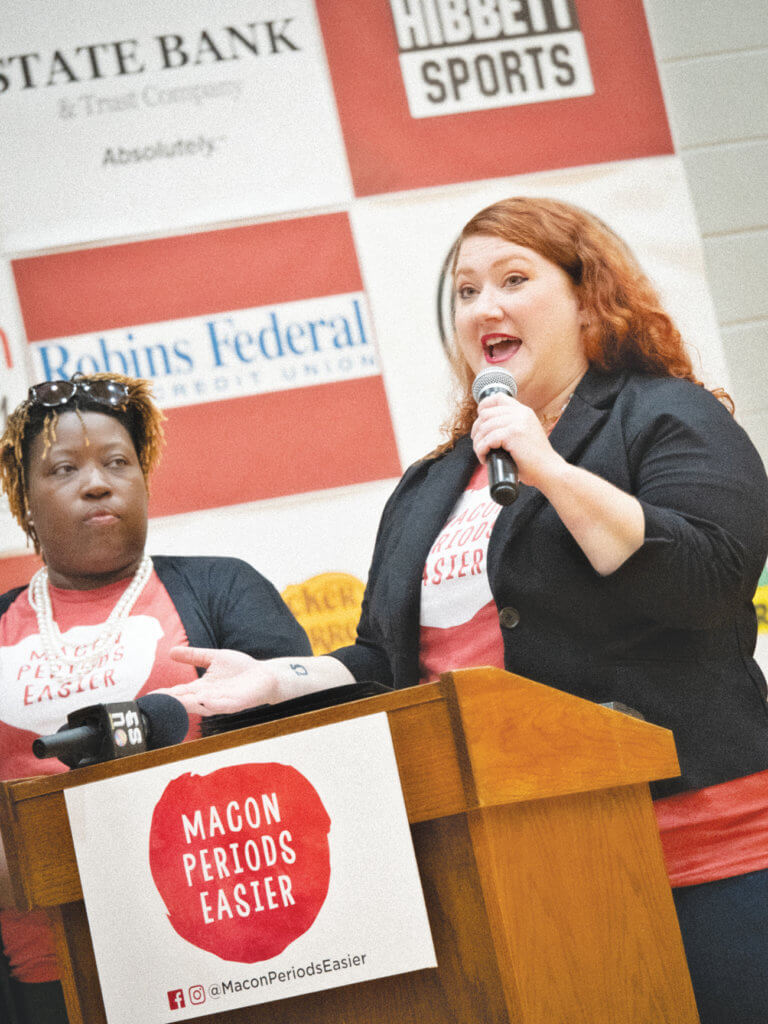 Want to make periods easier?
Macon Periods Easier accepts donations of period products year-round – there is even a supply wish list on Amazon. Any groups are welcome to collect supplies or host "Period Parties," and MPE's FaceBook page has information on how to get involved. For those without the means to purchase supplies, but who would still like to be involved, MPE also needs volunteers to pack bags. The easiest way to get involved? Normalize periods and discussion of periods in your home, place of worship, civic organization and school.