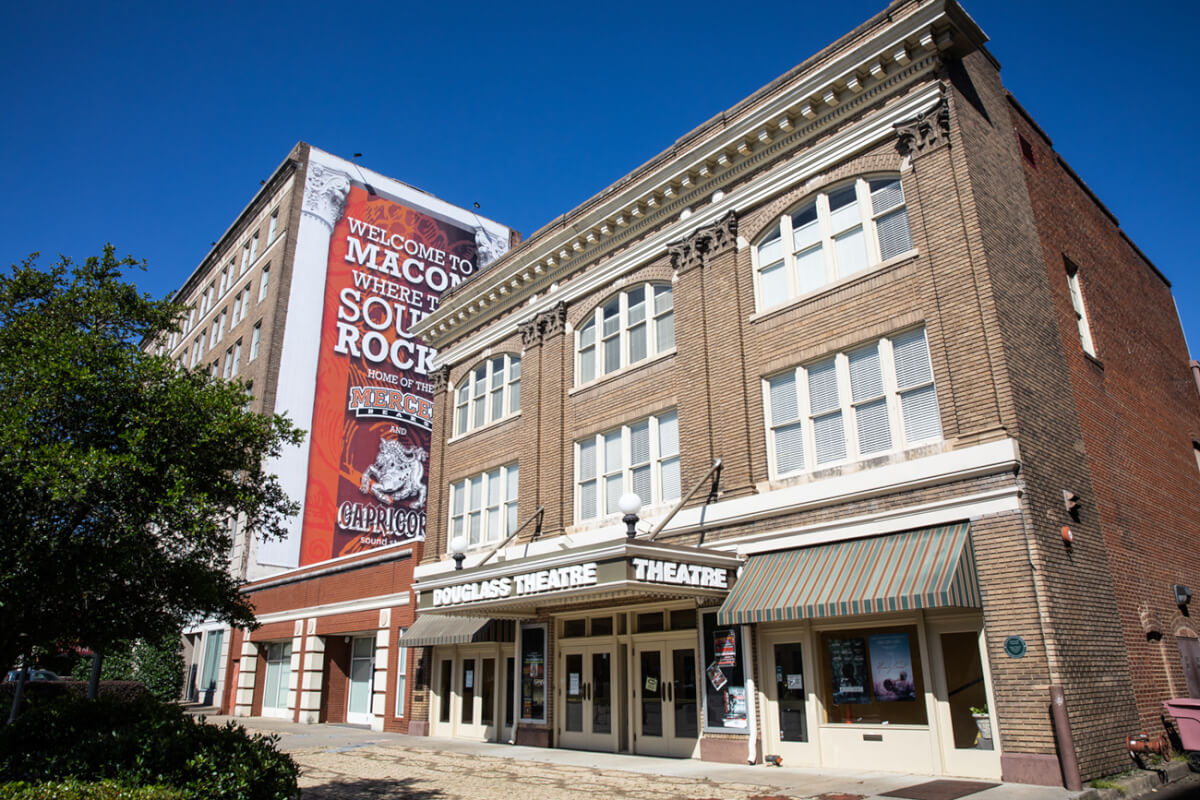 Douglass Theatre gains national acclaim
By Visionary Communications
Photography by Chris Smith
The historic Douglass Theatre in Downtown Macon continues to distinguish itself as a nationally renowned arts and cultural institution following the recent designation by online travel publication Fodor's Travel as one of "12 Lesser-Known Black History Sites in the South to Visit."
Described as historical sites that highlight the South's beauty and complicated history, the Douglass is a member of an impressive list that includes more instantly recognizable locations like the Brian Stevenson-founded National Memorial for Peace and Justice in Montgomery, Alabama; Gullah Geechee haven Sapelo Island just off Georgia's mainland below Savannah; and the Little Rock Nine Statues in Little Rock, Arkansas, which honor the students that integrated Central High School there in 1957.
Writer Kelundra Smith said in the article the place to see the hottest acts in vaudeville and music during the 20th century in Macon was the Douglass. The article goes on to reveal that the theater, founded by Macon-based Black businessman Charles Henry Douglass in 1921 at the height of desegregation, was one of the first Black-owned theaters in the country and a must-do for legends such as Little Richard, Bessie Smith, James Brown, and Ma Rainey. The article also shares that a young Otis Redding competed in talent shows there, winning a whopping 15 times in a row.
Gina Ward, executive director of the Douglass Theatre, said that being on Fodor's Travel further solidifies the Douglass as a distinguished tourist destination and historical resource. "This theater complex was established as a place for generations of visitors to enjoy a breath of noteworthy local and national talent in an environment that conveys class, beauty, and positivity," said Ward. "It's an honor to be in the company of these indelible sites around the country, which additionally motivates and commits us to our continued mission of being the cultural and educational resource our founder intended for the Douglass to be."
Visit Macon President and CEO Gary Wheat is familiar with the Fodor designation and added, "Visit Macon is proud to promote all our destinations' cultural opportunities through our relationships with travel journalists and the media. The Douglass Theatre is a Macon treasure, and we are so proud to see it featured in Fodor's. The Douglass is one of Macon's attractions that makes our community a truly rich cultural destination for citizens and visitors alike."
The magazine designation is also being treated as an extension of the theater's "One Hundred Years and Beyond" celebration that took place mostly last year and part of this year. During the yearlong series of activities, patrons enjoyed special events honoring the theater's 100-year existence as an iconic arts and cultural venue that included live performances featuring local and nationally known acts, special film screenings, fundraisers, the debut of the theater-commissioned Mr. Douglass's Theatre: The Documentary, and more.
For more information about the historic Douglass Theatre, call (478) 742-2000 or visit its website.