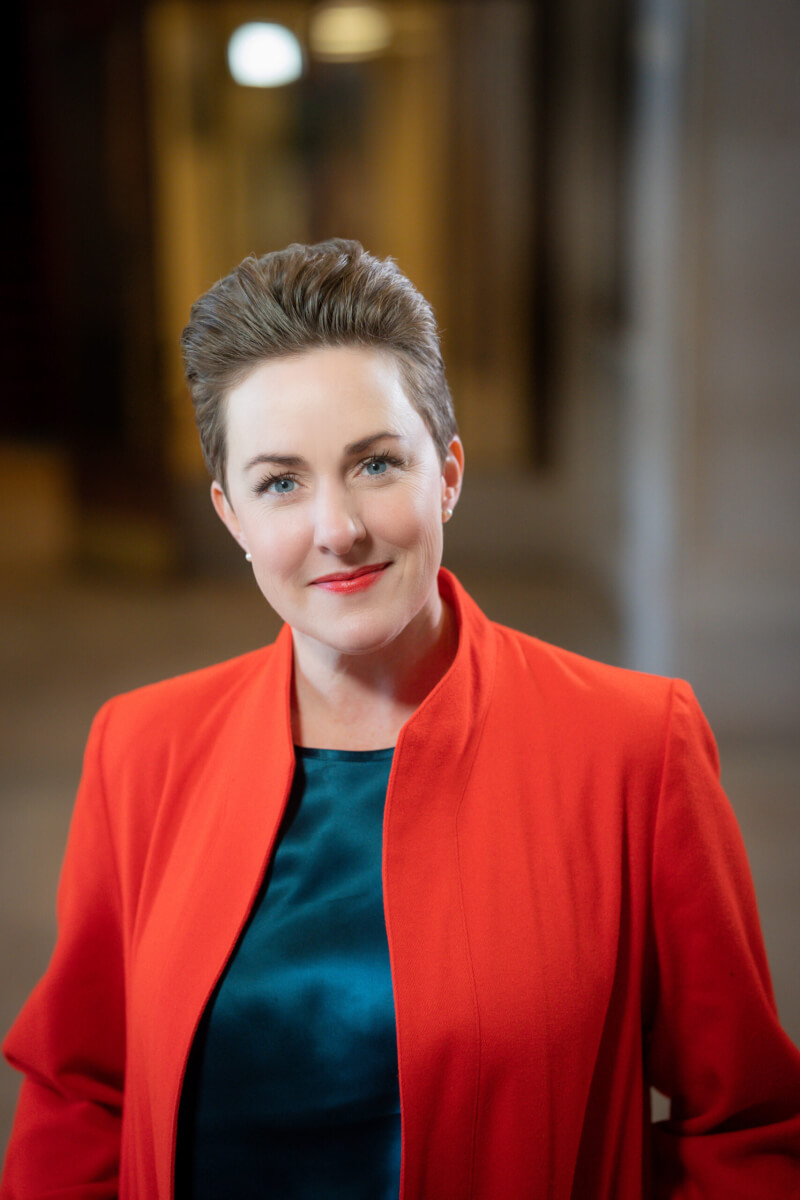 Excitement for the evolution in the Chamber's next chapter
In celebration of the 2022 Chamber Awards, we interviewed Jessica Walden, the Macon native who was recently announced as the Greater Macon Chamber of Commerce's newest president and chief executive officer, to share more on her vision and plans.
Q. What is your vision for the Macon Chamber?
It's an exciting new time for the Greater Macon Chamber. We are moving our offices from the Coliseum parking lot to Poplar Street, in the heart of downtown. The Chamber will have a prominent role in a welcoming district into downtown, with strong partnership with our neighbors at Visit Macon, NewTown Macon, the downtown museum district, and the Macon Transit Authority at the Terminal Station. Being a part of the downtown community allows more opportunities to leverage our resources, space, and connection the Chamber provides.
This move is the beginning of a historic time of transition, one where we live our vision as the best place to do business in Georgia and communicate broadly our relevance and value as the most significant, organized business community in Macon-Bibb.
The Chamber will be relevant in laying the bricks for Macon's business success. That success is diverse and inclusive, with a responsive cultural narrative. We are a trusted regional partner. And it's not just location, location, location — it's people, people, people who want to be in our best location to do business.
Q. What are you most excited about in your new role as president and CEO?
I have spent the majority of my 20-plus year career dedicated to the progress and vitality of my hometown. There is no place I would rather be doing this than Macon, Georgia. Now, to be at the forefront of that progress — at the table, in an official capacity — truly excites me. Timing has never been better to channel my dedication to the work of the Chamber.
I am eager and ready to be a team player, community collaborator, and regional partner. This extends from working with our incredible staff at the Chamber to our volunteer board of directors to our economic and community development partners locally and within our Central Georgia region and state. It is important that the Macon Chamber is that trusted regional partner. And that we're not behind when compared to our peer cities. This means we've got to work together. And I feel like my experience in our communities, working locally, regionally, and across the state, has prepared me to do this. I get the big picture of where we need to be, together.
Q. What else is there to know about you, in and outside your new role?
That I am grateful. I am grateful to have been born and raised in Macon, Georgia, a stone's throw from the original Chamber office at the Coliseum. I am grateful for an incredible family legacy connected to Macon's music heritage, which was diverse and inclusive in its groundbreaking work at bringing people together. I am grateful for my family — a husband and business partner who believes in the greater good like I do and the son we are raising to do the same.
I am grateful for my experience as a business owner and the empathy that entrepreneurism creates. I am grateful for Macon — all of it — our stories, our lessons learned, our city's scrappiness, quirkiness, grit, and redemption, plus its high quality of life, lower cost of living, and centrality to everywhere in Georgia.
I am grateful for the community I strongly believe brought me to this role today and the local leaders I admire who set the pace to our sense of place and commitment to Macon's vitality. Thank you to anyone who believes we're onto something greater here in Macon. I am honored to serve as your new Chamber president and will take great pride and good care of our businesses.