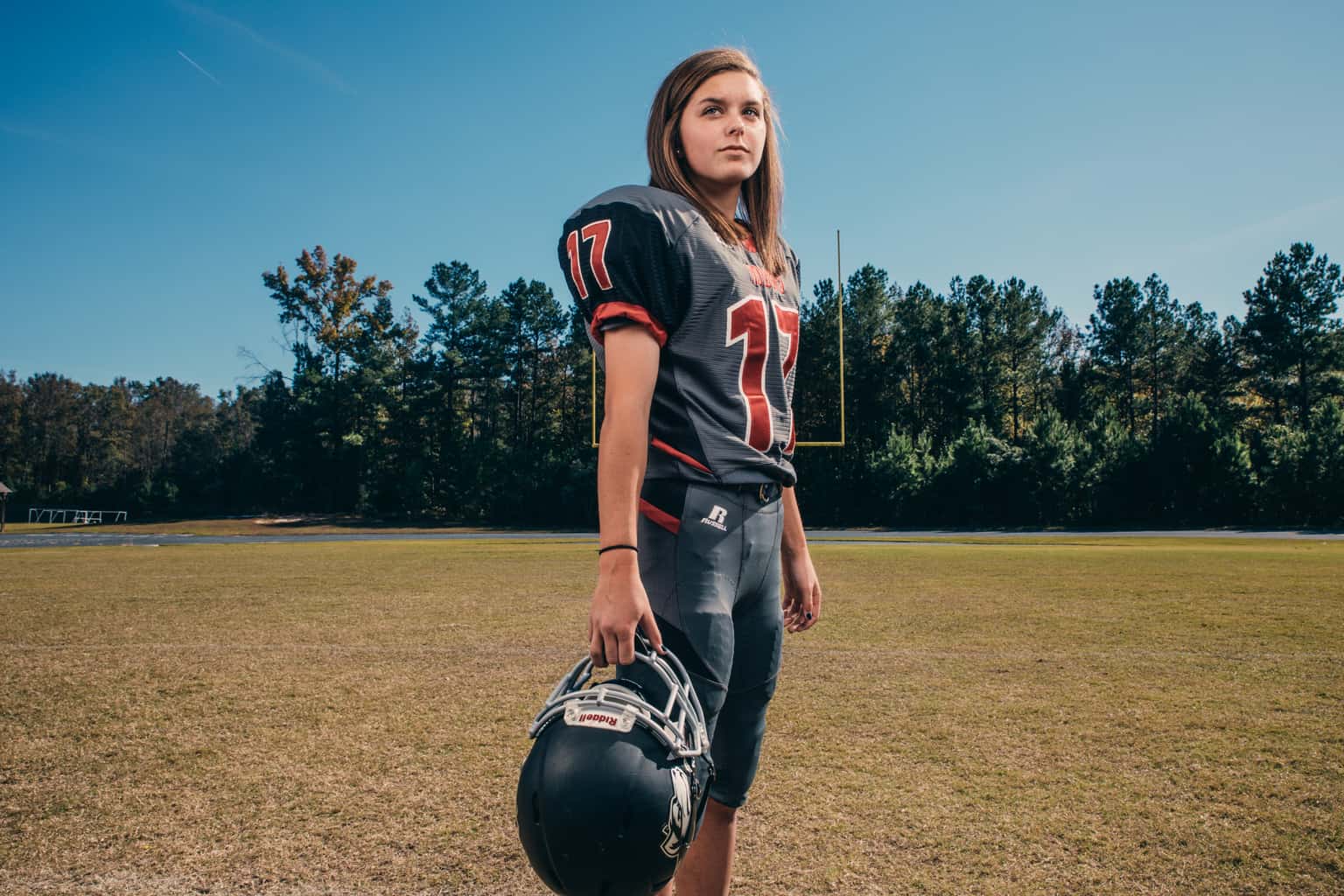 Females and Football
How girls in Bibb County are breaking barriers by joining their school football teams
By Lisa Pritchard Mayfield 
Photography by Matt Odom 
History is happening here in Bibb County, perhaps in an unlikely location: on the football field. At Howard High and Howard Middle schools, girls have joined the football teams for the first time ever – not just at Howard, but in all of Bibb County. 
When Elizabeth Rodenroth started playing soccer as a young child more than a decade ago, she never dreamed one day she'd be wearing the uniform of a high school varsity football team – a sport traditionally dominated by guys. But now, after completing her first season as starting placekicker for the Howard Huskies, Rodenroth has made her mark and already is looking forward to next year.  
Soccer players are often tapped as football kickers because of their skills on the field; but Rodenroth had only kicked that black-and-white ball before late spring 2018. As one of Howard High's leading female soccer players, she scored 25 goals last season – and head football coach Paul Carroll took notice. 
"The football team was in need of a kicker, and the coach was trying to find the right person," Rodenroth said. "I heard about try-outs, and thought I'd give it a go. I was interested and a bit nervous at the same time." 
The 16-year-old made the team and wears the No. 17 jersey. While a novelty in Bibb County, Georgia High School Association officials said there were 66 young women playing high school football statewide during the 2017-2018 school year. The response from their male counterparts has been encouraging. Rodenroth said the guys on her team have come to respect having a girl in their ranks. 
"They've been great since day one," Rodenroth said. "After watching me kick for a few days, they warmed up to me even more. I think they were unsure of a girl kicker at first, but I have worked very hard to prove myself. I think they know I am a very competitive person and they respect that now. They treat me like one of the guys and have embraced having a female kicker on the team." 
Coach Carroll also has helped to address any privacy challenges that may arise. "The guys are all respectful and keep their 'guy talk' private," said Rodenroth, who has her own locker room facilities at both home and away games. 
She works hard to balance other challenges. "The balance between my soccer and football schedules is tough," Rodenroth said. "I practice four days a week with the football team, then head straight to soccer three days a week. We play football on Friday nights and then I travel for soccer games on Saturday and Sunday. On top of all that, I have to keep up with my school work." 
An unexpected by-product of her participation on the football team is the "rock-star" excitement that has ensued thanks to her success on the field and as a trailblazer among young women. 
"I don't really see myself as blazing trails," Rodenroth said. "I'm really just a student athlete who loves to compete. The fact that I'm a girl has never really been part of the discussion for me. I just want to be the best I can for my team, my school and myself." 
LaToya Smith, principal at Howard High, said the excitement about having Rodenroth on the football team is contagious. "Staff, students and fans are so thrilled to see her play," she said. "Our football team is amazing, and the talent Elizabeth possesses has fans cheering her on every time she runs on the field." 
Rodenroth has attracted a bevy of younger female fans, too. 
"Because Elizabeth is a part of the football team, I think it does motivate and gives the 'okay' that girls can do this, too," Smith said. "I enjoy watching little girls run up to her after games to take pictures with her." 
To those who look up to her, Rodenroth has a message of strength and optimism: "You are your own limit," she said. "Don't let anything stand in the way of trying the things you want to try." 
And next door at Howard Middle, another girl is kicking her way into history as the first female on a Bibb County middle school football team. Anastasia Griffin, an eighth grader, also sharpened her kicking skills as a soccer player, a sport she's been playing since she was 4. When Howard Middle School head football coach Ryan Schomber asked her if she'd be interested in kicking for the middle school's 2018 football team, she initially thought he was joking. It turned out, he wasn't. 
Griffin made the team and kicked her first football last August. 
"It wasn't exactly like kicking a soccer ball," she said. "It took some practice to learn to kick in one fluid motion. I had to get used to the timing." 
Howard Middle School principal Kevin Adams said that the addition of a girl to the team increased excitement for the sport. 
"She was doing something that we've never had happen before at Howard Middle School," he said. "Her teammates have really rallied around her. When she kicks a successful PAT, they get so excited and that energy resonates throughout the crowd." 
Griffin will be a freshman at Howard High next fall, and Rodenroth a senior. Both girls plan to try out for the football team, perhaps making history again – as the first Bibb County team with not one, but two female members.