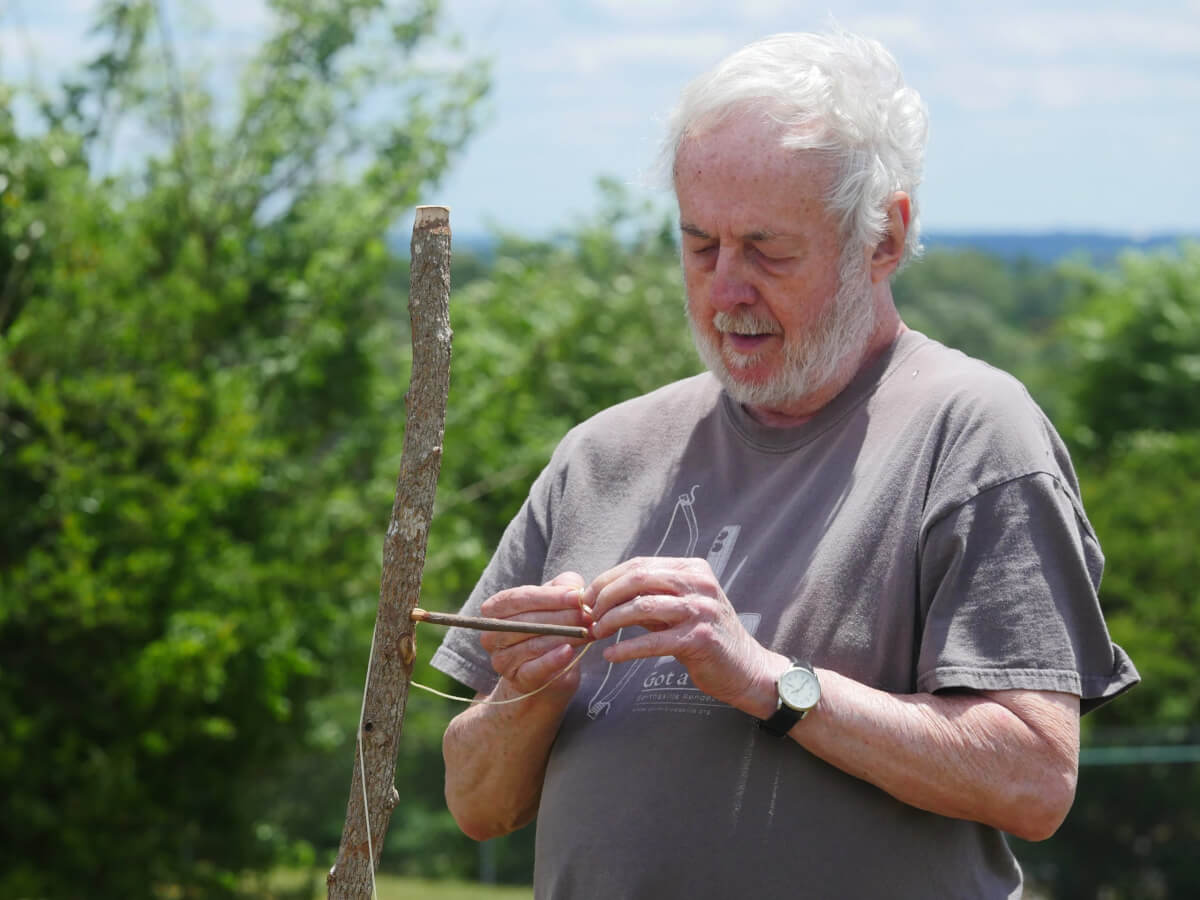 It's all in the skills
Paul Hornsby drew crowds during May's Fort Hawkins Archaeological Day with his mostly hand-made arrows, spears, atlatls, stone-string-and-branch bird traps and other paraphernalia and lore.
The sign at his display table simply said, in scrawled letters, "Paul Hornsby: Primitive Skills."
It didn't say, "Paul Hornsby: renowned musician and platinum record producer for groups including the Marshall Tucker Band, the Charlie Daniels Band and Wet Willie and on hits like 'Heard It in a Love Song,' 'Fire On The Mountain' and 'Long Haired Country Boy.'"
It didn't say that, while a member of Hour Glass with friends Duane and Gregg Allman, they did house-band duties at LA's Whiskey a Go Go and jammed with the era's most famous, including one legendary night with Janis Joplin, Eric Burdon, Steve Stills, Neil Young, Buddy Miles and Paul Butterfield.
It didn't say he not only played and toured with the two Allman brothers but also with Capricorn's Bonnie Bramlett, Scott Boyer and Tommy Talton of Cowboy, Chuck Leavell, Tim Hardin, Dr. John, Livingston Taylor, Alex Taylor and, of course, Charlie Daniels and The Marshall Tucker Band.
And it didn't say Hornsby remains to this day a talented keyboard player and producer who chose to remain in Macon where he opened Muscadine Recording Studios, raised a family and recorded the famous and want-to-be famous.
It didn't say any of that, but it could have, and it could have added much more about his Macon arrival in 1969 to early Capricorn Recording Studios as a staff musician and becoming studio manager and producer and playing a role in bringing other talents here.
But not saying any of this didn't diminish the attention or admiration Hornsby got from Archaeological Day attendees. Or the awed looks he and his gear got from kids. They, along with Hornsby himself, loved the stuff he showed.
"I got interested in all this when I was just a kid growing up in Alabama," he said. "In fact, I hardly remember when I wasn't fascinated by arrowheads and such."
Hornsby did recall seeing plenty of comic books and movies with Native American characters in them as a youngster and liking their bows and arrows.
"I tried making my own arrowheads but, just seeing them in movies, I had no idea how to go about it," he said. "I took the tops off tin cans and tried to shape arrow points from them and got cut up. My father came along and asked what in the world I was up to, then told me they weren't made of metal but from rocks. That just didn't make any sense at all to me at first."
But an arrowhead expedition on land his father had bought resulted in finding 10 arrowheads in one day and solidified what's been a lifelong passion for learning how people used to do things.
Hornsby said his life has been about music, but his hobby has always been about early skills and past technologies.
During the day at Fort Hawkins, Hornsby spent a lot of time showing off an atlatl he made along with its "feathered spears." Atlatls are ancient spear-throwing devices, or "throwing sticks," that allow the user to launch spears with great force to go a greater distance more powerfully.
"These were used all over the world," he said. "American Indians and Europeans quit using them when they took up bows and arrows, but these were used earlier to hunt wooly mammoths during their time. No one ever hunted one of those with a bow. But the Aztecs used them longer because they discovered they could pierce Spanish soldier's armor with them."
These are the sort of things Hornsby knows now from having collected information through the years. If quizzed by a child or adult about an arrow point, spearhead or other artifacts he's not familiar with, he's quick to pull out "Postcards to the Past: Context and Continuity in Primitive Technology."
As well as appearing at Fort Hawkins Archeological Days, Hornsby occasionally talks to classes, Scout groups or interested others as time and opportunity allow. Sometimes, it's a more spur-of-the-moment thing.
"I don't do this for money or do it all that often, really," he said. "But like the Monday after I was at Fort Hawkins, a group came by . . . before you know it, we were out throwing an atlatl in the backyard. It's an interest. It's just something I do. And I tell you one thing, if you pull out a bunch of bows and arrows, kids are going to line up to see them."
So the community benefits and learns a little something, not often thinking how the talented and famous people who come help Macon be the music city it is often bring – and add – more than what you see – or hear – on the surface. It's here that Hornsby honed his skills, both traditional and platinum-record producing.
Another arrow in his arsenal of skills: Hornsby recently became a published author. His autobiography "Fix it in the Mix: A Memoir (Music and the American South)" was released by Mercer University Press in 2021 and is available through book retailers.