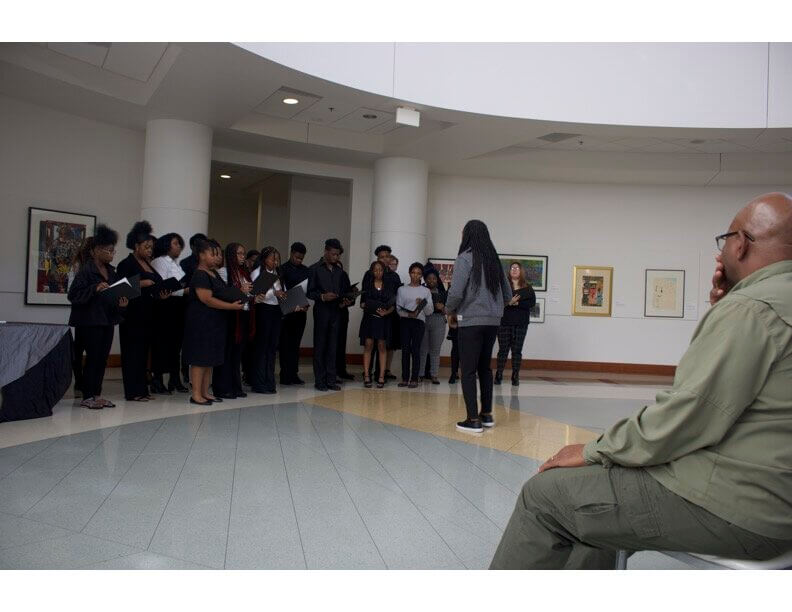 The Tubman Museum celebrates Macon's trailblazers and activists
By Maura Rutledge
Macon trailblazers Johnny Crawford and Wilfred Stroud were celebrated at the Tubman Museum for their contributions to Macon's art and culture as part of Macon's Bicentennial celebration.
Macon's 200 years of existence have led to an abundance of culture in Central Georgia. Many examples of this rise in culture can be found in Macon's art history, specifically in the works of photojournalist Johnny Crawford and artist Wilfred Stroud, who were both honored at the Tubman Museum in an event titled Macon Trailblazers & Activists: The Faces of a Community. The event, which took place on Feb. 19, 2023, paid homage to Crawford and Stroud's work in our community. Both artists' works are currently on display in the museum. The exhibition opening also featured performances from Central High School.
Crawford's humble beginnings trace back to Jackson, Georgia, where he lived with his grandfather. In his youth, his grandfather's picture was put in the newspaper. When his grandfather proudly showed Crawford the picture, Crawford was disappointed.
"It had two white spots for eyes and a row of white teeth, and when my grandpa was showing me that picture, I lost it," Crawford said.
Crawford said that he immediately went to the outlet that produced the article in hopes of getting an explanation as to why his grandfather's picture turned out subpar. The explanation he got was simple: the woman taking the picture did not understand how to correctly shoot portraits.
"I said when I was 15 years old that if I ever start taking pictures, I'll make sure that people look the way they should," Crawford said.
Since then, Crawford has done many photo series including one focused on Black soldiers that fought in Vietnam and a series of people who have received transplants. However, the work that is currently on display at the Tubman is a series of black and white portraits of Macon citizens. Many familiar faces can be seen, like Reverend Henry Ficklin.
"In 2017 Crawford was Artist-in-Residence at Middle Georgia State University. During his tenure, he completed a collection of portraits that are a limited, yet compelling view of Macon's African American community from the perspective of an outsider coming to know, and to be known, within a close-knit community," states the Tubman Museum website.
In his speech, Crawford explained his creative process. He made it clear that getting to know his subjects is critical.
"When you photograph people, it's just like we all sit in here right now. For most of us, this is not who we are, these are our agents. This is what we wish to do. But when you have to take portraits of people, you have to ask the right question, so that person will appear in front of you," Crawford said.
The event also honored the late Wilfred Stroud, an artist, musician, and veteran. Stroud grew up in Macon and later traveled to New York to study at the Cooper Union School of Fine Arts. He was quoted to be a "Renaissance man" by his student Rudolph Mendes.
"Because he went to school in New York, he was inspired by things that happened during the Harlem Renaissance. And when he came back to Macon, he brought the Renaissance to Macon," Mendes said.
After returning to Macon, Stroud became very involved in the Macon community. He was part of the Arts Alliance, Middle Georgia Arts Association, Partners in Education, and the Bibb County Institution of Arts and Education. He was also very connected to the Macon jazz scene.
"His most famous work is a mural from Africa to America that has been in the exhibit since 1988. It is incredible work that expresses the art mission and dreams of the Tubman Museum. From his work, it was an immeasurable contribution to the Tubman Museum during his lifetime," Executive Director of the Tubman Museum Harold Young said.
Stroud was awarded the Act of Courage Award at the Macon Trailblazers & Activists: The Faces of a Community event, which was accepted by his wife Mary Stroud.
Among the many trailblazers in attendance, Alex Habersham from the Macon Bicentennial Committee gave praise to the artists mentioned and promoted the many other celebratory events of Macon's compelling history.
"The Bicentennial Committee seeks to strengthen civic pride by educating the community about our history, celebrating our accomplishments, acknowledging our past, and promoting a harmonious future…This is a celebration for everybody. And we want everybody to buy into this, and to be a part of it. Now how can you do that? Macon200.com," Habersham said.
Upcoming Bicentennial events can be found at the official Bicentennial website, Macon200.com.