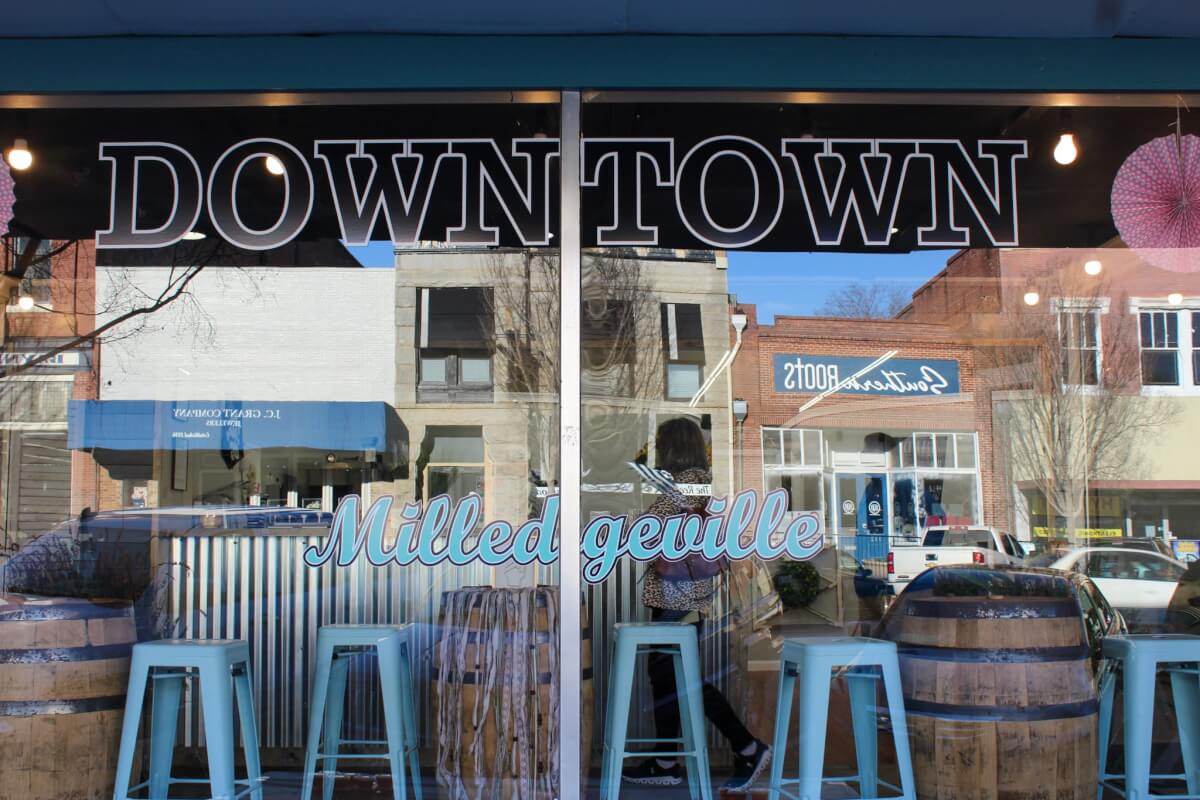 Middle Georgia gems
Make it a day in Milledgeville
By Rachelle Wilson
Photography by Mariah Gandy
A series of articles exploring charming towns worth a day-trip. Read about more locales at maconmagazine.com.
It is time to hit the road again. This time, we are headed to Milledgeville, about 30 miles northeast of Macon. To begin with, my awareness of what this neighboring town has to offer was outdated. With a population under 20,000, it may be a bit surprising to know that the unassuming town served as Georgia's capital for more than 60 years. The robust history of the town is obvious to anyone coming to visit. Being home to Georgia College and State University, Milledgeville finds its historic avenues bustling with youthful energy and trending commerce. Here are a few stops to add to your list of places to visit on your next trip to Milledgeville.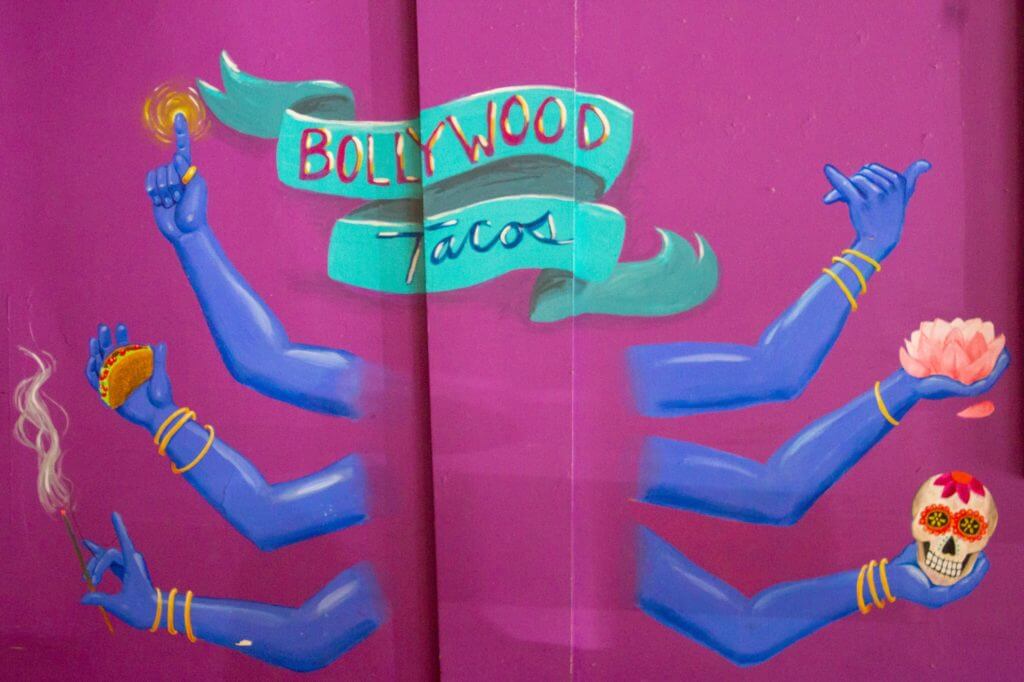 BOLLYWOOD TACOS
107 W. Hancock St.
BEFORE SETTING FOOT INSIDE, the name of this vibrant eatery demands one's attention. Once through the teal door, everything from the murals to the menu confirms the fun, fusion vibe of the place. And yes, it offers the mainstays that any restaurant that includes the word "taco" in its name must have: guacamole, street corn and of course, tacos.
But it does not stop there, some tacos are given the fusion power-up. Their signature "Bollykicks Tacos" are served on naan bread and feature fillings such as Dehli belly, chilli paneer and chicken shawarma. If you find yourself within their purple walls, opt for the fusion tacos; they do not disappoint.
"Milledgeville is a very special place for me and my family. We opened Bollywood Tacos in 2018. My partner, Gregory Hinton, and I bought an existing business and changed the concept to include an Indian flair. We serve fusion tacos on naan and my brother, Amit Kumar, took responsibility for the kitchen. We opened another location in Chattanooga, Tennessee, last year as well. Bollywood Tacos is very successful and it's right in the middle of downtown Milledgeville. For the last four years, it has been a good attraction to Georgia College students and it has become a major part of downtown Milledgeville's culture." — DEEPAK KUMAR, CO-OWNER AND DISTRICT MANAGER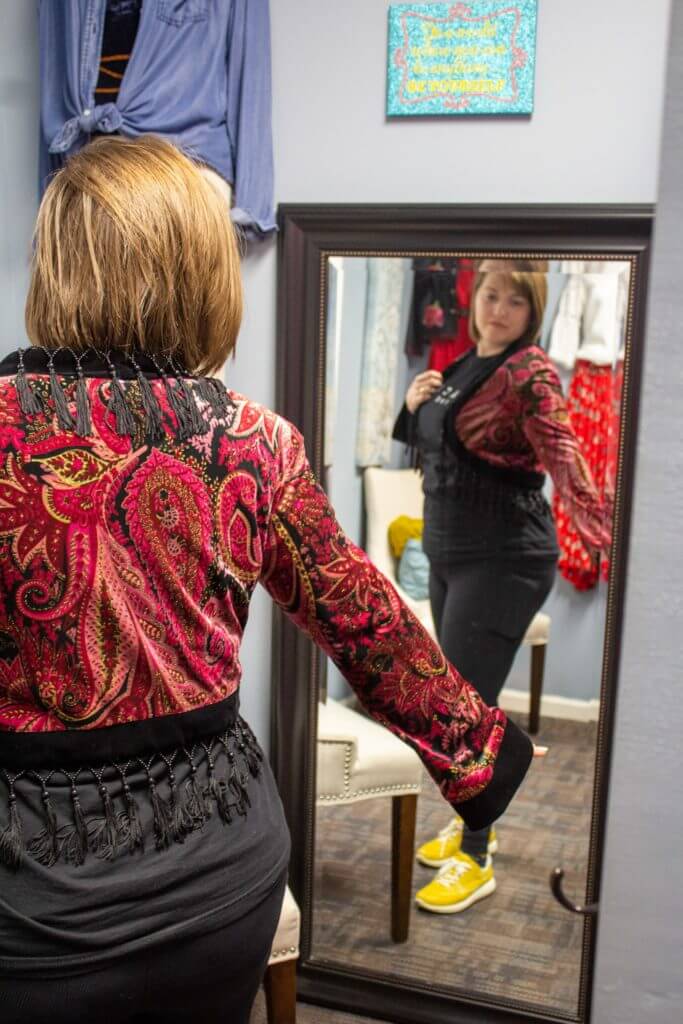 MILES OF STYLES
134 S. Wayne St.
WHEN IT COMES TO SHOPPING in a resale store, it can often be more of a miss than a hit. But one step inside Miles of Styles confirms that this adorable shop is the perfect balance between quantity of choice and quality of options. With everything from staples to statement pieces, owner Heidi Martin takes great care to select items that won't just take up space in your closet, but will expand your wardrobe. With everything from hats and shoes to jackets and dresses, your spring refresh awaits you.
"Miles of Styles has been open for five and a half years. What makes this store special is the uniqueness and authenticity of what I offer. I have been doing this for over 30 years and there is nothing like what I do in this area. All my stuff comes from Oregon, which is number one in the country for thrifting and reselling. … I have people come from Athens, Savannah, Augusta, Atlanta and beyond to shop at my store in Milledgeville. When I am selecting items for the store, the number one thing I look for are articles that are unique and stand out." — HEIDI MARTIN, OWNER/OPERATOR
ANDALUSIA FARM
2628 N. Columbia St.
WHETHER A LOVER OF HISTORY, PRESERVATION, LITERATURE OR MENAGERIES, Andalusia offers something to draw you in. The home of Georgia writer Flannery O'Connor, this straightforward farm house is under the care of O'Connor's alma mater, Georgia College. Open to the public since 2018, Andalusia invites visitors to take a step back to the '50s and '60s. Frozen in time, the kitchen shelves boast the actual spices and jars used by the family; the mantle displays O'Connor's knick knacks and medicine bottles; the porch invites tourists to enjoy the rocking chair view that inspired novels; even the bedroom shows off Uncle Bernard's pajamas.
The grounds are extensive and visitors can walk to a small pond, say hello to the peafowl and tour the additional structures. A remarkable piece of history and culture, Andalusia is a must visit for any Georgian.
"Milledgeville is a town steeped in history and charm. We have historical buildings, fantastic local restaurants and two national historic landmarks. It's really something that draws things in. Andalusia has helped shape the Milledgeville community by highlighting Flannery O'Connor, someone the town really can be proud of. And as Andalusia has become the newest National Historic Landmark, it continues to give something that Milledgeville can be proud of and known for." — CASSIE MUNNELL, CURATOR
Andalusia named a National Historic Landmark
ANDALUSIA FARM in Milledgeville, the home of author Flannery O'Connor, has become the second National Historic Landmark (NHL) for Georgia College and State University. Georgia's Old Governor's Mansion was the college's first NHL in 1973.
"There are campuses across the country that have National Historic Landmarks, but this is a rarity in Georgia to have two in a town of our size and capacity," said Matt Davis, director of Historic Museums at Georgia College. "It's an accomplishment we can all be very proud of."
O'Connor moved to Millidgeville with her family when she was 15 and enrolled in Georgia State College for Women, now Georgia College. After graduating, O'Connor went on to become a novelist, essayist and short-story writer. Andalusia was the inspiration for many of the characters and environments in her works.
After O'Connor's death in 1964, the farm remained in her family until 2003 when it was given to a private foundation to use as a museum. Georgia College received the farm in 2017. Andalusia was listed on the National Register for Historic Places in 1980. In 2019, it was listed as a "Distinctive Destination" by the National Trust for Historic Preservation.
"It's so important that the places we deem nationally significant represent the diversity of the American experience," said National Park Service Director Chuck Sams. "O'Connor's contributions represent a unique space in American literature, and her works continue to inspire new generations."
Georgia College has been preparing for 12 years for Andalusia to become a NHL, with the designation finally happening on Jan. 27.
"We are so pleased that Flannery O'Connor's home has gained national attention through this distinction," said Cathy Cox, president of Georgia College. "A notable figure in the literary world, her creative works continue to impact many of our students and aspiring authors throughout the world. We are honored to be able to preserve this pivotal part of Flannery's legacy here at Georgia College." — MANDI DELONG