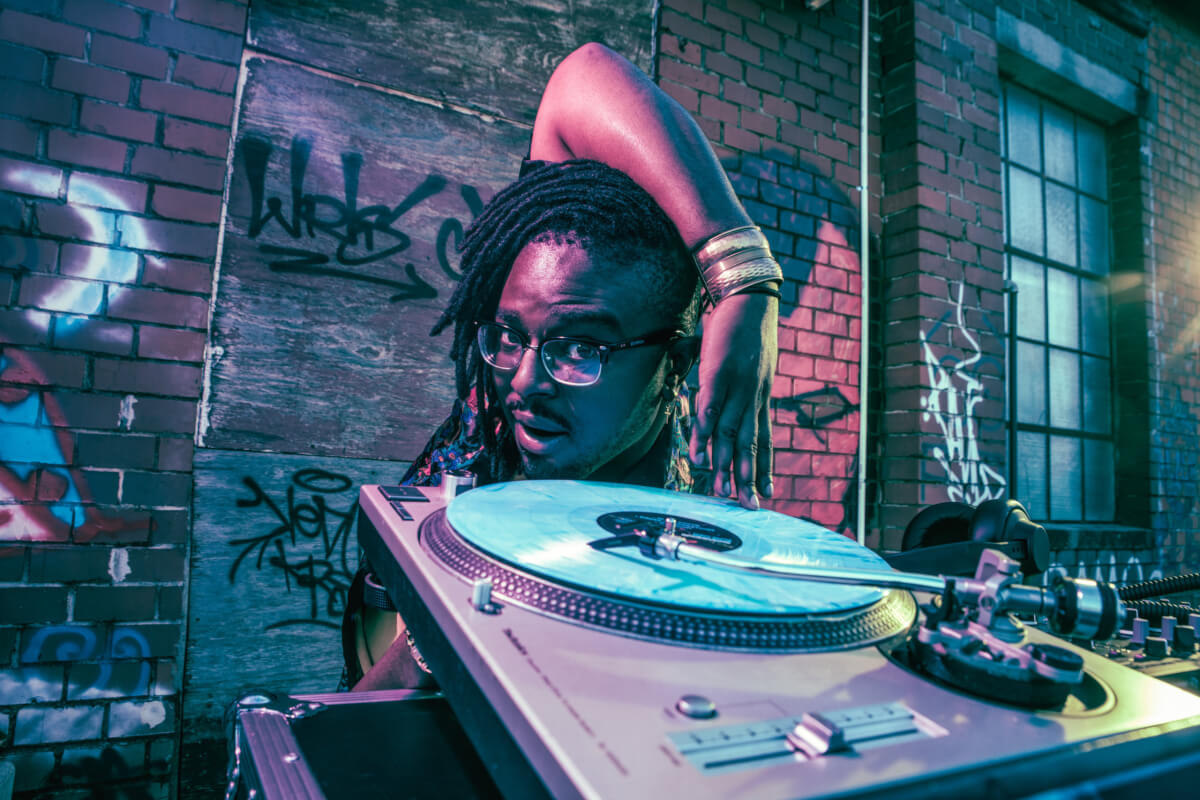 Spin It Forward
Staying tuned
Driven by a passion for music, local DJs turn hobbies into successful, lifetime careers By Traci Burns Photography by Matt Odom
"A DJ's job is to channel the vast ocean of recorded sound into a single unforgettable evening," wrote Bill Brewster in "Last Night a DJ Saved My Life: The History of the Disc Jockey." Sounds like a lot of pressure, but professional DJs live for the opportunity to captivate an audience, share new and unexpected music and, to quote iconic local DJ Shawty Slim, "create the cool."
The term "disc jockey" was coined in 1935 to describe someone who selected and played records on the radio. Early disc jockeys were powerful figures, arbiters of cool who thrilled teenagers and mortified parents by blasting the wanton frenzy of early R&B and rock music directly into straitlaced 1950s suburban homes. Disc jockeys helped rattle the intolerant racial and social protocol of the era by granting anyone within earshot access to diverse, captivating musical talent.
Macon's first black on-air radio personality, Georgia Music Hall of Fame inductee Hamp "King Bee" Swain, proved that a savvy DJ is a powerful cultural force. At Swain's weekly live broadcast, "Teenage Party," held at the Douglass Theater, young Otis Redding sang his soulful heart out and won first place in the talent competition – 15 times in a row.
In 1956, Swain played James Brown's song "Please, Please, Please" on air for the first time. The raw, pleading tune struck a chord with audiences, who lit up the switchboard calling to request it again and again.
DJs chose their own music back then, and Swain showed up at disc jockey conventions ready to promote the Macon music he so dearly loved.
Thanks to an explosion of culture and technology, DJs have changed the face of popular music. Rap and hip-hop wouldn't be the same without them – imagine the genre with no record-scratch sounds, no extended mid-song instrumental dance breaks. No longer relegated to radio station offices, DJs are everywhere – headlining music festivals, playing at sporting events, compelling all your weirdest family members to shake what their mamas gave them or do the Macarena at your cousin's wedding.
This year has been rough for performers and musicians, as the COVID-19 pandemic brought live events to a screeching halt.
"Suddenly, I'm a liability for doing my job," said Khalil Blount, aka DJ B3. Always ahead of the tech curve, many DJs swapped out in-person events for livestreamed sets. Homebound audiences needed to dance and feel joy, and DJs needed the creative outlet – but they also needed to make a living. Artists and musicians are no stranger to the side hustle. During this uncertain, socially distant time, some DJs have had to explore other ways to generate income while waiting to return to the booth.
Choosing to pursue DJing as a professional, full-time career requires passion, creativity, skill and tenacity. One thing every good DJ has in common? They want to play music that makes you feel good.
Yeah, you. As we slowly and safely reopen venues and host events again, consider getting outside of your comfort zone and checking out a set or two by one of the many talented DJs who call Macon home – and stay tuned to learn more about what makes a handful of them tick.
***
Shirley Ellis // Mama Mia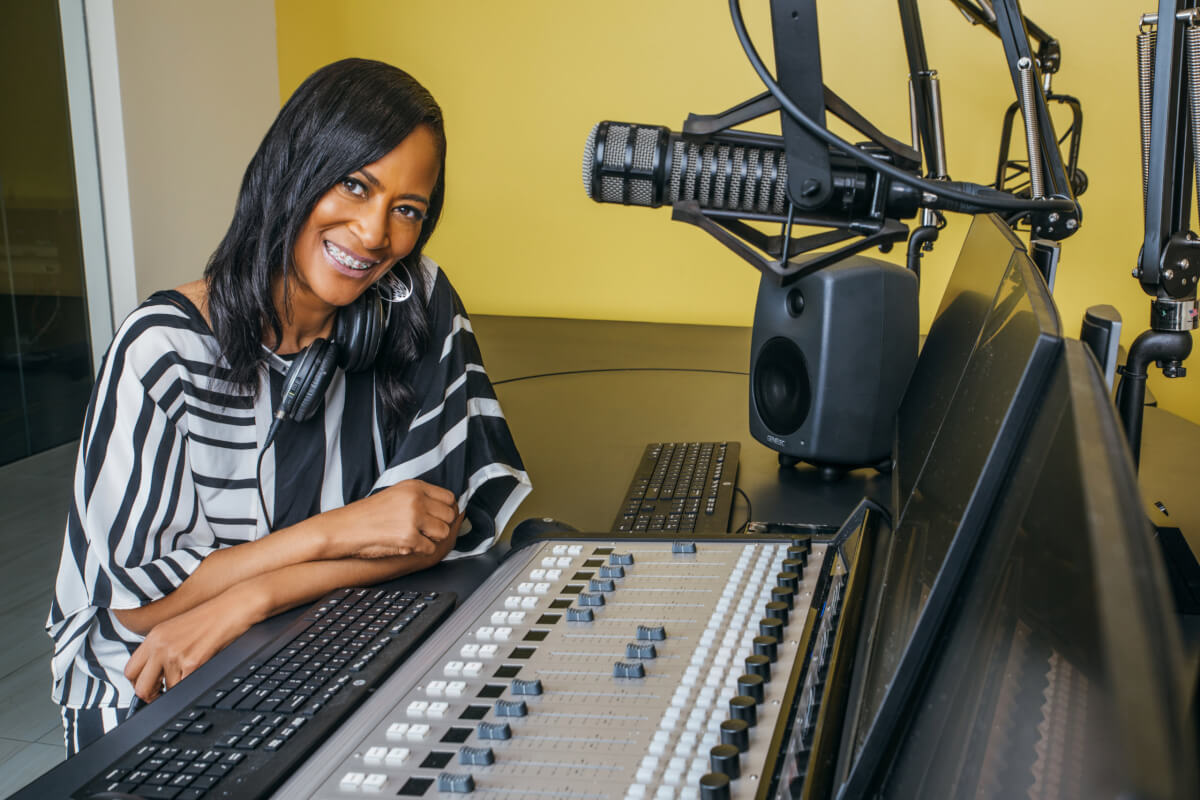 Shirley Ellis got her start when WIBB program director George Threatt Jr., better known as Big George, hired her fresh out of college in 1982.
"Music is the fabric of my life. I grew up with the Motown sound," said Ellis, originally from Detroit, "and WIBB was iconic, one of the first stations to play black music."
Big George learned his craft under Swain's tutelage, and he saw a worthy successor in enthusiastic young Ellis. "He taught me everything I know," Ellis said. "He was instrumental in making sure I realized the importance of our community."
When Big George passed away in November 2019, Ellis spoke at his funeral.
"His death made me reflect," she said. "He hired me when I knew nothing, and wow, I've still got this career. If not for Big George, there'd be no me. He taught us to give back, and I do. I reach out to young people and help them get jobs and internships, introduce them to people in the industry, the same way Big George did with us."
Ellis is able to reach a wide audience thanks to her job at Fort Valley State University, where she's worked as a trainer, mentor and manager at the campus radio and television stations since 1988.
"They hired me to manage the TV station," she said, "but when I got there, I noticed there was no radio station, and that just would not do, so I got to researching."
Before long, Ellis had WFVS Power Jamz 96.9 on the air.
"It's a great teaching tool," she said. "A lot of kids want to be in this industry, and I've had some successful students. Two in Atlanta on major stations, Shawty Slim and Chris Porter."
In 2017, Ellis was inducted into the Georgia Radio Museum and Hall of Fame.
"I was so honored to be in the presence of so many legends. And to be recognized like that while I'm still around to appreciate it is such a blessing," she said.
Ellis isn't slowing down anytime soon. She's proud to work with iHeartMedia, and you can find Mama Mia, Ellis' radio persona, hosting the weekly talk show "Middle Georgia Speaks" or spinning throwback jams on the weekly Solid Gold Sundays on V101.7.
"To still be able to have this career is awesome," Ellis said. "It feels good to know that somebody still wants to listen to me."
***
Teddy Hernandez // Teddy Da Kid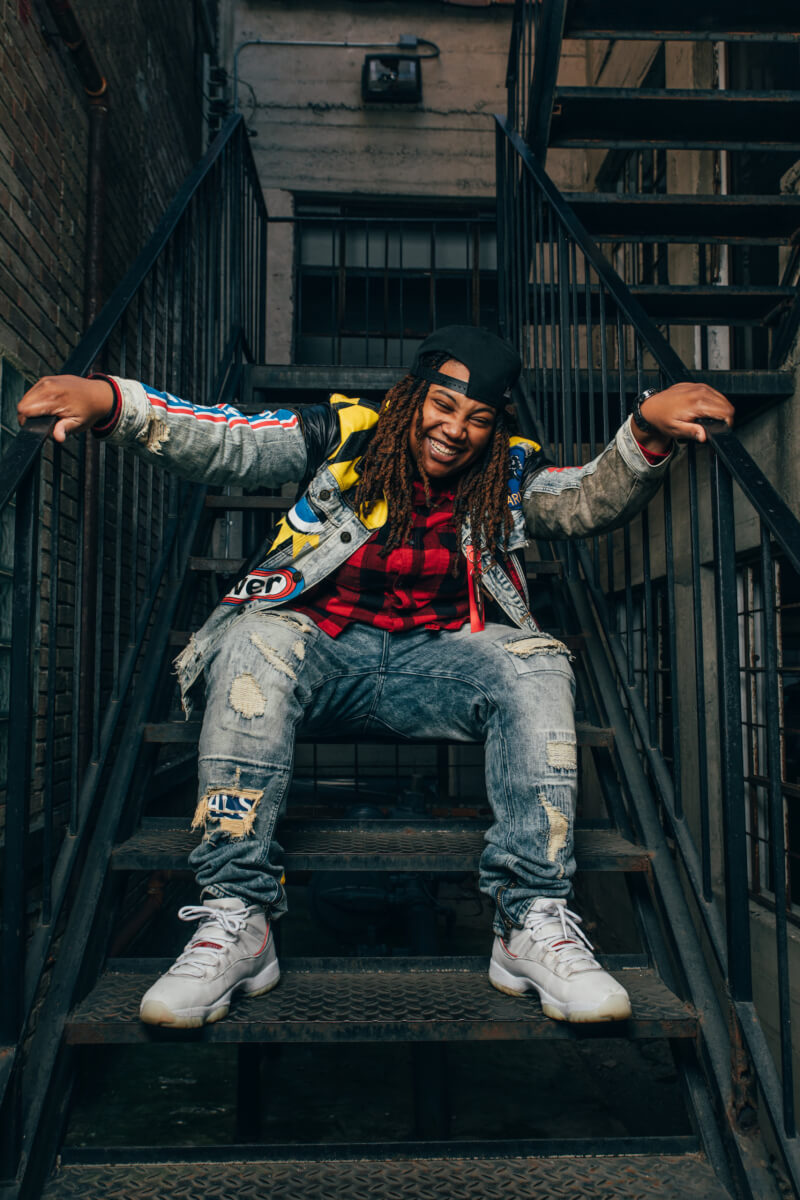 Teddy Hernandez, who DJs under the name Teddy Da Kid, is an FVSU alum making a name for herself in the broadcasting world. While in school, Hernandez was lucky to learn the radio ropes from Ellis.
"She taught me that if I learn how to produce, I will always have a job," Hernandez said.
After graduating in 2012 with a bachelor's in mass communication, Hernandez stayed on for a year as assistant program director at FVSU's radio station. She then moved to Macon, spending five years doing on-air and behind-the-scenes work at Power 107.1.
"I moved here knowing absolutely nobody and was embraced with open arms. And I got to have a lot of firsts at Power 107.1. I was the first female to hold down the afternoon drive, the first female mixer, first female production director. I did production work for four stations," she said. "I did a lot! I don't give myself enough credit."
Hernandez, who plays trumpet, trombone, percussion and "a little violin," credits her musically-inclined family for sharpening her sensibilities.
"We'd listen to music all the time – especially Saturday mornings when we'd all clean the house, and Sundays after church. After a while, you start realizing, 'Hey, that's a sample!' or 'Hey, that's somebody else's beat!' Then you gotta go find where it came from originally. I can remember digging through crates of my mom's records, looking to find that one thing," she said.
Pre-pandemic, Hernandez had several standing DJ gigs around town, but she's had to pivot a bit and is currently working as a forklift driver: "One of my favorite things to do in the manual labor world," she said. Meanwhile, she's remained active as a DJ, making mixes that are available for streaming on Apple Music, Soundcloud, MixCloud and 247mixing.com, an internet radio station. She's also gearing up to return to the DJ booth with Metro by T-Mobile, thanks to A La Carte Marketing.
"My passion comes from being able to move people, from getting them out of that rut," Hernandez said. "After a night on the turntables, if I have people come up and tell me they're glad they came out tonight, that gives me a high. That's my addiction. I love to make people feel good."
Keeping up the positive vibes comes naturally for Hernandez.
"Superman is my favorite superhero," she said. "I'm like Clark Kent during the day, and I change into Superman at night. I gotta put my cape on. I have a job to do."
***
Barry Ficklin // DJ Phi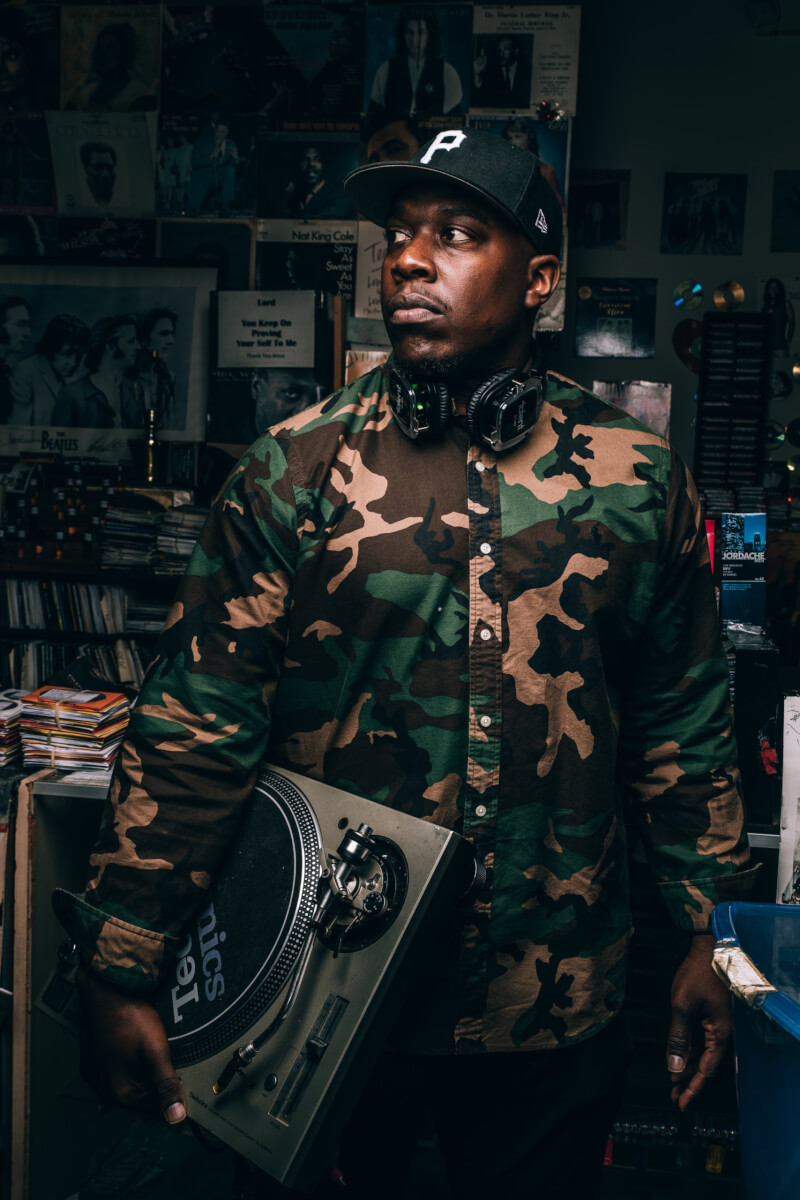 Barry Ficklin started his career as a math teacher at Central High School. He'd always loved music, even DJing his first event at age 17. But at first, as he said, "I really didn't know the steps to take to make that my career." He taught for 10 years in Bibb County schools while steadily building his DJ prowess, and in 2016 he left the classroom to focus solely on his DJ business.
Ficklin performs under the name DJ Phi, a childhood nickname given to him by his cousin, and his company Phi Events and Sound is a one-stop shop for any rentable party need. Pre-COVID appearances include the Silent Headphone Holiday Yoga at U Create Macon, spots DJing at Mercer University football and basketball games, and a gig at Midtown Key Club downtown, which Ficklin said was his favorite.
"The best part of this job is connecting with so many different kinds of people through music," Ficklin said. "I love seeing people letting their hair down, regardless of whatever they might be going through, and creating memories."
His favorite tunes to spin? "I really gravitate toward old school, classic, '90s hip-hop and R&B," he said. "Everybody loves that. I can play 'This is How We Do It' by Montell Jordan anywhere, and the crowd'll go wild, guaranteed."
***
Khalil Blount // DJ B3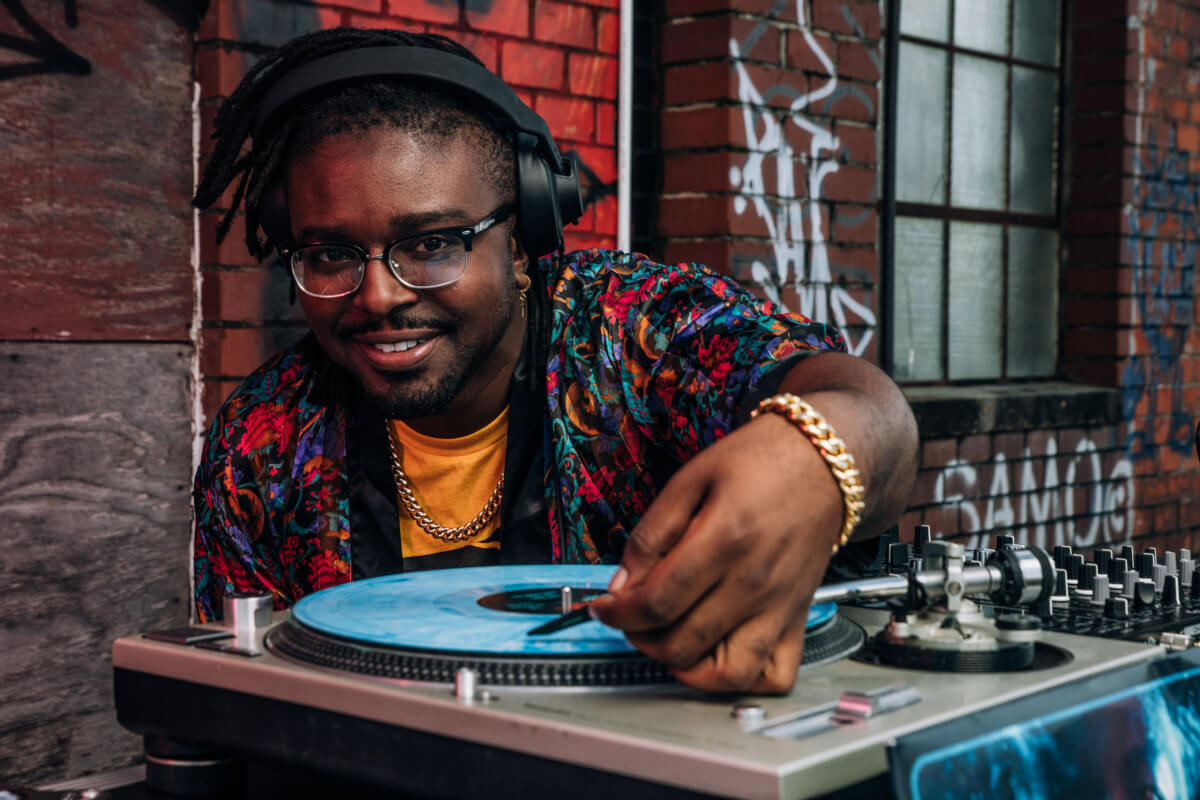 Khalil Blount, aka DJ B3, was just 6 when his family moved from Manhattan to Macon. An enthusiastic and eclectic music aficionado from a young age, Blount's middle-school love was lyrically-driven hip-hop.
"All that stuff that old heads would say, 'Oh, that's real hip-hop' about, that's what I was into," he said with a laugh. In high school, he discovered Japanese heavy metal and became "perhaps the only metalhead at Southwest, and definitely the only skateboarder, until I converted my friends."
He credits his older brother, who was always "messing around with turntables" and even DJed at Macon's skate park during competitions, with getting him into the scene. Blount, 31, who holds a degree in health service administration and information technology, DJed his first house party in 2009. He loved it and spent three years re-creating that magic whenever he could.
"It was crazy – 300 people would show up for a party at a double-wide trailer. All my parties ended up getting shut down, though, so I knew I had to figure out how to be legit," he said. "Being a musician – a DJ is the same way – there's so many avenues you can take, and none of them are right, and none of them are wrong. You just gotta try."
And that's exactly what he did for the next few years, hustling downtown venues for opportunities to host a party or land a coveted resident DJ position. In between gigs, Blount would set up his gear and DJ on the corner of Third and Cherry streets on First Fridays.
"I knew all the break dancers. There used to be a pretty big dance crew downtown, and there would be people who did poetry, too. We'd all just hang out and do our art in public. It definitely added to the scene," Blount said.
Before COVID-19 hit, Blount was making a living as a DJ. He played Bragg Jam and Bearstock and was the artistic director of Bass-o-Rama, a multi-DJ rave that enjoyed its third anniversary back in February.
Occasionally he'd take off on a little adventure, like the time he drove seven hours down to Florida to open up for Big Boi. Always innovative, Blount was the first to bring Silent Disco – a multiple-DJ event during which attendees don wireless headphones and tune in to the channel of their choice, all without violating any noise ordinances – to the area.
"Every day I make a living off of music, I feel like I'm walking on stilts made of toothpicks, and I'm like, when is something just gonna crash and then it's all over?" Blount said in a pre-pandemic interview. "I'm always trying to progress the DJ lifestyle. I want DJs in the industry to be paid what they deserve. If you're an artist, you shouldn't have to expect to struggle."
"COVID messed up everything for me," Blount said recently. "I was about to be financially OK for a little while – then everything got cancelled." He started exploring his skills in fixing electronics, learning circuitry, sautering, picking up odd jobs when he could.
Livestreaming also became an important tool.
"It kicked everybody's ass to start learning livestreaming," Blount laughed, "but once you understand the basics, it's easier, and it's now the industry standard."
He hosted streams out of a "secret location" (spoiler alert: a corner of his house, done up to look like a studio), for various audiences, among them the Quarantine Concert Series and Middle Georgia State University, and opened up his space for other musicians to use.
Repping his adopted hometown and promoting positivity is important for Blount. He'll be DJing a Macon Dog Park Yappy Hour on Oct. 15 and an Open Streets Macon event on Oct. 18. Pre-pandemic, he hosted "Oh Yes! Macon" on Wednesdays at downtown's new music venue JBA. As people are becoming hesitantly social once again, Wednesday nights have been rebranded as Type-R: The Macon Rave Project, and feature dance music, local DJs and artists, and outdoor speakers so patrons can safely space out and enjoy the vibes.
***
Dixon Cassara and Ryan Walters // Bootz & Katz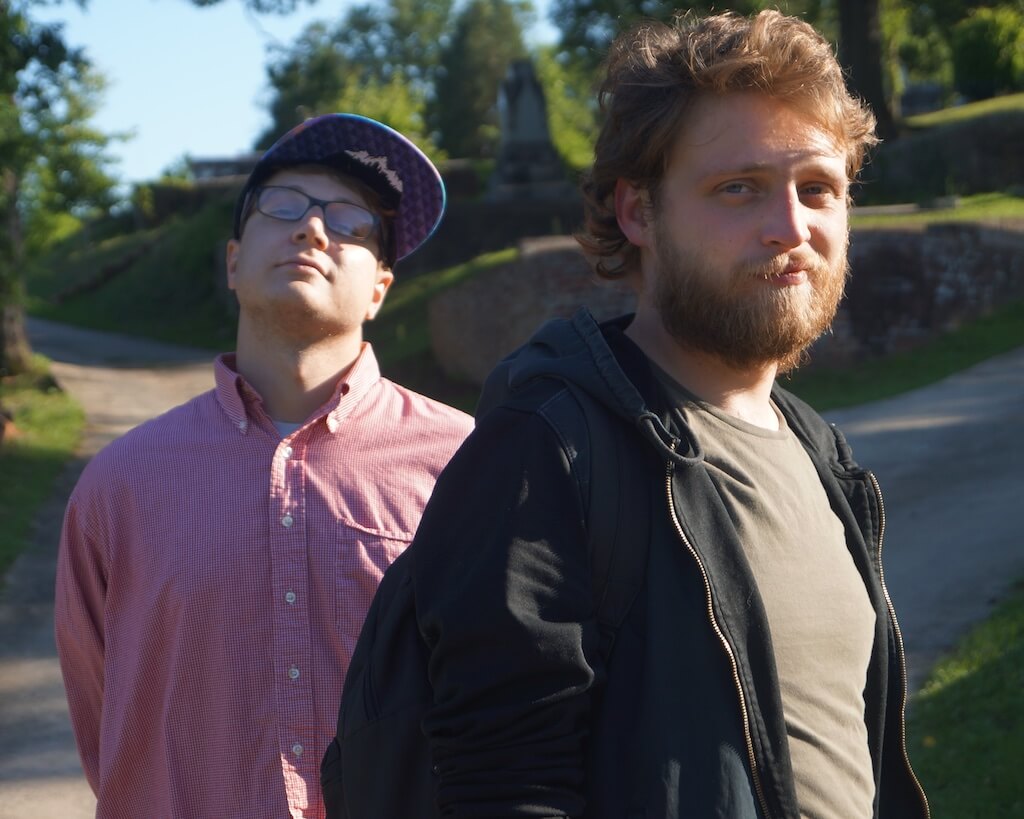 Dixon Cassara and Ryan Walters met almost seven years ago, and the Mercer University students and Kappa Sigma fraternity brothers felt a kinship immediately.
"Within the first hour of us hanging out, we already had our first song in the works," said Walters.
Both were lifetime music fans. Cassara liked acoustic and jam music, while Walters was more of a metal/punk fan, and that combination helped to inform the genre-blurring aesthetic of the music they make as Bootz & Katz.
At its core, the band is made up of Cassara and Walters, but over the years various musicians have stepped in. Their current drummer, Thomas Reid, has been with them for two and a half years. "Livetronica" is the name for the high-energy fusion of rock and electronic music that Bootz & Katz bring to the stage. Inspired by bands like the Disco Biscuits and Lotus, Bootz & Katz make each show a unique experience by going with what moves them at the time, whether it's blending metal with dubstep or funk with house music.
Walters has been DJing for nine years now and taught Cassara the ropes a few years ago. The two have enjoyed playing lots of DJ-only gigs at weddings, private events and clubs, but the band remains their favorite musical pursuit.
DJ skills factor heavily into their sound. When they first started out, they used a Numark controller and DJed the tracks on stage. Now, they use an Ableton APC controller to sequence tracks or sections of a jam onstage.
"It really gives us a lot of creative freedom on stage and with how we play live," Walters said. "We like to call the computer our fourth band member."
The band has a solid following in Middle Georgia, which they're working to grow in Atlanta and beyond. They started out playing gigs at Roasted, where they met DJ B3.
"Khalil is one of those rare gems in the music industry who truly supports his fellow musicians and takes active measures to enrich his community," said Walters.
Bootz & Katz had already planned on taking the spring and summer off to work on their first full-length album, and they both have careers outside of the music industry, so the COVID-19 shutdown didn't affect them as much as it did others.
"We still found ourselves feeling more disconnected than ever from our friends and fans," said Cassara, so they developed Work in Progress Wednesdays.
Every Wednesday, on their Facebook group (BZKZ Fam), the duo shares some new creative work, whether it be a song snippet or an innovative idea, and they encourage others to share their own works in progress.
"It's naturally more music focused," said Cassara, "but we also have people share paintings, pottery, gardening, all kinds of stuff. It's been a really nice way for us to stay connected and keep tabs on our awesome community through the pandemic."
The Hummingbird is their favorite venue, and they've played Bragg Jam six years in a row, but they're in no rush to return to the stage.
"Our shows are at their best when everyone can be together, carefree and having fun, so we'd like to wait until we can achieve that properly," Cassara said.
They've done a few livestreams for fun and have been considering the logistics of doing a livestream with their full band, but mostly they've been working diligently on their album, which is coming together nicely with some exciting features they can't wait to share with fans.
"Many times, we've felt that we don't fit in anywhere," said Walters. "But over time, we grew as musicians and our friends did, too, and it feels like we all carved out a spot for ourselves, which at times isn't easy. It's a testament to the fact that, if you do your own thing and you do it well, eventually people will take notice. Being a musician in Macon has been nothing short of a blast. We love the 478."
***
Andre Jones // AJ the DJ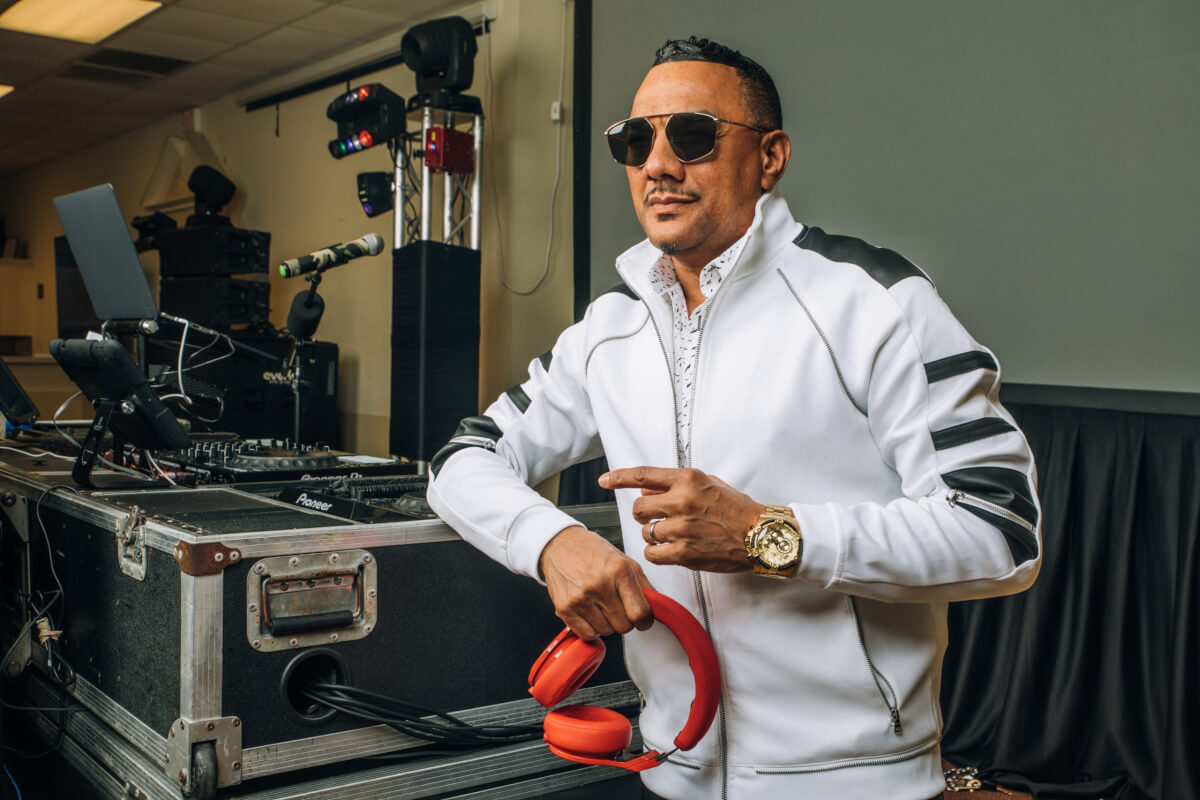 In 1980, Andre Jones was a high school student enrolled in Mercer's Upward Bound, a college preparatory program that assists lower-income students in their academic pursuits. The program's final two weeks were devoted to on-the-job training, and Jones wound up assigned to 97.9 WIBB.
"I wasn't too excited, but I figured I'd go, maybe get a free T-shirt and an album," Jones said.
Instead, he found himself working with legendary Big George Threatt, who asked the Upward Bound students to create a new theme song for his morning show, and the end result was not only good, it was great. If "going viral" had been a thing back then, this song would've been a contender.
Big George recognized the innate talent in Jones, and continued to invite him back to the station even after the mandated two weeks were over. Jones would help out around the station, do a little DJing and work parties every now and then. Jones flourished under the attention, and Big George offered him a primo on-air gig – the evening drive slot.
"I'd get out of school at Southwest, go to the station and be on the air from 5 p.m. until the station went off the air," Jones said.
At the time – the very early '80s – rap music was just starting to hit the mainstream, but it was considered more of a fad, and the station wouldn't play it in the mornings or afternoons due to listener complaints.
"My show was the first hip-hop/rap radio show in Macon," he said. "It was the perfect place to play rap music – all the kids listened, nobody had YouTube. I was the only source for rap, and everybody wanted to hear everything I played."
Even after such a lucky experience, Jones didn't consider DJing as a full-time career. With hopes of becoming a pediatrician, he headed to Howard University, where he majored in microbiology, but the high tuition cost proved too daunting. He returned to Macon and finished out his degree at Mercer – marketing, not microbiology.
"You don't specialize in anything, you just get a job in business," Jones said.
So, he got a job in business. Or rather, he got several jobs at several businesses. He picked up some work at the radio station and DJed at parties every now and then. But he couldn't shake this bad feeling – he'd wanted to be a pediatrician, and now he was a DJ, and he couldn't reconcile that.
Then he met a doctor who, after the two had been chatting for a while, said, "Man, it must be pretty cool to be you!"
"That changed how I felt about myself," Jones said. "All my life I was trying to be like him. I'd never considered that he might want to be like me."
This little moment of perspective helped Jones shift gears. Now, he looks at his DJ career as a blessing.
"I'll be 55 this year, and I stay booked up two years in advance," he said. "I do all the high school proms – Southwest, Central, Northeast – middle school, elementary school, events for older people, sweet 16 parties. Great-grandkids like me and great-grandparents like me."
But what AJ the DJ likes is his hometown. He's not shy to tell everyone that he loves Macon. A few years back, after being presented an award by Big George, Jones gave a little speech.
He recalled it going something like this: "When you're pretty good at something, sometimes people ask you to go to other cities, because they want to take you away. I don't like to travel, and I like Macon. This is my hometown. And when hometown people appreciate what you do, when they recognize your talent, and pay you on a generous scale, and keep your schedule booked up, it says a lot. It means a lot. It means 'We love you. We want to keep you here.' "
Shirley Ellis
Instagram: @MamaMiaV107
AJ the DJ
Facebook: @AJtheDJentertainment
Instagram: @AJtheDJinMacon
ajthedjentertainment@gmail.com
DJ B3
Facebook: @DJB3me
Instagram: @B3me
b3cooldude@gmail.com
DJ Phi
Facebook: Phi Events and Sound
Instagram: @djphi
djphi507@gmail.com
Bootz & Katz
Facebook: @BootzandKatzmusic
Instagram: @bzkzmusic
bootzandkatzmusic@gmail.com
Teddy Da Kid
Facebook: @TeddyDaKid
Instagram: @teddydakid
bookteddydakid@gmail.com