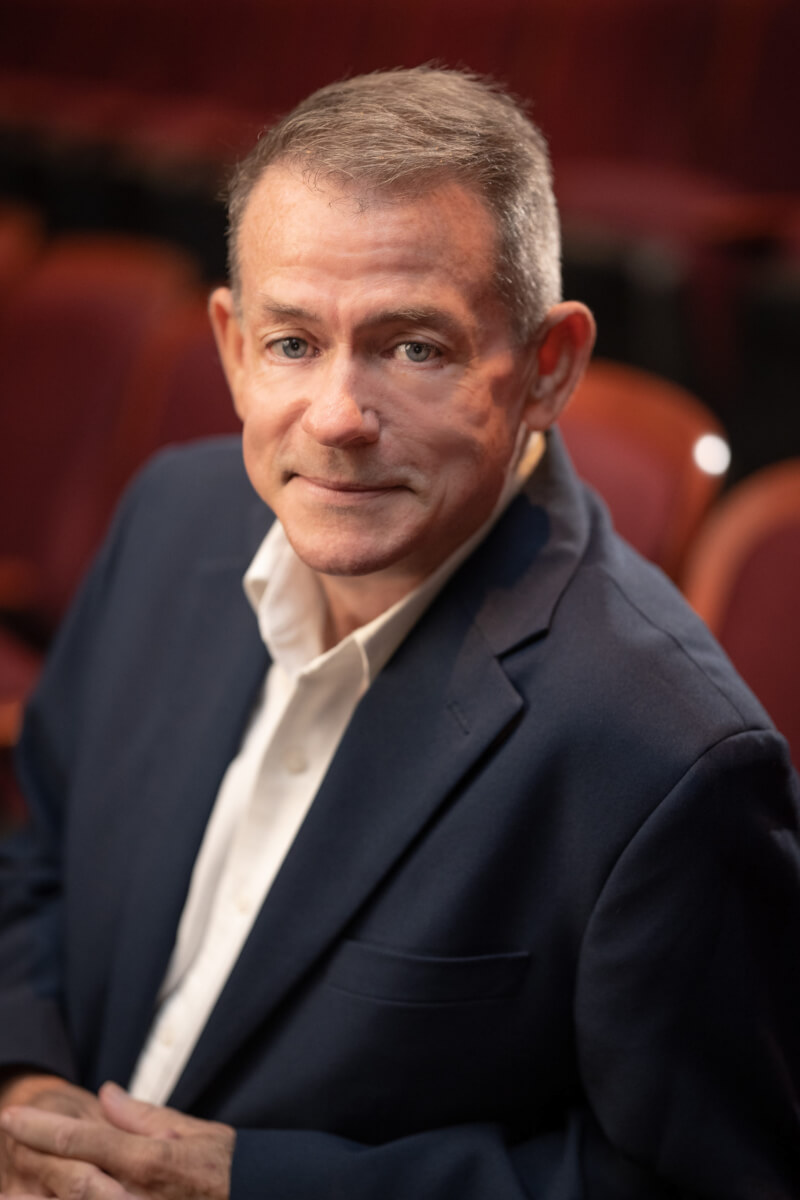 The Grand's newest director enters the scene
By Michael W. Pannell
Frank Wood, The Grand Opera House's new executive director, begins his duties at the helm of the historic theater this month. Wood was named to the position in July by Mercer University, which took over operations of the entertainment palace in 1995. He starts work on Oct. 17.
Wood is a veteran arts administrator who is no stranger to Macon, Mercer, or The Grand, being a Mercer alumnus himself and director of arts marketing and communications at Mercer from 1995 to 2001. He most recently has been vice president for advancement at The College of the Florida Keys and, for the past 17 years, served as executive director of the Tennessee Williams Theatre in Key West, Florida. Prior to that, he was executive director of the Key West Symphony Orchestra.
"Frank was appointed as Mercer's first arts marketing director in 1995 when the university entered into a long-term lease with Bibb County to manage The Grand Opera House, and he has remained engaged with The Grand and Mercer as a loyal alumnus through the years," said Larry D. Brumley, Mercer's senior vice president for marketing communications and chief of staff. "He brings extensive arts management experience to this key leadership position, including a successful track record in programming, fundraising and community relations. I am very pleased that he is returning home to lead The Grand and its talented staff."
Wood's experience at The College of the Florida Keys included serving as dean of arts and sciences, business administration program director, and faculty member and executive director of the Florida Keys Educational Foundation. He is a graduate of the Florida Chancellor's Leadership Academy and its Master Teacher Seminar.
As executive director of the Tennessee Williams Theatre, he presented more than 270 concerts, including national touring Broadway shows.
"I am excited about the possibilities and grateful for the opportunity to return to Mercer and The Grand," Wood said. "Both institutions hold a special place for me. I look forward to reuniting with the community and to presenting a variety of entertaining, high-quality performances for the arts patrons of Central Georgia."
What Wood took away from his previous years in Macon at Mercer and The Grand plus the experience he gained during the past 21 years bode well for his coming as executive director.
"When I entered the picture at The Grand in 1995, Mercer had just assumed management and we were starting from scratch building new seasons with only the Nutcracker of Middle Georgia and Macon Civic Club as regulars," he said. "We were at square one developing a regional theater and, at that point, were still using racks of ticket holders in the box office. Computerized ticketing was just becoming a thing. We were cutting our teeth and had a lot of updating to do. Luckily, with the support of Mercer and the community then and now, The Grand is at a great point."
Wood said roles he played in intervening years have put experience under his belt to bring back home. For instance, he said while booking programs and bringing tours to Key West sounds attractive on paper, the actual logistics and costs of getting them to the U.S.'s farthest point south proved challenging. Key West is about the same distance to Havana as it is to Miami. But Woods met those challenges head-on, and he looks forward to leading the modern Grand.
"The Grand has become a wonderful, active performing arts center, and the place is just beautiful," he said. "With its advances, downtown's renaissance, and the interconnectedness between businesses, dining, and entertainment, I see an energy and future that's much different from when I left. I'm eager to assume leadership at The Grand, work with its proven staff, and help such a historic theater continue being and becoming all it can be."
Wood earned his B.B.A. and M.B.A. in marketing from Mercer's Stetson-Hatcher School of Business and has a Doctor of Business Administration from the Huizenga School of Business and Entrepreneurship at Nova Southeastern University.
In his new role, Wood takes on The Grand's mission to "nurture an appreciation of the arts in all citizens of Central Georgia, especially its youngest citizens, through attracting the presentation of quality productions as well as an immersion into a treasured architectural artifact that reflects 133 years of Macon's history."
As a performing arts center of Mercer University, the Grand Opera House seeks to champion excellence as the premiere theatrical venue in Central Georgia while serving as a vibrant community-assembly resource and cultural tourism attraction that significantly impacts the success of Macon's downtown and overall economic vitality. Visit the Grand's website for information on upcoming events and ways to get involved.